Old Hollywood Glam Wedding in Tampa
We first met Sami and her fantastic mother a few years back when her brother Sal married Grace.
They are truly an incredible family, and planning Sami and Ryan's Tampa wedding together was a time our Special Moments Event Planning team will never forget.
We've spent hours narrowing down the incredible images to tell their story. But you'll also want to check out their fantastic wedding video.
Getting The Wedding Day Started
The day started with the photography and videography teams capturing wedding details. For the ladies, hair and makeup services onsite, as well as some fun getting-ready photos.
Then, it was time for the Mother of the Bride to help her get dressed. How adorable are they together?
Meanwhile, the rest of the photography and videography team were with shooting details and him getting dressed.
Bring On the Bridesmaids!
With Sami dressed, it was time for her bridal bridal party to see her before she headed off for her first look with Ryan.
We love the reaction from her incredible group of friends.
First Look
This was awesome. Yes, we love a great first look, and this one was no exception. Although Bear joining them might have put this first look in a category by itself.
The Great Outdoors
After their first look, Sami, Ryan, and their wedding party headed to downtown Tampa for wedding portraits and group photos.
Time To Get Married!
Back at the Tampa wedding venue, everything was in place for the couple to freshen up a bit and for the arrival of their family and friends.
The ceremony space was set with a stunning Chuppah draped in white fabric and swags of beautiful white flowers. The aisle overflowed with arrangements of white flowers, baby's breath, and large pillar candles. Sleek black chairs, each set with a wedding program and pack of tissues, filled the room. Before taking their seats for the wedding ceremony, guests enjoyed a glass of champagne. 
With everyone seated, Ryan was escorted to the Chuppah by his parents. He waited with anticipation as his bride-to-be made her entrance.
The couple exchanged wedding vows and rings, sealing them with a kiss before Ryan closed the ceremony with the traditional glass breaking.
Ryan and Sami Can't Come To The Phone Right Now
After the wedding ceremony, guests enjoyed the cocktail hour with drinks that included unique His and Hers cocktails, light bites, and a chance to leave the couple with warm wishes.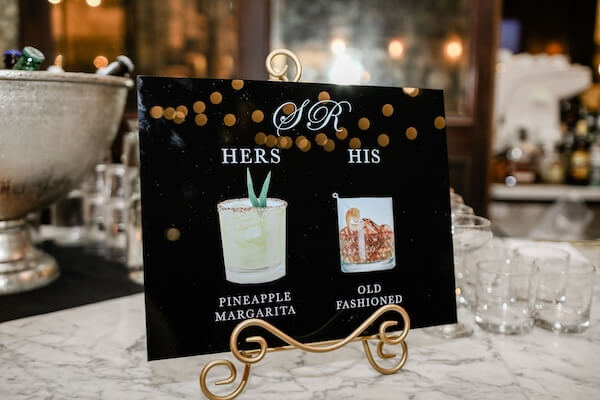 We love this fun telephone-style guest book. Just lift the receiver, wait for the BEEP, and leave them a message!
First Dance
With everyone gathered, the newlyweds made their grand entrance down the staircase. They took to the dance floor. 
Following their first dance, the Father of the Bride shared a welcome and thank you to everyone gathered before moving into the next space for dinner.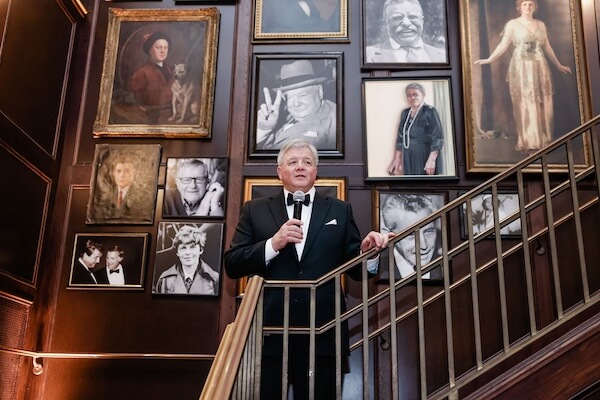 Dinner and Dessert
Inside, the dining room evoked old Hollywood Glam in black and white with subtle touches of red and gold. Long dining tables were draped in garlands of greenery. The tables were filled with dozens of floating candles, baby's breath, and stunning red roses. This sleek and sophisticated look worked so well with the unique wedding venue.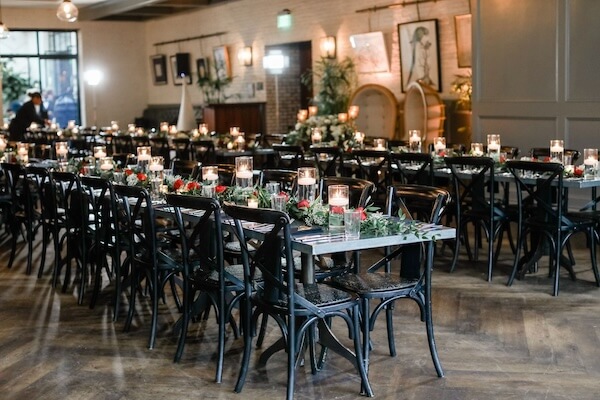 We love the oversized dome chairs at the couple's sweetheart table, which overflowed with floral pieces and gold-toned candles.
Off to one side was an enormous dessert table filled with bite-sized treats and the couple's three-tiered white wedding cake. And yes, Bear made it onto the cake topper! 
Guests enjoyed a multi-course dinner and touching toasts before the couple's cake-cutting and dessert.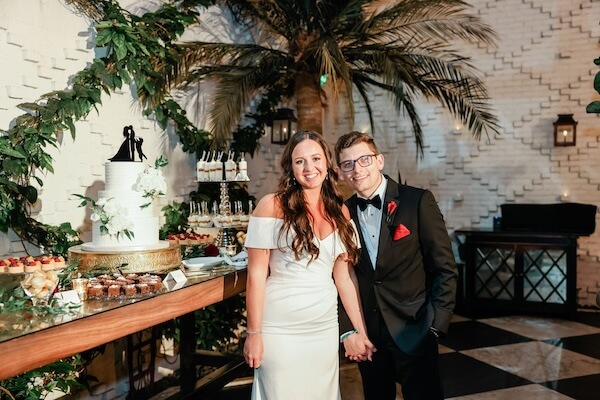 Dance The Night Away
After dessert, guests returned to the front room for parent dances, an energetic hora, and a chance to dance the night away.
The couple closed out the night with a grand exit with a spectacular balloon drop before heading off for the night in a white 1961 Bentley.
Congratulations, Sami and Ryan! We are so glad to have been part of your special moments!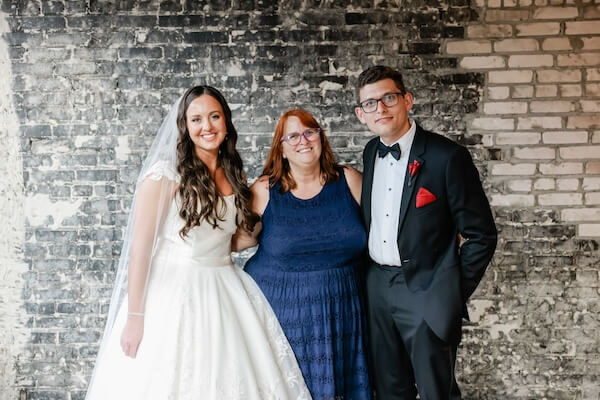 Tampa Wedding Vendors
Thank you to all of the Tampa wedding vendors who brought the Glam!
Wedding Venue: Oxford Exchange
Tampa Wedding Planner: Special Moments Event Planning
Hair and Makeup: Femme Akoi Beauty Studio
Wedding Photography: Lifelong Photography Studios
Videography: Peach and Orange
Wedding Officiant: Sensational Ceremonies
Floral Design: Apple Blossoms Floral Designs
Balloon Drop: Balloonies 
DJ: Grant Hemond and Associates
Pet Services: Fairy Tail Pet Care
Wedding Cake and Desserts: Hands On Sweets
Transportation: Crown Royal Limo
Transportation: Classic Wedding Cars of Sarasota
Guest Accommodations: The Westin Tampa Waterside
Planning a wedding?
Whether you are a Tampa Bay Area local or planning a Gulfside destination wedding, we have the creativity and connections to help you have the day of your dreams without all of the stress.
Planning an event?
We LOVE social events as much as we love weddings. From Wedding Showers to Reunions, we've done it all. It's all in the details and we've got you covered.
Planning a trip?
Need a weekend getaway during your wedding planning, time away with your family or help planning your honeymoon? We're happy to help!