Setting Sail with a Navy-Blue Yacht StarShip Wedding
Our Special Moments Event team loved working with Grace and Sal on their Tampa wedding aboard the Yacht StarShip II.
The wedding was beautiful and filled with laughter and lots of love.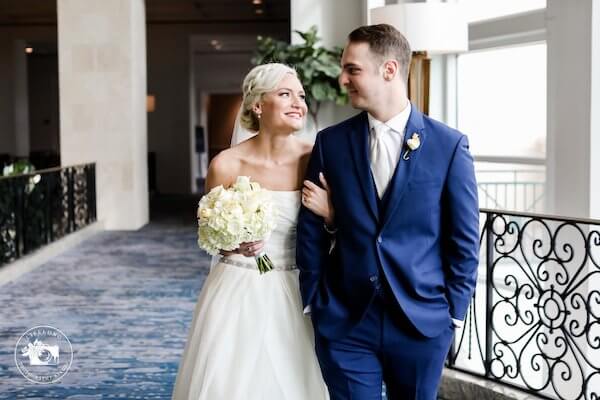 Mimosas and Confetti
The ladies' day began with hair and makeup, breakfast, Champagne, and some confetti. One of our favorite details of the day was Grace's shoes. When getting married on a moving ship, flat shoes are probably a good idea, but these shoes were next level.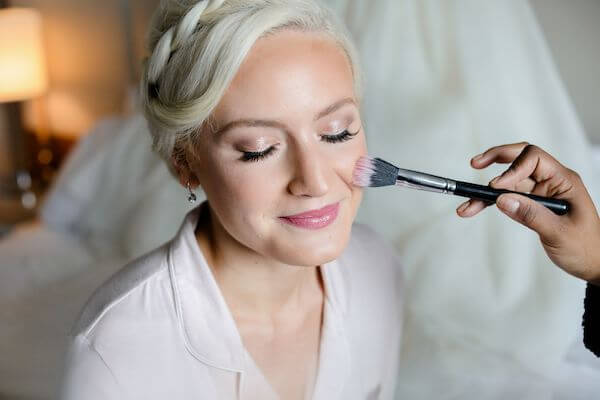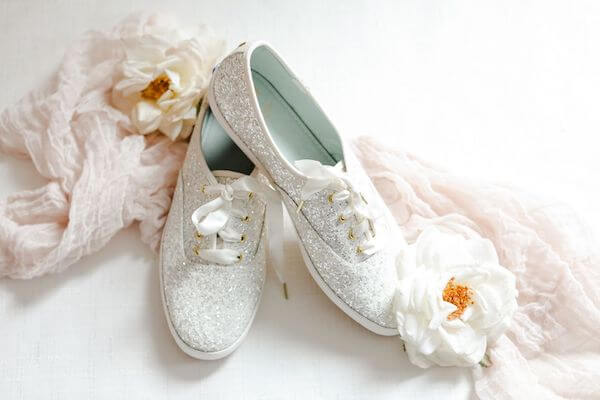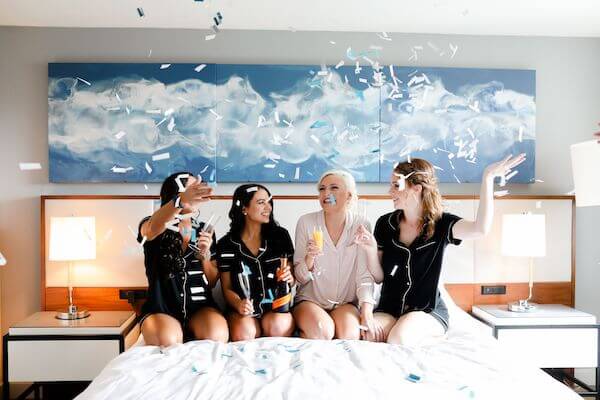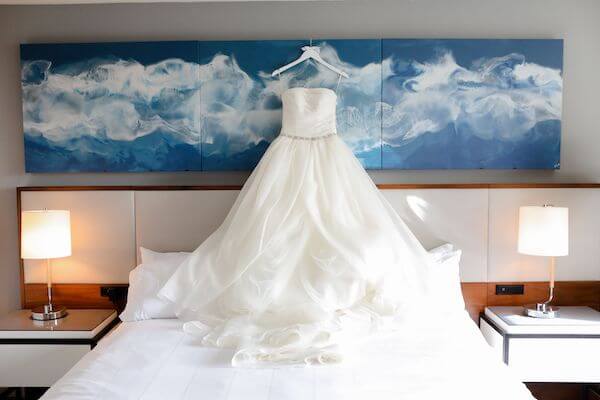 We love the classic look Grace selected. From the strapless wedding gown to the way she wore her hair and the beautiful white bridal bouquet with a kiss of color.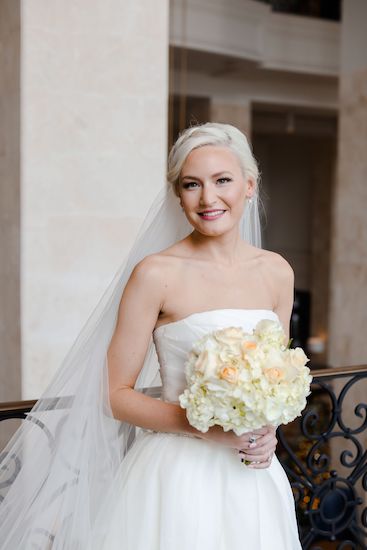 Meanwhile, Sal and the guys were getting ready. Handsome navy-blue three-piece suits with neckties and a simple boutonniere. How cute are the penguin socks?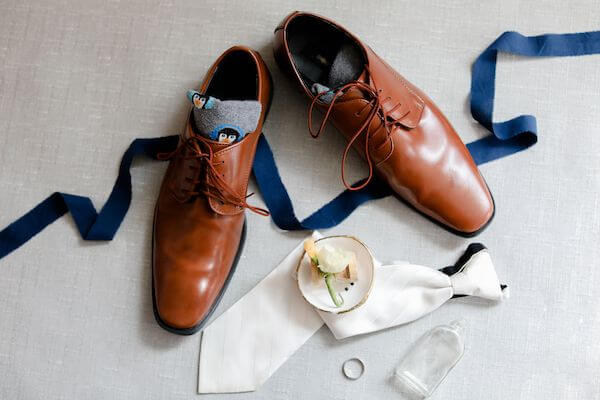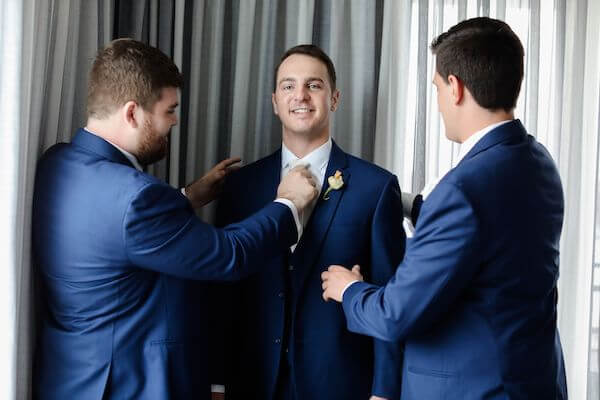 Their First Look
Grace had some time for a few bridal portraits and photos with her parents and her wedding party.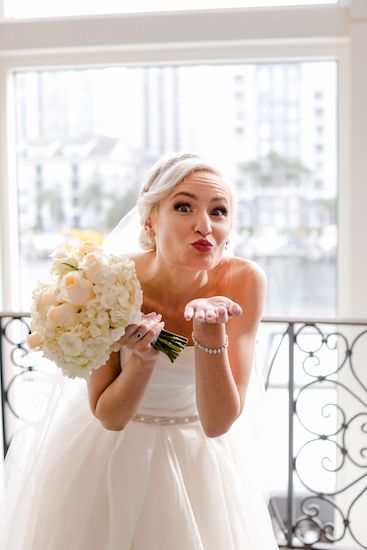 The couple chose to have a first look at the hotel before heading over to the yacht for their wedding ceremony.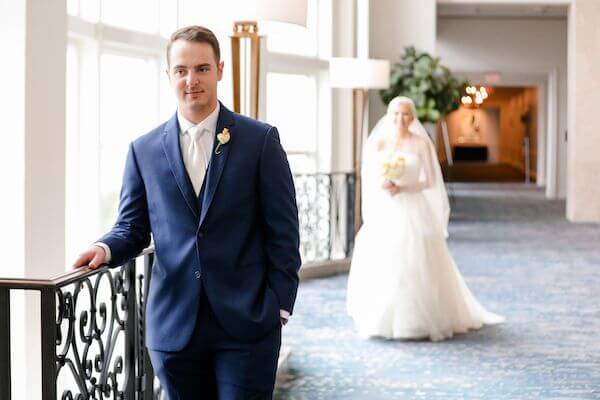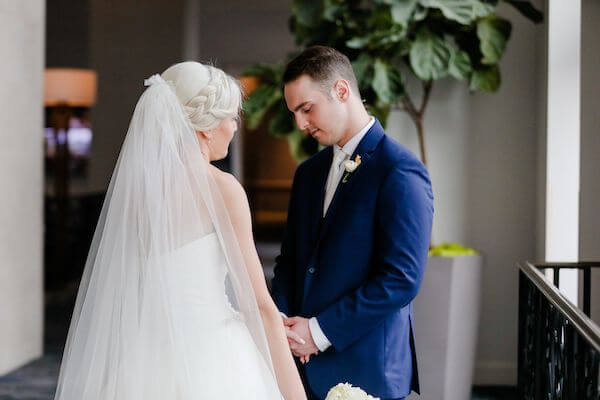 Setting Sail
Onboard the Yacht StarShip II, all of the details were in place for the arrival of the wedding party and guests. Did you know that the Coast Guard requires a complete manifest of wedding guests four days before you set sail?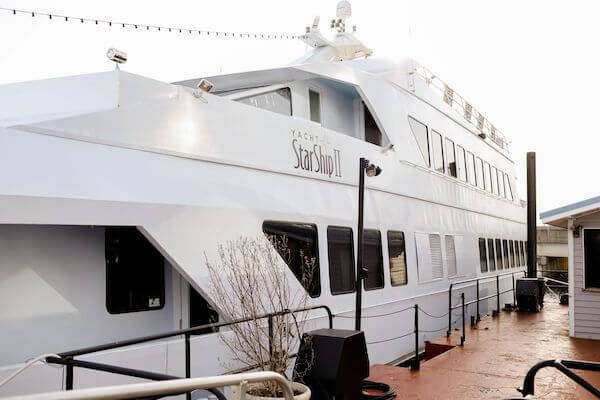 One of the great details included in the day was color-coded bracelets for wedding guests. Green – meaning okay with hugs and high fives. Yellow – okay with talking but not touching, and Red – gonna wave from six feet. Additionally, personal bottles of hand sanitizer and masks were made available to wedding guests.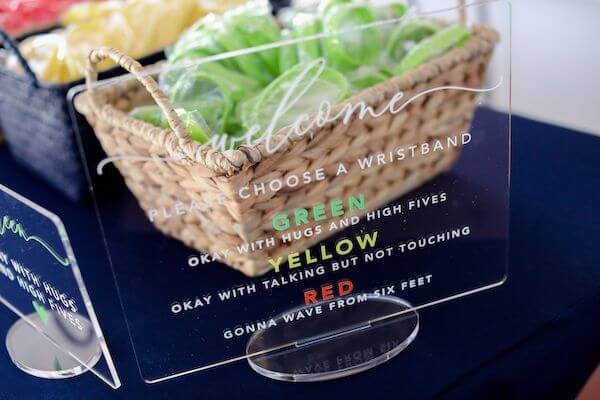 The upper deck was set with white garden chairs along with swags of white flowers.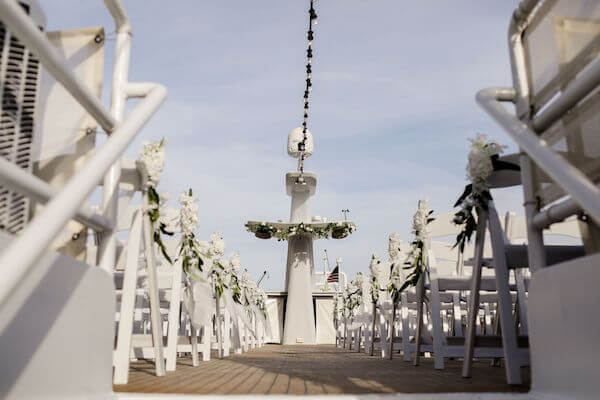 With everyone in place, Grace, escorted by her father, made her way down the aisle. Grace and Sal exchanged wedding vows with the Tampa skyline in the background and sealed them with a kiss before heading off for some private time on a lower deck.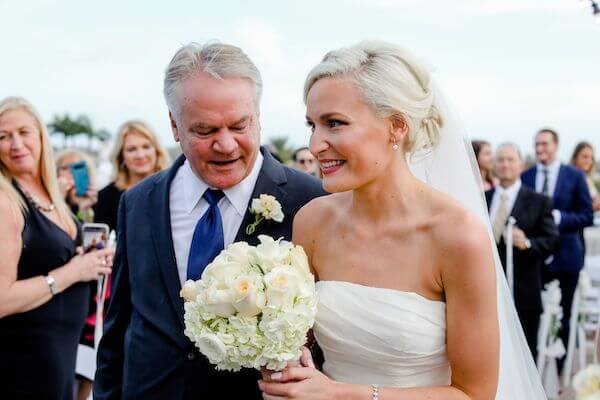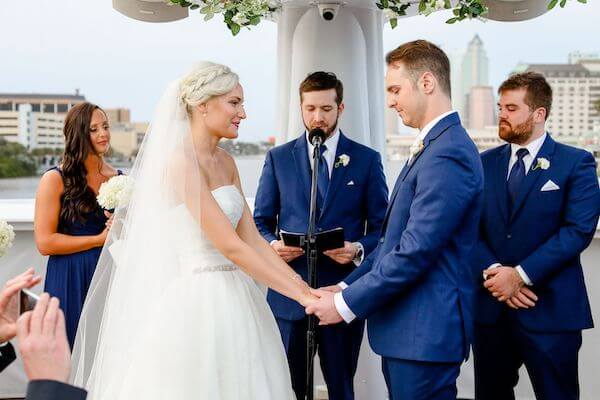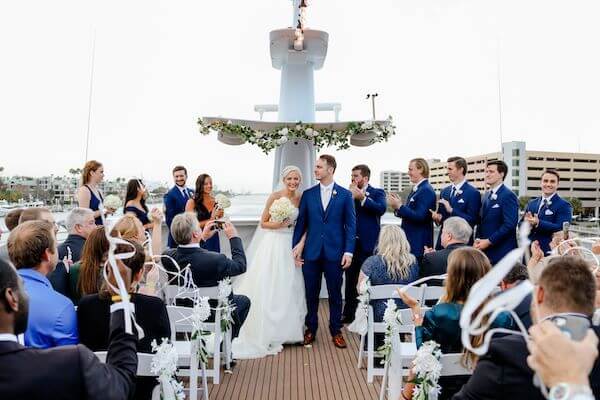 Below Deck: Tampa
While wedding guests enjoyed cocktails and lite bites, everything was ready for dinner and dancing below deck. If you are hosting a wedding reception on a moving ship, low floral centerpieces work best. Tables were covered with crisp white linen with matching covers on the chairs. Navy blue napkin rolls with silverware completed the look.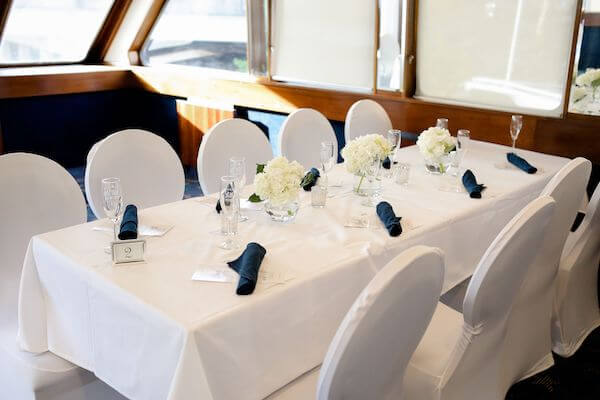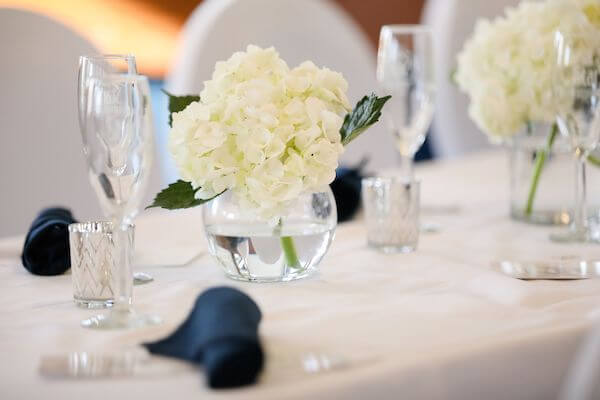 Following introductions, guests enjoyed a delicious dinner and several toasts before the newlyweds cut their three-tiered, red velvet chocolate chip wedding cake.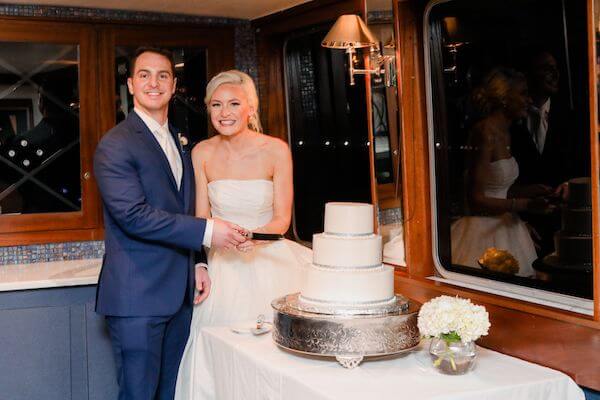 The evening continued with the couple's first dance to 'Change Your Name' by Brett Young, dances with their parents, and an evening under the stars sailing across Tampa Bay.
Congratulations, Grace, and Sal. We wish you fair winds and following seas!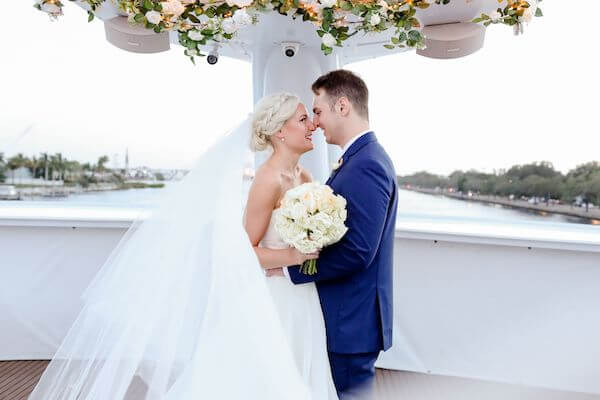 The Tampa Wedding Team
Tampa Wedding Planner: Special Moments Event Planning
Tampa Wedding Venue: Yacht StarShip
Hotel Accommodations: Marriott Water Street Tampa
Hair and Makeup: Femme Akoi Beauty Studio
Floral Design: Apple Blossom Floral Designs
Photography: Lifelong Photography Studio
Wedding Cake: A Piece of Cake & Desserts
Planning a wedding?
Whether you are a Tampa Bay Area local or planning a Gulfside destination wedding, we have the creativity and connections to help you have the day of your dreams without all of the stress.
Planning an event?
We LOVE social events as much as we love weddings. From Wedding Showers to Reunions, we've done it all. It's all in the details and we've got you covered.
Planning a trip?
Need a weekend getaway during your wedding planning, time away with your family or help planning your honeymoon? We're happy to help!