What Makes An Instagram-worthy Wedding?
Long before there were Instagram-worthy weddings, a guy said, " A picture is worth a thousand words." Little did he know how true that statement would be.
Instagram-worthy weddings are all about images that tell an incredible story. Together those images piece together one of the most important days in a couple's life and give you a little insight into their style and personality.
Anticipation of a First Look
Last week our Special Moments Event Planning team shared some emotional moments of Susana and Rony's intimate Belleview Inn wedding leading up to their first look. On their own, they were Instagram-worthy and told an incredible story.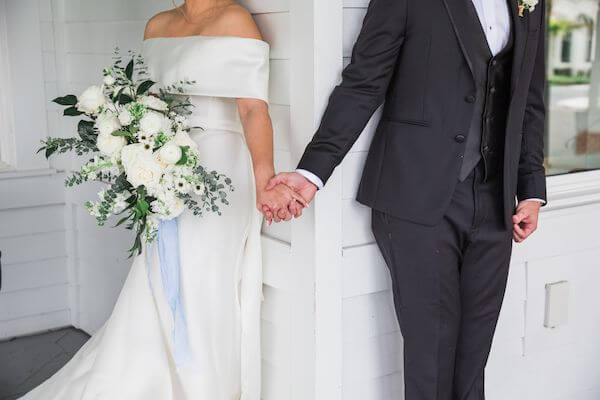 But that was just part of their story. The details of their wedding day were packed with dozens of Instagram-able moments.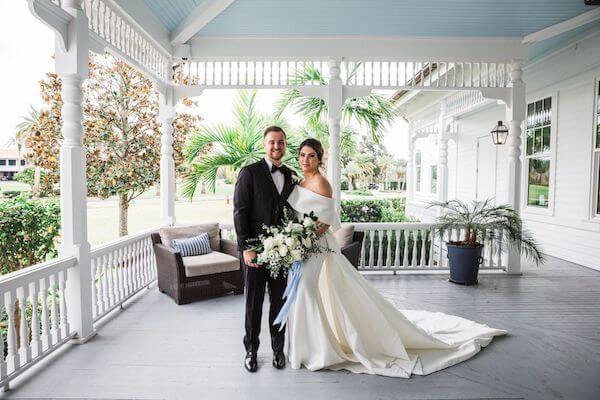 So today is part two, showcasing many incredible details of their beautiful intimate wedding.
It's All About The Details
The beginning of the wedding day was packed with details and special moments. Everything told a story, from the fun moments with the wedding party to the incredible flat lay photos of the couple's items.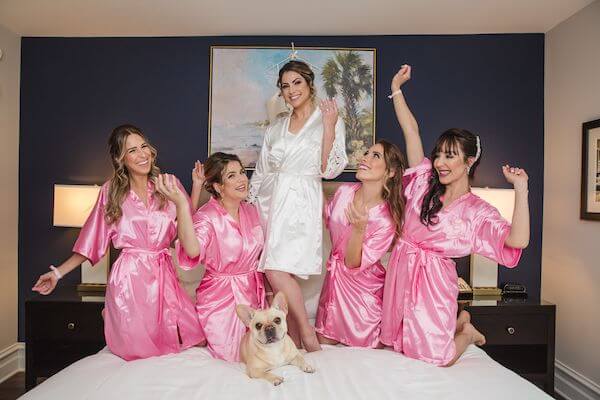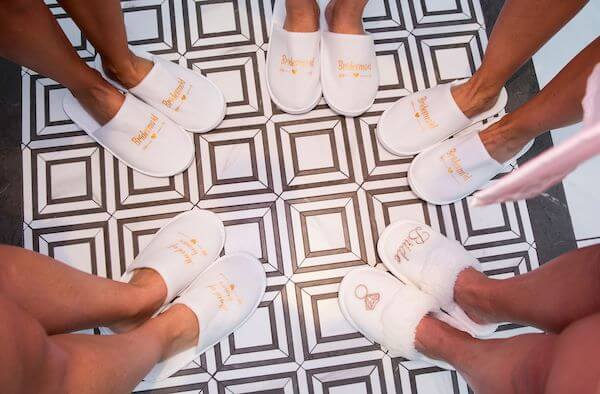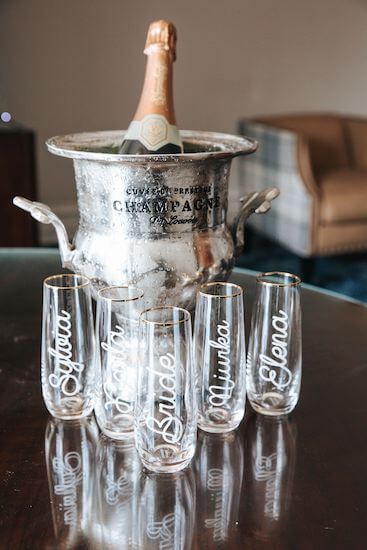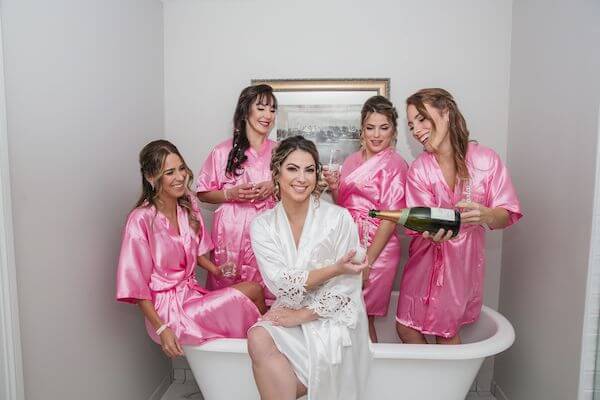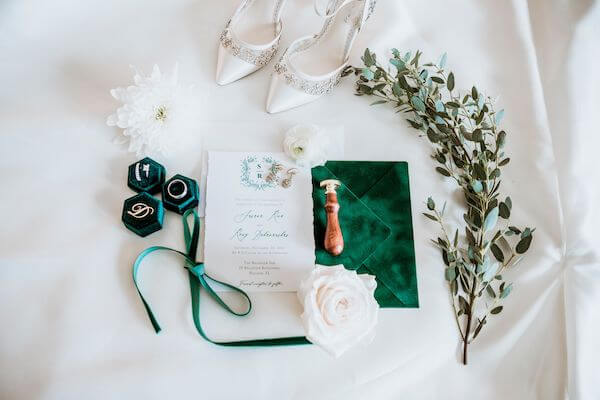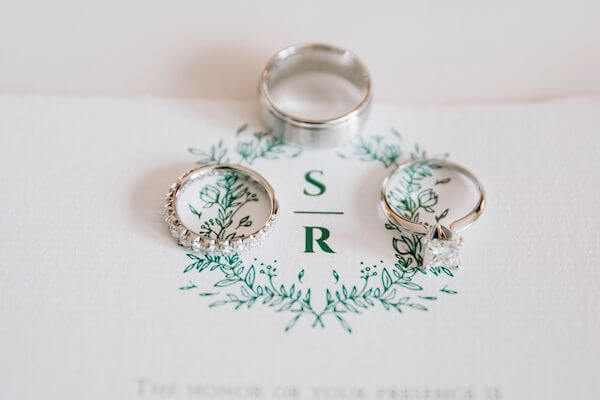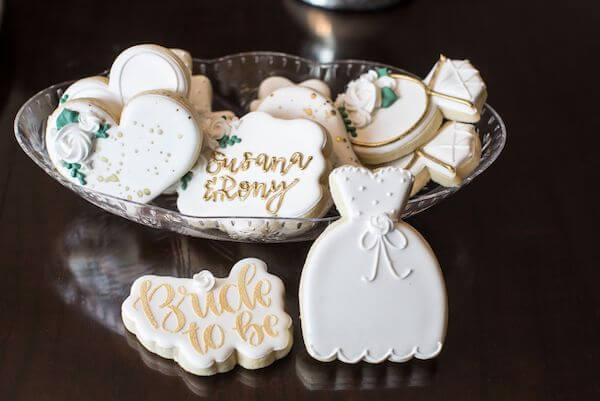 The bride's gown, shoes, and bridal bouquet told their own incredible story. Sorry, you looked amazing too, Rony!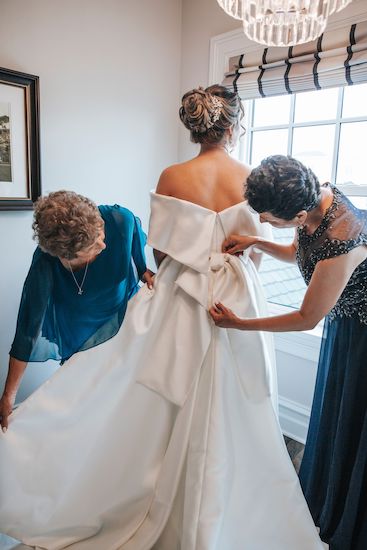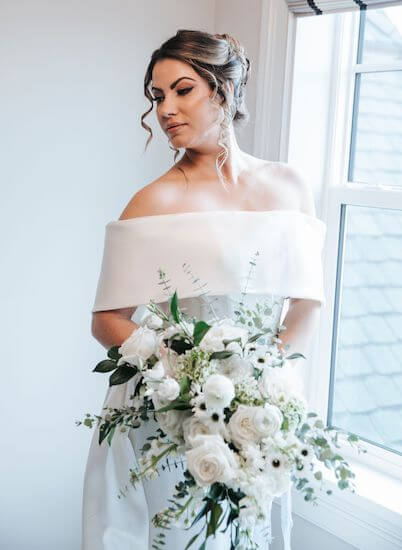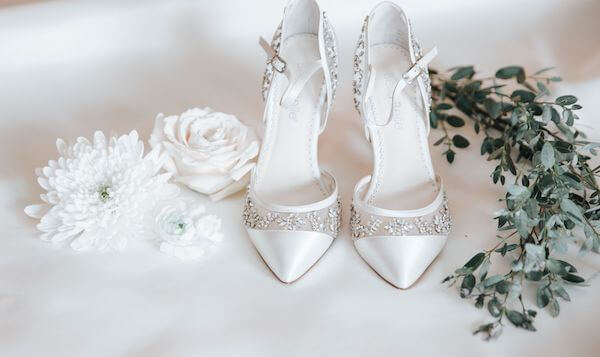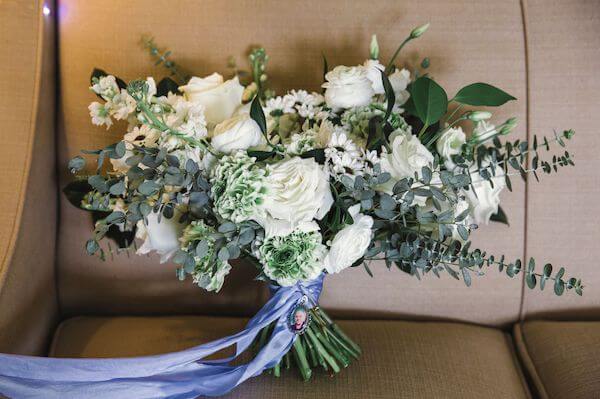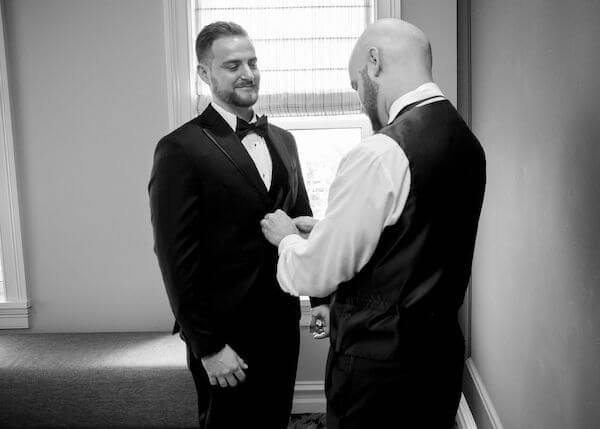 A Picture Perfect Location
Instagram-able moments require a picture-perfect location, and the Belleview Inn was the ideal location for this fantastic couple's intimate wedding.
From its suites to simple places like stairwells, every inch of the property offered amazing backdrops for the wedding, from group photos to the picturesque lawn where the couple exchanged their vows and danced the night away.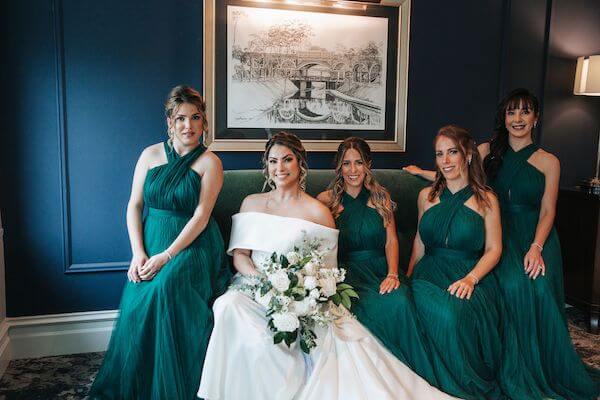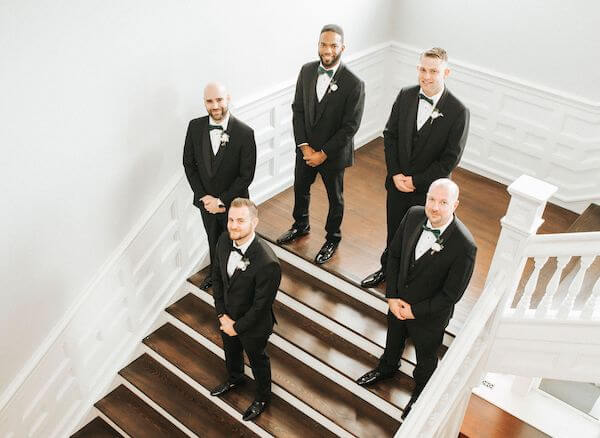 Can't Help Falling In Love
The wedding ceremony was set facing the inn's grand wraparound porch with amazing views of the historic property.
Gold chivari chairs lined the aisle with greenery and white flowers, leading to the stairs filled with candles and flowers. Each wedding guest was presented with a cone filled with white rose petals and the inscription – "As Susana and Rony exit as a pair, toss your petals high in the air!"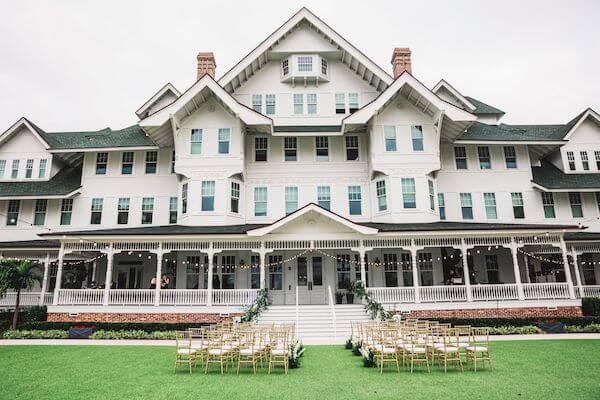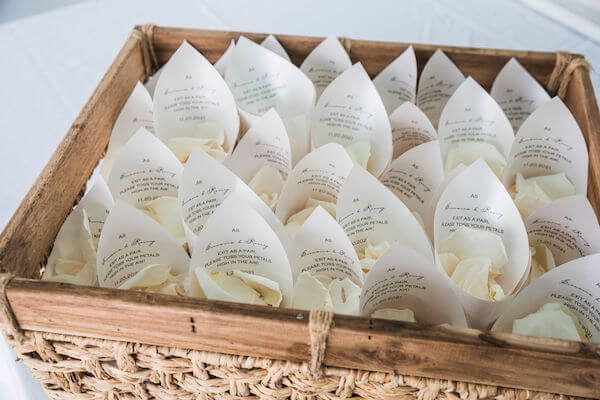 Susana looked stunning as she made her way down the aisle. Needless to say, she took Rony's breath away.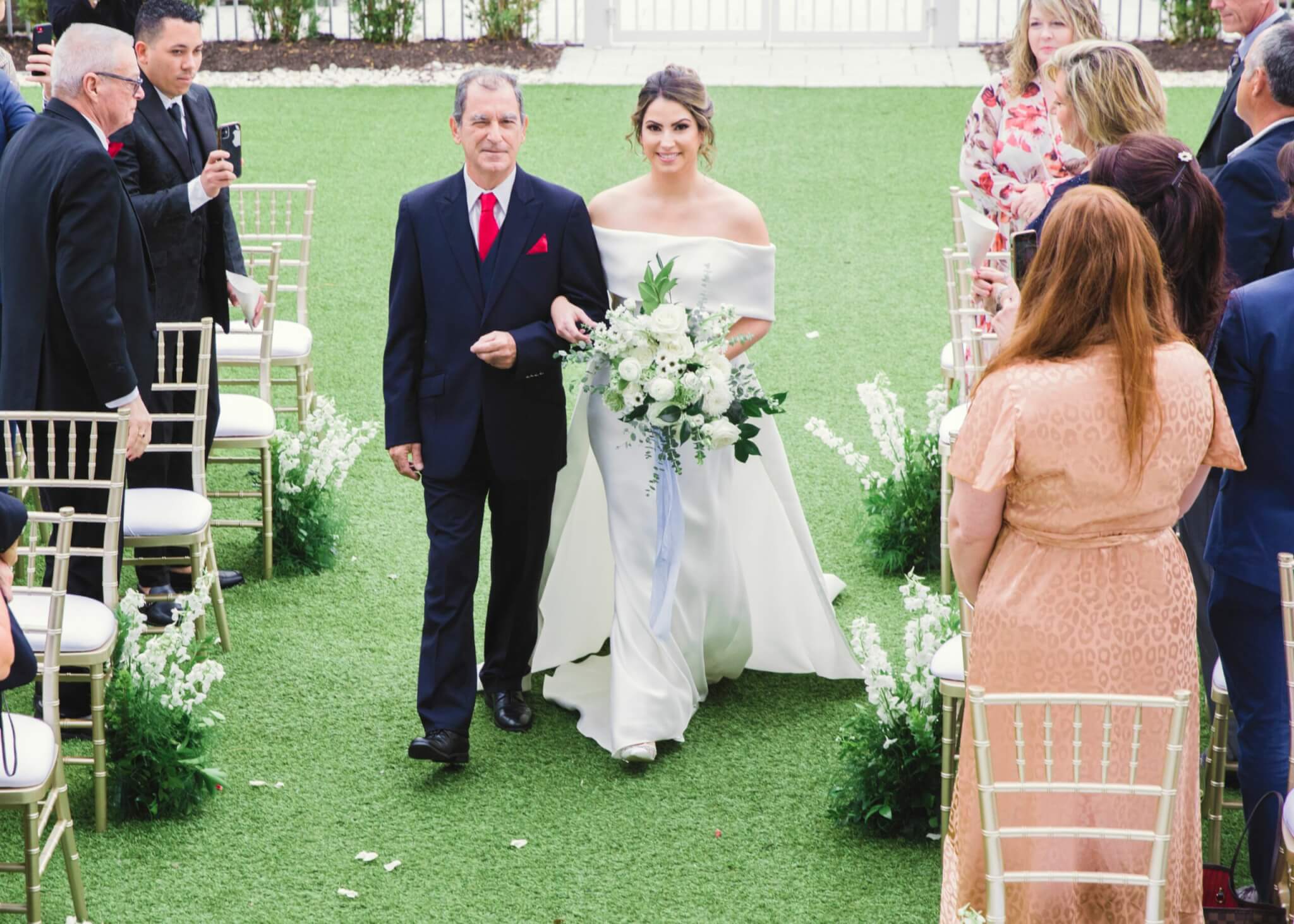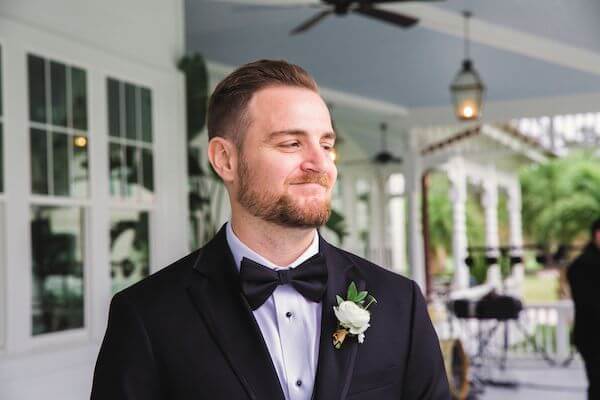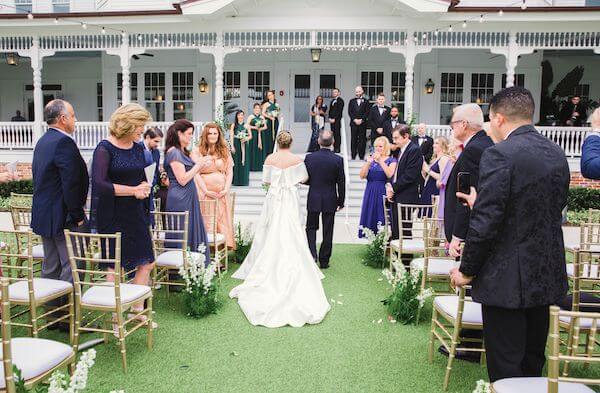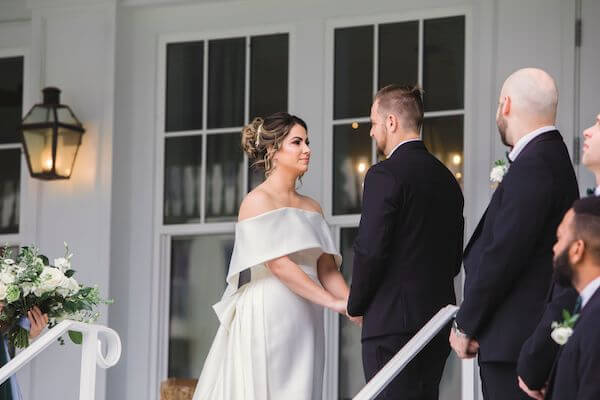 Gone To The Dogs
Nothing Says Instagram-able moment like a bride and groom with their amazing fur baby! And Duke, their Dog of Honor, stole the show.
Not only was he the official Ring Bearer, but he had a signature cocktail named for him and got to take some incredible photos with his mom and dad, including riding in a really cool vintage car.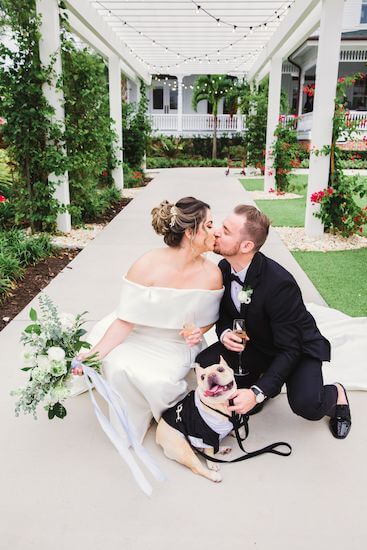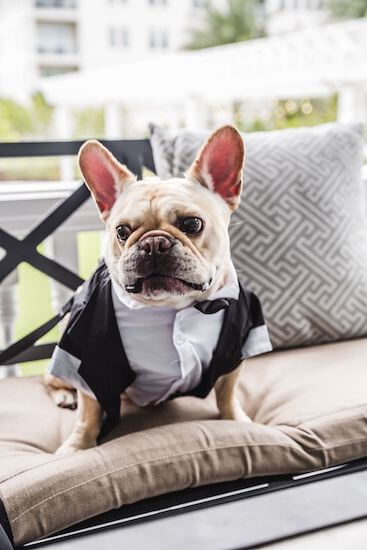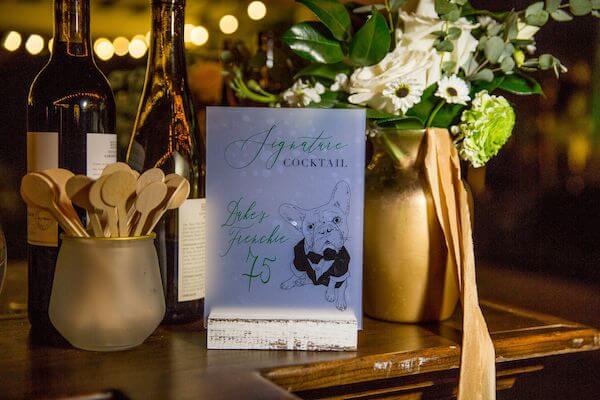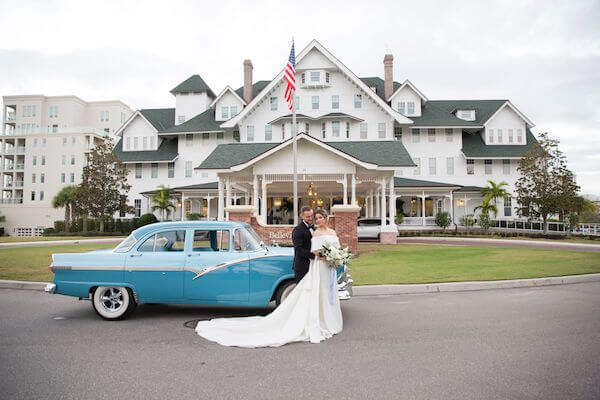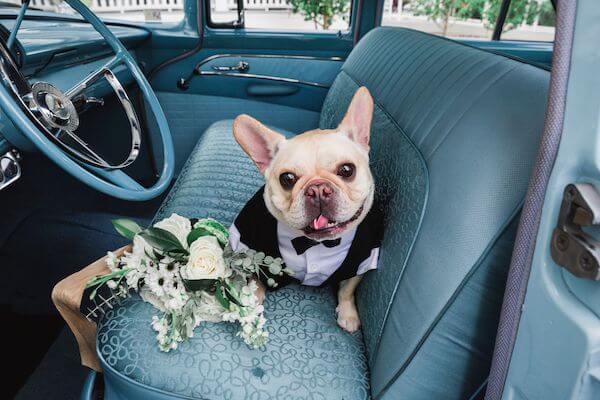 Can't Stop The Feeling
While the newlyweds were off taking some magical photos, guests were enjoying cocktails inside the inn's Tiffany Room.
Outside, the lawn was transformed for an incredible evening under the stars.
Gold added shimmer to the dark green and white color palette. An oversized gold framed seating chart directed family and friends to their assigned tables. Tables were draped with crisp white linens and set with floral arrangements in gold urns.
Custom menu cars, shimmering gold votive candles, and wedding favors completed the tablescape. The guest tables framed a white dancefloor with the couple's incredible sweetheart table on the other side near the inn's porch.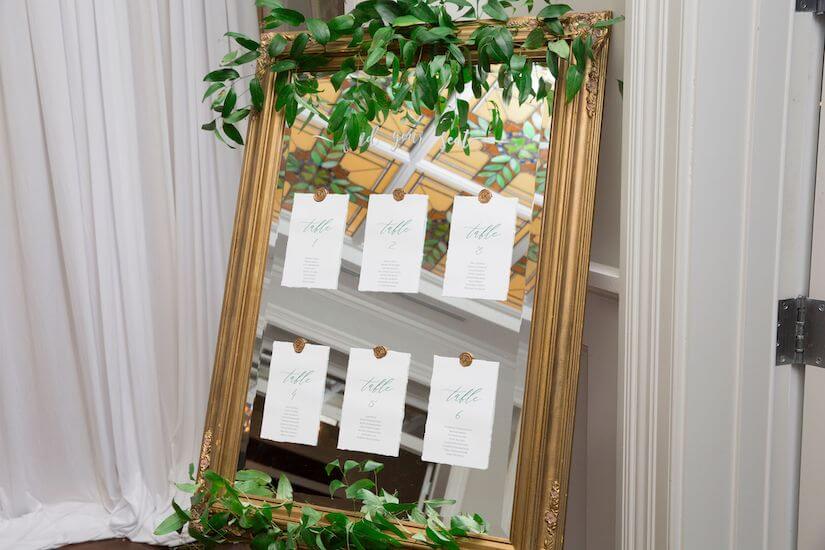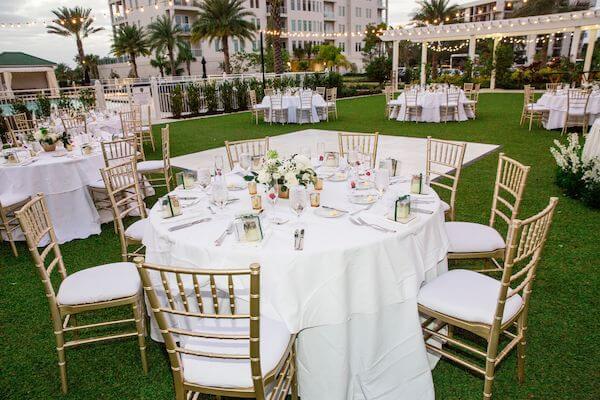 We love the couple's guest book! They chose a puzzle where wedding guests could sign their names or write wedding wishes on individual pieces. And, how cute is this stark white modern wedding cake accented with single flower stems?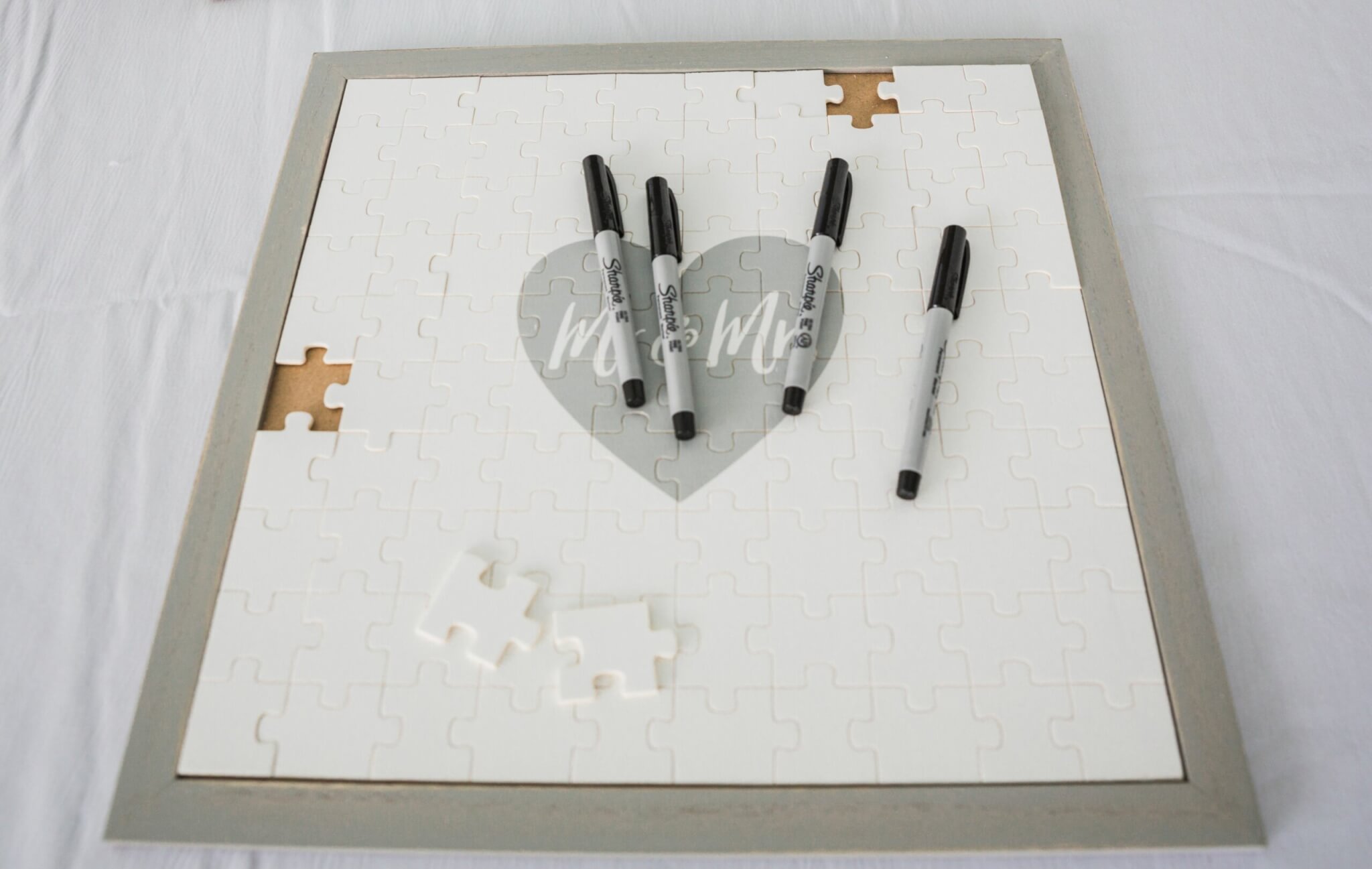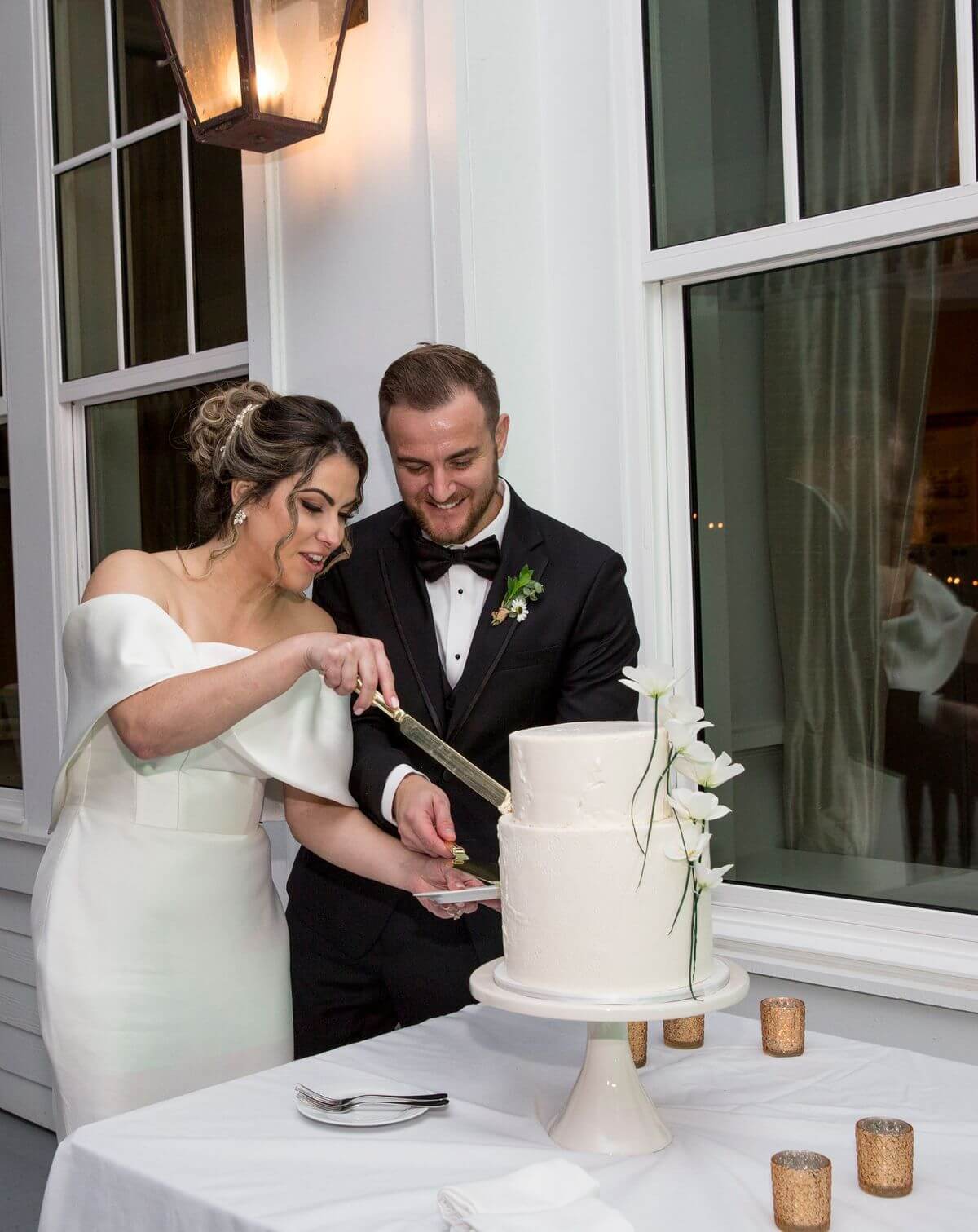 The evening was filled with special moments; for most of the evening, Susana and Rony danced the night away under the stars!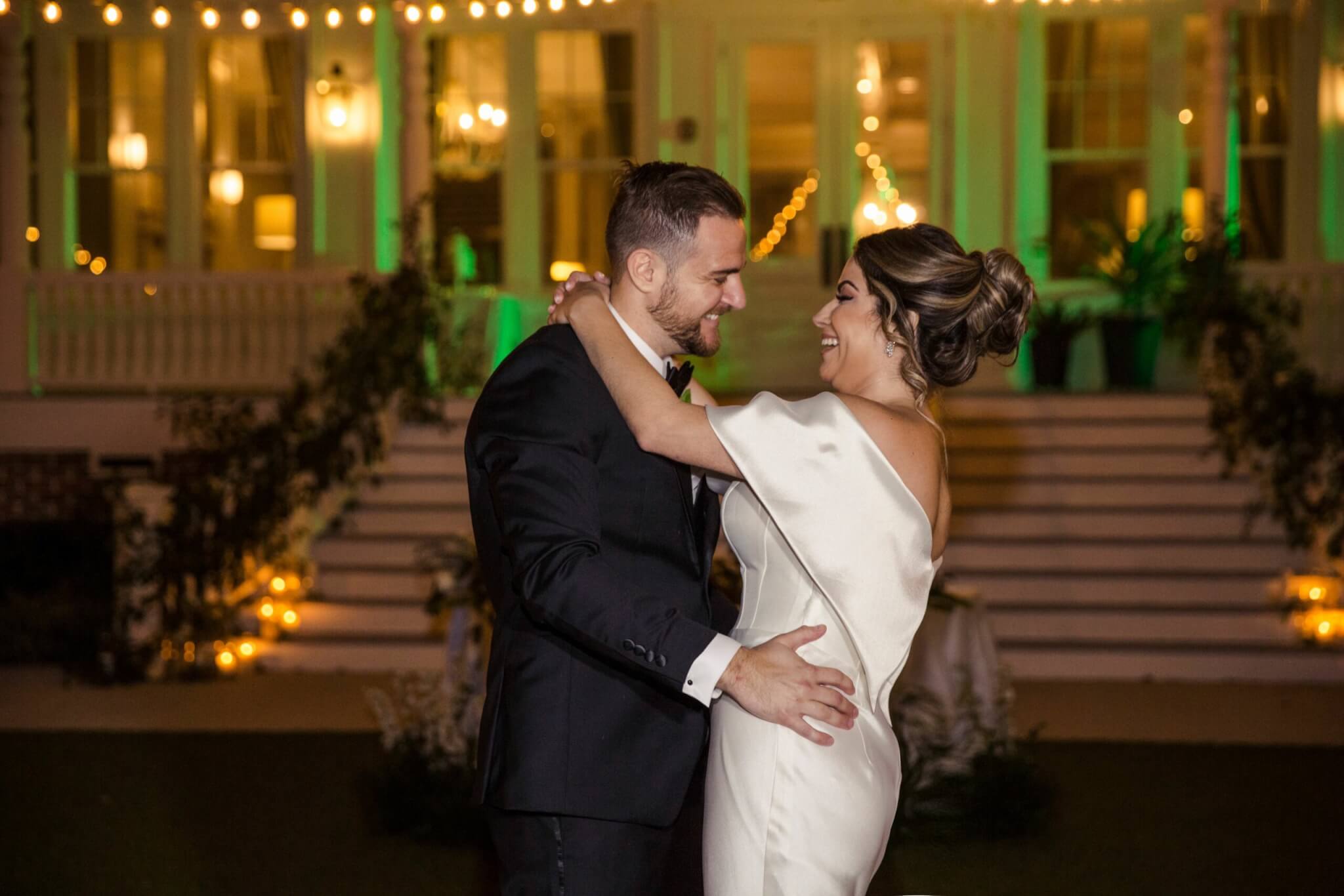 Clearwater Wedding Team
Clearwater Wedding Planner: Special Moments Event Planning
Wedding Venue: Belleview Inn
Floral Design: Flowers by Shelby Glynn
Photographer: Eva Photo Studio
Entertainment: The Danny Bub Combo
Rentals / Lighting: Gabro Event Services
Wedding Cake: Willow Wisp Cakes
Pet Care: Fairy Tale Pet Care
Planning a wedding?
Whether you are a Tampa Bay Area local or planning a Gulfside destination wedding, we have the creativity and connections to help you have the day of your dreams without all of the stress.
Planning an event?
We LOVE social events as much as we love weddings. From Wedding Showers to Reunions, we've done it all. It's all in the details and we've got you covered.
Planning a trip?
Need a weekend getaway during your wedding planning, time away with your family or help planning your honeymoon? We're happy to help!