Up On The Roof: A Hyatt Regency Clearwater Beach Wedding
It's no secret that our Special Moments Event Planning team loves a challenge. But, when Jalencia and Torey approached us one week before their Clearwater Beach wedding, we knew we'd have to work some magic.
From finalizing agreements with wedding vendors to confirming details and getting everything in order, it was a very busy week for our team. But, in the end, the results were beautiful, and it was a day their family and friends will remember.
It's the Little Things
Jalencia and her wedding party spent the morning together at the Hyatt Regency Clearwater Beach. The morning was dedicated to time with her wedding party, hair, makeup, and getting ready.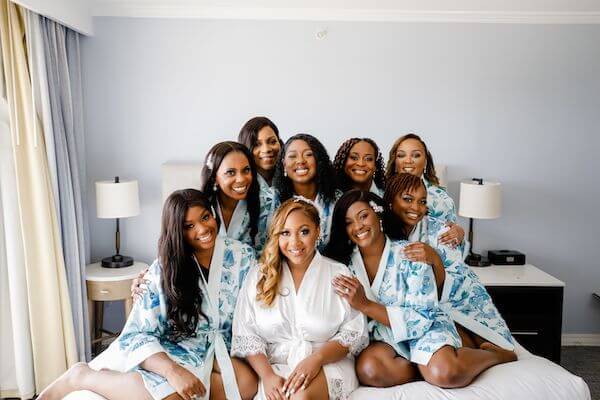 The personal details of their day were fantastic, from the matching robes and crystal hairpieces to invitations that set the tone for the day. They included amazing shoes and a stunning wedding gown, one of two looks for the bride. And the colors in the bridesmaid's dresses really popped!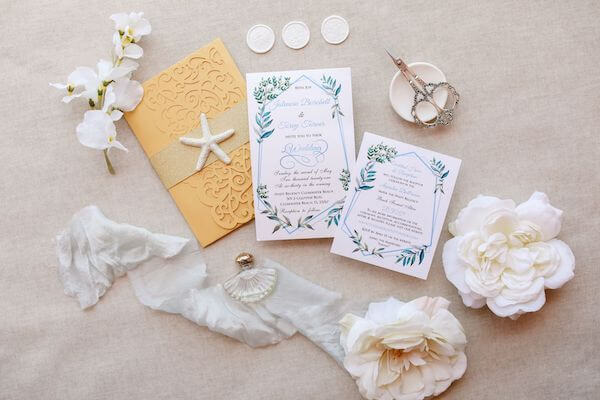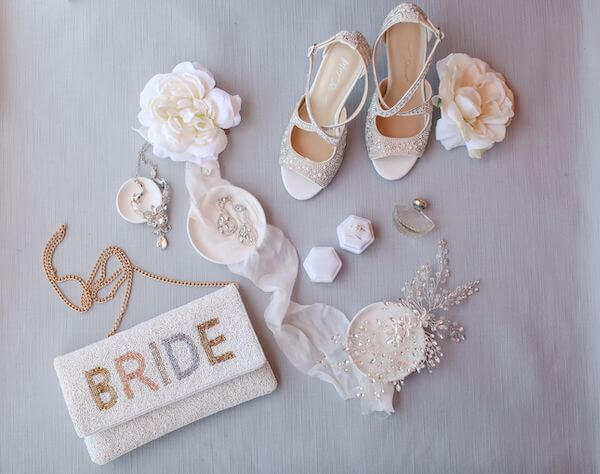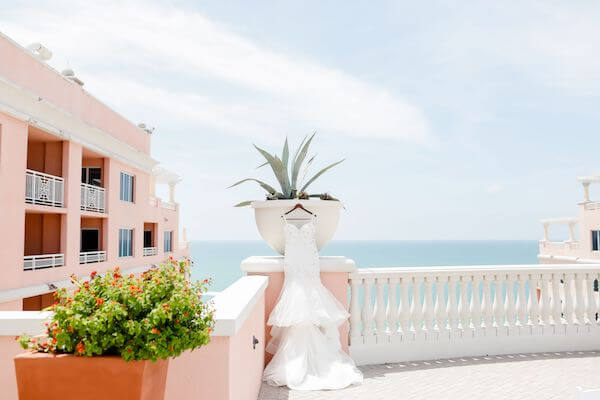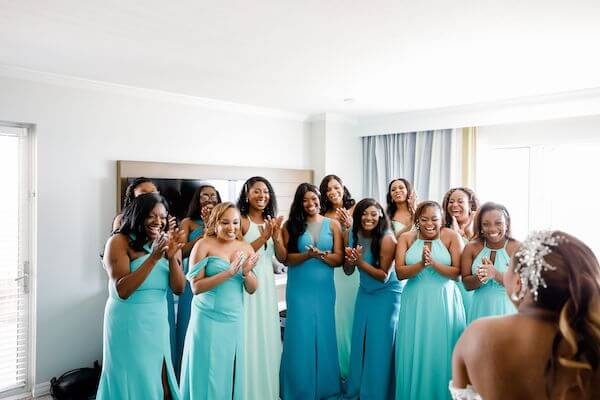 Meanwhile, Torey was hanging out with the guys and getting ready. We love his classic white tuxedo with a matching seafoam tie and pocket square.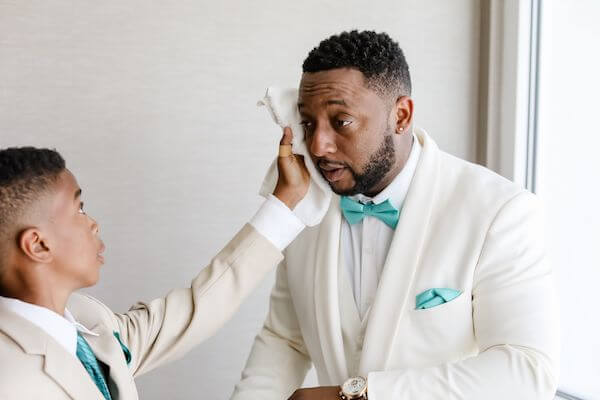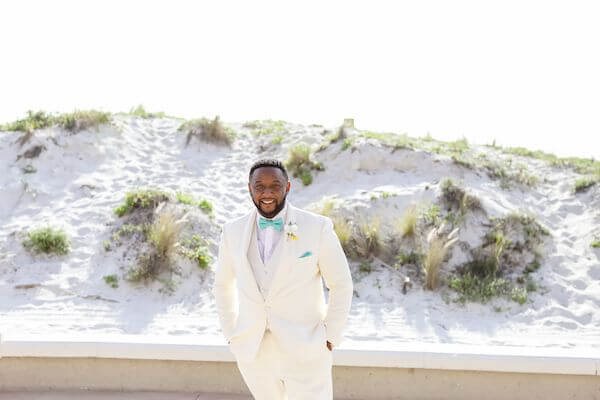 A Roof Top First Look
Jalencia looked spectacular in her lace wedding gown and long flowing veil. Her tropical-inspired bridal bouquet with lush greenery and lots of texture was incredible.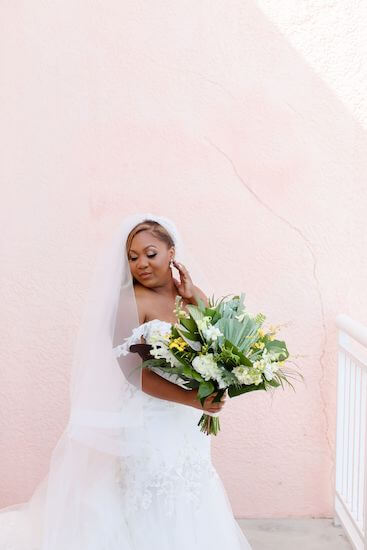 The bride and groom-to-be had their first look on a rooftop terrace overlooking the Gulf of Mexico. The resort's coral pink color and the blue of the water really created a magical setting.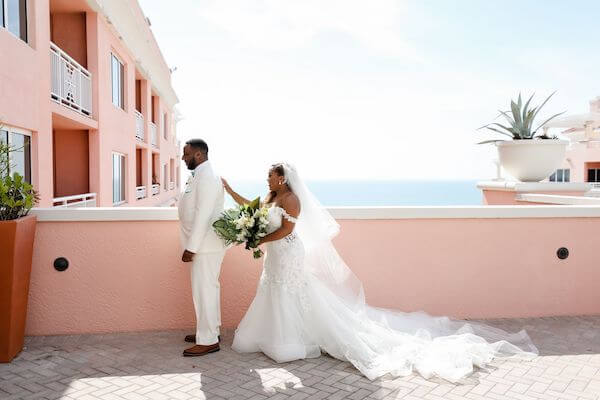 Ceremony on the Hyatt Regency Clearwater Beach's Sky Terrace
The resort's Sky Terrace on the 16th floor was set for Jalencia and Torey's wedding ceremony. Our Special Moments Event Planning team created beautiful custom signage and programs to complement their wedding design.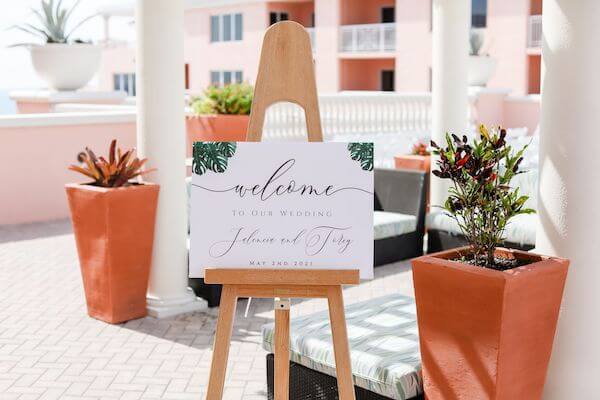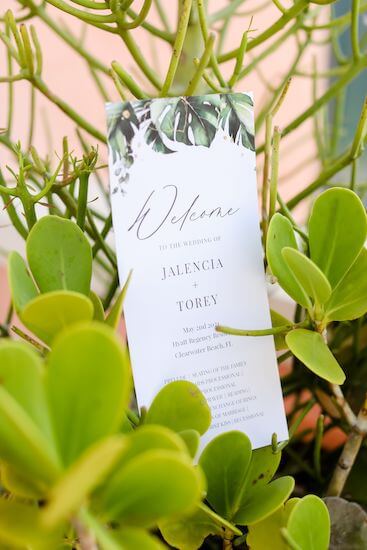 The rooftop was set with white garden chairs. The aisle was framed with palm branches as Jalencia, escorted by her father, made her way down the aisle to her anxiously awaiting groom.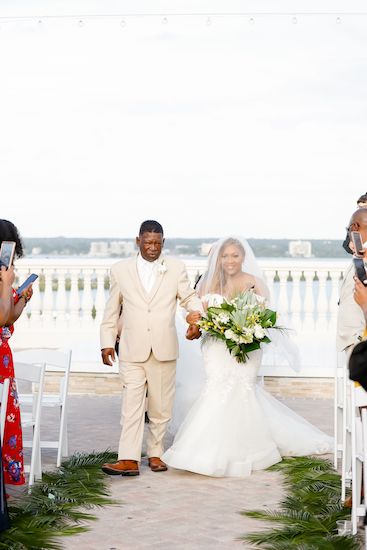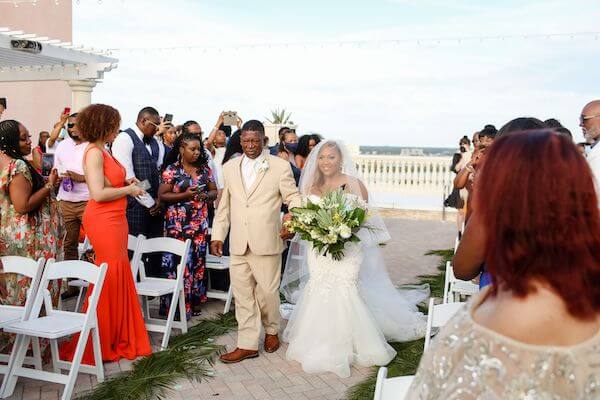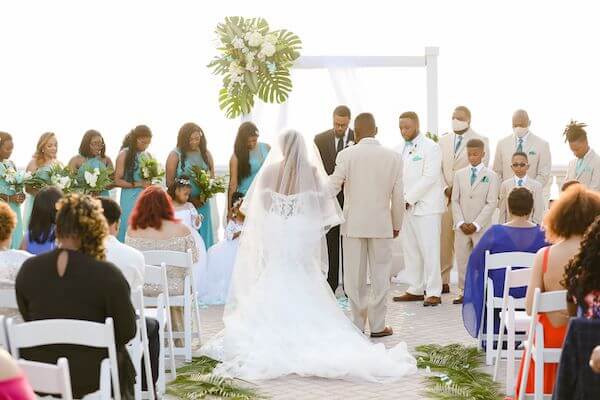 The couple exchanged their wedding vows surrounded by loved ones on a beautiful Florida evening.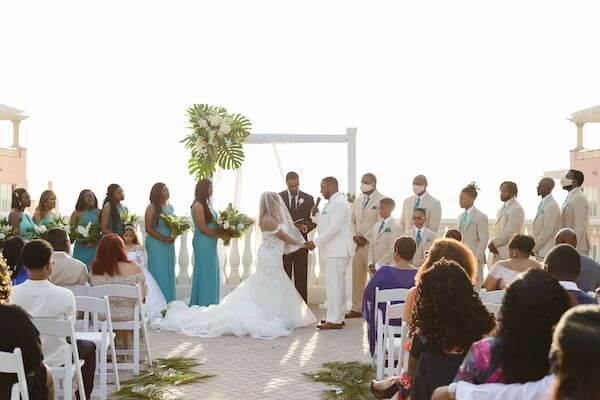 Cocktails and Wedding Party Photos
Following the wedding ceremony, guests made their way to the Caladesi Terrace on the resort's 8th floor for cocktails and light bites.
Meanwhile, the newlyweds took some time for photos with family and their wedding party. This may have been one of the biggest wedding parties we've worked with. And, how awesome is the ombre shading in the bridal party's dresses?
We know it had to be one of the most talented. One of the groomsmen played the saxophone before the wedding ceremony and during dinner. Two other members of the wedding party sang a duet during the salad course.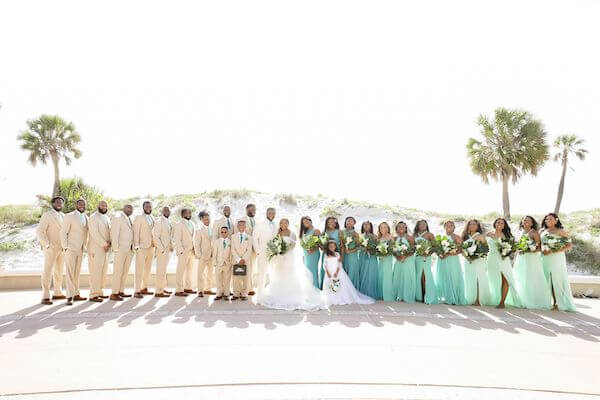 Let Them Eat Cake!
Inside the Aqualea Ballroom, all the details were in place for a night filled with dinner and dancing. White floor-length linens were accented with table runners and napkins in shades of seafoam and turquoise. The wedding parties' lush tropical bouquets were repurposed into elegant centerpieces, surrounded by palm branches and votive candles.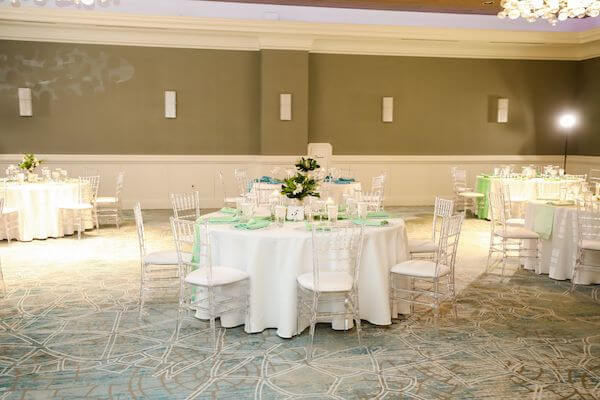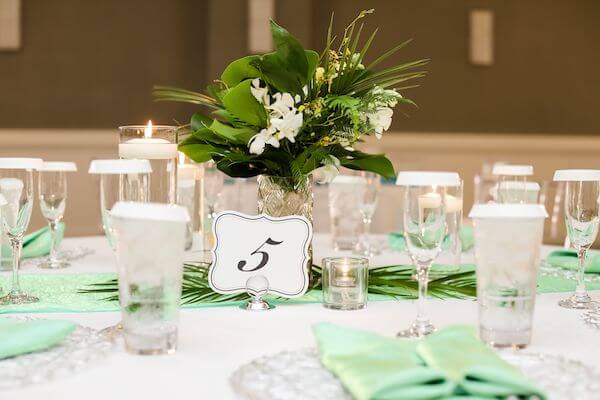 Following wedding party introductions, the new Mr. and Mrs. made their grand entrance and took to the dancefloor for their first dance.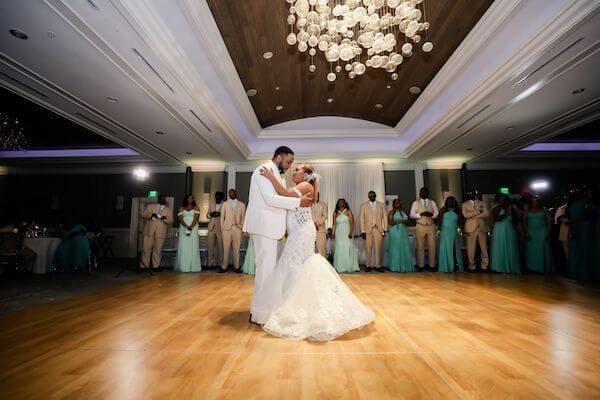 The evening was filled with touching toasts, a delicious multi-course dinner, and lots of dancing. The newlyweds took a little break from the dancefloor to cut their incredible three-tiered wedding cake dressed in ocean blues, starfish, coral, and shells. And, let's not forget this show-stopping groom's cake!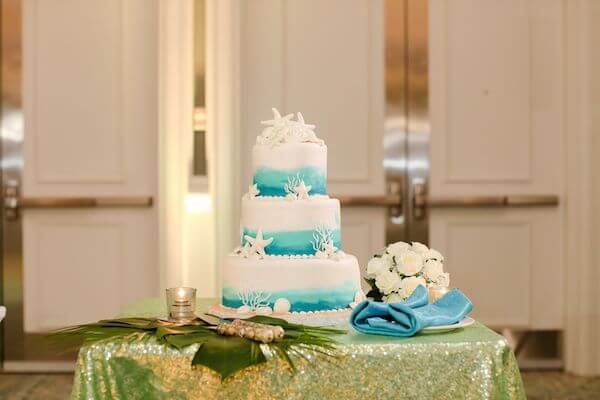 It's incredible what can happen in a week. Congratulations, Jalencia and Torey! Thanks for trusting your day to our Special Moments team.
The Clearwater Beach Wedding Team
Clearwater Beach Wedding Planner: Special Moments Event Planning
Clearwater Beach Wedding Venue: Hyatt Regency Clearwater Beach
Officiant: Dr. Aaron Letcher
Hair and Makeup: Imago Dei by Milan
Photography: Lifelong Photography Studio
Videography: Hatfield Productions
Floral Design: 2 Birds Events
DJ: Universal Music Entertainment
Rentals: Gabro Event Services
Linens: Connie Duglin Linens
Wedding Cake and Groom's Cake: Chantilly Cakes
Signage / Program / Escort Cards: Special Moments Event Planning
Planning a wedding?
Whether you are a Tampa Bay Area local or planning a Gulfside destination wedding, we have the creativity and connections to help you have the day of your dreams without all of the stress.
Planning an event?
We LOVE social events as much as we love weddings. From Wedding Showers to Reunions, we've done it all. It's all in the details and we've got you covered.
Planning a trip?
Need a weekend getaway during your wedding planning, time away with your family or help planning your honeymoon? We're happy to help!