Jessica and Lokesh's Intimate Sandpearl Resort Wedding
Jessica and Lokesh's intimate Sandpearl Resort was full of fun and special moments. They surrounded themselves with family and close friends, and the day was pretty amazing.
Jessica started the day with hair and makeup, time with her sister, and her wedding party; you can tell they had a blast.
Lokesh and the guys were pretty low-key but had a blast taking photos.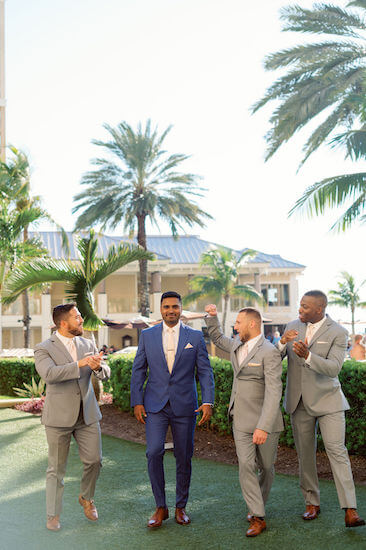 Hi Dad!
While Jessica and Lokesh chose not to see each other until their wedding ceremony, Jessica took some time for a first look with her dad. 
Champagne and I Do
Outside on Clearwater Beach, the couple's ceremony was ready for guests' arrival. White garden chairs led to a simple wooden ceremony structure with fresh flowers. Guests enjoyed a glass of Champagne as the wedding party made their entrance.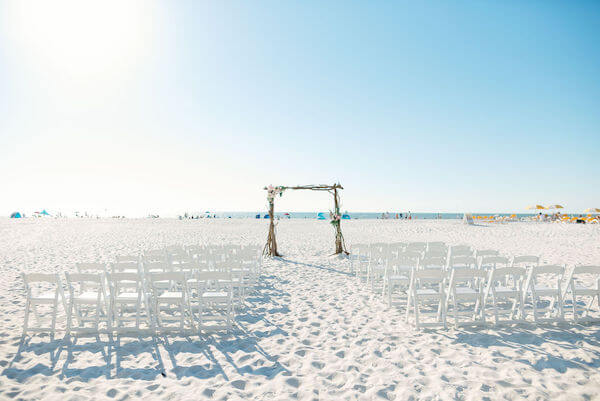 Escorted by her father, Jessica made her entrance to Hallelujah by Jeff Buckley. Needless to say, Lokesh was stunned when he saw his beautiful bride!
Surrounded by family and friends, the couple exchanged wedding rings, vows, and beautiful floral garlands before making their grand exit.
Cocktails and Hors D'oeuvres
Wedding guests enjoyed cocktails and hors d'oeuvres on the resort's pool lawn while the newlyweds and their wedding party headed off for photos.
Guests enjoyed a Sushi Display, as well as passed hors d' oeuvres, including Filet Mignon and Boursin Cheese on Croute, Lollipop Lamb Chops with Passionfruit Jelly, Thai Chicken Spring Roll, and Roasted Tomato and Goat Cheese on Crostini.
Sunset on Clearwater Beach
The newlyweds and their wedding party headed down the beach for some beautiful wedding photos. The couple's puppy joined them, and it was all fun and games until the bridesmaids dropped Lokesh headfirst in the sand. (It's okay; he was fine!)
Dinner and Dancing
Inside the Sanpearl's Cove Room was set for the couple's intimate wedding reception.
A long head table was dressed in soft florals and flickering candles paired with a guest table decor. The table sat before a hedge wall decorated with a custom neon sign.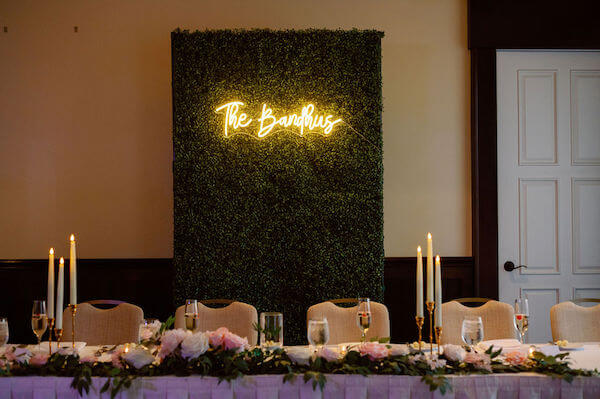 Off to one side was a table displaying the couple's cake with a custom cake topper that included their puppy!
After the couple's grand entrance and a blessing by the bride's father, guests dined on a Fork and Knife Caesar with Pulled Croutons, Roasted Tomato, Reggiano Tuile, and Parmesan Dressing.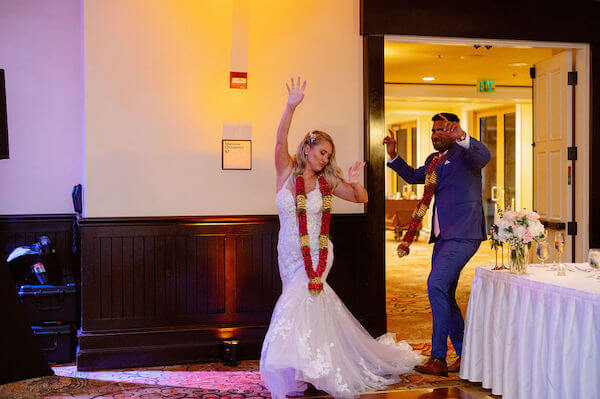 The entree course consisted of a Duo Plated Dinner with Herb Crusted Chilean Sea Bass with Citrus Beurre Blanc Sauce and Filet Mignon with Red Wine Jus served with Havarti Potato Soufflé and Vegetable Bundle. 
The evening continued with several toasts and the couple's first dance. The bride had a special dance with her father before opening the dance floor to start the party!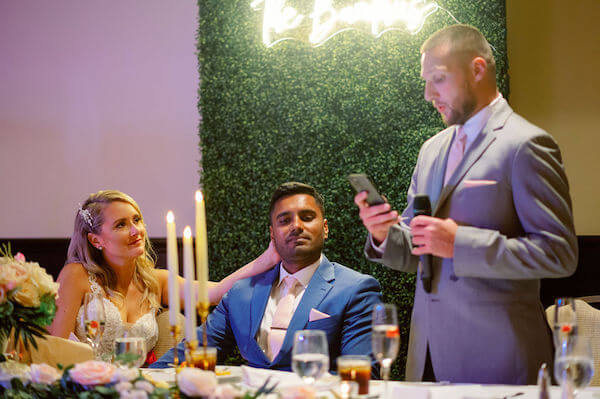 Congratulations, Jessica and Lokesh! We're glad our team got to be part of some of your special moments!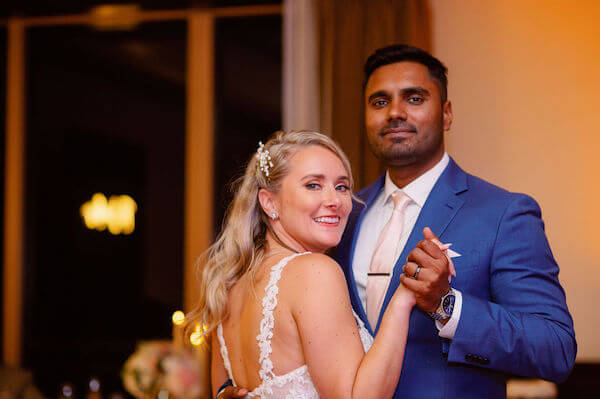 Clearwater Beach Wedding Vendors
Wedding Venue: Sandpearl Resort
Clearwater Beach Wedding Planner: Special Moments Event Planning
Hair and Makeup: Lasting Luxe Artistry Group
Photography: JCanelas Photography
Entertainment: Total Entertainment by Matt Winter
Rentals: Epic Events by Booth
Rentals: Flower Walls of Tampa
Planning a wedding?
Whether you are a Tampa Bay Area local or planning a Gulfside destination wedding, we have the creativity and connections to help you have the day of your dreams without all of the stress.
Planning an event?
We LOVE social events as much as we love weddings. From Wedding Showers to Reunions, we've done it all. It's all in the details and we've got you covered.
Planning a trip?
Need a weekend getaway during your wedding planning, time away with your family or help planning your honeymoon? We're happy to help!