D+D, Danielle, and David were married in St. Pete Beach at the beautiful and historic Don Cesar Hotel. It was the ideal setting for this lovely nautical-themed wedding.
Getting Ready
The couple each spent the morning with their wedding parties. After a light lunch and getting dressed, they did individual portraits and additional photos with their wedding parties.
With This Ring
Outside in the resort's courtyard, everything was in place for a beautiful outdoor wedding ceremony. 
The courtyard was set with white garden chairs that led to a wide staircase. The steps were lined with candles and fresh pink and white flowers. At the top of the stairs was a beautiful ceremony structure that overflowed with fresh flowers.
With everyone in place, Danielle made her way to her anxiously awaiting groom to Pachelbel's Canon in D.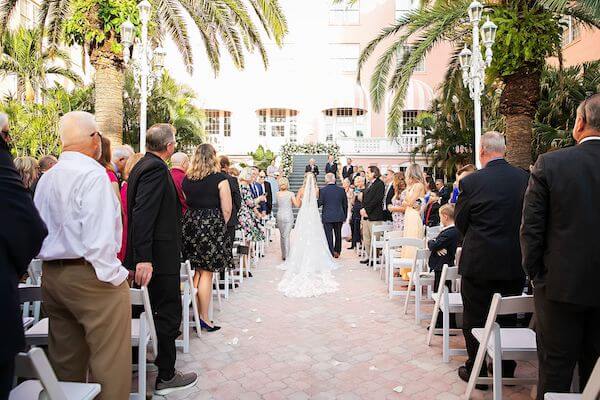 D+D exchanged wedding vows and rings, surrounded by family and friends. Sealing their wedding vows with a kiss, they made their grand exit to ¨Make It Sweetly Old Dominion.
Cocktails on the Terrace
Following the wedding ceremony, guests made their way to the resort's 8th Floor terrace for Cocktails and Hors d' oeuvres, including Bacon Wrapped Shrimp, Margarita Flatbread, Crispy Mozzarella Balls, and Pickled Grape Bruschetta.
Meanwhile, the newlyweds took family photos and took advantage of the stunning sunset over the Gulf of Mexico.
Its All In The Details
This beautiful nautical-themed wedding was filled with personal details. We especially love the ones that tie in the nautical theme.
The details were awesome, from David's D+D cufflinks with a ship's wheel and anchor to the incredible compass Danielle gave her groom as a wedding gift.
Their gifts to their wedding party, guest book, signage, and beverage ware all included the nautical theme and their monogram.
For their wedding favor, D+D gave their guests incredible Don Cesar Christmas ornaments with their names on the bottom. These were super sweet and very personal.
D+D's Decor
The hotel's blue and white King Charles Ballroom incorporated the nautical color scheme—luxurious white chairs with blue cushions surrounded tables draped in white linen with blue napkins. Dozens of candles and beautiful floral arrangements filled the center of each table.
The couple's sweetheart table was draped in rich dark blue linen, covered with beautiful flowers, and surrounded by several dozen candles.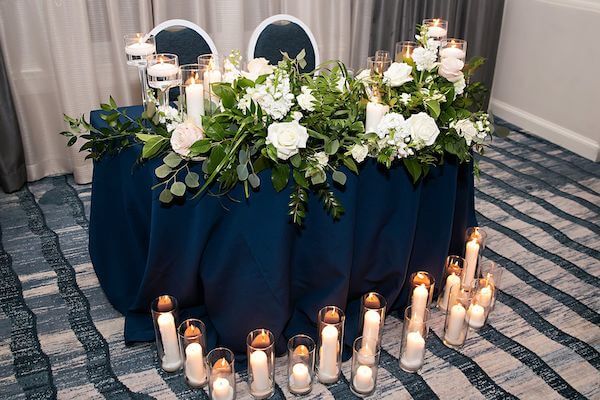 D+D's spectacular five-tier white wedding cake was a showstopper. Complete with a custom monogrammed cake topper. The cake was adorned with nautical knots. They chose Coffee Lovers Cake and Red Velvet flavors, which were delicious.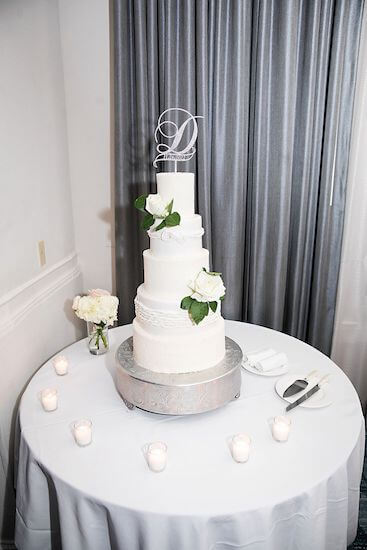 Dinner and Dancing
D+D made their grand entrance and took to the dance floor for their first dance to ¨Forever Country.¨
Their first dance was followed by some special family dances and a blessing before dinner service.
Their dinner services included a salad of Baby Spinach with Goat Cheese Port Wine Truffles, Toasted Pine Nuts, Dries Apricots, and Sesame Tuile with Dried Cherry Dressing.
For entrees, guests chose from:
Iron Seared Manhattan Steak with Sweet Potato Mash, Green Bean Almandine, Blistered Tomatoes, and Wild Mushroom Demi 
Macadamia Crusted Mahi Mahi with Herb Risotto, Wilted Swiss Chard, Garlic Broccolini, and Rum Butter Sauce 
Prosciutto Wrapped Semi-Boneless Chicken Stuffed with Fontina Cheese, Pesto Orzo, Roasted Broccolini, Blistered Baby Peppers, and Beurre Blanc 
Their scrumptious multi-course dinner was followed by some touching toast, a Thank You from D+D, and their cake cutting before everyone took to the dance floor to dance the night away.
Congratulations, Danielle and David! We're thrilled to have been part of your wedding's special moments.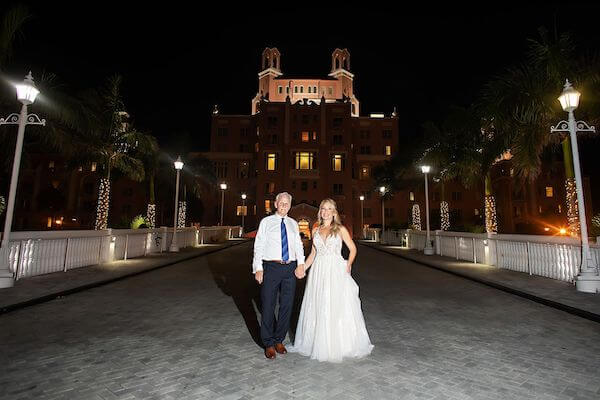 St. Pete Beach Wedding Team
Wedding Venue: The Don Cesar
St. Pete Beach Wedding Planner: Special Moments Event Planning
Wedding Photography: Limelight Photography
Floral Design: Monarch Events and Design
Ceremony Music: Jade Strings
Planning a wedding?
Whether you are a Tampa Bay Area local or planning a Gulfside destination wedding, we have the creativity and connections to help you have the day of your dreams without all of the stress.
Planning an event?
We LOVE social events as much as we love weddings. From Wedding Showers to Reunions, we've done it all. It's all in the details and we've got you covered.
Planning a trip?
Need a weekend getaway during your wedding planning, time away with your family or help planning your honeymoon? We're happy to help!