Sunshine, Smiles and Milano Cookies
Our Special Moments Event Planning team knows how nervous and worried a couple, and their families can be when they come to us for Wedding Day Management. Most are concerned over whether they have hired the right people, things that they might have missed, and how it will all come together.
We're sure that Laura and her mother probably felt the same way before they came to meet us. It didn't take long for them to take that deep sigh of relief, knowing that our team would ensure they had a fantastic wedding day.
Get Ready
Leading up to the wedding day, our Special Moments Event Planning team crossed all the T's and dotted all the I's with the couple, their wedding venue, and all of their vendors.
As the day drew closer, we collected the couple's items like their cake topper, guest book, cake knife toasting flutes, card box, and marriage license.
We also worked with them to select their ring pillow, and silver "Mr. and Mrs." sign from our décor collection. Additionally, we worked with them to design, create, and alphabetize their escort cards.
Sunshine and Smiles!
The weather in Clearwater Beach was perfect as the ladies started the wedding day together. They all had their hair and makeup done, got dressed, and took some photos in the bridal suite.
Joseph and the guys relaxed, got dressed, and had some photos taken while Laura finished dressing and had a first look with her father.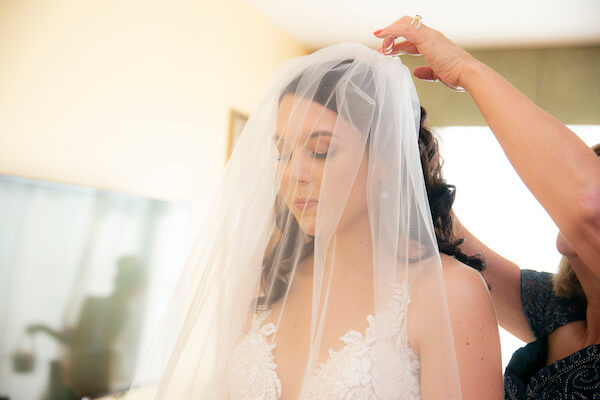 Everything was prepared for the couple's waterfront wedding ceremony as Laura, and her father made their way down the aisle to "Canon in D." Joseph waited patiently for her arrival, and soon after, the two were exchanging their wedding vows as the sun shimmered across the water behind them.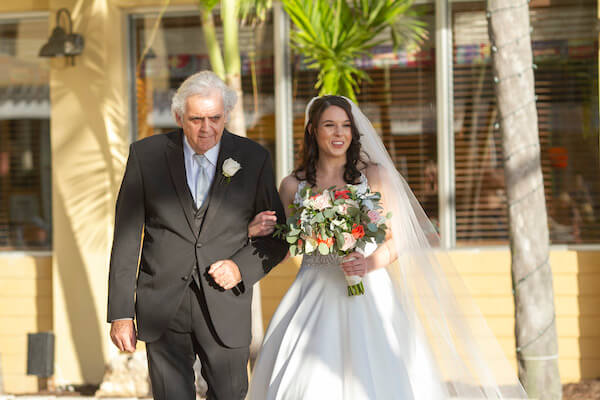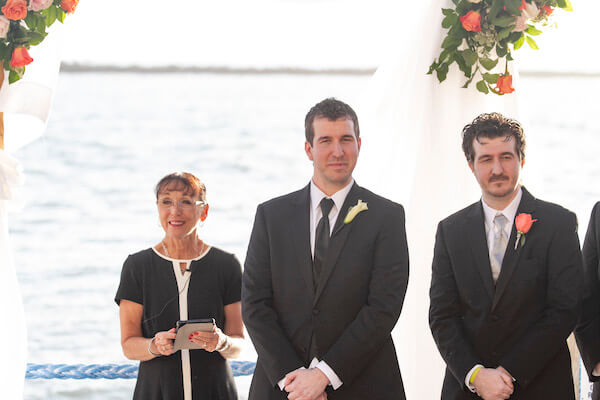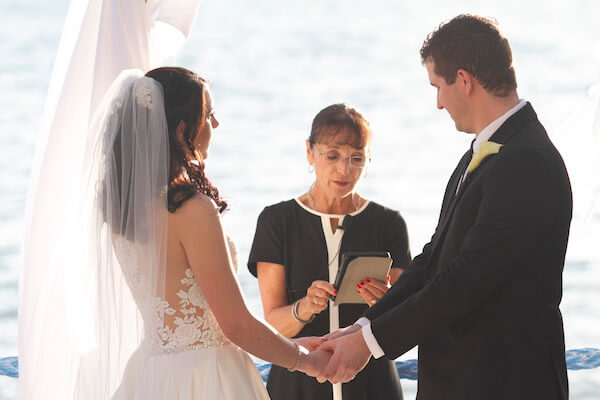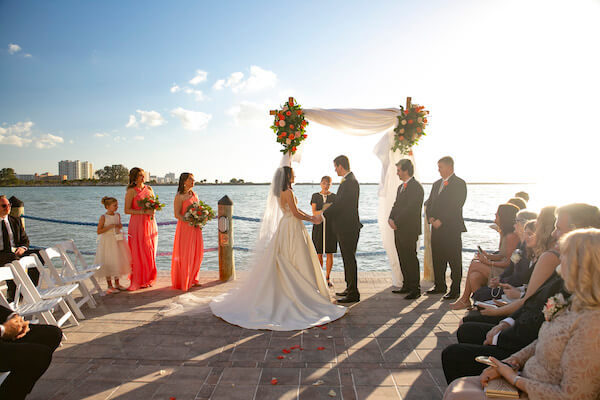 After their first kiss, the newlyweds, smiling ear-to-ear,  headed off to finish some family, wedding party, and sunset photos. Meanwhile, wedding guests made their way to the terrace for a cocktail hour that included an open bar and a selection of passed hors d' oeuvres.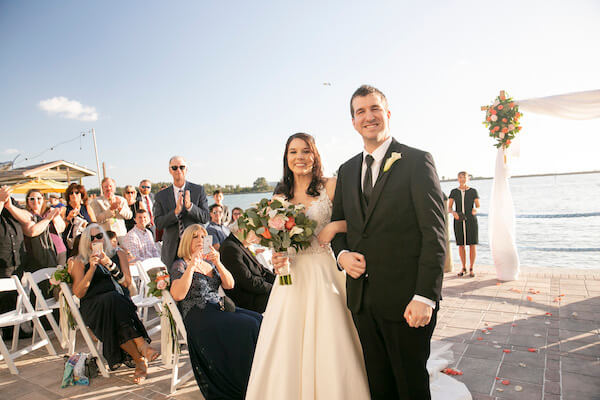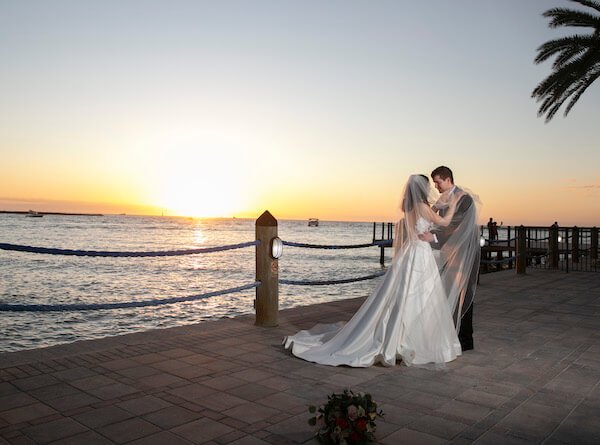 Inside the ballroom, finishing touches were underway. We dressed tables in crisp white linen that complimented the chair covers, napkins, and ceiling drape. Peach colored sashes paired beautifully with the peach, and pink floral centerpieces and floating candles and twinkling lights completed the look.
We've always been fans of edible wedding favors. When the groom's last name matches a delicious cookie, tucking a pack of Milano's into each guest's place setting is a fun, personal touch.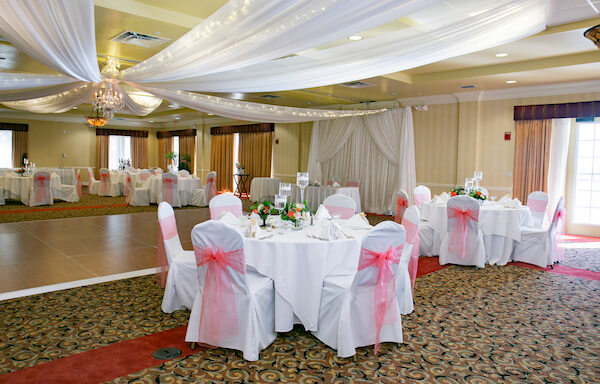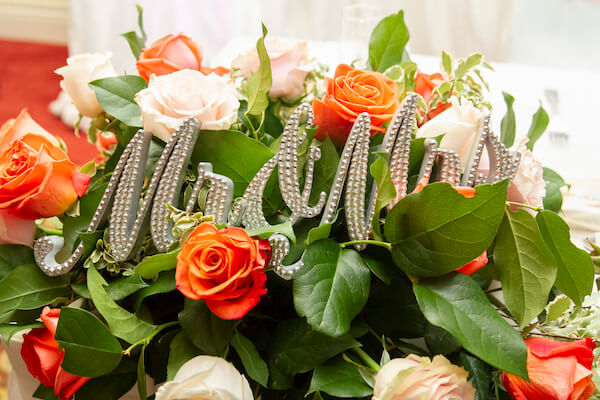 Laura and Joseph made their entrance into the ballroom, followed by their first dance a welcome and toasting to their family and friends.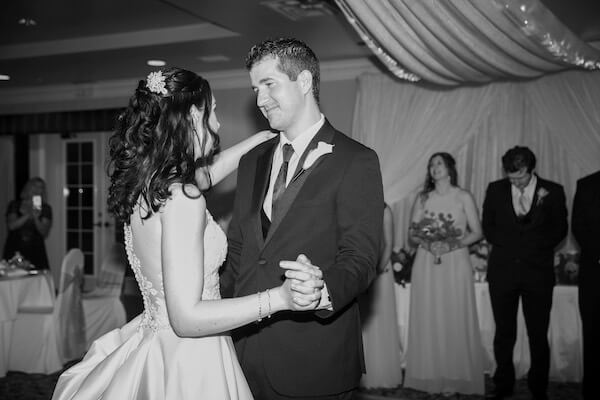 Following a delicious buffet dinner, the couple cut their wedding cake before inviting parents to the dance floor for a few special dances. Rather than tossing away her beautiful bouquet, Laura gave it to the longest-married couple in and anniversary dance.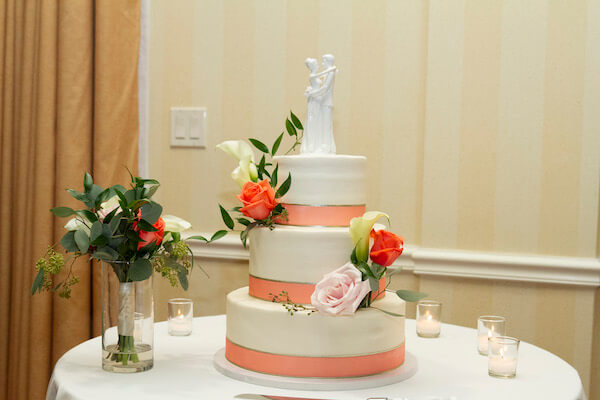 Congratulations, Laura, and Joseph. We hope you had an incredible wedding day!
Thank you to all of the wedding pros
Clearwater Beach Wedding Venue: Holiday Inn and Suites Clearwater Beach
Hair and Makeup: Glam To Be
Wedding Officiant: A Beautiful Wedding In Florida
Wedding Photographer: Beautiful Wedding Photography
Floral Design and Draping: Arlene Floral Design
DJ / Up-lighting: Grant Hemond & Associates
Wedding Cake: Corey's Bakery & Catering
We'd like to thank the couple for donating their leftover floral arrangement to Random Acts of Flowers.
Planning a wedding?
Whether you are a Tampa Bay Area local or planning a Gulfside destination wedding, we have the creativity and connections to help you have the day of your dreams without all of the stress.
Planning an event?
We LOVE social events as much as we love weddings. From Wedding Showers to Reunions, we've done it all. It's all in the details and we've got you covered.
Planning a trip?
Need a weekend getaway during your wedding planning, time away with your family or help planning your honeymoon? We're happy to help!