Never Known A Love Like This: An Intimate Waterfront Wedding
Amber and Jaime came to our Special Moments Event Planning team through Amber's good friend and our colleague Michele Renee of Michele The Studio. The couple came to us just before the start of 2021 for a February intimate wedding at the bride's family home.
They are such a sweet couple, and the people they surrounded themselves with could not have been nicer. With only sixteen wedding guests, the couple had the time of their lives.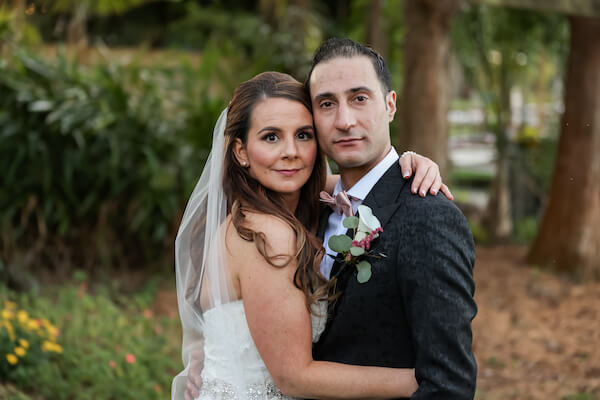 But, don't let the number of wedding guests fool you. Amber and Jaime's wedding day was packed with love, personal touches, and lots of details. And, the setting could not have been more perfect.
Their wedding film absolutely captured the love and details of the day. We dare you to watch the view and not cry. We're not crying. You're crying!
Getting Ready
For Amber, the day started with hair and makeup before some fun photos with family. Stella and Bodhi dressed for the special occasion, and we love the matching robes for the bride, mom, and maid of honor. How cute are Amber's rose gold ballet flats?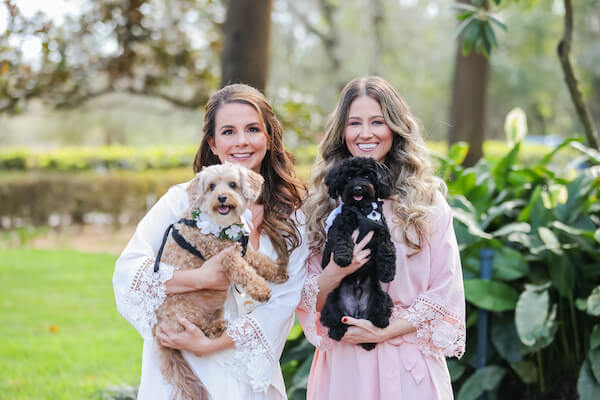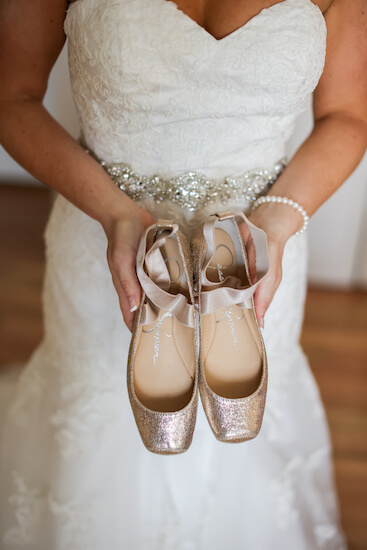 Jaime spent the morning getting ready in the boathouse. We love it when the groom has his accessories together for the photographers to shoot before he gets dressed. Excellent job, Jaime!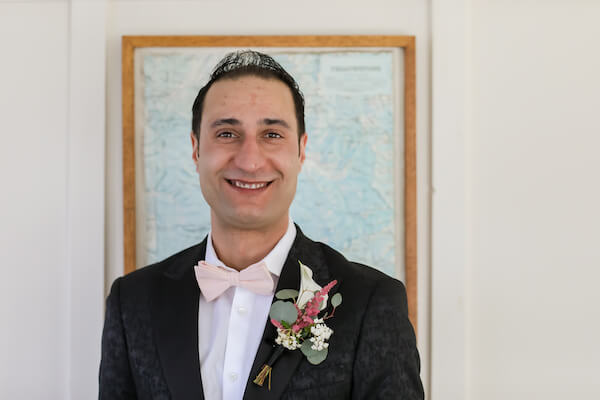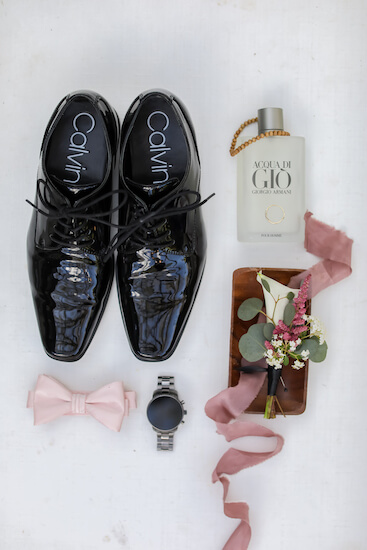 Waterfront Wedding Ceremony
Outside in the backyard, final details were in place for the intimate waterfront wedding ceremony. Two trees swagged with white fabric, greenery, and white flowers created the perfect wedding structure. And the waterfront views were amazing.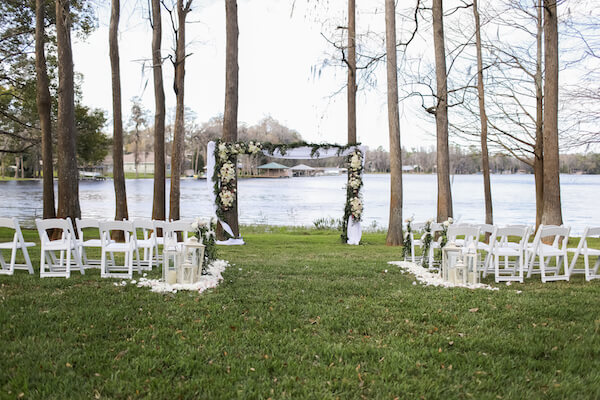 Specially selected Disney love songs played in the background as wedding guests gathered and took their seats. A white and gold wagon allowed Stella and Bodhi to be included in the wedding ceremony too!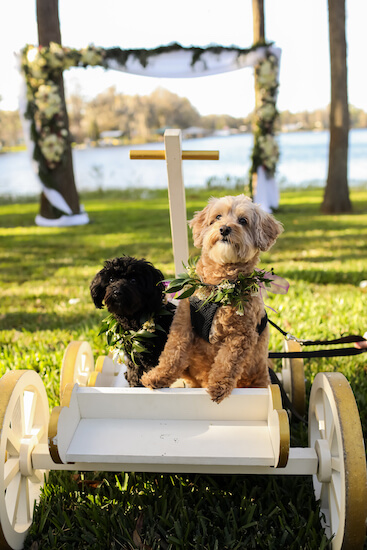 Escorted by her father, Amber made her way across the lawn and down the aisle to Jaime. The two exchanged their wedding vows in a magical ceremony, surrounded by family and friends.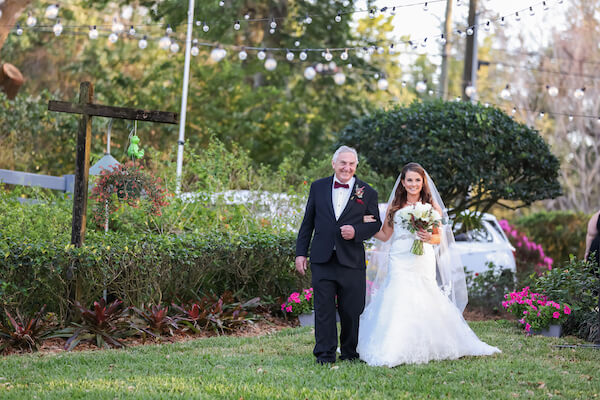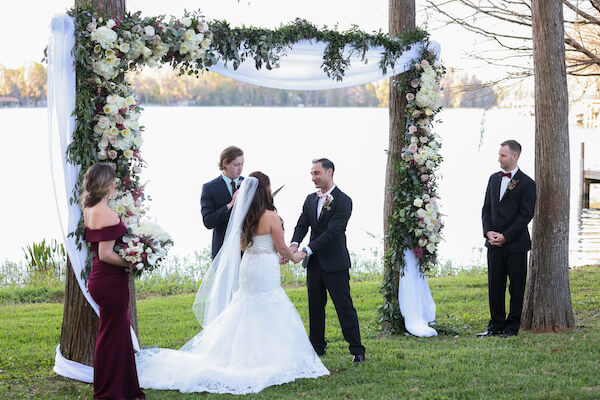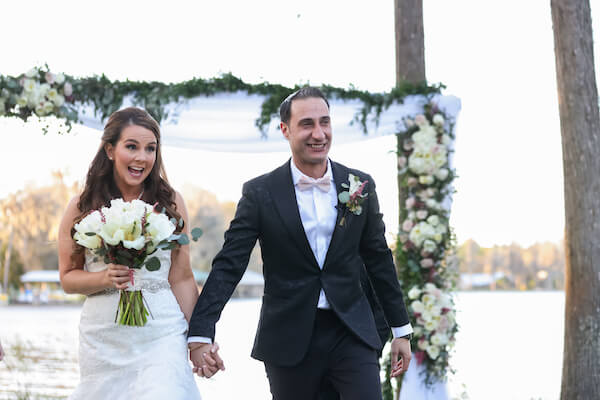 An Intimate Mocktail Hour
Following the wedding ceremony, the couple and their guests enjoyed a Mocktail Hour while taking some photos. The reception included a Signature Mocktail, a White Cranberry Peach Mule. The passed hors d 'oeuvres included Ahi Tuna Martinis, Chicken and Waffle Cones, and Mac and Cheese Bites. But our favorite item may have been the individually portioned Cheese and Charcuterie Boards with Flatbreads, Nuts, and Dried Fruit.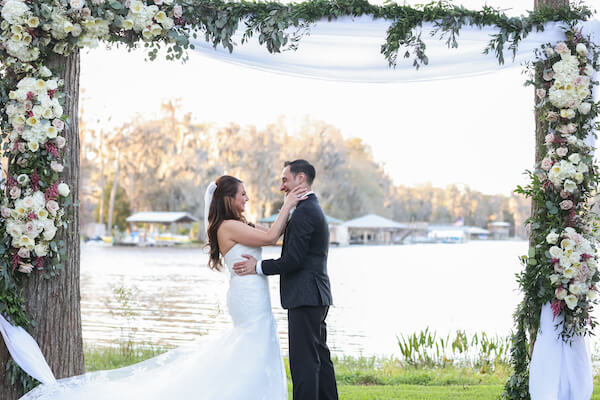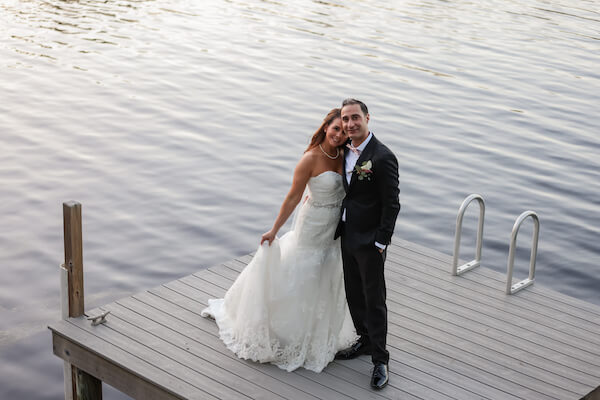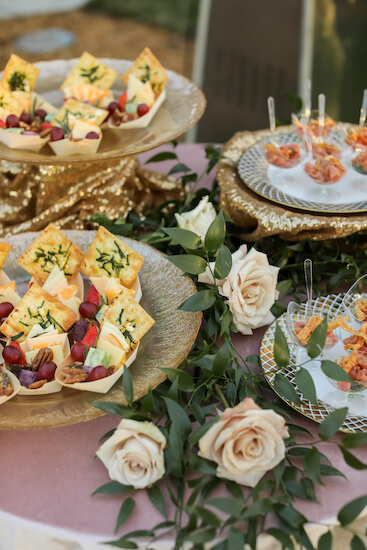 An Intimate Reception Under the Stars
Across the lawn, under a canopy of lights, an intimate space was created for dinner and dancing.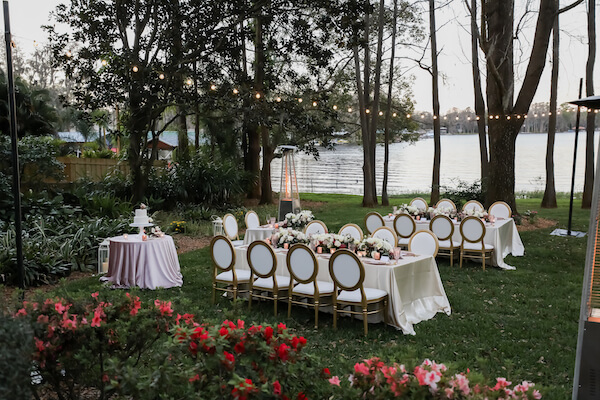 Two long tables were draped with creamy satin linen paired with elegant gold and white chairs. Beautiful long, low centerpieces filled the center of the table with white flowers with touches of pink and burgundy. Textured pink charger plates, vintage-inspired pink glassware, gold flatware, and rose gold and glass votives completed the design. The newlyweds' crescent-shaped sweetheart table sat close by, flanked by tall white metal lanterns and their wedding cake.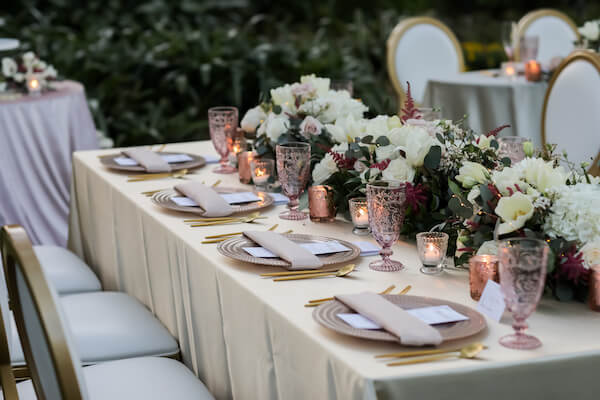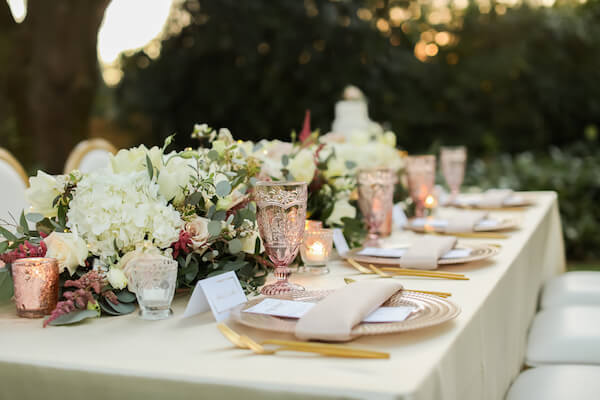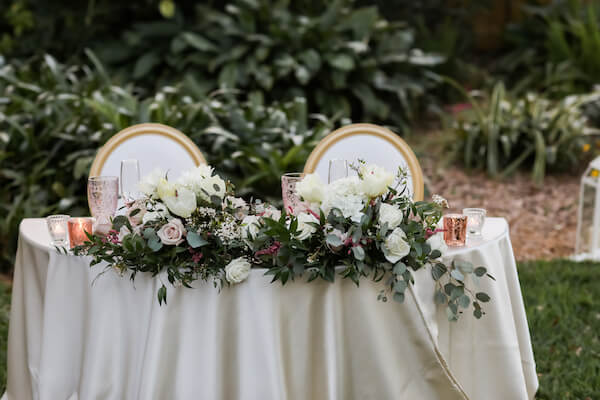 Dinner and Dancing for Eighteen
Following introductions, the couple took to the dancefloor for their first dance to 'Broken' by Seether featuring Amy Lee.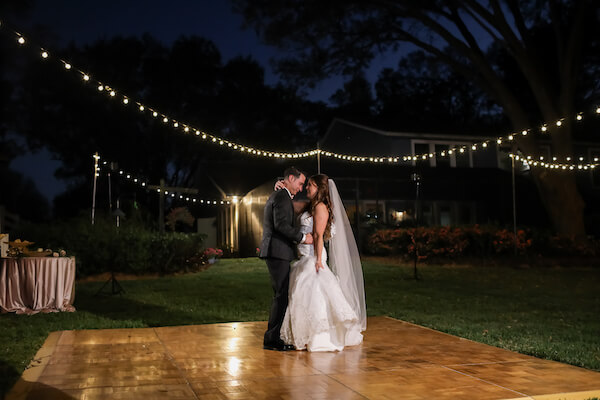 The couple and their guests enjoyed a delicious plated dinner that included a salad of Baby Greens, Spiced Nuts, and Goats Cheese. This was followed by Filet Mignon and Shrimp Scampi Skewers paired with Yukon Gold Mashed Potatoes and Grilled Vegetables. Frank Sinatra played softly in the background.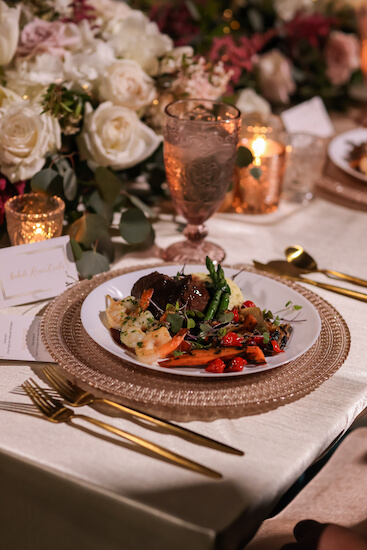 A few touching toasts, special dances with their parents, and it was time for the newlyweds to cut their wedding cake and make their exit under a shower of sparklers.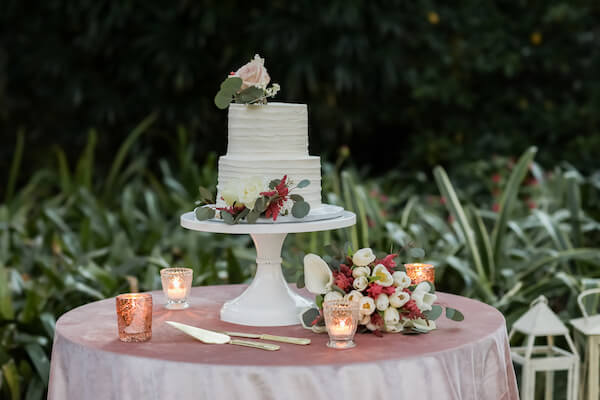 A Few Kind Words
Congratulations, Amber and Jaime! Our Special Moments Event Planning team can't thank you enough for your kind words.
We cannot thank you & your team enough for all you did to make our wedding vision come to life. We appreciate all of the behind the scenes planning and care it took to make such a special day FLAWLESS! With lots of love, Amber and Jamie
The Tampa Bay Vendor Team
Tampa Bay Wedding Planner: Special Moments Event Planning
Hair & Makeup: Michele Renee The Studio
Officiant: A Florida Wedding Ceremony
Photography: Lifelong Photography Studio
Videography: Trinity Wedding Cinema
Wedding Gown: Truly Forever Bridal Tampa
Floral Design: The Bride's Bouquet
Wedding Cake: A Piece of Cake & Desserts
DJ: Boone's Professional Events
Catering: Lynn's Catering of Tampa
Planning a wedding?
Whether you are a Tampa Bay Area local or planning a Gulfside destination wedding, we have the creativity and connections to help you have the day of your dreams without all of the stress.
Planning an event?
We LOVE social events as much as we love weddings. From Wedding Showers to Reunions, we've done it all. It's all in the details and we've got you covered.
Planning a trip?
Need a weekend getaway during your wedding planning, time away with your family or help planning your honeymoon? We're happy to help!