Recently our Special Moments Event Planning team had the pleasure of working with Keriann and Jeremy on their downtown Tampa wedding.
We featured their wedding in our recent blog post Wintertime Love. When selecting wedding photos by Grind and Press Photography for the blog, one thing that jumped out was the wedding portraits at amazing Tampa locations.
They invested time during their wedding day to capture both daytime and nighttime photos at iconic locations.
Keriann and Jeremy began with a walk along the beautiful downtown Tampa waterfront with its sculptures, gardens and breathtaking cityscapes.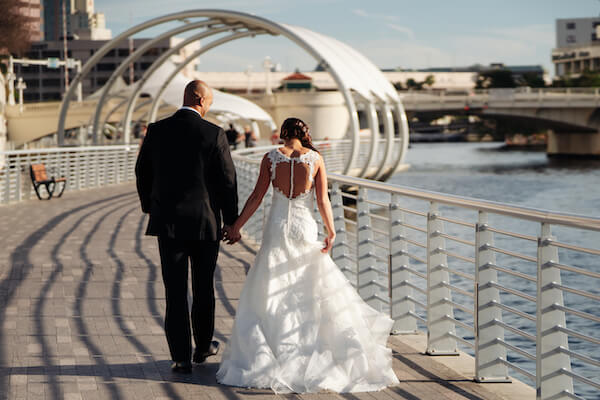 Bright, colorful urban murals made a stunning and unique backdrop for wedding portraits and these Latin / Caribbean inspired murals tell the story of Tampa's heritage.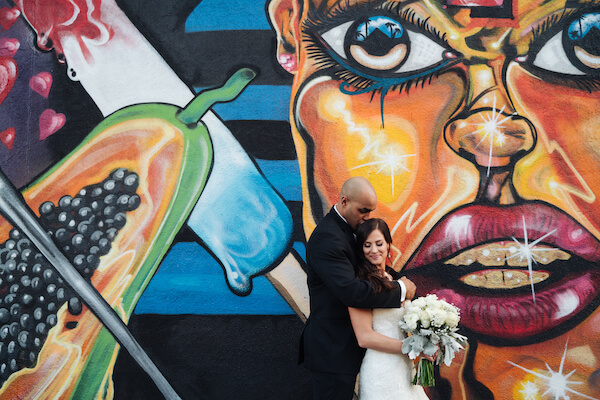 The amazing lighted marque of the Uptown Districts Tampa Theater that opened in 1926 remains one of Tampa's cultural icons.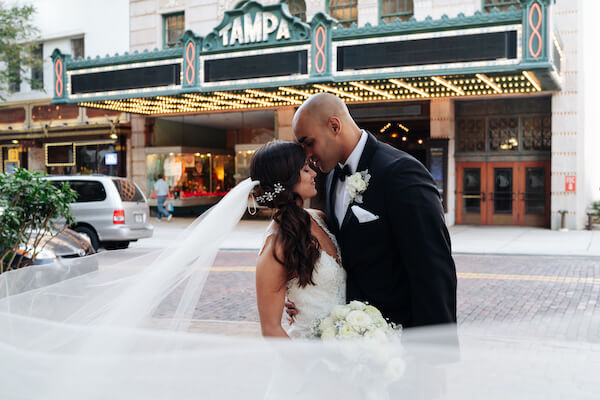 Their evening wedding photos included the lighted sign which is part of The City of Tampa's Arts Program – Lights On Tampa. The lettering on the sign was part of a poem: "Can you stand perfectly still and hold this moment open?"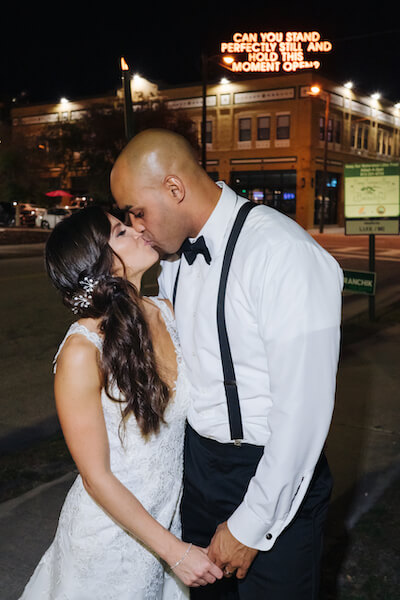 We think that one phrase perfectly sums up the couples wedding day.
One of the most amazing ways to make your wedding day iconic and give you incredible memories for a lifetime is to find the perfect locations for your wedding portraits.
Regardless of where you are hosting your wedding, almost every city has an iconic 'photo op" location, Tampa just happens to have a lot of them.
It might be a civic pier at a beach location or one of St Petersburg's incredible murals or any of Tampa's magnificent locations, but freezing a moment in time on your wedding day will give you memories to last a lifetime.
Be sure to reach out to our Special Moments Event Planning team to help design an iconic wedding you will remember forever.
Planning a wedding?
Whether you are a Tampa Bay Area local or planning a Gulfside destination wedding, we have the creativity and connections to help you have the day of your dreams without all of the stress.
Planning an event?
We LOVE social events as much as we love weddings. From Wedding Showers to Reunions, we've done it all. It's all in the details and we've got you covered.
Planning a trip?
Need a weekend getaway during your wedding planning, time away with your family or help planning your honeymoon? We're happy to help!