Our Special Moments Event Planning team frequently gets requests to assist in planning a wedding at a couple's home or at a unique outdoor location.
What's not to love? It's Florida and we have great weather, amazing sunsets, and beautiful scenery.
However, the biggest challenge is that too often couple's do not always think about all of the costs and details that go into creating a wedding at a venue from the ground up.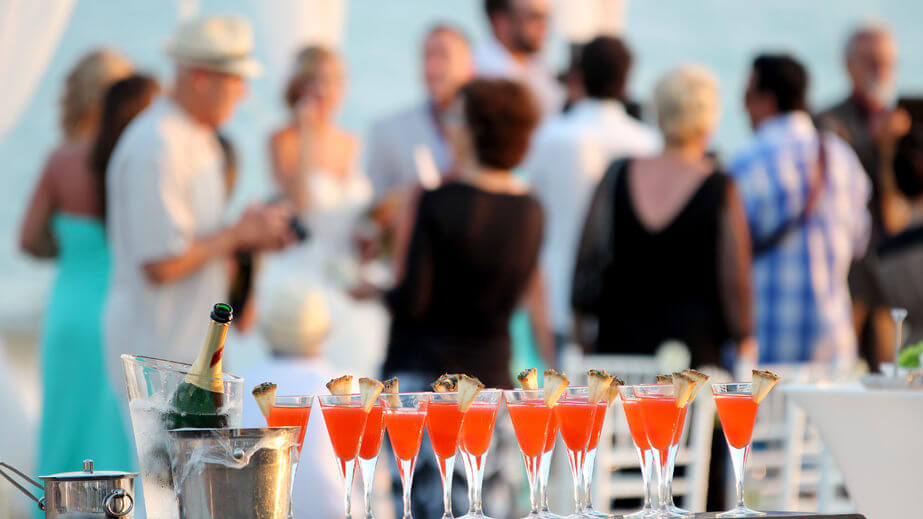 The Big Picture
Typically, couples think they are going to drop some tables and chairs in the yard, hire a caterer and a DJ and they will be all set.
That is all well and good if you have a fairly small group. Too many people overlook items like where guests will park, where will the caterer set up, do you have enough power to run any additional lighting you might need and where will guests go to the bathroom?
If the caterer is working out of your kitchen will guests have access to your bathrooms? Oh, you were not planning on having guests traipsing through your house?
Do you have public sewer or a septic system? Can you septic system handle 100+ wedding guests flushing your toilets over a six or eight-hour wedding?
Renting luxury restroom facilities for your guests can address that issue but where do you park it and do they have access to water and power?
Plan B
Unfortunately, too many couples overlook having a backup plan. "oh, if the weather gets bad we can move inside." We are guessing it might have been a while since you tried to accommodate 100+ people in your home and have somewhere for them to eat in your living room.
"It's OK we can call for a tent a few days before if the weather looks bad." There is a very slim chance that this will happen the way you picture it. Rental companies often book up six months out, if not more, depending on local events and other weddings.
Placing a hold on a tent, well in advance of your wedding date is a must. This allows the company to come out and check out the space to make sure it will accommodate the size tent you might require, look for sprinkler systems, and underground cables where they might be staking the tent.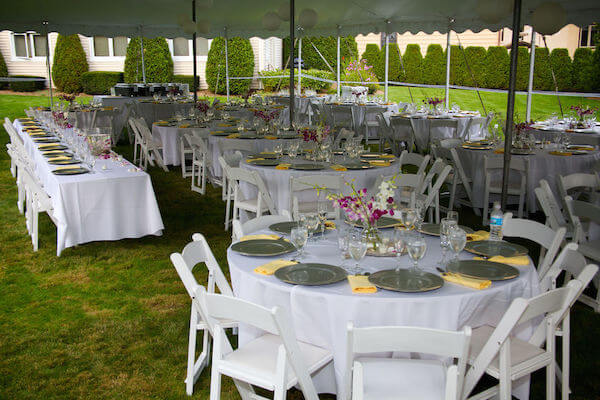 And, by the way, this also requires a non-refundable deposit in many cases. It is what we call an insurance policy. You are paying to have a tent available and hoping that you will not need it.
Other Stuff
Aside from these logistical pieces, you will need stuff!
Stuff like tables, chairs, linen, glasses, flatware, a dance floor and depending on the catering you might need serving platters and utensils as well as warming trays.
And these are just the pieces you might not have considered to get you to the point of having a wedding set in your yard.
Let the wedding planning begin! Contrary to popular opinion it is not necessarily less expensive to host a wedding at your home.
Call us, let's talk about it!
Planning a wedding?
Whether you are a Tampa Bay Area local or planning a Gulfside destination wedding, we have the creativity and connections to help you have the day of your dreams without all of the stress.
Planning an event?
We LOVE social events as much as we love weddings. From Wedding Showers to Reunions, we've done it all. It's all in the details and we've got you covered.
Planning a trip?
Need a weekend getaway during your wedding planning, time away with your family or help planning your honeymoon? We're happy to help!