A Clearwater Beach Fairytale Wedding
A Fairytale Wedding is the only way our Special Moments Event Planning team can describe Michelle and Chris' unique Clearwater Beach wedding. The bride looked like a fairytale princess, the groom a handsome prince, and the wedding day, truly a dream come true for them.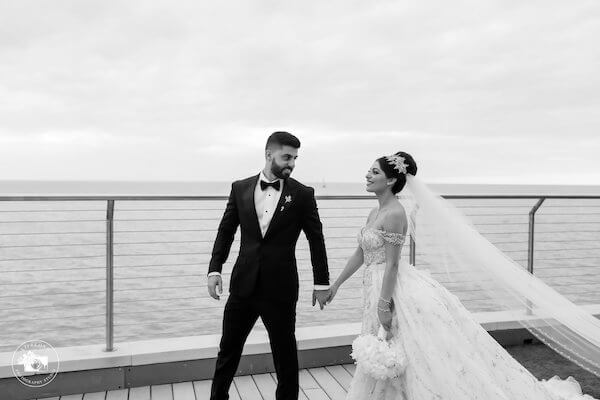 After postponing their original wedding THREE times, the couple could finally come together with their family on their fourth wedding date!
The best way to explain their magical wedding is to share a sneak peek at their day from their wedding film. Be sure to check it out on Trinity Wedding Cinema's Facebook page.
Here Comes The Bride
For Michelle, her wedding day began in Tarpon Springs at her parent's home, where she spent the morning getting ready. The photographers and cinematographers' team captured beautiful images of the bride getting ready, her personal items, her fabulous shoes.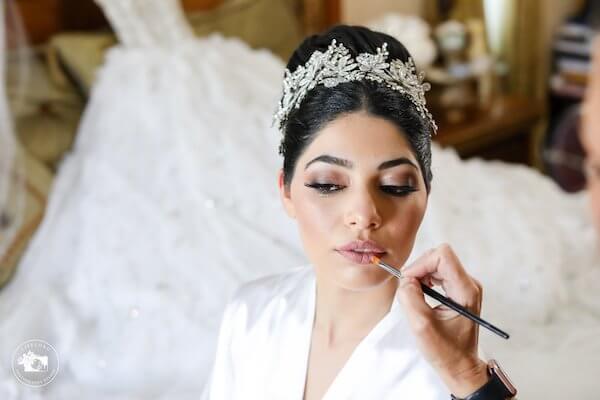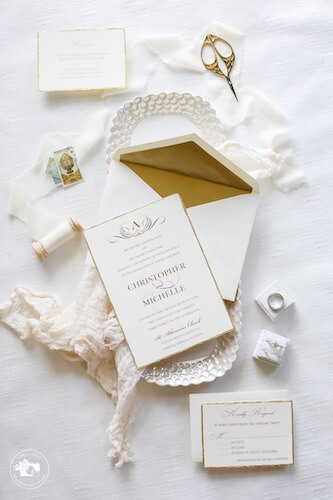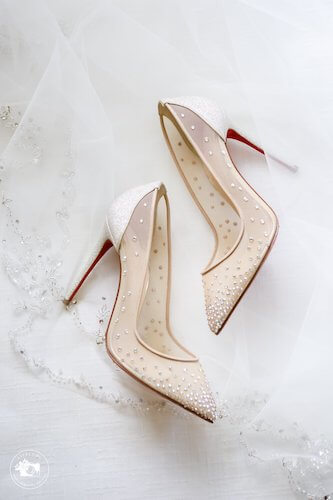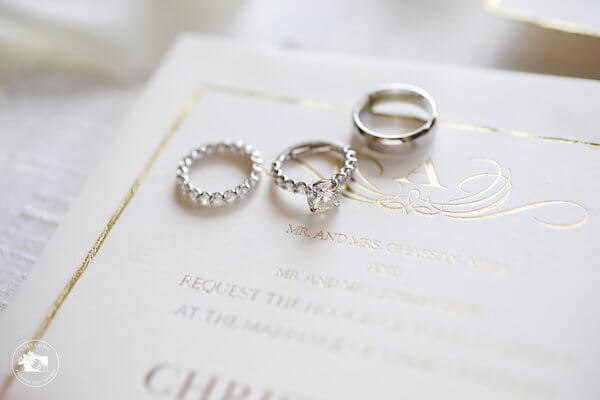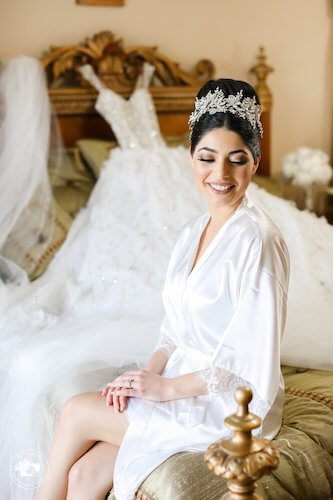 We love the photos of the bride preparing for her day, with her mother helping her step into her incredible wedding gown.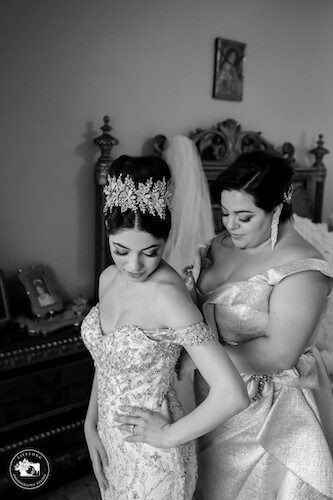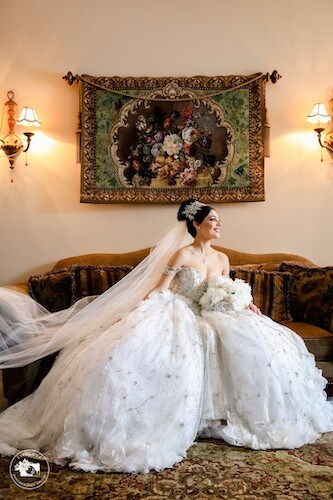 After her father's first look, Michelle and the wedding party took time for some photos before heading to the wedding ceremony.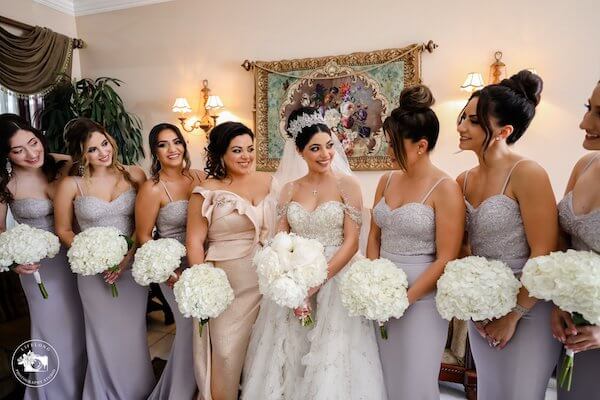 Tradition!
As is traditional before the wedding ceremony, the groom's parents were welcomed into the home of the bride's parents. After their arrival and welcome, the bride-to-be was escorted to a waiting car, surrounded by cheering family, friends, and a drummer.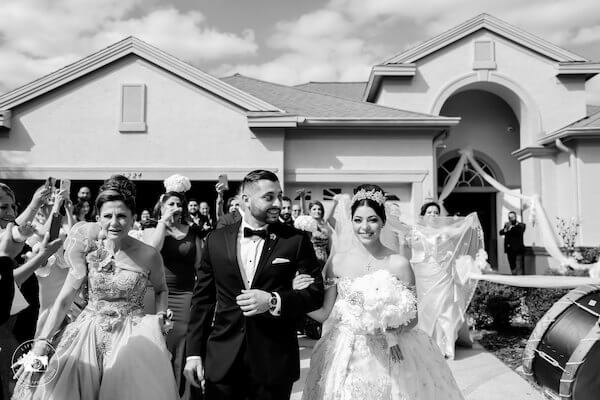 Syriac Orthodox Wedding Ceremony
Michelle and Chris exchanged their wedding vows in a lavish Syriac Orthodox wedding ceremony. The beautiful ceremony, steeped in tradition, included a crowning ceremony.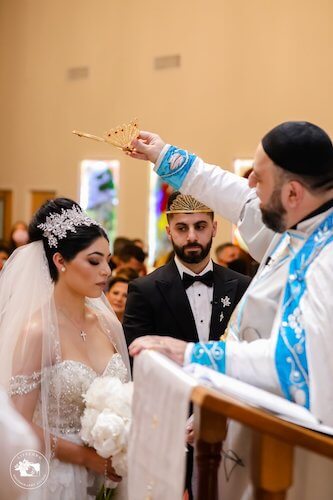 Following the touching wedding ceremony, the couple made their way to Clearwater Beach for some incredible wedding portraits before their wedding reception.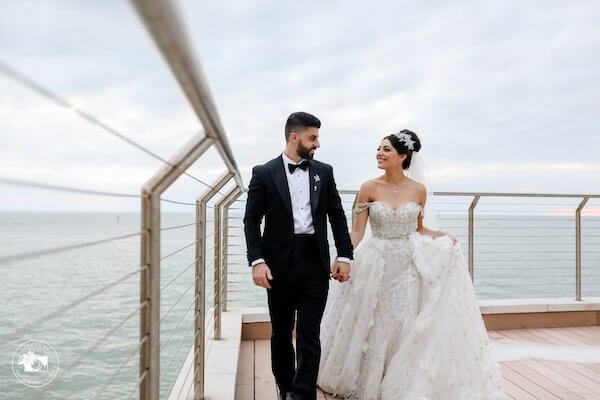 Fairytale Wedding Reception
Inside the Opal Ballroom, final touches of a two-day décor installation were underway. The spacious ballroom allowed for spectacular décor while maintaining physical distancing. The ballroom's one of a kind modern chandelier and floor to ceiling windows created a backdrop for the contemporary design.
The room was filled with mirrored tables, crisp white linens, clear acrylic chivari chairs, and an explosion of floral arrangements in white. Tables were filled with candles of every imaginable kind. Unique structures made floral arrangements and candles appear to be floating over the dining tables.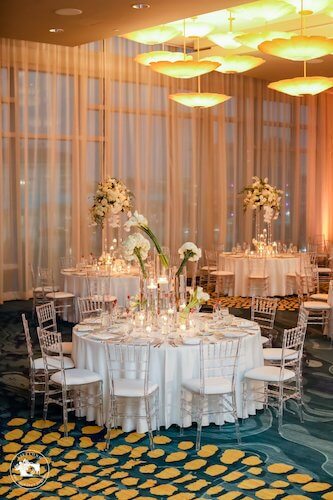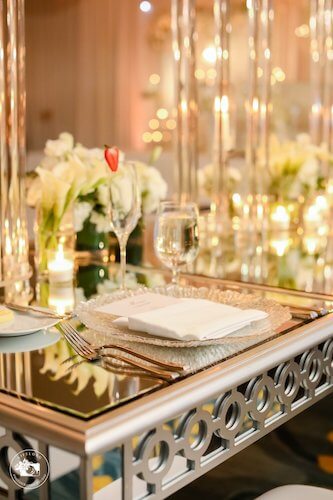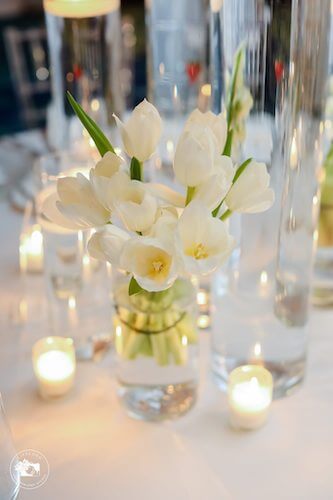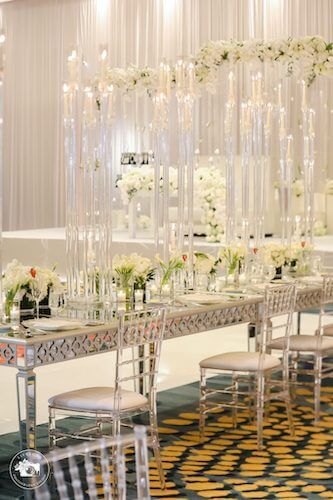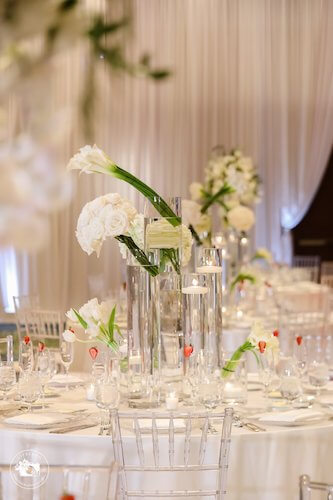 The Fairytale Bride and Groom
Parents, wedding parties, and the newlyweds made their way into the ballroom. The evening began with a family and wedding party dance before the couple took the floor for their first dance.
Michelle and Chris took their seats at their sweetheart table for an evening filled with blessings, and a gourmet plated dinner, and several touching toasts.
The spectacular sweetheart table sat under a canopy of orchids with a crystal chandelier. The modern white table was draped in a blanket of white flowers and surrounded by floating candles. It was truly a fairytale setting for this incredible couple.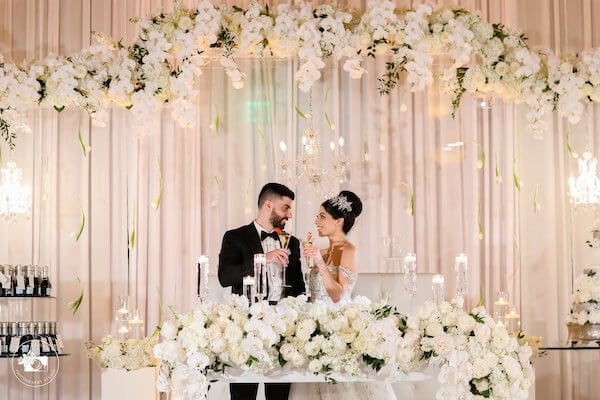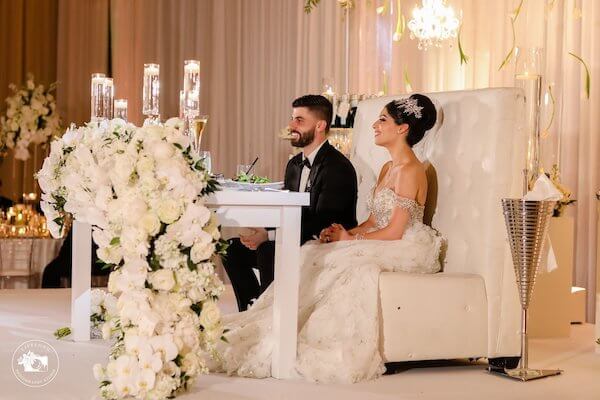 Let Them Eat Cake
On the riser next to the sweetheart table stood the couple's five-tier wedding cake. Brushed in silver and surrounded by white flowers, the cake floated on a glass tabletop.
Congratulations, Michelle and Chris! Our Special Moments Event Planning team wishes you a life together as spectacular as your fairytale wedding.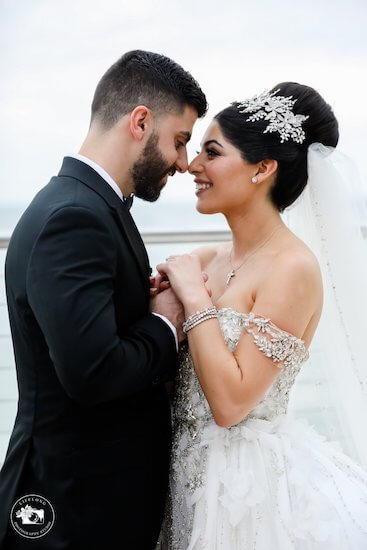 The Fairytale Wedding Team
Thank you to all of the incredible Tampa Bay area wedding professionals who collaborated to make their wedding day so memorable.
Clearwater Beach Wedding Planner: Special Moments Event Planning
Ceremony Venue: St Athanasius Syriac Orthodox Church
Wedding Reception Venue: Opal Sands Resort
Band: Matt Winter Band
Wedding Photographer: Lifelong Photography Studio
Floral Design: All About the Vase by Dana Dineen
Rentals: Gabro Event Services
Wedding Cake: Cakes by Nomeda
Cinematographer: Trinity Wedding Cinema
Transportation: Skyline Limo
Rolls Royce: Luxor Limo
Planning a wedding?
Whether you are a Tampa Bay Area local or planning a Gulfside destination wedding, we have the creativity and connections to help you have the day of your dreams without all of the stress.
Planning an event?
We LOVE social events as much as we love weddings. From Wedding Showers to Reunions, we've done it all. It's all in the details and we've got you covered.
Planning a trip?
Need a weekend getaway during your wedding planning, time away with your family or help planning your honeymoon? We're happy to help!