A Spectacular Downtown Tampa Wedding
Lexi and Anthony's downtown Tampa wedding was spectacular! The champagne, white, and ivory color story was incredible. And we love seeing this incredible couple surrounded by family and friends.
Opposite Sides Of The Bay
The couple spent the wedding morning on opposite sides of the bay. As with most weddings, the day involved hair and makeup for the ladies and lots of photos of wedding details and family.
The groom finished dressing and, with his guys, made their way to the church.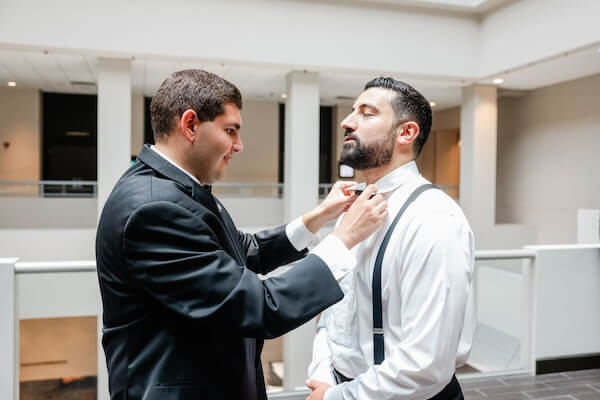 Meanwhile, with Lexi dressed, the first celebration of the day began at her parent's home before she made her way to the church.
A Tarpon Springs Wedding Ceremony
The beautifully ornate church was accented with an aisle runner lined with white flower petals and large arrangements of white baby's breath.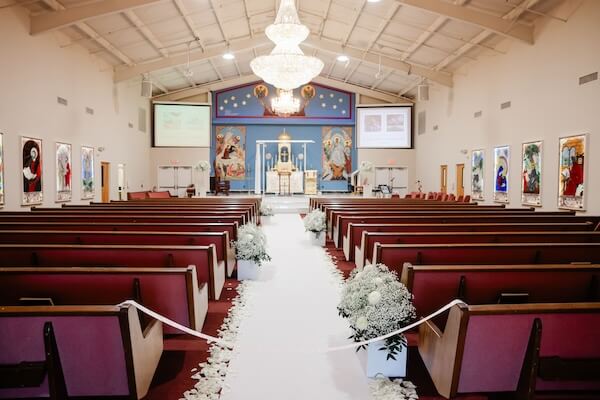 With a majority of the wedding party in their places, it was time for this guy. How awesome is this for a ring bearer?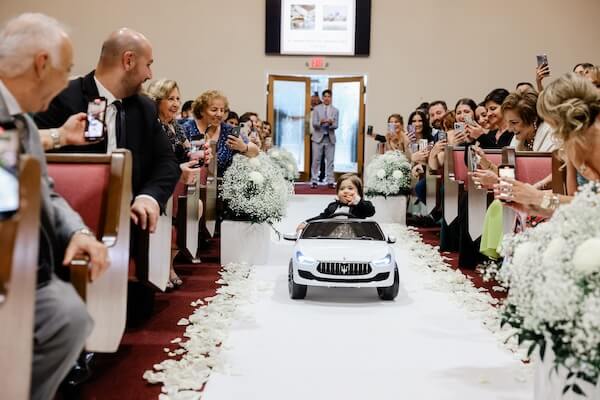 Lexi, escorted by her father, made her entrance. She looked stunning in her magnificent gown with a simple white bouquet.
The site of his bride making her way down the aisle was overwhelming for Anthony.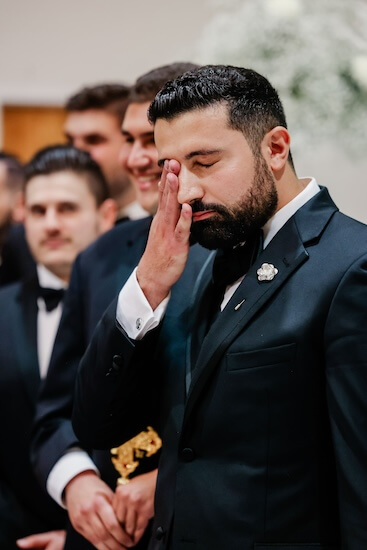 The couple, surrounded by family and friends, tied the knot in a traditional wedding ceremony. The presentation and wearing of crowns is a beautiful part of the ceremony. It's easy to see how much in love the newlyweds are!
Back Across The Bay
At the reception venue, guests were treated to delicious passed Hors D'oeuvres, an incredible Cheese Display, and cocktails.
They also had the opportunity to find their seating assignments with this beautiful mirrored seating chart. How adorable are the photos of the newlyweds that flank the seating charts?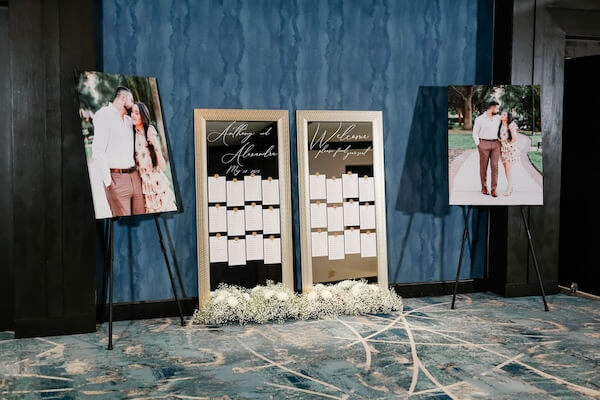 During cocktail hour, the couple took time for wedding portraits on both sides of the bay.
A Sneak Peek
While guests enjoyed cocktail hour, Lexi and Anthony took a quick sneak peek at the ballroom.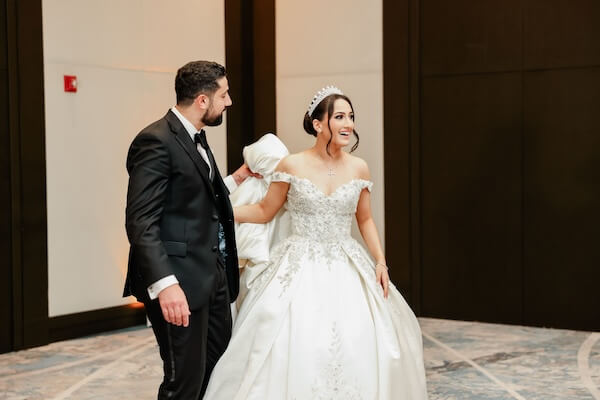 The ballroom was draped with soft white fabric. With their sweetheart table at one end of the room, guest tables slanted an awesome oversized custom white dance floor.
Tables were draped in soft linen and surrounded by gold chiavari chairs. Touches of gold in the table numbers, chargers, and flatware popped against the soft, neutral colors. The tables were dressed with tall acrylic candelabras or towering vases overflowing with baby's breath.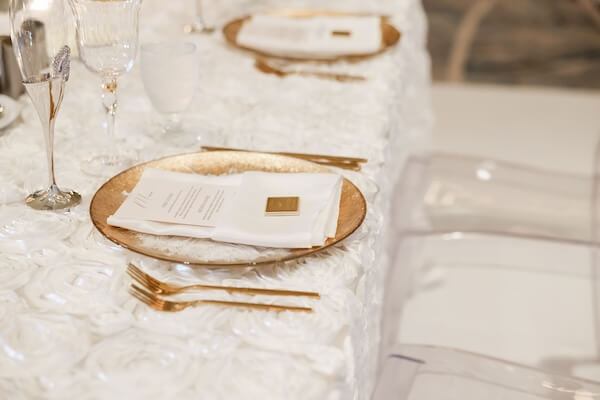 The focal point of the room was the newlywed's sweetheart table. It was a spectacular two-tiered design overflowing with flowers and candles. Truly fit for a king and queen.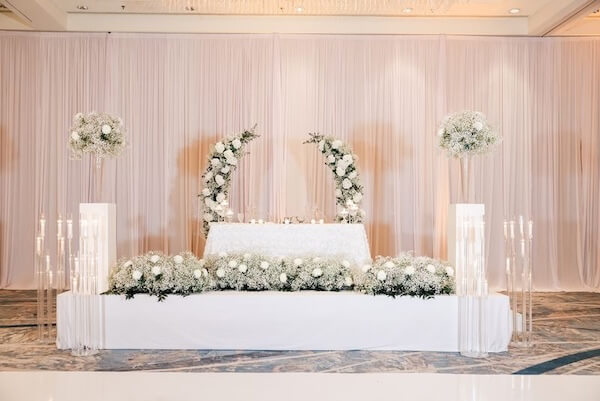 But we have to talk about the couple's amazing five-tiered white wedding cake with gold and floral accents. This towering creation was raised even higher with a beautiful gold cake stand and two acrylic risers!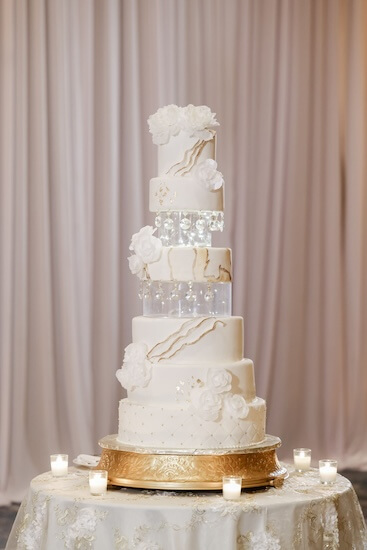 After their sneak peek, the couple took a minute to spin around the dance floor and a few photos.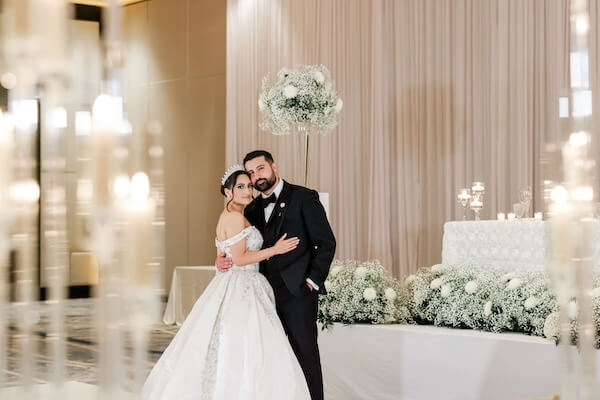 Dinner and Dancing, LOTS of Dancing!
After their introductions, the couple, wedding party, family, and friends started the evening by dancing. They packed the dance floor and had an incredible time!
Once seated, the evening continued with a welcome from the groom's parents and a blessing.
Dinner began with a first course of Cucumber Carpaccio Salad. Cucumber, Beet & Carrot Ribbons, Duo Grape Tomatoes, Candied Walnuts, Drunken Chevre were dressed with a White Balsamic Vinaigrette Dressing.
For entrees, the couple selected a Dual Entrée, pairing Peppercorn Sirloin Medallions and Balsamic Organic Chicken accompanied by Yukon Mashed Potatoes and Green Beans with Baby Carrots.
The Vegan option included a delicious Paella with Roasted Cauliflower Steak and a Balsamic Reduction.
Several touching toasts and the cake cutting followed dinner.
Dance, Dance, Dance
The couple's special dances came next. Starting with the Mother and Son dance, the Father Daughter dance, and ending in an impressive first dance for the couple before officially opening the dance floor for the rest of the evening.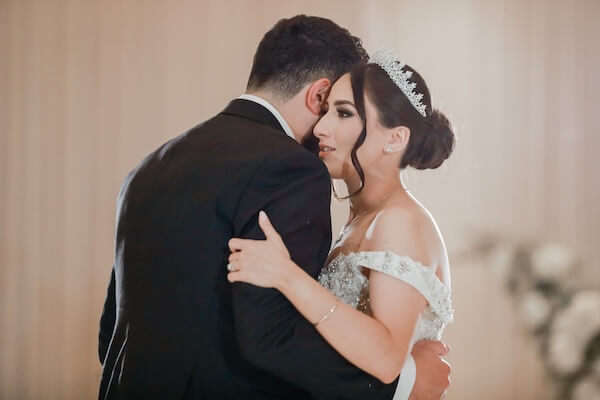 The newlyweds and their guests stopped long enough for some fun photos in the photo booth and some yummy late-night snacks.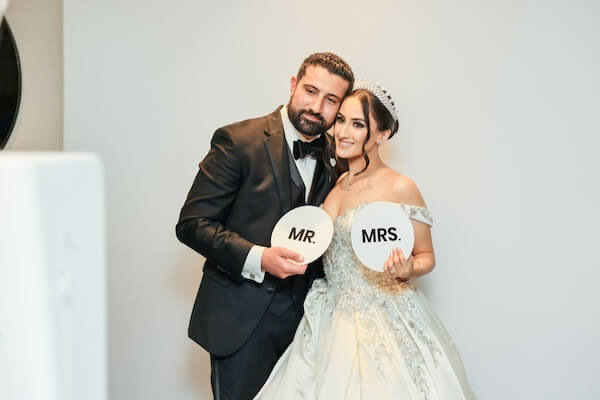 Needless to say, a good time was had by everyone!
Congratulations, Lexi and Anthony! We are thrilled to have been part of your special moments!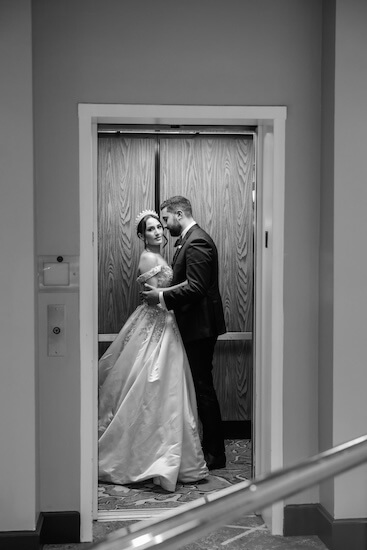 Tampa Bay Wedding Vendors
Wedding Ceremony: St. Athanasius Syriac Orthodox Church
Wedding Reception: Hilton Tampa Downtown
Tampa Wedding Planner: Special Moments Event Planning 
Hair and Makeup: Femme Akoi Beauty Studio
Floral Design: Apple Blossoms Floral Designs
Wedding Photography: Lifelong Photography Studios
Videography: Media Tree Studios
Rentals, Dane Floor and Draping: Gabro Event Services
Photo Booth: The Gala Photo Booth
Wedding Cake: A Piece of Cake and Desserts
Transportation: Ambassador Limousine Tampa
Planning a wedding?
Whether you are a Tampa Bay Area local or planning a Gulfside destination wedding, we have the creativity and connections to help you have the day of your dreams without all of the stress.
Planning an event?
We LOVE social events as much as we love weddings. From Wedding Showers to Reunions, we've done it all. It's all in the details and we've got you covered.
Planning a trip?
Need a weekend getaway during your wedding planning, time away with your family or help planning your honeymoon? We're happy to help!