A Beautiful Hyatt Regency Clearwater Wedding
Joanna and Ross's beautiful Hyatt Regency Clearwater wedding was classic and elegant. It was gorgeous with tropical greenery, exquisite white floral pieces, and touches of pale blush pink and gold. And infusing each portion of the wedding with touches of live music set the tone for a night filled with dancing.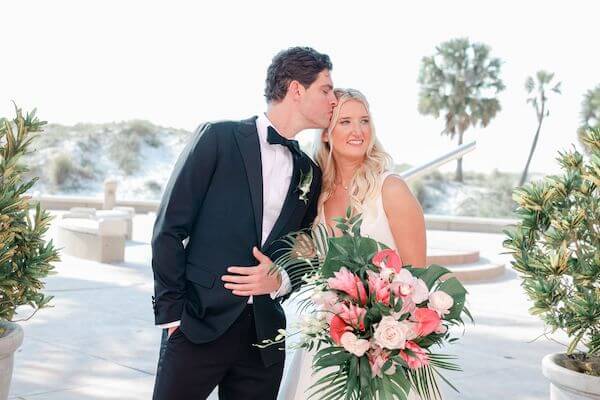 Ladies First
Joanna and the ladies spent the morning together. Starting with hair and makeup services on-site, time together for some getting-ready photos, and photos of the bride's accessories. And we're kind of in love with these shoes!
We Didn't Forget The Guys!
Across the resort, a second photographer spent the morning with Ross and the guys, capturing all the details and the groom with all the guys.
Meanwhile, Back In The Bridal Suite
With Joanna dressed and ready, it was time for a first look with her father and some photos with both of her parents.
From here, she would head off to see her husband-to-be for the first time!
First Looks and Wedding Party Photos
On the resort's rooftop sky Terrace, Ross waited anxiously for his bride-to-be to arrive. 
Following their first look, they took pictures with their wedding party and immediate family. Taking these photos early in the day allows lots of private time for the couple later!
Wedding Vows On The Sky Terrace
The Sky Terrace was set with white garden chairs decorated with swags of tropical greenery and white flowers. While the geometrically shaped wedding arch with pink and white flowers was a stunning backdrop, the seat reserved in memory of the Mother of the Groom was the most beautiful element of the ceremony.
Both violin and harp played as family, friends, and wedding party entered the terrace. With everyone in place, Joanna, escorted by her father, made their entrance to 'A Thousand Years.'
After exchanging wedding rings and vows, the newlyweds sealed their vows with a kiss (AND THAT'S A KISS!) before making their way back up the aisle to the Wedding March by Mendelssohn.
Cocktails, Hors D' Oeuvres and Sunsets
While wedding guests enjoyed cocktails and hors d' oeuvres on the Bellaire Terrace, the Bride, and Groom headed off to Clearwater Beach for some photos as the sun set.
Cocktail Hour included tropical music on Steel Drums and delicious bites, including Crab Cakes, Bacon-Wrapped Scallops, Artichoke and Cheese Cups, and Bruschetta. 
Dinner and Dancing
The ballroom was set with clear acrylic chairs surrounding tables draped in crisp white linen. Table tops were decorated with gold table numbers and flickering candles in gold votive cups—floral arrangements overflowed with tropical greenery and lush white flowers.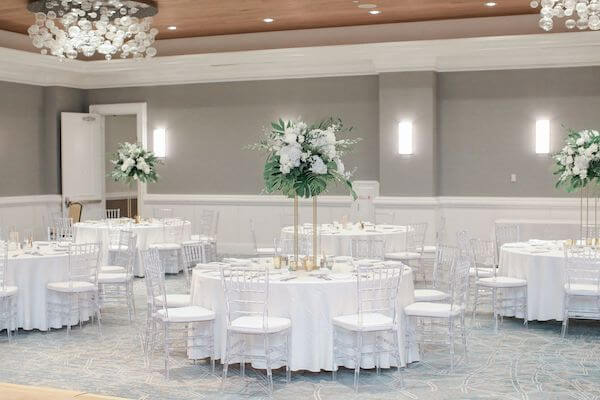 Guests found their table assignments on heart-shaped tags attached to a glass of champagne.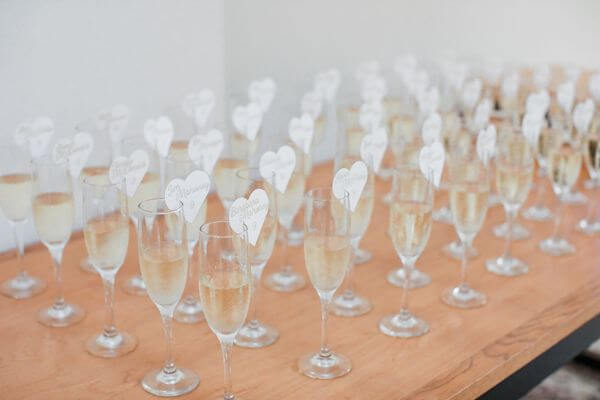 Following introductions, the newlyweds took to the dance floor for their first dance to 'Anyone' by Justin Bieber.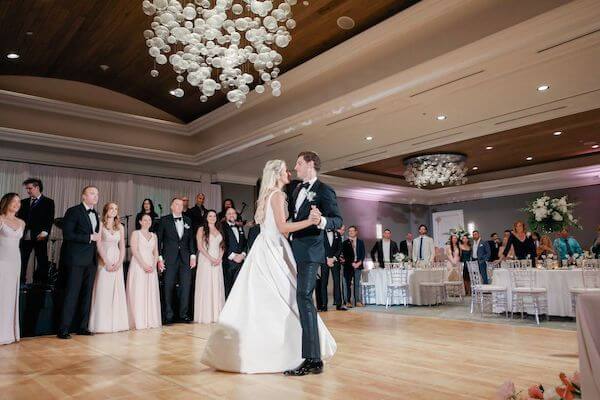 This was followed by Joanna's dance with her father, who then offered a blessing and a welcome toast.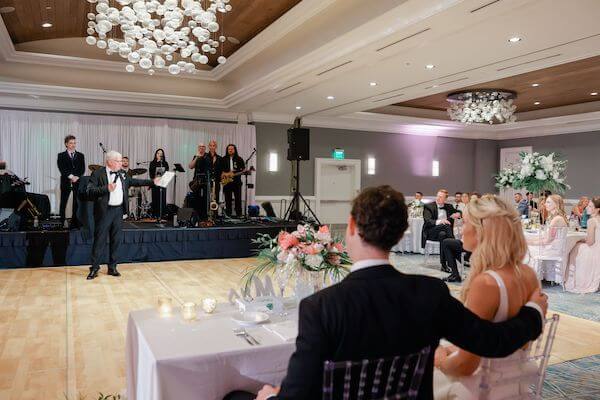 The evening continued with a fabulous multi-course dinner with dancing between courses. Toasts and the cake cutting were the next order of business before everyone filled the dance floor.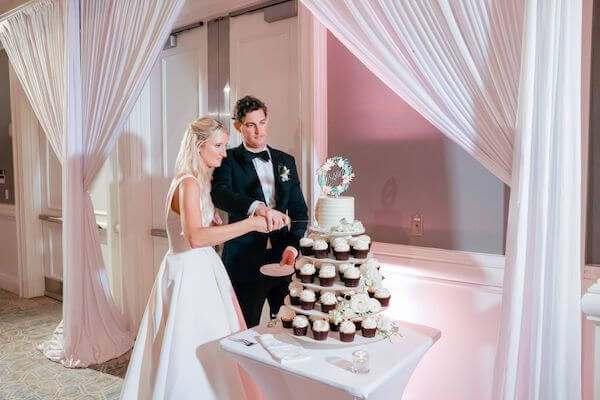 Guests stopped long enough to enjoy delicious cupcakes and late-night snacks, including Mini Cheesesteaks and Open-Face Shrimp BLT Sliders.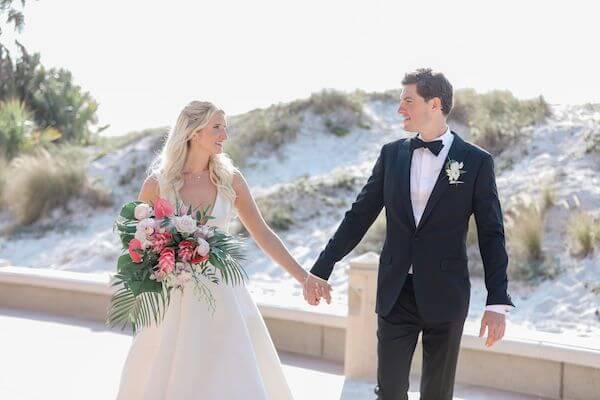 Congratulations, Joanna and Ross! We're so happy to have been part of your special moments!
ClearwaterBeach Wedding Vendors
Thank you to the Clearwater Beach wedding vendors who made this night incredible.
Wedding Venue: Hyatt Regency Clearwater Beach Resort and Spa
Clearwater Beach Wedding Planner: Special Moments Event Planning
Hair and Makeup: Michele Renee The Studio
Floral Design: 2 Birds Events
Photography: Lifelong Photography Studios
Videography: Trinity Wedding Cinema
Harp: Harp by Victoria
Violin: Laurie Vodnoy-Wright
Steel Drums: Breezin' Entertainment
Band: Bay Kings Band
Cake: The Cake Girl
Lighting and Draping: Gabro Event Services
Planning a wedding?
Whether you are a Tampa Bay Area local or planning a Gulfside destination wedding, we have the creativity and connections to help you have the day of your dreams without all of the stress.
Planning an event?
We LOVE social events as much as we love weddings. From Wedding Showers to Reunions, we've done it all. It's all in the details and we've got you covered.
Planning a trip?
Need a weekend getaway during your wedding planning, time away with your family or help planning your honeymoon? We're happy to help!