Lucky 13: Wedding Wire Couples' Choice Award
Our Special Moments Event Planning team knows that many people see the number thirteen as being unlucky. For us, especially with the wedding industry's challenges in 2020, this thirteen is a number we are happy to see.
Wedding Wire Couples' Choice Awards
Wedding Wire just notified us that we won the Couples' Choice Awards for 2021 – our 13th time!
Initially started in 2009 as the Brides' Choice Awards and updated to the Couples' Choice in 2014 – we have been honored to receive this award every year since it began.
The WeddingWire Couples' Choice Awards® recognize local wedding professionals who demonstrate excellence in quality, service, responsiveness, and professionalism. Winners are determined by the reviews from more than one million WeddingWire couples.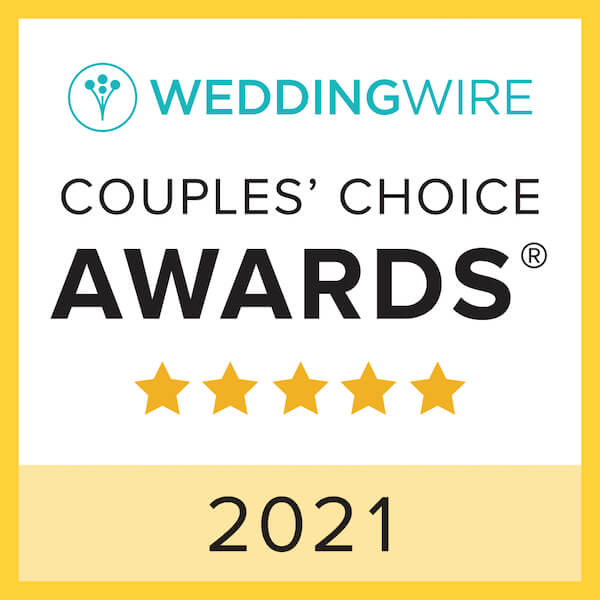 Building Relationships With Our Couples
Every wedding is a special day for our Special Moments Event Planning team. We enjoy getting to know each couple and their families. We love when couples keep in touch and are thrilled that so many follow us on Facebook and Instagram.
It's incredibly touching when couple's take time after the wedding to leave us an online review. We know that there are 1,000 other things that couples have going on and 2020 kept everyone busy.
In 2020 we made dreams come true for nearly 30 couples, not to mention several dozen we helped to postpone their wedding to a later date.
Here are some of the amazingly kind words we received from a few of those couples.
Planning a wedding is not easy, and planning one during a pandemic was its own sort of crazy. Tammy worked around the clock to make sure our wedding was safe and successful. Her and the team went above and beyond making sure our safety protocols were in place and to be that support system we needed. – Samantha

Tammy is awesome! She immediately emails or calls you back and is always there to answer any questions you have. She helped out so much from easing differing opinions, to reminding you of things you would have never known to do, and was so key in directing our ceremony. –  Stefanie
We are so very thankful that couples have shared such incredibly kind words over the last thirteen years. And Special Moments Event Planning is genuinely touched to have been selected by Wedding Wire for a 2021 Couples' Choice Award.
With everything that went on in 2020, thirteen is truly our lucky number!
Planning a wedding?
Whether you are a Tampa Bay Area local or planning a Gulfside destination wedding, we have the creativity and connections to help you have the day of your dreams without all of the stress.
Planning an event?
We LOVE social events as much as we love weddings. From Wedding Showers to Reunions, we've done it all. It's all in the details and we've got you covered.
Planning a trip?
Need a weekend getaway during your wedding planning, time away with your family or help planning your honeymoon? We're happy to help!