Eat, Drink, and Be Married!
It's no secret that people LOVE going to weddings! For most people, it's because they love and support you as a couple. 
But our Special Moments Event Planning team also knows that they are there for the food, the drink, and to have a good time with family and friends.
With that said, here are some sure-fire tips to ensure that your wedding reception is a crowd-pleaser.
EAT
Your wedding reception makes up the largest portion of your day. It's also typically the largest portion of your wedding budget. So, make it memorable for you and your wedding guests.
When planning your wedding menu, work backward. 
Whether you are planning a buffet, a single entree selection, or having your guests choose their entree in advance, the game plan is still the same.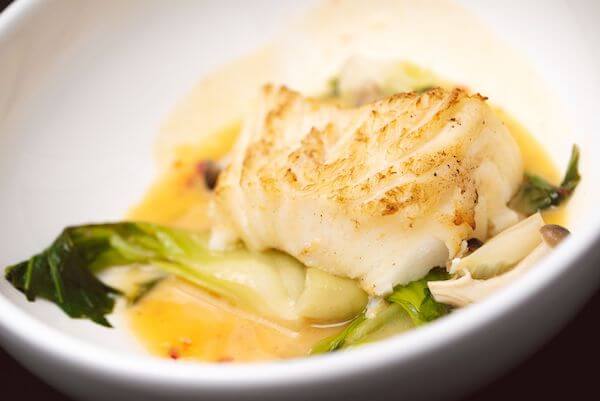 Catering by Rococo Steak. Photo by Jeremy Scott Photography
Choose entree selections that are middle of the road: nothing too fancy, nothing over the top. Choose something delicious that will suit most of your family and friends' tastes. After you pick the entree selections and the accompanying sides, work backward for the rest of the menu.
Next is your salad or first course. Take a look back at your entrees and avoid already-covered foods. If you have a chicken stuffed with spinach, you might want to avoid a spinach salad for your first course.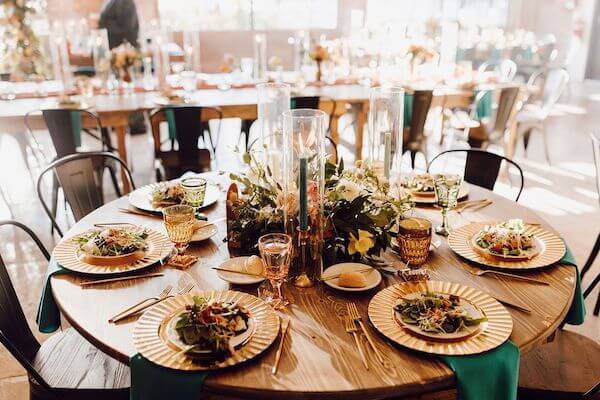 Catering by Savory Roots Catering.  Photo by John Coronado Photography
Hors d'Oeuvres
Hors d'oeuvres is a hard word to say but something that everyone loves. It's those little light bites that are often hand passed during cocktail hour. 
A majority of caterers use a relatively standard calculation of the number of pieces per person per hour. They'll change up the number based on whether or not you are also doing stationary food displays too.
Unfortunately, too many people want to mess with the formula. 
By the time cocktail hour rolls around, wedding guests are getting hungry. We've seen too many people who decide to trim the budget by taking away hors d'oeuvres or a food display to cut costs. And they end up with HANGRY guests who are unhappy the rest of the evening.
We recommend always having a food display, whether it's a simple cheese display or something more regional like fresh local seafood. People like knowing where they can find food, and the display works perfectly.
You Do You
Cocktail hour and hors d'oeuvres are the time to amp things up a little bit. After working backward on the rest of your menu, you can mix up the cocktail hour a little bit.
If you chose beef and chicken for your entree selections, you might want to skip those for cocktail hour. Balance out the menu with some vegetarian options, and add some seafood. Choose some foods that might be a bit more adventurous for some people. 
And it's a great time to add some of your favorite foods and play a little.
PRO TIP

Be sure to ask your caterer to set aside some of your hors d'oeuvres and have them on your table for after introductions.

We know that between spending some private time together, taking photos, and catching up with everyone who has to see you right away, you might not eat.
Tell Your Story
Whether you are a foodie or not, everyone has a food story. So, why not include yours on your wedding day?
Maybe your first date was for sushi. So, why not include a sushi display during cocktail hour?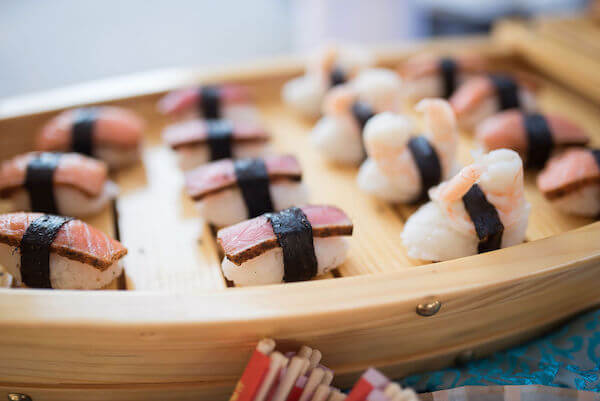 Sushi Display by Delectables Fine Catering. Photo by Kristen Marie Photography
We've worked with couples who included cheese from their hometown, regional favorites, and even that special family recipe.
Have some fun with it! Include information on what made those foods important to each of you. Let your family and friends in on the secret by sharing it on your menu card or fun notes on cocktail napkins.
OOOOH, Cocktails!
Speaking of cocktail napkins, have some fun with your cocktails too!
Who doesn't love a good Signature Cocktail? Whether you each pick your favorite drink or do a fun twist on a time-tested fan favorite, you can personalize your own cocktail.
Into craft beers? Why not include a section in your cocktail selections? Maybe bourbon is more your style – then a bourbon tasting might be a fun touch.
Your wedding reception, specifically the food and drinks, are what many people will remember about your wedding day.
So make it memorable, reflect the two of you, and tell your story!
Featured Image: Passed Hors d'oeuvres by Delectables Fine Catering. Photo by Photography By Avery
Planning a wedding?
Whether you are a Tampa Bay Area local or planning a Gulfside destination wedding, we have the creativity and connections to help you have the day of your dreams without all of the stress.
Planning an event?
We LOVE social events as much as we love weddings. From Wedding Showers to Reunions, we've done it all. It's all in the details and we've got you covered.
Planning a trip?
Need a weekend getaway during your wedding planning, time away with your family or help planning your honeymoon? We're happy to help!