Raise Up Your Wedding Cake
Our Special Moments Event Planning team loves details. One of our favorite wedding details is the wedding cake. Beyond the two of you, your wedding cake will most likely be the second most photographed detail on your wedding day.
In the past, we have shared how wedding cakes have evolved and tips from amazing local pastry artists, the timing of when we've seen couples cut their wedding cakes, and recently on how to personalize your wedding cake with unique cake toppers.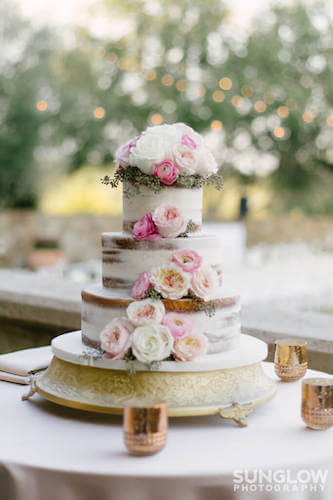 Top to Bottom
From talking about cake toppers, we want to go to the other end of the wedding cake and talk about cake stands.
You've invested time and energy in picking the right flavors and the perfect design and colors. But, we've seen many couples stop there and not invest in how the wedding cake is displayed.
A cake stand or riser is the perfect next step in making your wedding cake an Instagram worthy moment.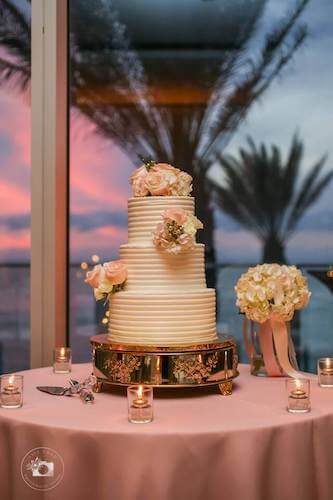 Rise and Shine
Special Moments Event Planning has a select few cake risers in our décor inventory. However, we know that there are cake stands for every personality and style.
We always recommend checking with your cake artist as some rave rentals available. Which means your cake and stand arrive together. They can also make sure that the stand you select is appropriate for the dimensions of the bottom tier.
Some rental companies offer some basic cake stands in their inventory. With that said, many couples find personalized cake stands on Etsy or at their local craft store.
A simple search of 'wedding cake risers' on Etsy offered selections with bling, handcrafted wooden boxes detailed with couple's names and wedding date and as rustic as live edge wood slices or wine barrels for more rustic weddings.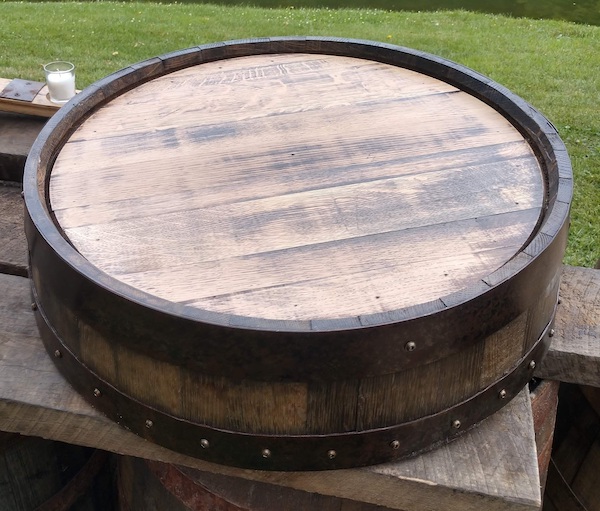 Take A Stand
One thing to keep in mind is the difference between a cake stand and a cake riser.
Cake stands are often a pedestal – great for intimate wedding cakes and home use. But, sometimes not great for a larger wedding cake.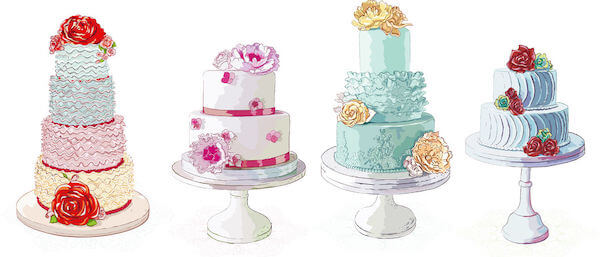 You always want to make sure the bottom tier is not larger than the plate portion of the stand. Additionally, look at how tall your wedding cake might be, you don't want it to be top-heavy.
The third thing to keep in mind is the amount of pressure you use when cutting your wedding cake. A slightly taller cake might topple if you push down too hard while cutting the cake.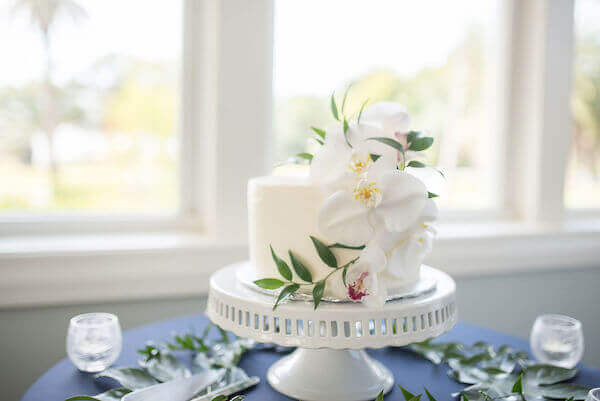 Creating A Focal Point
When we work with wedding venues on floorplans for our couples, we always look to see what is BEHIND the wedding cake. We've seen dozens of wedding photos shared online with everything exit signs to door handles and fire extinguishers in the background.
While simple white linens included in your catering package might work well for some couples, we think a little bling is appropriate for a wedding cake. Splurging on the linen for your sweetheart table and cake table is affordable, and both are photographed by everyone.
Fun ideas like personalized cake plates or silverware are a nice touch. We love adding candles to the cake table and love when there are some flowers on the table.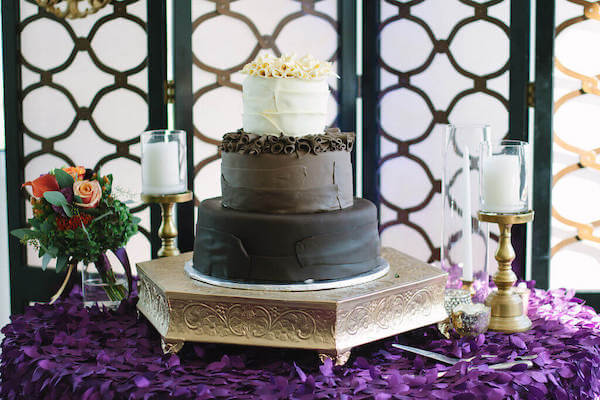 Timely Tips
With weddings happening during COVID-19, we feel like we need to include a few safety suggestions.
Because your wedding cake will be on display, an excellent way to keep people from getting too close or touching your wedding cake might be to place it somewhere behind your sweetheart table.
It not only protects the cake but properly positioned; it makes a great photo op when you are seated at your table with the cake in the background.
For safety sake, some couples are opting for a smaller wedding cake to display. It can be as ornate and detailed as you'd like. This allows for the remaining cake to be held in the kitchen and sliced or, better yet, boxed for your guests.
Planning a wedding?
Whether you are a Tampa Bay Area local or planning a Gulfside destination wedding, we have the creativity and connections to help you have the day of your dreams without all of the stress.
Planning an event?
We LOVE social events as much as we love weddings. From Wedding Showers to Reunions, we've done it all. It's all in the details and we've got you covered.
Planning a trip?
Need a weekend getaway during your wedding planning, time away with your family or help planning your honeymoon? We're happy to help!