Have Your Cake, But Eat It Too!
Our Special Moments Event Planning team has seen wedding cakes evolve over the last fifteen years. They have changed from simple sheet cakes in vanilla, chocolate, or marble into amazing creations in dozens of flavors and styles.
There is, or can be, a wedding cake to match every wedding style or personality.
With that said, wedding cakes are the second most photographed element of a wedding, right behind the couple.
So, the question always comes up about when to cut the cake. While there are as many options as there are flavors, here are some great cake cutting tips.
Southern Charm
While Florida is not technically the south, one of the southern wedding traditions that we have occasionally seen is for the couple to cut their wedding cake immediately after their first dance.
You read that right, introduction, first dance, cut the wedding cake!
While it is efficient from the standpoint of cutting and plating your wedding cake, your family and friends do not have a lot of time to appreciate the beauty of the artistry and design that went into the cake to reflect you as a couple.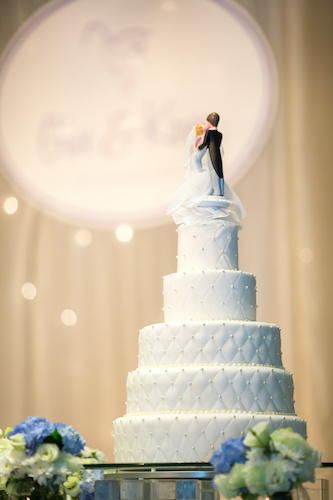 Work It Off
At the other end are the people who want to wait as long as possible to cut the wedding cake. They want to let people finish dinner, open up the dance floor and give wedding guests a chance to party for a while.  Good idea, but this also has a few challenges.
It is essential to know how long a package you purchased from your photographer and videographer. You will need to know if their time is up before the end of the wedding reception because you do not want to miss the cake cutting.
Additionally, you don't want to wait too late into the evening.  An overly sweaty, slightly disheveled couple does not make for great wedding photos.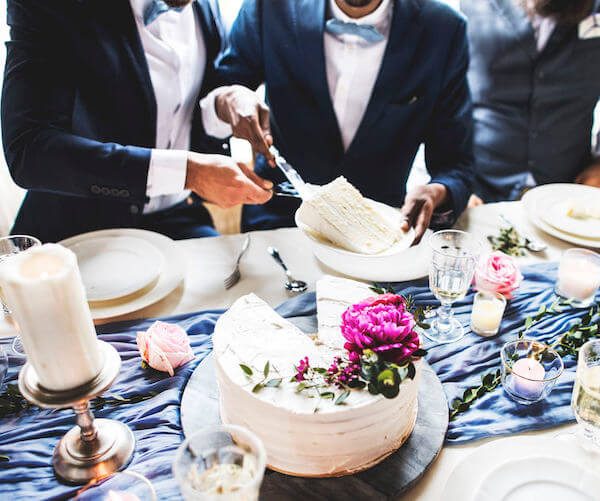 Meet Me In The Middle
Somewhere in the middle, we have a cake cutting at the end of dinner.
Since the couple is generally served dinner first, you will probably be finished and moving around the room greeting guests as most are finishing their dinner.
For most couples, this is the ideal time for the cake cutting. Your wedding guests have had time to appreciate and take pics of the cake, the photographer and videographer are still there, and you are still calm, cool, and collected.
Your band or DJ can roll right from "Sugar, Sugar," "Cut The Cake" or whatever fun song you have picked for your cake cutting, into a dance set that will pack the dance floor.
Additionally, your catering team has some time to slice, plate, and serve the wedding cake at a time where most of your wedding guests will still be there and allow them to enjoy their coffee and dessert.
Whichever time you might be considering, our Special Moments Event Planning team will work with you to make suggestions that will work the timing and flow of your wedding reception to make sure you have the night of your life.
Be sure to check out our previous blog posts with expert advice on wedding cakes by local Tampa Bay cake artists!
Planning a wedding?
Whether you are a Tampa Bay Area local or planning a Gulfside destination wedding, we have the creativity and connections to help you have the day of your dreams without all of the stress.
Planning an event?
We LOVE social events as much as we love weddings. From Wedding Showers to Reunions, we've done it all. It's all in the details and we've got you covered.
Planning a trip?
Need a weekend getaway during your wedding planning, time away with your family or help planning your honeymoon? We're happy to help!