Sealed With A Kiss on Boca Ciega Bay
Our Special Moments Event Planning team loved working with Emily and Brent on their St. Pete Beach wedding on the Boca Ciega Bay.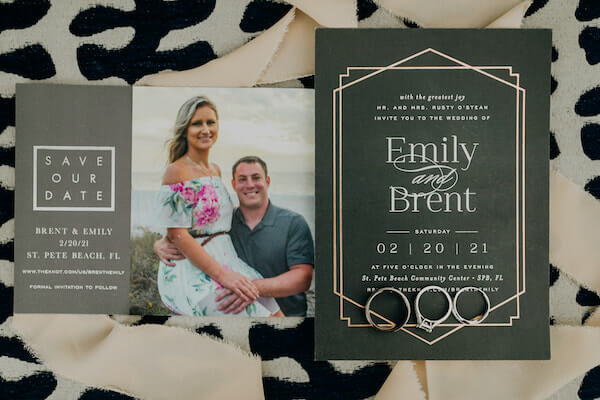 You see, we also worked with Brent's sister Chelsea and her husband, Joey, on their wedding, which was postponed from last year due to COVID-19 restrictions. Brent's mom, Jo, referred us to Emily and her mom, and the rest is history.
Getting Ready at the Tradewinds Island Grand
The day began, just up St Pete Beach from the wedding venue where both wedding parties were getting ready.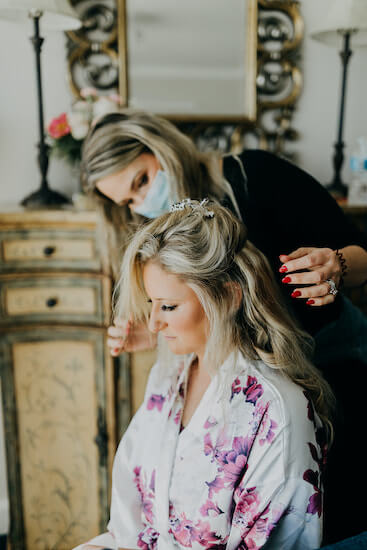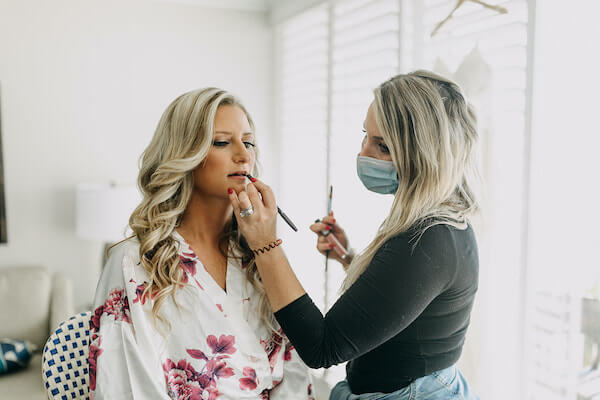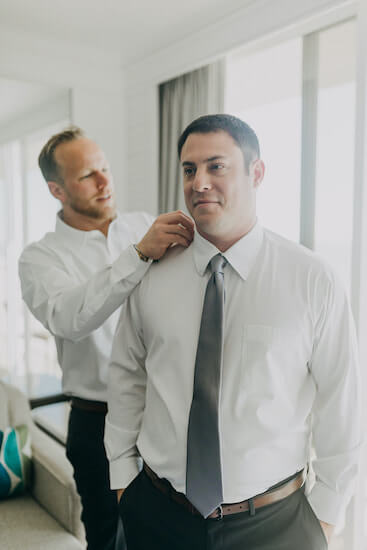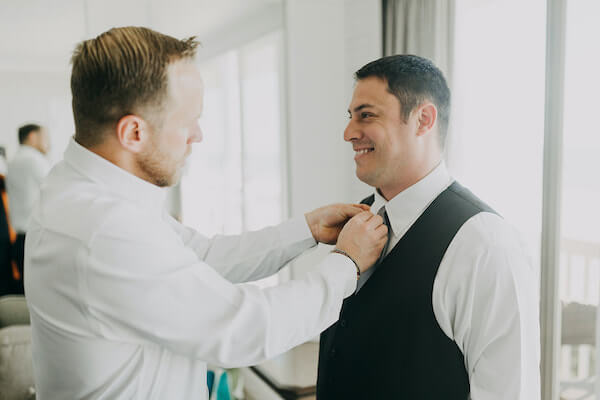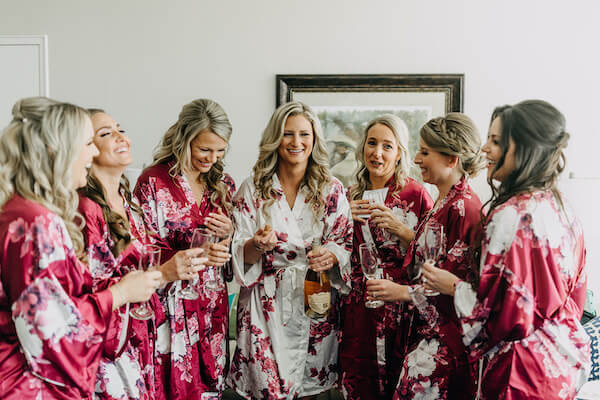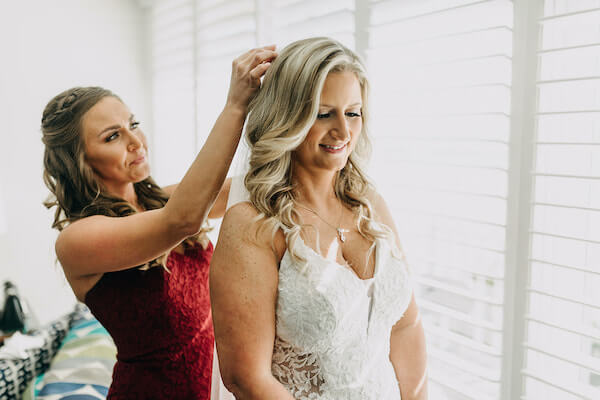 After a morning of preparations, wedding party photos, Emily took some time for the First look with her step-dad before heading to the wedding venue.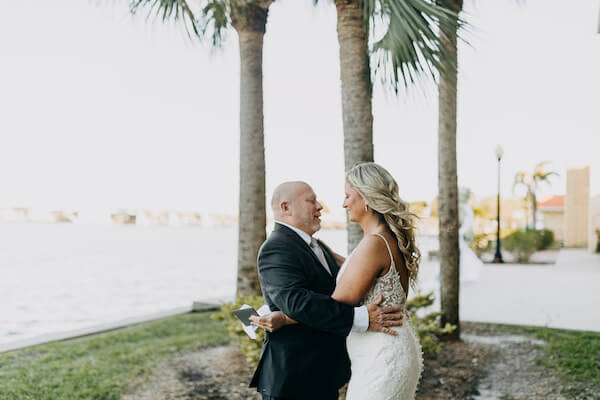 St Pete Beach Community Center
Brent and the guys made their way to the community center ahead of the ladies and took some time for photos. Then, safely tucked away to keep him from seeing his bride-to-be, Emily and the ladies arrived and took a few pictures together as well.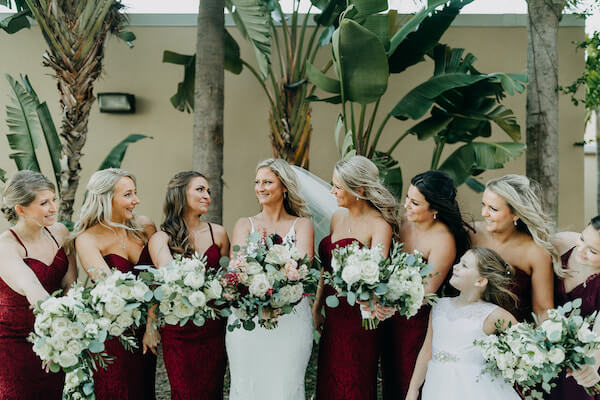 Across the property, everything was in place for their beautiful outdoor wedding ceremony. The St Pete Beach Community Center sits on the waterways of Boca Ciega Bay. It has gorgeous views of the water and the South Pasadena skyline.
A dark wood wedding structure was draped in flowing white fabric and accented with swags of white flowers and greenery. The aisle was lined with silver lanterns with clusters of flowers and white ribbon on the chairs.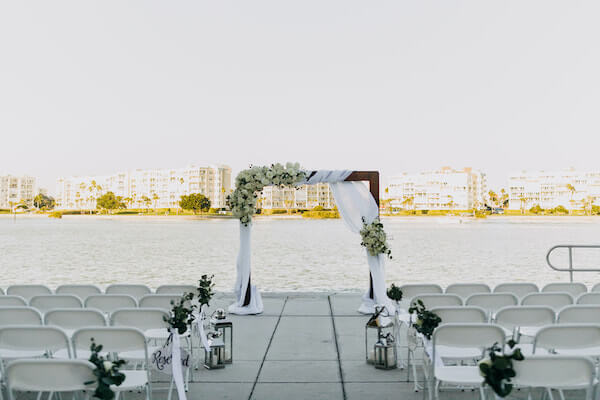 With This Ring
With a light breeze blowing, Brent stood, surrounded by family and friends as Emily made her way down the aisle, escorted by her step-father.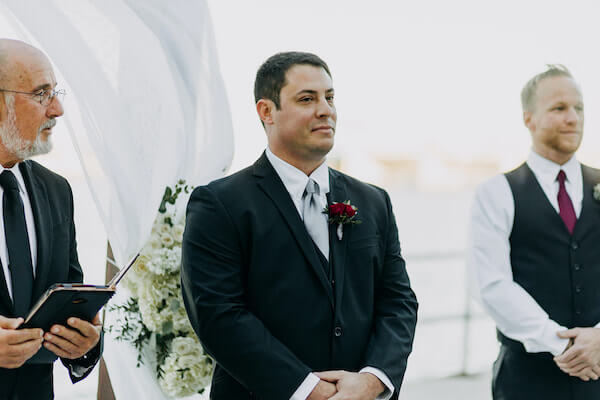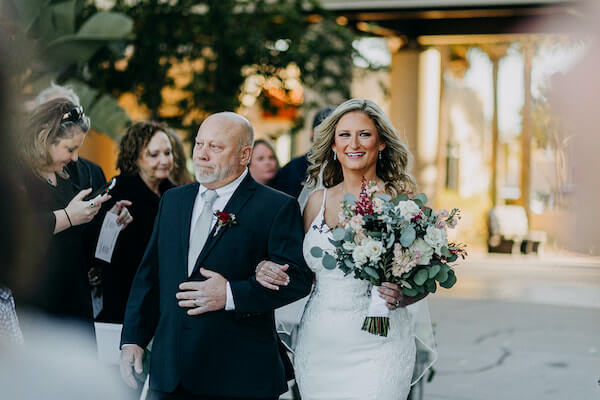 The couple exchanged rings and wedding vows in a beautiful, intimate wedding ceremony, sealing their vows with a kiss.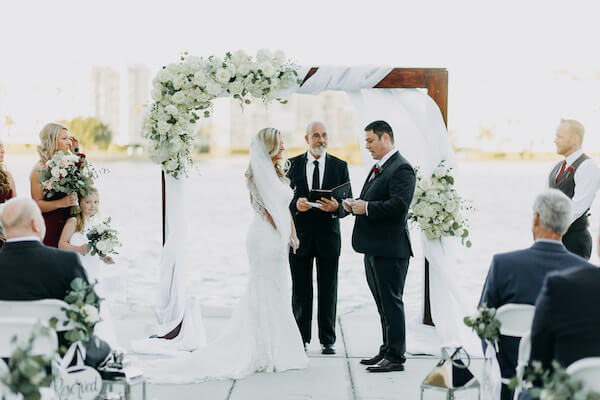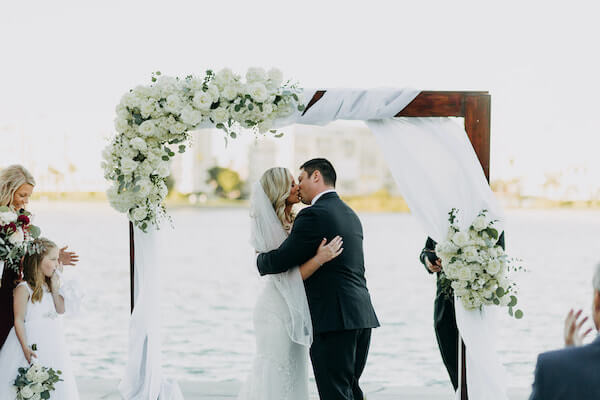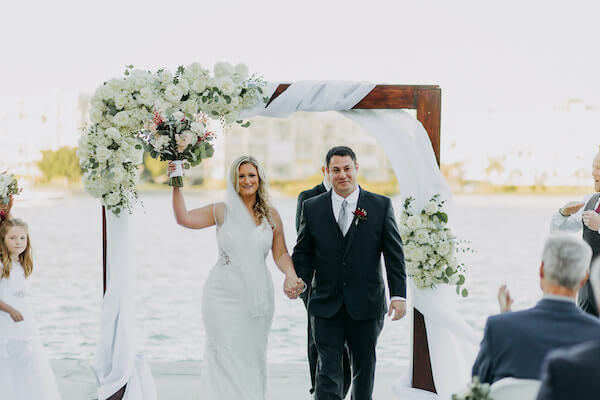 Sunset Photos on the Gulf of Mexico
Wedding guests made their way to the community center's terrace for cocktails. At the same time, the newlyweds took family photos and headed off for some sunset photos on the beach.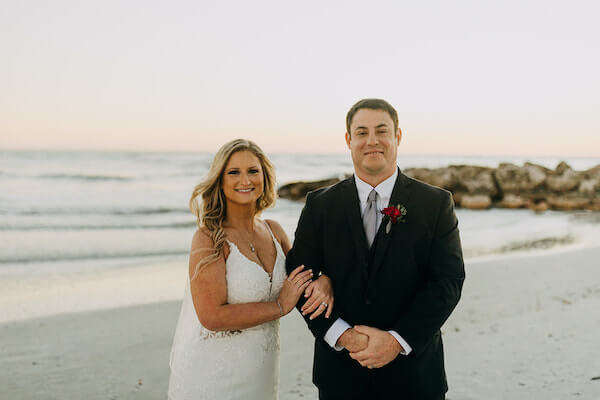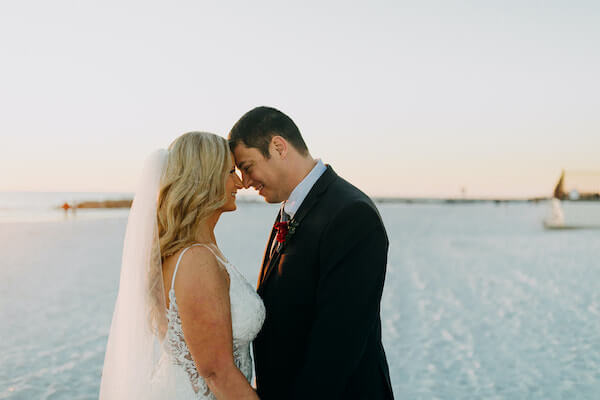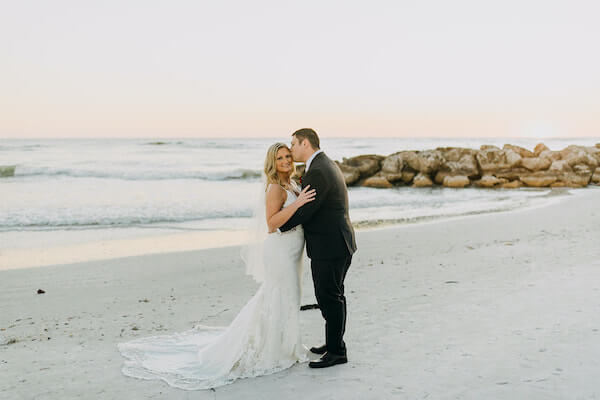 Dinner, Dancing, and Sparklers
The Boca Ciega Ballroom was set under a canopy of white fabric. Silver chivari chairs, charger plates, and deep burgundy napkins added a pop of color to the room. Driftwood, flowers, and shells decorated each of the tables. Floating candles completed the centerpiece – no candles are permitted in the venue, so the bride's mom came up with fantastic LED floating candles on a timer. What a huge find. We love those!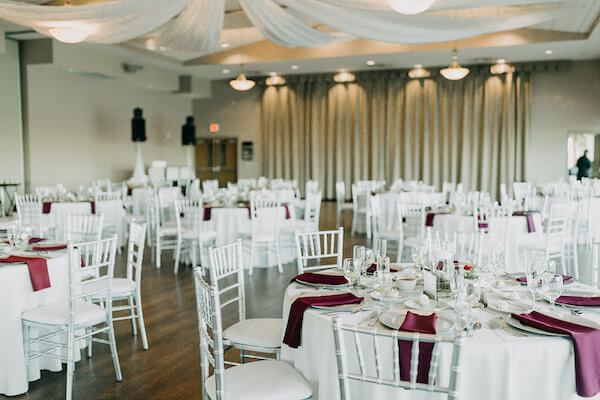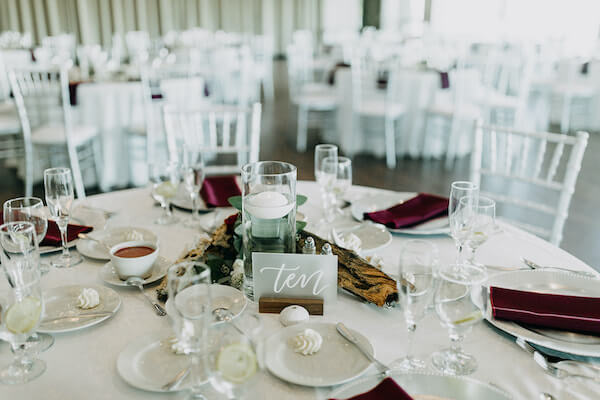 After introductions of the wedding party, Emily and Brett took to the dance floor for their first dance. Their dance was followed by a welcome and blessing by the bride's step-father, Rusty, and a delicious dinner. The evening continued with several toasts, parent dances, and with the newlyweds cutting their three-tiered buttercream wedding cake covered with a cascade of sweet roses.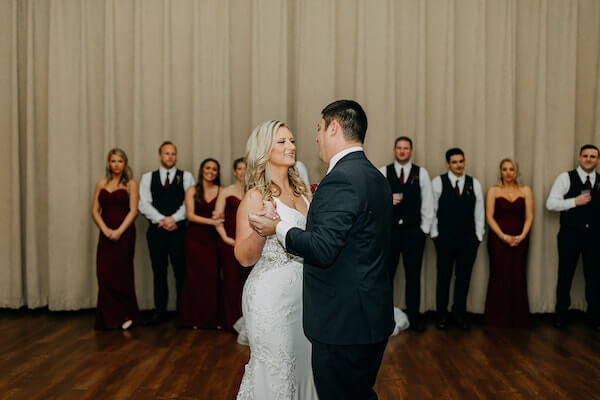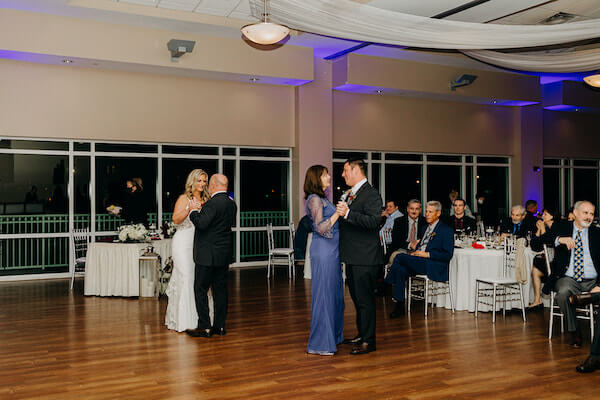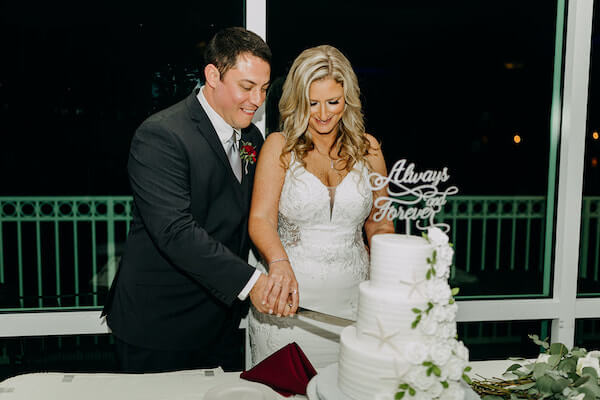 Congratulations, Emily and Brent! We wish you a lifetime filled with special moments.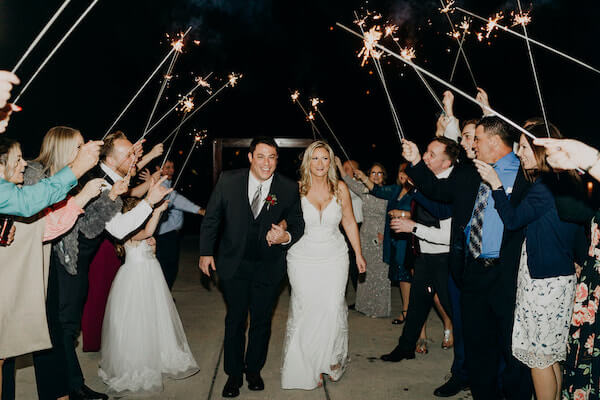 St Pete Beach Wedding Planner: Special Moments Event Planning
St Pete Beach Wedding Venue: St. Pete Beach Community Center
Wedding Officiant: A Beautiful Wedding in Florida
Photography: Amber McWhorter Photography
Videographer: Movie Magic Productions (now Media Tree Studios)
Florist: 2Birds Events
DJ and Photobooth: Grant Hemond & Associates
Catering: Delectables Fine Catering Inc
Bartending: Spunky Spirits Bartending Services
Draping and Rentals: Gabro Event Services
Wedding Cake: Chantilly Cakes
Transportation: Ambassador Limousine
Hotel Rooms/ Getting Ready: TradeWinds Island Grand Resort
Planning a wedding?
Whether you are a Tampa Bay Area local or planning a Gulfside destination wedding, we have the creativity and connections to help you have the day of your dreams without all of the stress.
Planning an event?
We LOVE social events as much as we love weddings. From Wedding Showers to Reunions, we've done it all. It's all in the details and we've got you covered.
Planning a trip?
Need a weekend getaway during your wedding planning, time away with your family or help planning your honeymoon? We're happy to help!