3 Ways to Make Your Wedding WOW!
Our Special Moments Event Planning team knows that everyone has a budget! And, while some budgets are bigger than others, couples want to get the biggest bang for their buck.
We all want to spend wisely and make our wedding budget go as far as possible. But, we all want to make sure we WOW our wedding guests with things they will remember.
Here are three cost-effective planning tips for creating WOW moments and not breaking the bank. All it takes is a little bit of focus.
#1 – Repurpose Design Elements
Look at any Real Wedding or Instagram post about a wedding, and you're sure to see some kind of incredible Ceremony backdrop. As a matter of fact, we've stopped calling them 'wedding arches' and started referring to them as 'Wedding Structures." From chuppahs to trellises or moon gates – they are more elaborate than ever.
So, the key is to make the most of the WOW ceremony focal point. Invest in having your floral design team move the whole structure or pieces of it into your wedding reception.
A chuppah or large square structure can be placed over a sweetheart table or wedding cake to make it more of a focal point. Event large clusters of flowers attached to the structure can be moved and placed in front of your table or around the cake table.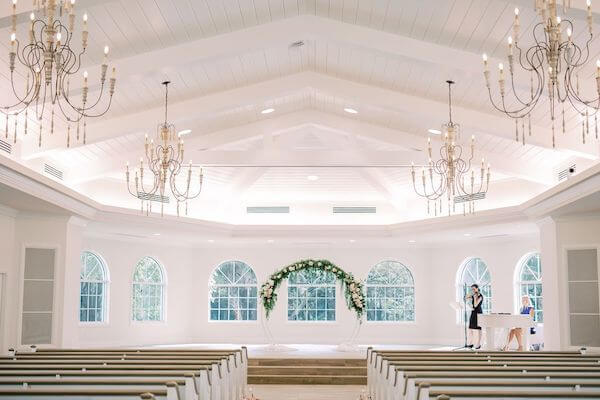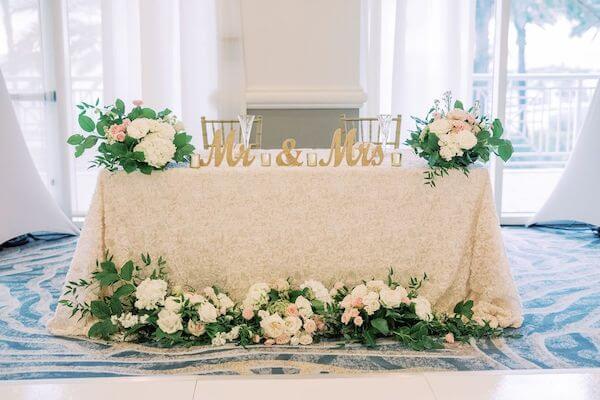 Images from Priscilla and Josh's beautiful wedding by Love and Covenant Photography.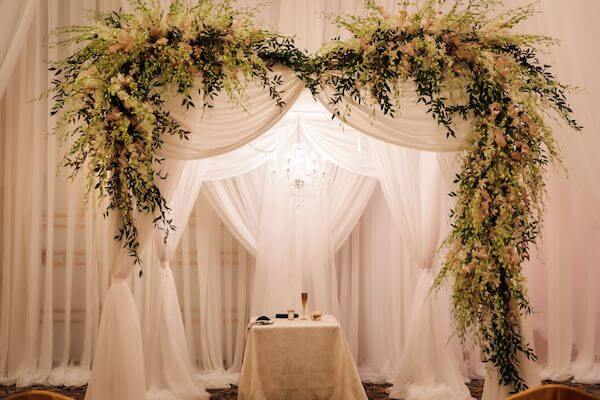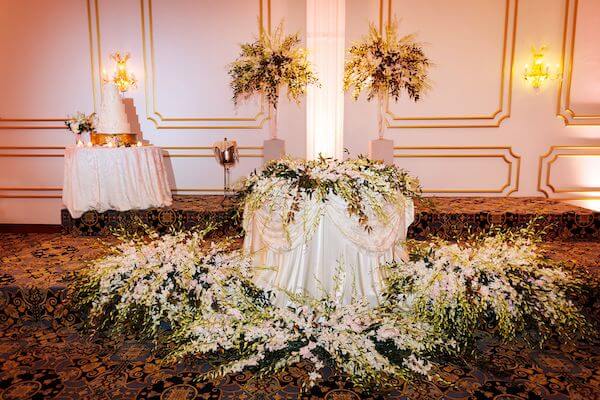 Images from Catherine and Adam's downtown Tampa Wedding by Limelight Photography, Floral Design by Apple Blossoms Floral Designs
Even decorative swags on ceremony chairs can be used to decorate your chairs at the sweetheart or head table or placed on the place card or gift table.
#2 – Focus on the Focus
The two most photographed parts of a wedding are the two of you and your wedding cake!
Seriously, look at your friend's social media feeds after someone's wedding, and you'll see the couple and the cake and maybe some random people dancing.
Sweetheart tables have gained in popularity over the years for many reasons – but it creates an Instagram-able moment of the couple in a beautiful setting. So, invest wisely. Unique lounge furniture or props might not be in the budget on a large scale. But one interesting love seat and some pieces in front of your sweetheart table make a significant impact.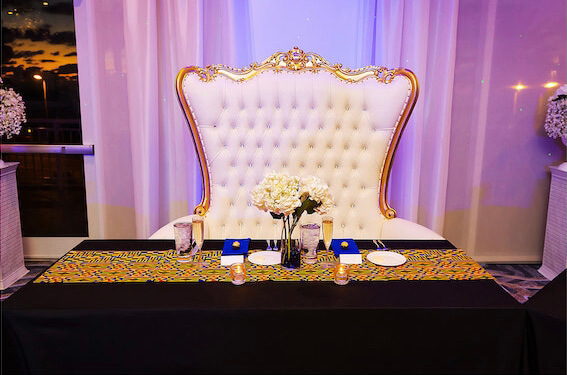 Image by Limelight Photography, white and gold love seat throne by Gabro Event Services
The same goes for your cake table! Dress it up! Chunky candles, votives, and a unique cake stand pack a punch.
#3 – Add Luxurious Linens!
Many wedding venues include basic white linens and napkins in their packages. However, all those beautiful weddings you see have colorful textured linens that shimmer. Unfortunately, those can come with a shimmering price tag too.
Adding napkins in a color that compliments your wedding's color story adds a nice pop to basic white linen, so can a table runner. And they're super affordable!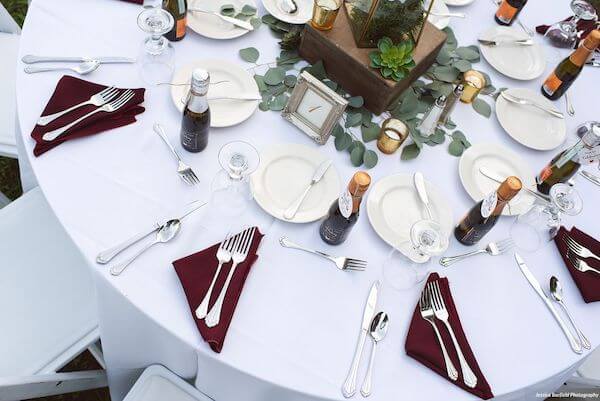 Image by Jessica Barfield Photography from Ariel and Matt's Bradenton wedding.
Another layer might be to upgrade to affordable colored linen for a portion of the tables. You can alternate tables, creating a pop of color and contrast that catches your eye when you enter the ballroom.
Lastly, go back to those two focal points, your sweetheart table, and the cake table. Invest in show-stopping linens for those two tables. It added a nice pop of luxury and will be in everyone's wedding photos!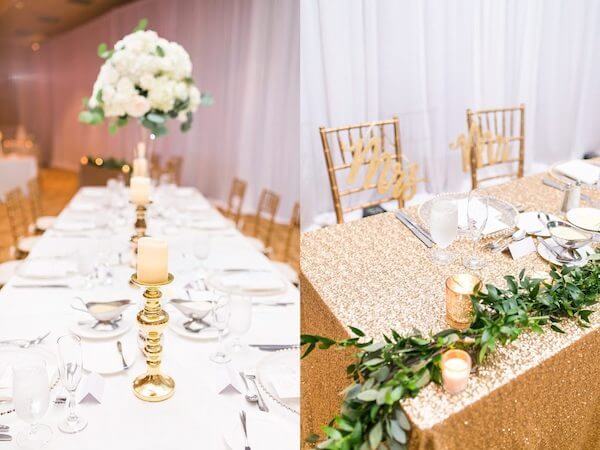 Images by Tiffany McClure Photography from Vicka and Blake's Safety Harbor wedding.
With just a few simple tricks, you can invest wisely and add elements of WOW that your family and friends will remember without breaking the bank!
Cover image by Lifelong Photography Studio. Be sure to see Dominique and Tommy's beautiful Tarpon Springs wedding.
Planning a wedding?
Whether you are a Tampa Bay Area local or planning a Gulfside destination wedding, we have the creativity and connections to help you have the day of your dreams without all of the stress.
Planning an event?
We LOVE social events as much as we love weddings. From Wedding Showers to Reunions, we've done it all. It's all in the details and we've got you covered.
Planning a trip?
Need a weekend getaway during your wedding planning, time away with your family or help planning your honeymoon? We're happy to help!