Wedding Reception Seating, Oh My!
Without a doubt, figuring out seating for your wedding reception can be one of the most stressful things for couples during wedding planning.
Our Special Moments Event Planning team frequently works with couples on their reception floorplans and what seating style works best for their particular venue.
Unfortunately, the hard part of figuring out seating falls on you as a couple. Only you know the personalities of your family and friends and what reception style might work best.
Here are a few options and tips to make this process easier.
Cocktail Party
For some couples, a Cocktail Party-style event might be the way to go. It can be a little less formal and lets your guests mix and mingle. Most often, this works well with Passed Hors d' Oeuvres or Food Stations with small plates.
This wedding reception style can work well if there are plenty of high-top tables (often called cabaret tables). Everyone wants a place to set their drink while eating and not feel like they need to juggle multiple plates.
If older guests will be attending the event, it's essential to have several lower tables with chairs available to make them comfortable for the entire event. You might also want to place a reserved sign on those tables to reserve them for grandparents or older relatives.
If you have a younger group of friends who might be up drinking, dancing, or having fun in a photo booth all night, a Cocktail Party-style event might work well for you.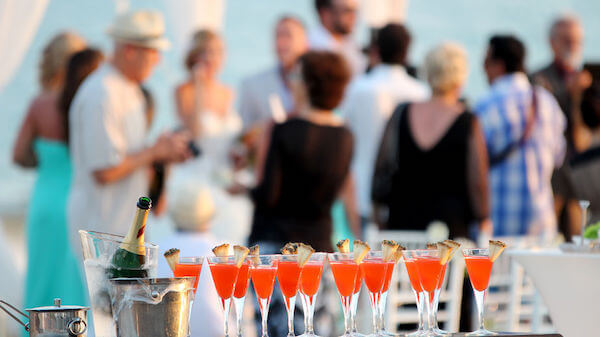 PRO TIP: Rental companies offer incredible lounge seating options. From Mod to Vintage, there are seating and side table options to match any wedding style. Lounge seating works incredibly well with a Cocktail Party-style reception as guests might want to sit a bit after dancing.
Assigned Tables
A large number of couples choose to have assigned tables for their guests. The couple creates a seating chart or provides escort cards that designate a specific table for guests. Once at the assigned table, guests choose any available seat.
As wedding and event planners, it would be difficult for us to assign guest tables or seats. We don't know the relationship our clients have with the guests, so this is a task that needs to be done by the couple.
PRO TIP: Don't stress over ever-changing family dynamics at tables. We all have those two aunts who love each other one week and aren't speaking the next. They are typically seated long enough to eat and can go to opposite corners when they are done.
Assigned Seating
In addition to assigned tables, some events may have assigned seats at each table.
Once the guest arrives at the correct table listed on the seating chart or their escort card, each seat or place setting may have a place card with a guest name dictating the specific seat for each guest.
If guests have chosen a specific dinner entrée on their RSVP card, the entrée choice is often shown on the place card with a small icon or specific font color. The catering staff uses this information to serve the correct dinner choice to guests.
Many couples find this to be unnecessary and a little time-consuming. Too many times, we've seen the first people to get to the table move them around to suit their own preference.
PRO TIP: Assigned seating often works well for a head table. Quite often, members of your wedding party are partnered or are close friends with members of the party.

Additionally, we LOVE when couples print a place card for their parents. Parents can often be the last ones to the table. This allows you to reserve seats together and where they can easily see things like your first dance or toasts.
Open Seating
For better or for worse, this option has gained popularity in the last few years. Mainly because it involves the least amount of work on the part of the couple.
Open seating means exactly what it sounds like. There are notable or seat assignments. A guest enters the reception room and chooses a seat at any table.  Unfortunately, sometimes it's difficult for the last guests who enter the reception to find seats together without awkwardness.
If you choose to have open seating, we suggest having at least one extra table, approximately 8-10 seats, for every 100 guests. You'll often see guests who take a seat leaving only one seat between them and the next party, making it tough on the next couple to that table.
PRO TIP: If you choose to do Open Seating at your wedding reception, we highly recommend reserving tables for parents and grandparents. This ensures that they have seats together and can see all of your special moments. And, don't forget to reserve seats for the two of you!
Yes, there are many considerations with personalities and family dynamics to consider when looking at seating for your wedding reception. But, armed with a bit of knowledge and a few Pro Tips, you can do it!
Want more information on the differences between Escort Cards and Placecards? Be sure to check out our Special Moments Event Planning blog post Take A Seat!
Planning a wedding?
Whether you are a Tampa Bay Area local or planning a Gulfside destination wedding, we have the creativity and connections to help you have the day of your dreams without all of the stress.
Planning an event?
We LOVE social events as much as we love weddings. From Wedding Showers to Reunions, we've done it all. It's all in the details and we've got you covered.
Planning a trip?
Need a weekend getaway during your wedding planning, time away with your family or help planning your honeymoon? We're happy to help!