Paula and Dane Danced the Night Away on Clearwater Beach
Paula and Dane's Clearwater Beach wedding was packed with personal touches, love, and LOTS of dancing.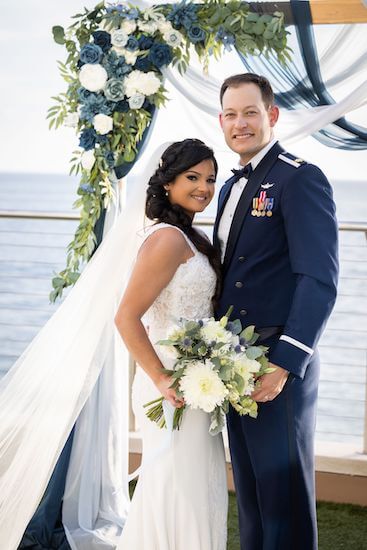 I'd Rather Be Blue
The day started with a little bubbly and hair and makeup services for the bridal party. The guys and Dane had a little lunch and a few toasts, dressed, and took photos.
Meanwhile, Paula got dressed, and her wedding party got to see her before heading off for some personal time with her groom-to-be.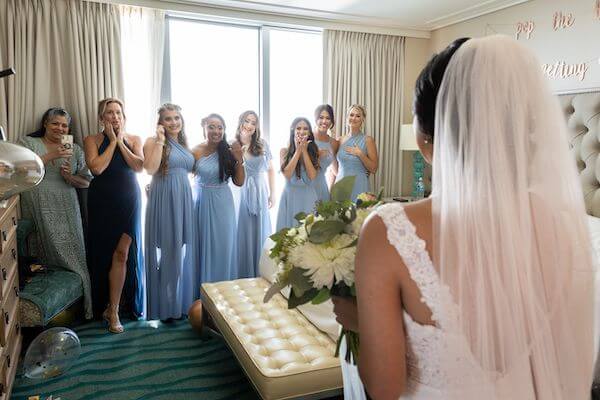 Touch But Don't Look
In a twist on tradition, Paula and Dane spent a little time together before their wedding ceremony.
However, with a well-choreographed plan, they could touch each other. But not see each other. They prayed together before going their separate ways to freshen up before their wedding ceremony.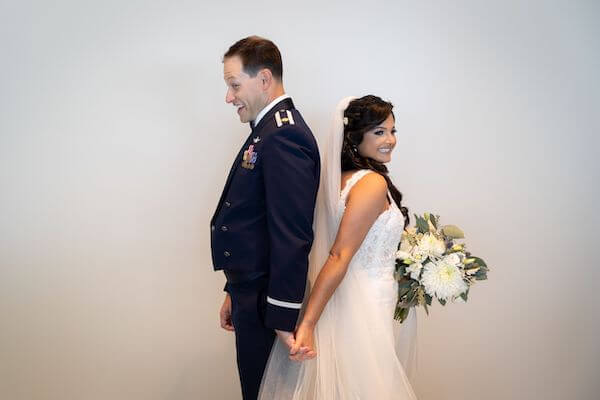 Overlooking The Gulf of Mexico And Clearwater Beach
The resort's Event Lawn was set with white garden chairs. The aisle was lined with swags of greenery with floral accents and handcrafted wooden signs with quotes from 1 Corinthians.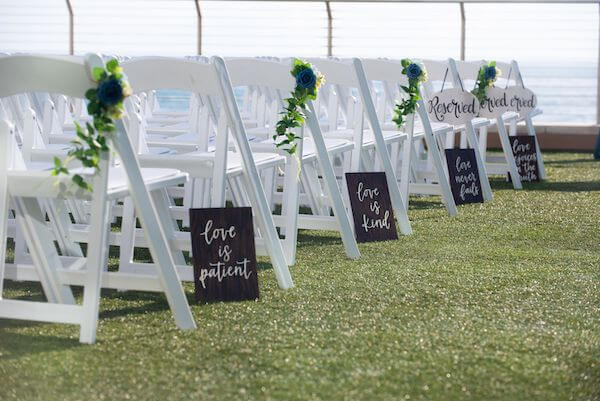 At the end of the aisle, a wooden ceremony structure was draped in blue and white fabric and decorated with beautiful flowers.
Dane, dressed in his dress blue uniform, barely held back tears as he saw his beautiful bride for the first time.
The two exchanged vows and rings, surrounded by family and friends with the glistening Gulf of Mexico as their backdrop.
Sushi, Light Bites, and Family Photos
As the newlyweds took time for some wedding party and family photos, their guests enjoyed a delicious Sushi Station and passed Hors d 'Oeuvres.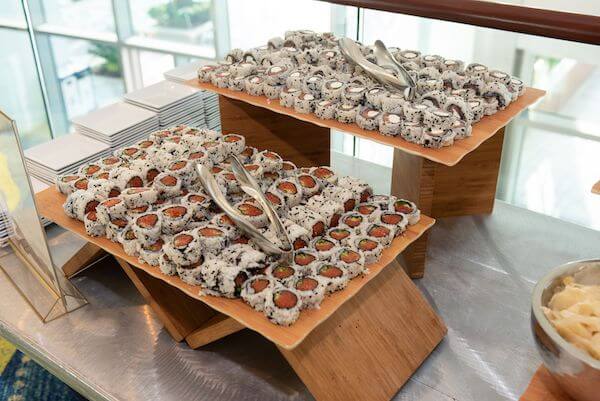 The selections included Beef Tenderloin Crostini with Boursin Cheese and Red Onion Marmalade, Fried Truffle Mac and Cheese Bites, and Coconut Shrimp with Rum Honey Sauce. 
Inside The Sea Salon Ballroom
Inside the Sea Salon Ballroom, overlooking Clearwater Beach, everything was in place for an incredible reception.  Tables were draped with crisp white linen and surrounded by silver chivari chairs. The tabletop design included wooden charger plates layered with dusty blue napkins in a love knot.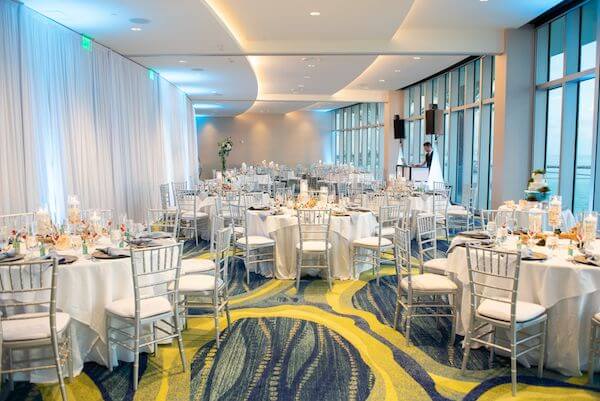 We designed each table with floating candles, driftwood, succulents and shells, sand dollars, or starfish corresponding to the guests' table assignments and seating chart.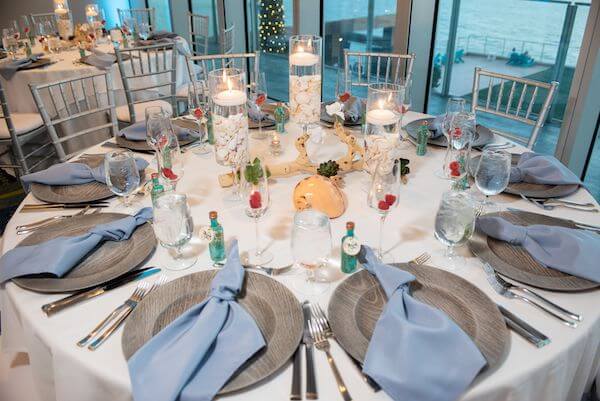 The couple's sweetheart table was framed with tropical greenery and fresh flowers, with collections of candles dotting the table.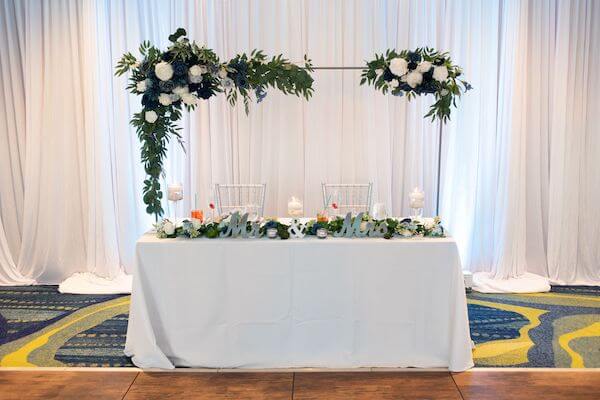 The cake table held a three-tiered white wedding cake brushed with the colors of the ocean and resting on a whitewashed wooden cake riser.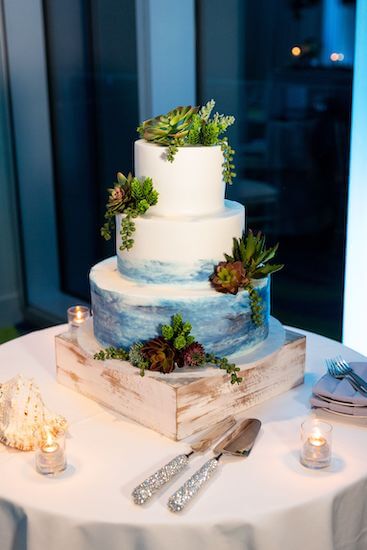 Dance, Dance, Dance
Dance was the word of the night. Following introductions, the newlyweds made their grand entrance and took to the dance floor for their first dance, followed by parent dances and a blessing by the groom's father.
Dinner included a salad station including Baby Spinach with Oven Roasted Beets, Goat Cheese, Walnuts, and Citrus Vinaigrette, Heirloom Tomato & Mozzarella Caprese Salad with Basil Balsamic Glaze, and Petite Wedges of Iceberg Lettuce, Bleu Cheese, Bacon, Tomato, Red Onion, with Buttermilk Ranch. 
Main courses include Braised Short Ribs with Pearl Onions, Spinach, and Fontina Stuffed Chicken Breast with Supreme Sauce and Pan Roasted Grouper with Roasted Tomatoes and Capers with Roasted Yellow Pepper Coulis. Toasts
After the cake-cutting, it was time to dance the night away!
Everybody Salsa!
What better way to open the dance floor than with salsa dancers?
For those of you watching closely, yes, that is our bride Paula. And yes, that is her third dress! This bride came ready to party, and we don't think she and Dane left the dance floor once all night!
PRO TIP: If you want a packed dance floor, you, as the newlyweds, need to lead by example. If the couple disappears, even for a short time, the dance floor can empty very quickly.
Congratulations, Paula and Dane! We wish you a lifetime of happiness and are glad to have been part of your special moments!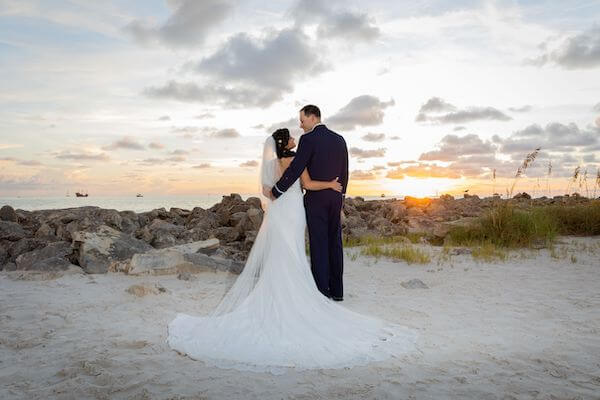 Clearwater Beach Wedding Vendors
Wedding Venue: Opal Sands Resort
Clearwater Beach Wedding Planner: Special Moments Event Planning
Beauty: Jasmine Anastasia Beauty
Photography: Cara DeHart Lewis Photography
Floral: Simply Chic Events
DJ: Grant Hemond and Associates
Rentals / Draping: Gabro Event Services
Wedding Cake: Chantilly Cakes
Signage and Centerpieces: Special Moments Event Planning
Planning a wedding?
Whether you are a Tampa Bay Area local or planning a Gulfside destination wedding, we have the creativity and connections to help you have the day of your dreams without all of the stress.
Planning an event?
We LOVE social events as much as we love weddings. From Wedding Showers to Reunions, we've done it all. It's all in the details and we've got you covered.
Planning a trip?
Need a weekend getaway during your wedding planning, time away with your family or help planning your honeymoon? We're happy to help!