Our Special Moments Event Planning team started working with Kate and Dave on their destination wedding in the spring of 2019.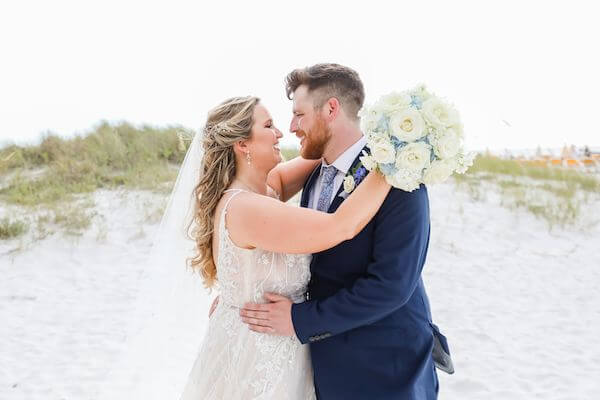 Unfortunately, like many other couples, their wedding date was postponed. However, their second wedding date was accidentally double-booked by the venue. This resulted in a date and venue change. We were all hopeful that the third time was a charm.
Get Ready
For Kate and Dave, the day started as planned, spending time with their wedding parties and capturing all the details of the day.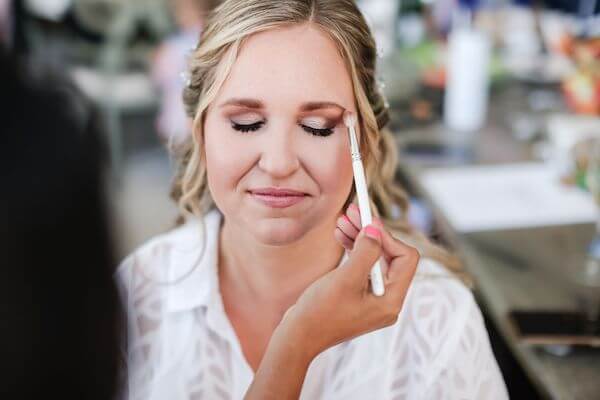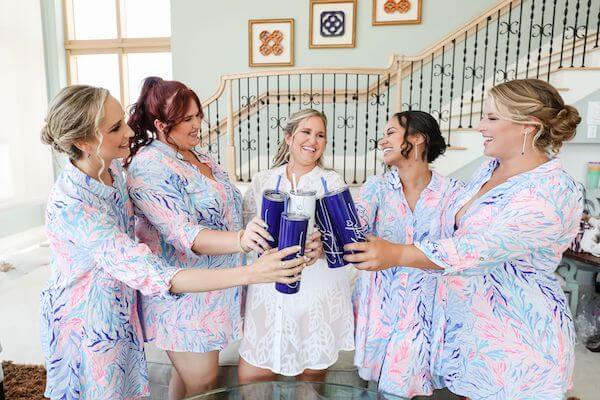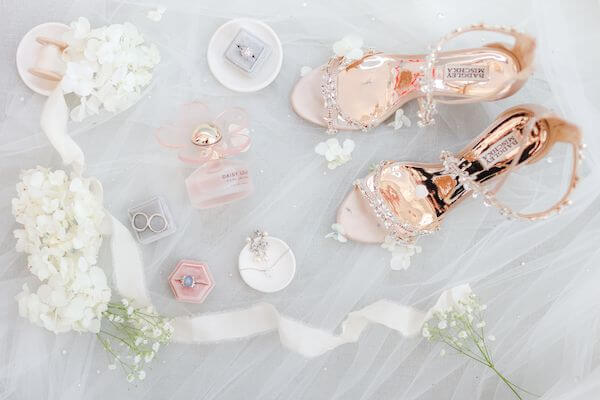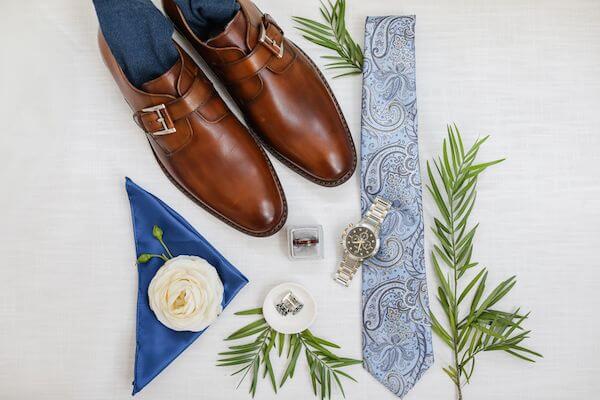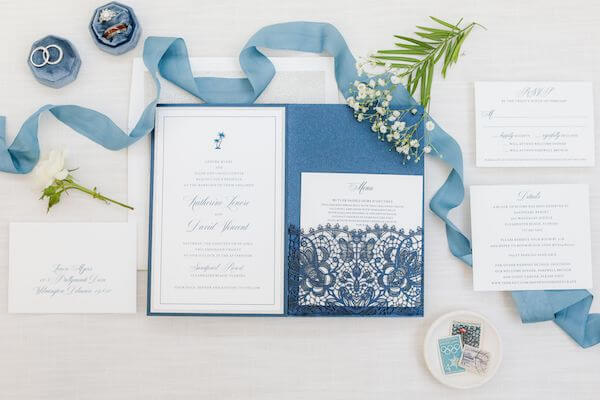 The bride and groom-be had their first look, just as planned.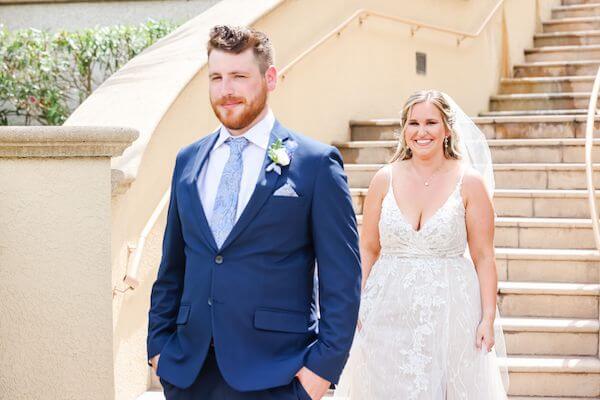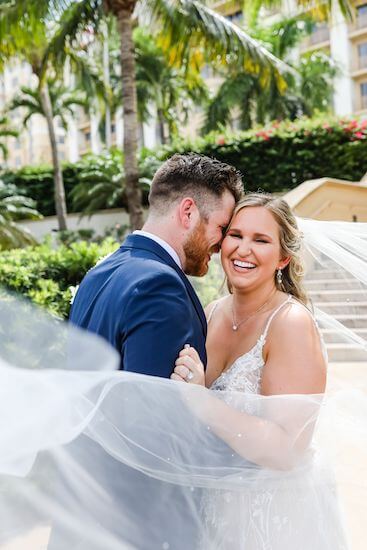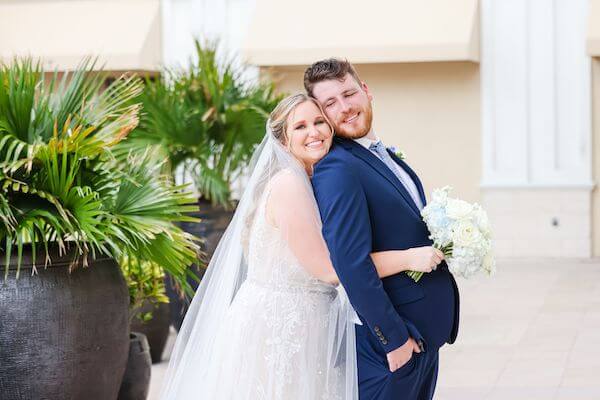 Forecast of Rain, Lightening, and High Winds
As luck would have it, the forecast for the afternoon was filled with rain, lightning, and high winds.
The couple went ahead with lots of outdoor photos with their wedding party and family.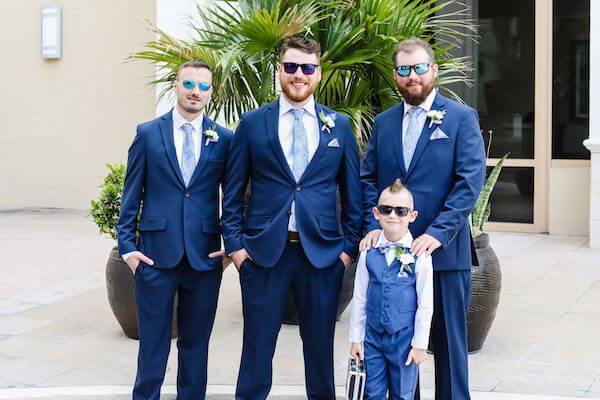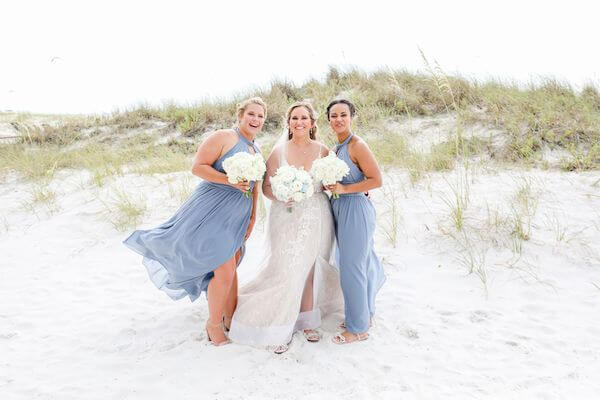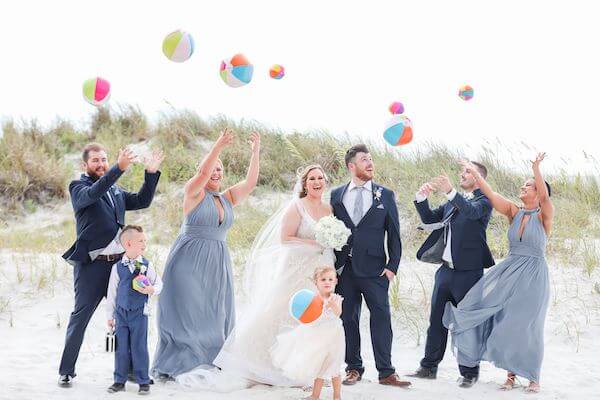 We even went as far as constructing their beautiful wedding structure. We hoped against all odds that the ceremony might be outside. But, if nothing else, they would have the structure as a beautiful backdrop for their portraits.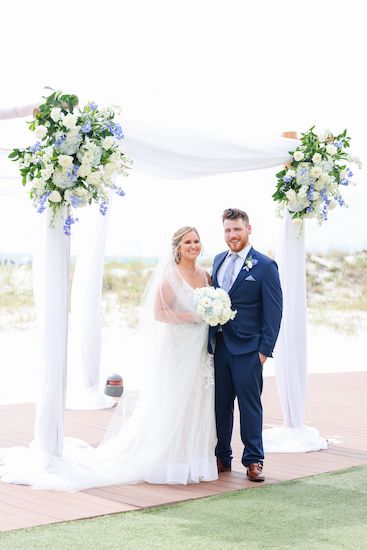 Luck Was Not On Their Side
As luck would have it, the weather was not on their side. The storm moved in, and the wedding ceremony was moved to Plan B.
The team moved the white garden boxes that would line the aisle on the beach, inside adding tall floral arrangements to frame the couple as they exchanged their wedding vows. Wedding guests enjoyed the custom sunglasses for the beach wedding, regardless of being inside.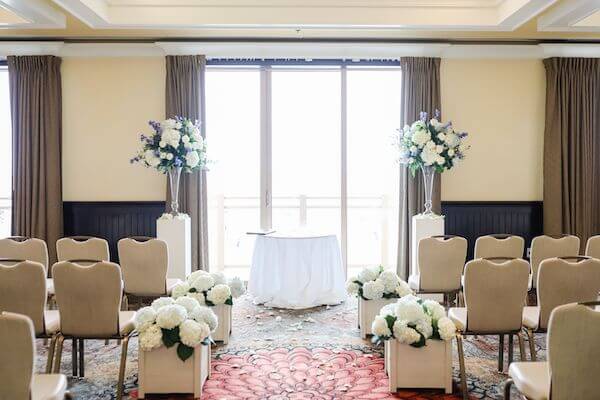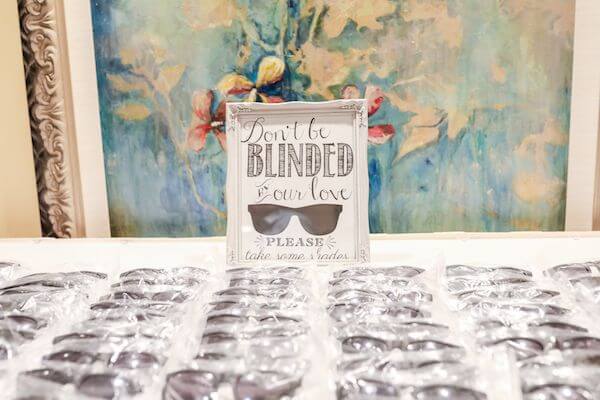 Love, Love, Love
In a slightly different setting, Kate, escorted by her mother, made her way down the aisle to her anxiously awaiting groom.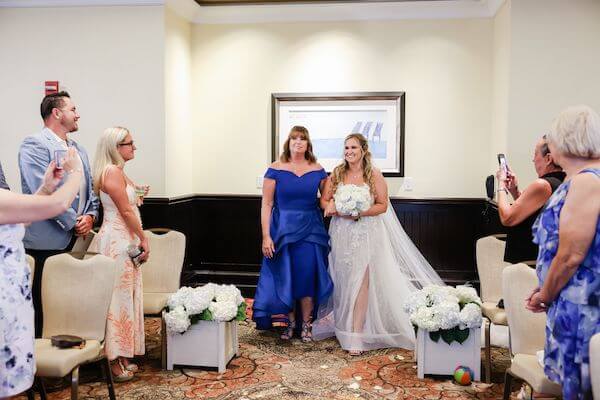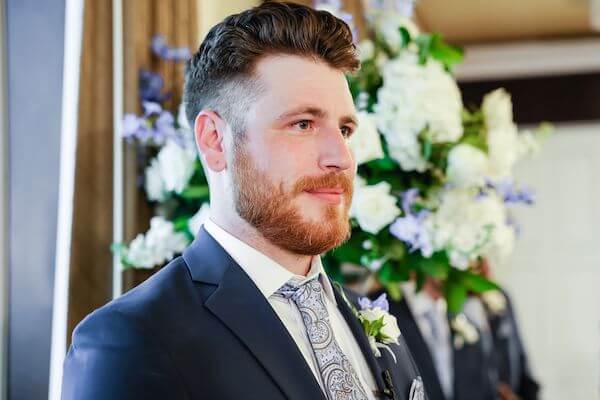 The couple exchanged wedding vows in a ceremony that included a handfasting and "beach ball toss" initially designed for the beach.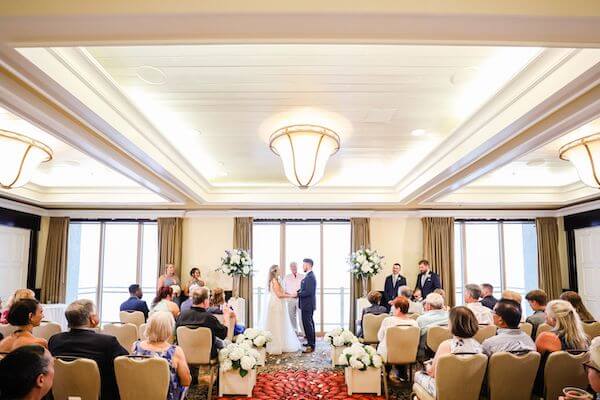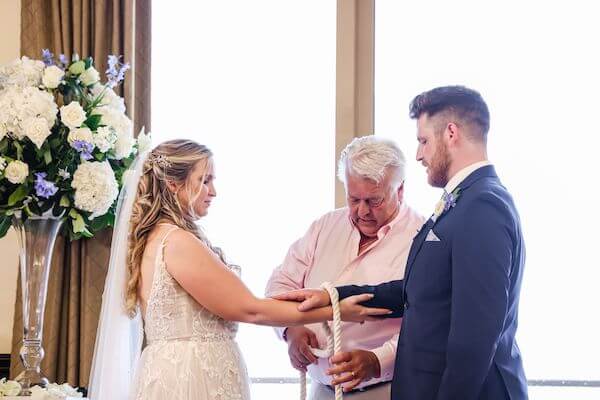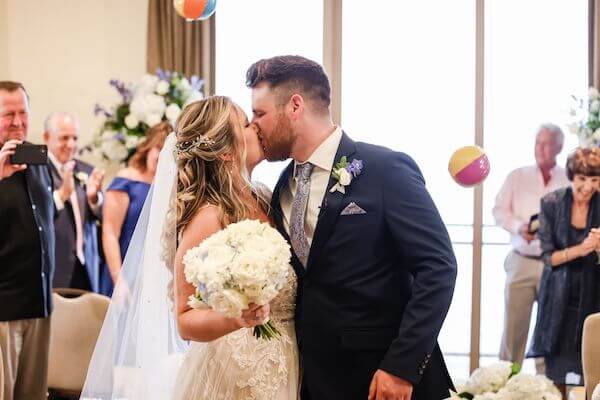 Love is in the Details
In the nearby ballroom, all of the details were in place for the newlyweds' wedding reception.  Every detail reflected this fantastic couple.
A travel-themed guest book invited guests to write their names on a suitcase, adding it to a frame with a globe and the couples' names and wedding date.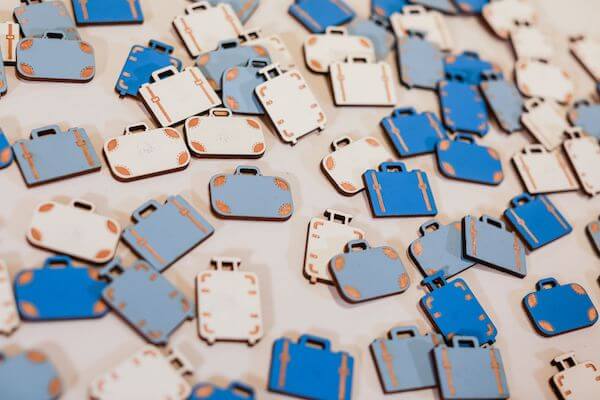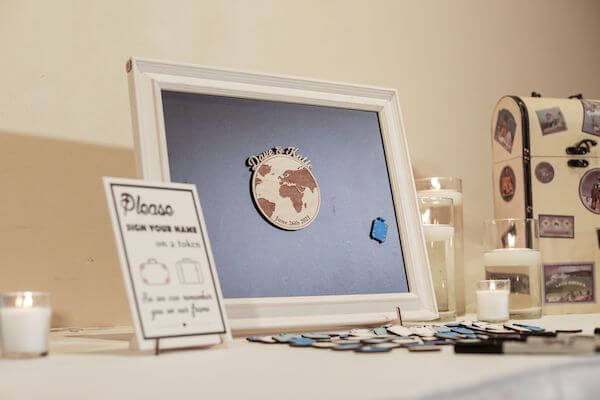 The couple chose two kinds of Hot Sauce for their wedding favors – Sweet Like Kate and Hot Like Dave!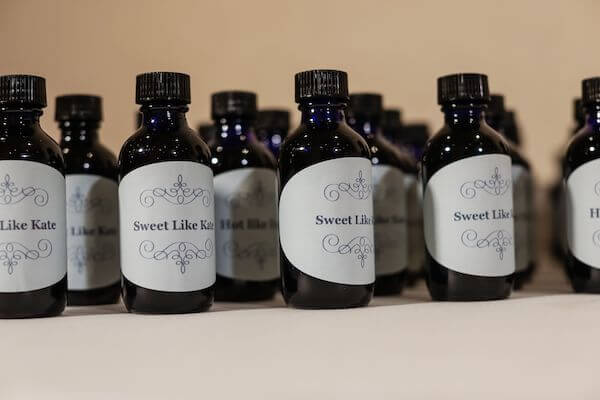 Reception tables were draped in crisp white linens, paired with clear acrylic chairs and textured glass charge plates. Unique vintage glassware added a touch of blue, a color that is woven throughout the wedding. Tall glass trumpet vases overflowing with fresh flowers surrounded by votive candles filled the center of each table.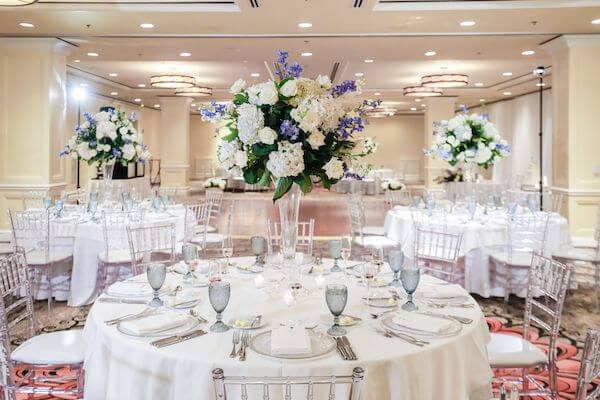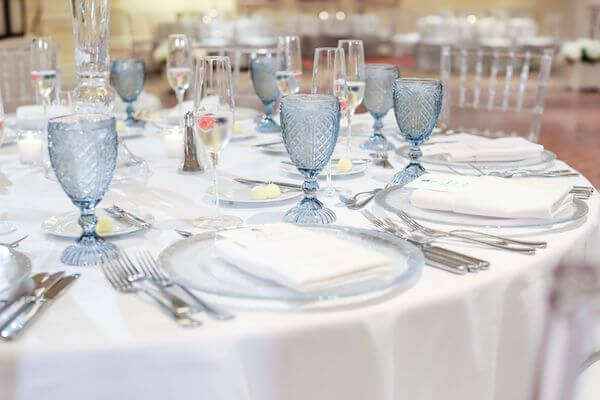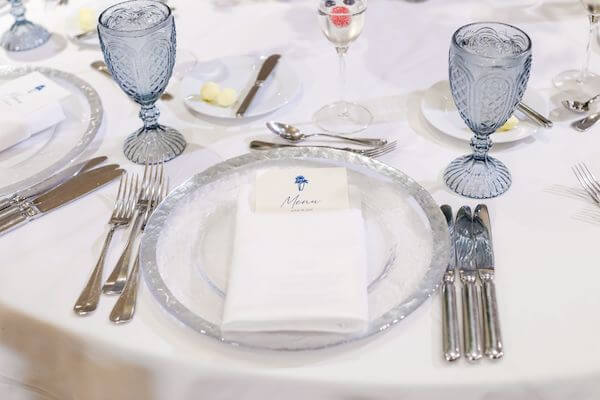 The newlywed's sweetheart table held a low, flowing floral arrangement and collections of floating candles. And, how adorable are the 'Madame' and 'Monsieur' signs.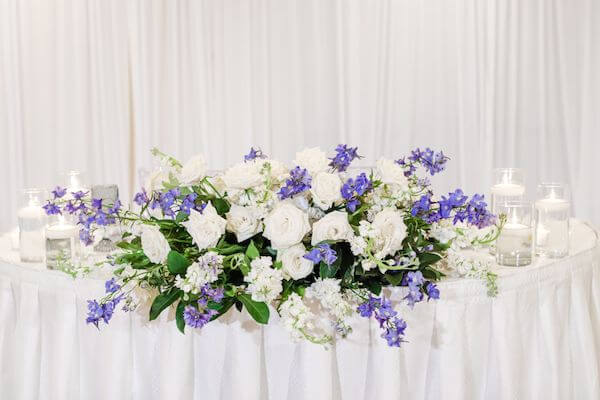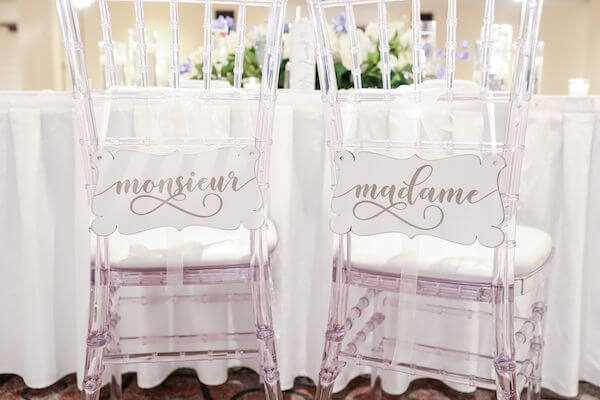 Ear to Ear Smiles
Following introductions, Kate and Dave took to the dancefloor for their first dance. The evening continued with an incredible multi-course dinner, dances with their mothers, the "Shoe Game," and cutting their beautiful three-tiered wedding cake.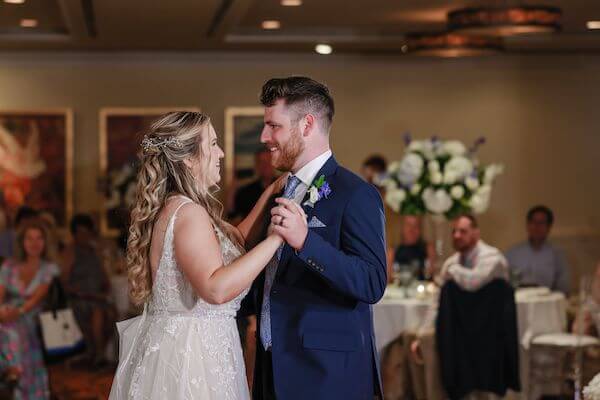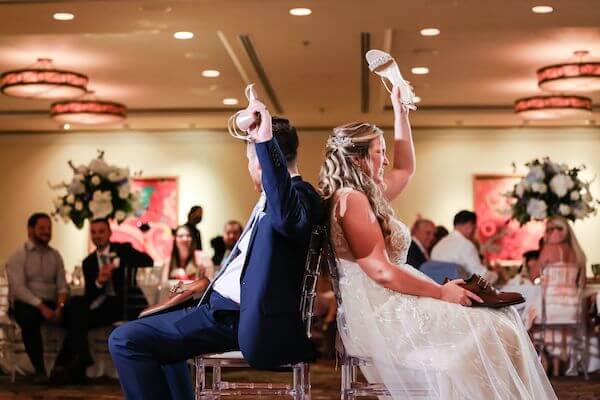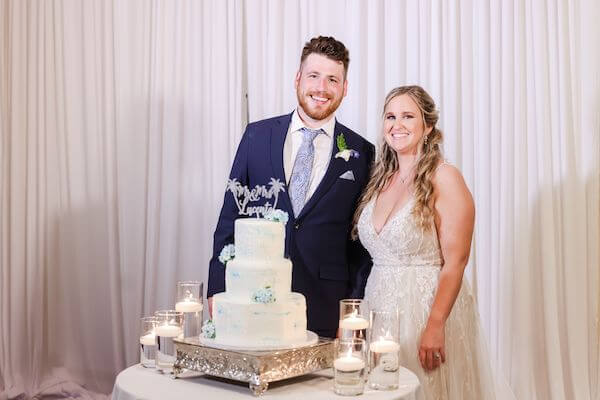 Throughout the evening, their ear-to-ear smiles showed everyone how much in love they were and that they didn't let a little rain dampen their spirits.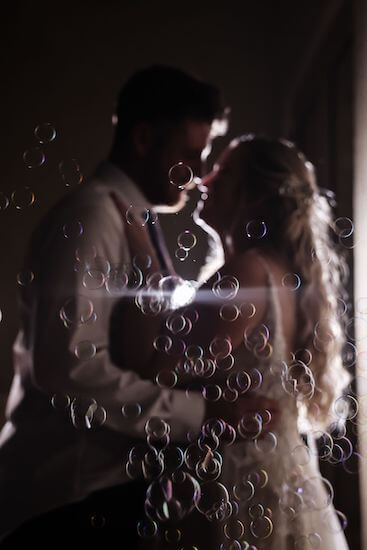 Congratulations, Kate and Dave! We wish you a lifetime filled with love and lots of smiles.
The Wedding Team
Clearwater Beach Wedding Planner: Special Moments Event Planning
Clearwater Beach Wedding Venue: Sandpearl Resort
Hair and Makeup: Femme Akoi Beauty Studio
Photography: Lifelong Photography Studio
Videography: Media Tree Studios
Floral Design: Artistry Design Group
Rentals: Kate Ryan Event Rentals
Wedding Cake: Chantilly Cakes
Planning a wedding?
Whether you are a Tampa Bay Area local or planning a Gulfside destination wedding, we have the creativity and connections to help you have the day of your dreams without all of the stress.
Planning an event?
We LOVE social events as much as we love weddings. From Wedding Showers to Reunions, we've done it all. It's all in the details and we've got you covered.
Planning a trip?
Need a weekend getaway during your wedding planning, time away with your family or help planning your honeymoon? We're happy to help!