Just Married: Downtown Tampa
Corie and Nick's downtown Tampa wedding was adorable. A downtown wedding has a different vibe, offering many unique backdrops and historic buildings. 
Getting Started
For Corie and the ladies, the day started with onsite hair and makeup, photos of wedding details, and a toast.
Meanwhile, Nick and the guys hung out. They had a much faster time getting ready. But they still took time for some photos and a toast or two before Nick headed off for his first look with Corie.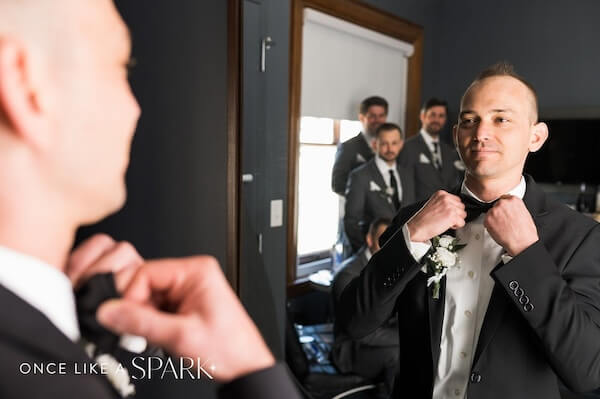 Their First Look
Corie and Nick had their first look on the steps of their wedding venue. One of Tampa's significant historic buildings, it offers excellent textures and backdrops.
Following their first look, the couple took a few photos together, then pictures with their whole wedding party before some downtown Tampa photos.
Best Day of My Life
With everyone in place, Corie, escorted by her father, made her way around the corner and up the stairs. The couple exchanged rings and vows, surrounded by family and friends.
Sealing their wedding vows with a kiss, the Tampa newlyweds headed off for some private time.
Aussie and Zoey's Gift!
Wedding guests made their way inside for the cocktail hour, compliments of Aussie and Zoey, the couple's pups.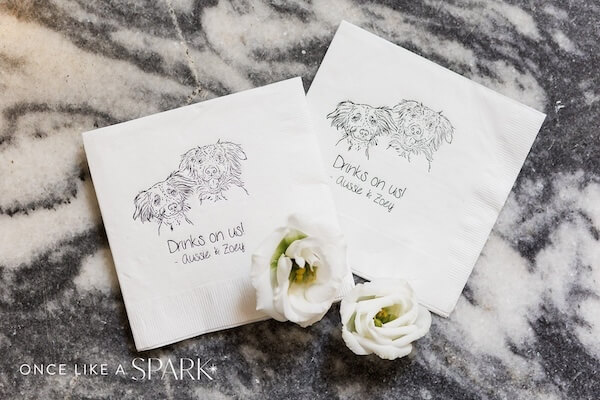 A 1956 Chevrolet BelAir
While guests enjoyed cocktail hour, the newlyweds headed outside for some fun. Because who doesn't love taking their wedding photos with a fun vintage car?
We're fangirling over this car and their wedding photos!
Dance The Night Away
Inside the historic ballroom, tables were set with crisp white linens, surrounded by glossy black Chiavari chairs. Table tops were dressed with clusters of floating candles and bud vases with greenery and white flowers.
However, we have to talk about the table numbers. How awesome are these? Wine bottles with custom labels! Each table number coincided with a wedding anniversary; each table was to sign their bottle. Starting with table One, a bottle would be open on that number's anniversary!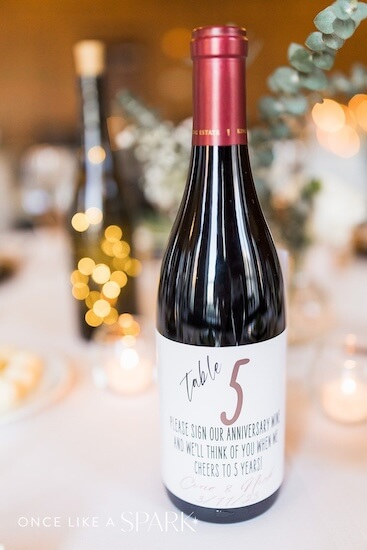 Following introductions and a delicious dinner, the newlyweds took to the dance floor for their first dance to ¨I Get To Love You.¨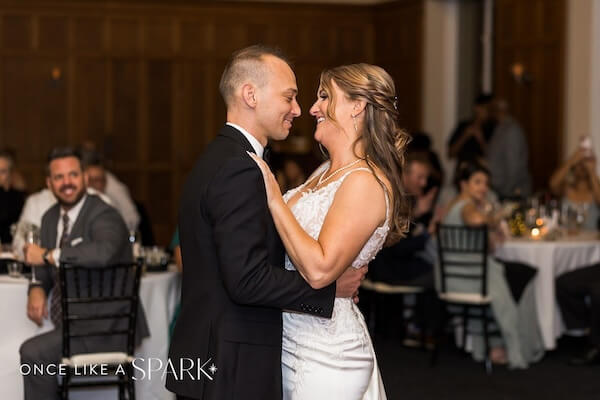 This was followed by parent dances, special toasts, a thank you by the newlyweds, an incredible desert table and a night of dancing!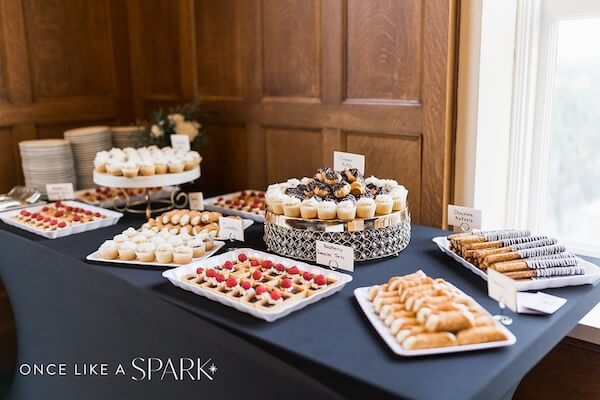 Congratulations, Corie and Nick! We're glad we got to be part of your special moments!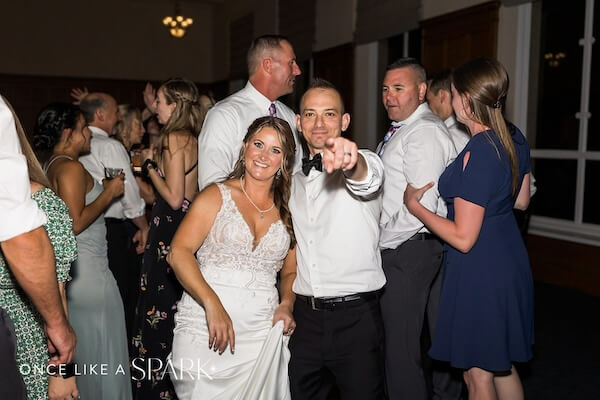 Tampa Wedding Vendors
Thank you to the incredible Tampa wedding vendors who made this wedding so unbelievable!
Tampa Wedding Venue: Le Meridien Tampa
Tampa Wedding Planner: Special Moments Event Planning
Hair and Makeup: Graceful Glow Makeup LLC
Wedding Photography: Once Like A Spark
Florist: Leaf It To Us Floral Design
DJ: Alex Roy Events
Dessert Table: A Piece of Cake and Desserts
Planning a wedding?
Whether you are a Tampa Bay Area local or planning a Gulfside destination wedding, we have the creativity and connections to help you have the day of your dreams without all of the stress.
Planning an event?
We LOVE social events as much as we love weddings. From Wedding Showers to Reunions, we've done it all. It's all in the details and we've got you covered.
Planning a trip?
Need a weekend getaway during your wedding planning, time away with your family or help planning your honeymoon? We're happy to help!