Planning a wedding is always a team effort. But, for our Special Moments Event Planning team, this past weekend's Clearwater Beach destination wedding required a large amount of effort from an incredible wedding team and brought planning to an entirely new level.
Come Together
Recently, our team, led by Master Wedding Planner Tammy Waterman, worked with Maryland wedding planners FTK Konnect on a two-day Nigerian wedding for 125 guests.
FTK Konnect worked with Ifreke and Obichime for the Friday rehearsal dinner and welcome party festivities at David Island Garden Club in Tampa.
Our Special Moments Event Planning team and a mainly Tampa area wedding team handled the planning and installation of the wedding day at Sand Key Park.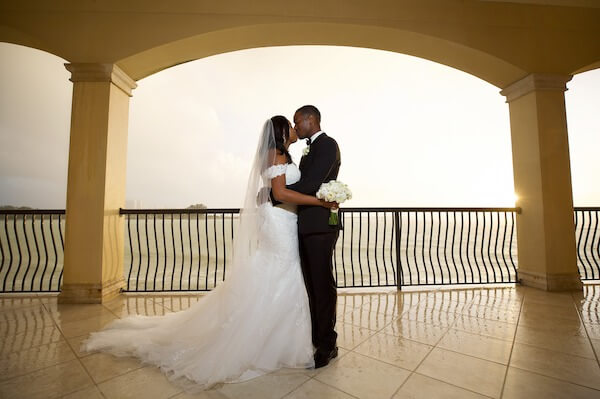 Little did we know just how important those amazing vendor relationships would be!
Best Laid Plans
On Friday, guests arrived for the welcome celebration from the DC / Maryland area, but also from as far away as London.
At the same time, our Special Moments team was walking the white sand beaches of Sand Key overseeing the installation of an incredible frame tent with lighting, white dancefloor, risers, tables, and chairs.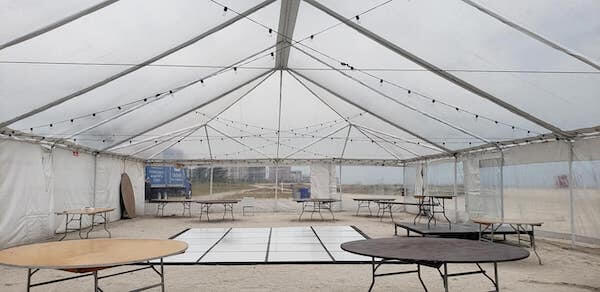 Watching the weather, we knew rain was a possibility.  But selecting the highest point on Sand Key Park and a tent designed to withstand rain and high winds, our plans were pretty solid, or so we thought.
Rain, Rain Go Away
Unfortunately, overnight rains turned into Tropical Storm Nestor.
And with the extremely high winds, heavy rains and flooding Plan A and Plan B came to a screeching halt.  PLAN A was the beach wedding ceremony with the reception under the tent.   PLAN B had the ceremony and reception both held under the tent.  Both of these plans had been washed away with Nestor the uninvited guest.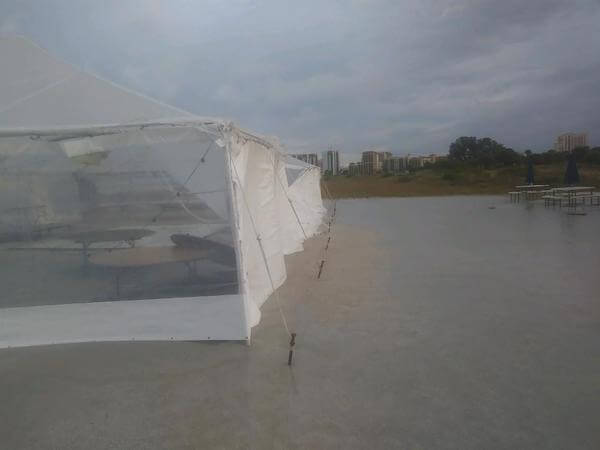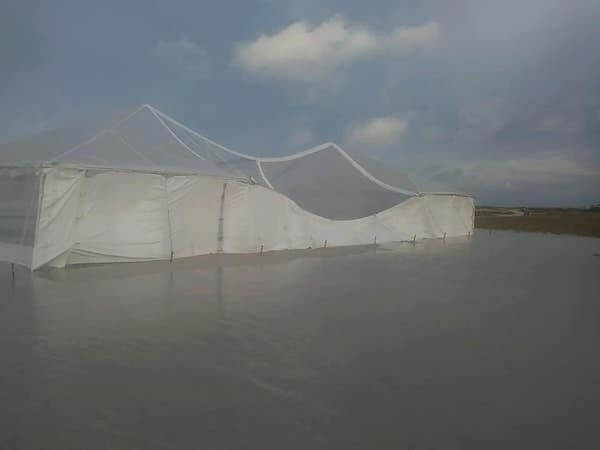 Time To GO!
With a 4:30 PM wedding ceremony start time there was little time to pull together a PLAN C.
Fortunately, Tammy who has lived in the St Petersburg / Clearwater area her entire life has worked to build incredible relationships with wedding pros across the region jumped on the big piece of the puzzle; finding a new location.
Finding an available wedding venue large enough to accommodate 125 for a wedding ceremony and reception was only step one. It also needed to allow for the outside catering by Sand Key and the Nigerian caterer.
Calling EVERYONE
With Tammy and Tina Wilder from Sand Key calling every possible venue in the area, Tina struck gold with the Duval Ballroom and Conference Center adjacent to the Holiday Inn & Suites Clearwater Beach. Everything was covered by Sand Key at no additional cost the couple.
It was an ideal situation, it was just down the street from Opal Sands Resort where the couple and their wedding party were getting ready and starting wedding photos. Even the ballroom colors matched the wedding's color story.
However, the first challenge was that the ballroom was previously set for an upcoming conference and there was only one houseman on duty. The team jumped right in to work with the houseman to break down the conference.
Step Two
We had space, we had cleared the space, and now everything needed to be redirected. Tables and dancefloor needed to be brought over from Sand Key Park and reinstalled. Lounge furniture, acrylic chairs, draping lighting, feast tables and virtually everything else needed to be redirected.
With oversized tables and décor pieces being hand-carried because they couldn't fit into the elevator; the team recreated every detail just as it would have been on the beach.
Step Up
It truly pays to have incredible industry relationships. Everyone from the rental companies, floral designers, catering team, and cake artist all played a part in getting everything re-installed and detailed in the narrowest of time frames.
Our colleagues from FairyTail Pet Care who were onsite to take care of the couple's "Lily Furball" assisted in greeting guests and directing them to the event space.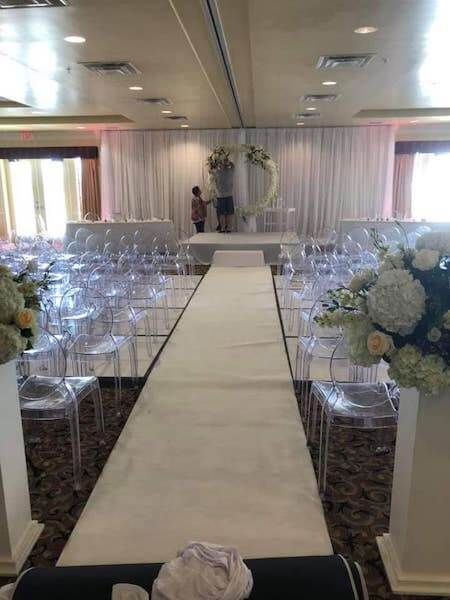 Show Time
After setting the stage for the wedding and reception in the new space, we had to focus our attention on getting 125 guests to the new location.  The sound of Elton John's 'Can You Feel The Love Tonight' echoed as Ifreke and her father made their way down the aisle.
Everything came together, even Feyikemi of FTK Konnect popped by just before the ceremony and offered to assist with the processional.
This was truly a heroic effort from a fabulous team who all went above and beyond to make this day a success. What could have been disastrous was a complete success.
Another reason why hiring a professional wedding planner, with incredible relationships is so important to your wedding day.
We cannot wait for the professional photos and video to share this beautiful wedding with you!
Congratulations Ifreke and Obichime!
Thank you, Thank You, Thank You to the stellar team who went above and beyond to bring this wedding to life.
Wedding Planning: Special Moments Event Planning (Tammy, Melissa, and Jennifer)
Hair Styling: Schatzi C Bridal
Makeup: Nicki Mac Brides
Wedding Officiant: Fr. Raymond Ruiz
Wedding Venue: Sand Key Beach County Park
Rentals: US Tent Rental
Rentals and Décor: Gabro Event Services
Floral Design: Apple Blossoms Floral Designs
Wedding Photography: Limelight Photography
Wedding Film: Voila Cinematic
Catering: Café Honeymoon
Catering: Ajebutter Kitchen Nigerian Catering
Pet Care: FairyTail Pet Care
Saxophone: Connell Thompson 
DJ: DJ Zimo
MC: Slash Wisdom
Wedding Cake: Chantilly Cakes
Transportation: His and Hers Limo
And, the Duval Ballroom and Conference Center
Planning a wedding?
Whether you are a Tampa Bay Area local or planning a Gulfside destination wedding, we have the creativity and connections to help you have the day of your dreams without all of the stress.
Planning an event?
We LOVE social events as much as we love weddings. From Wedding Showers to Reunions, we've done it all. It's all in the details and we've got you covered.
Planning a trip?
Need a weekend getaway during your wedding planning, time away with your family or help planning your honeymoon? We're happy to help!