Don't Let Pirates Steal Your Sunshine
For our Special Moments Event Planning team, a big part of wedding planning is making sure there is a great "Plan B." The weather here along the Gulf Coast can be unpredictable, especially early evening about ceremony time.
Another big part of the planning is ensuring that your couple is okay with whatever spaces are available as a backup plan. Fortunately, the Opal Sands Resort has some beautiful spaces, and Miranda and Tom refused to let some rain ruin their wedding day.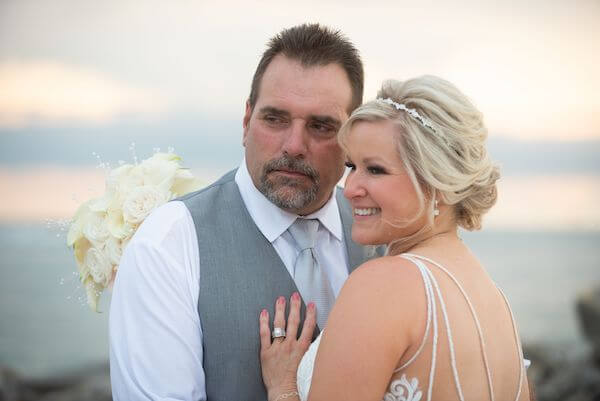 The Morning of the Wedding
The morning of the wedding went according to plan. Each of the wedding parties chilled out. The ladies had their hair and makeup done in the bridal suite while the guys hung out and had lunch.
The wedding parties separately took some group photos inside the hotel – No peeking, Tom! Miranda looked beautiful in her soft flowing wedding gown with a sweetheart neckline and rhinestone straps. She carried an elegant bouquet with white calla lilies, a flower that would be carried through the rest of the wedding décor.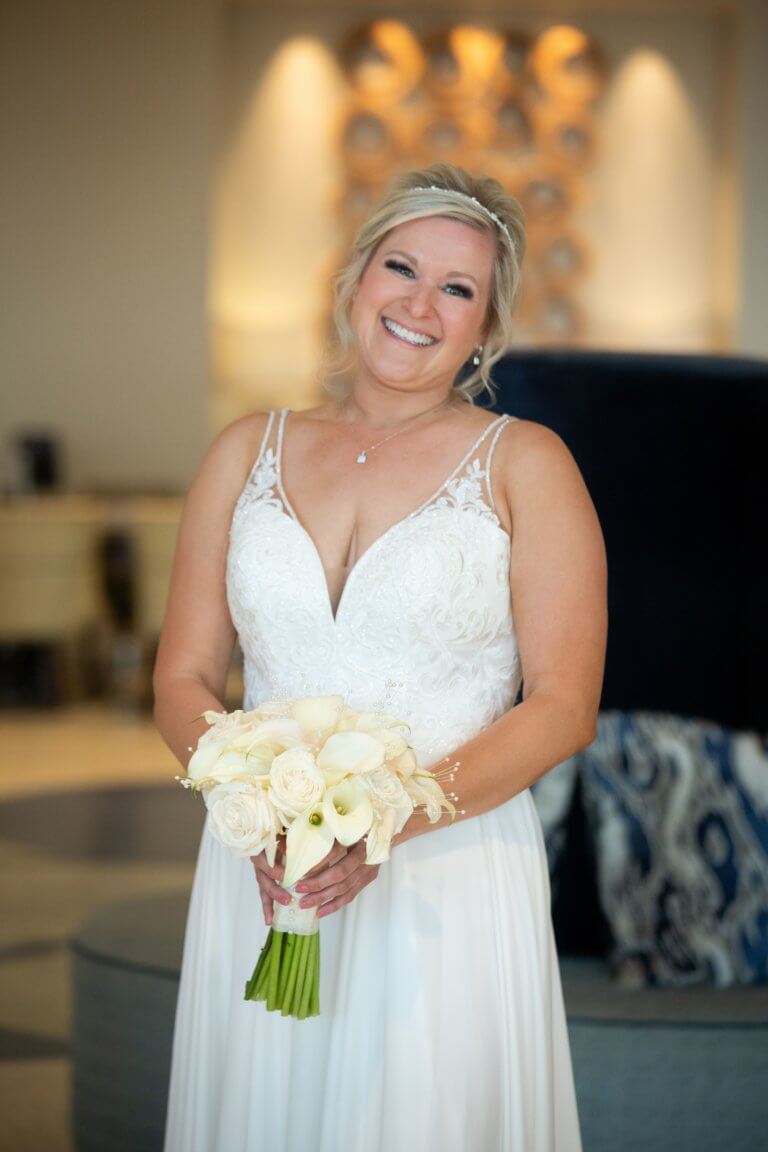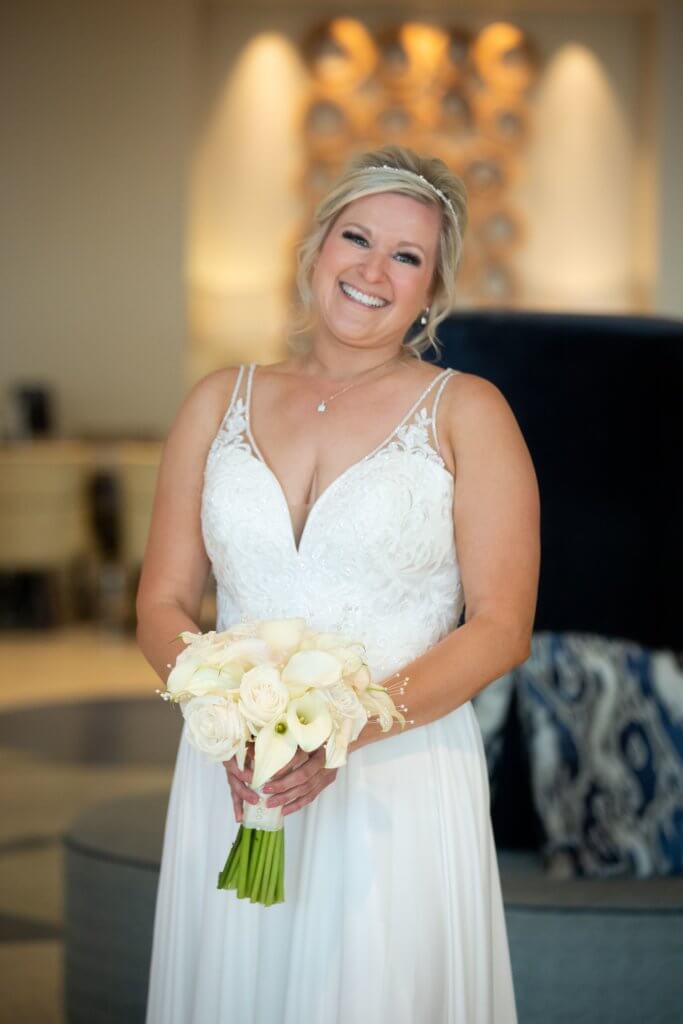 A Change in the Weather
Unfortunately, the skies around Clearwater Beach turned dark, and the weather report didn't look promising for a beach wedding.
In no time at all, the wedding team moved chairs, décor, the sound system, and the violinist to an indoor location and were ready to redirect the wedding guests.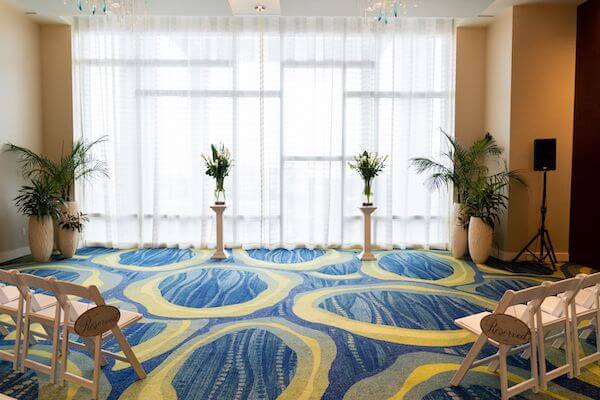 Here Comes The Bride
With wedding guests redirected and seated inside, and Tam and the wedding party in place. Miranda made her way down the aisle to the soft sounds of a solo violin. Her tears set off an emotional chain of events. Tom was overcome with emotion seeing his bride, and there was no dry eye anywhere.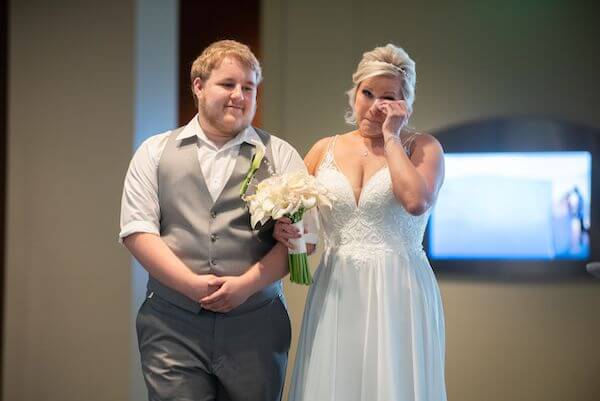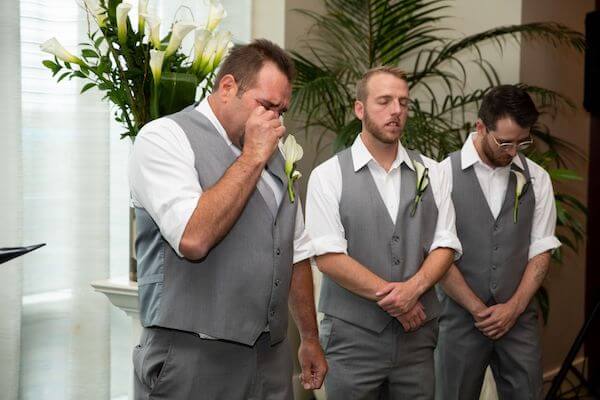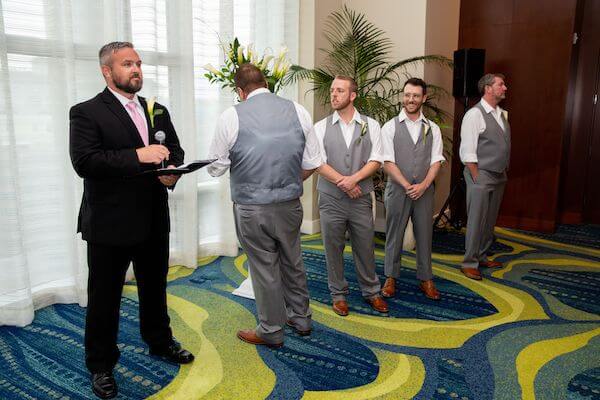 The beautiful wedding ceremony continued with the couple surrounded by family and friends. The exchange of the couple's wedding vows brought a few more tears. The wedding ceremony was one that even a little rain could not spoil.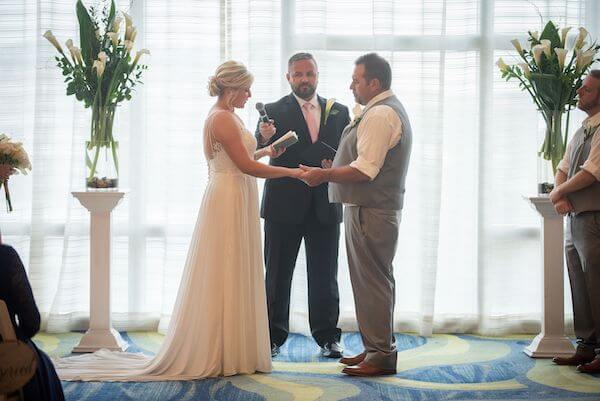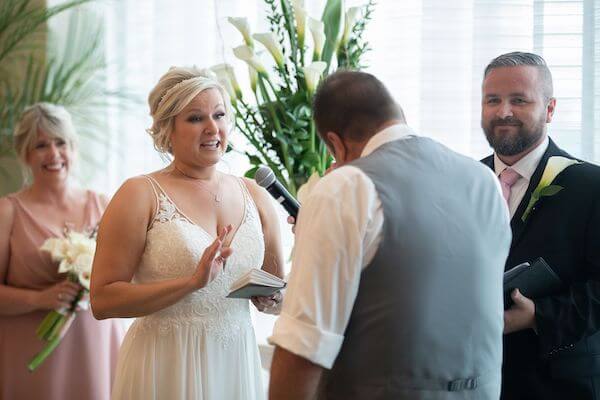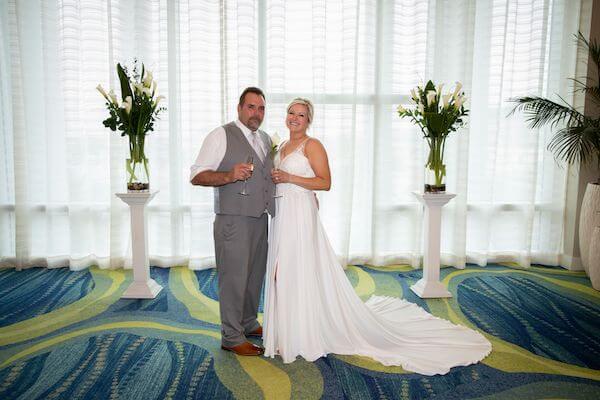 Lite Bites, Bourbon, and a Break in the Weather
Following the wedding ceremony, the couple took some family and wedding party photos indoors. At the same time, guests enjoyed some lite bites and cocktails. A Bourbon Bar and some custom drink koozies were a big hit with guests.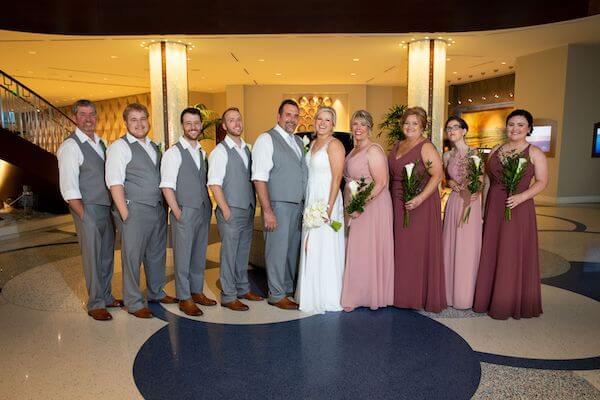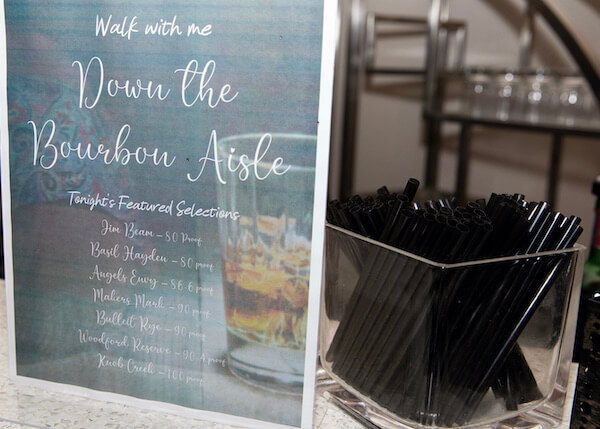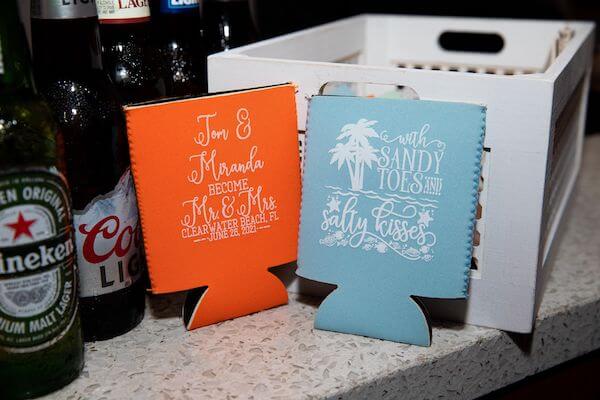 The weather broke just in time for the newlyweds to enjoy some time on the beak for some sunset photos!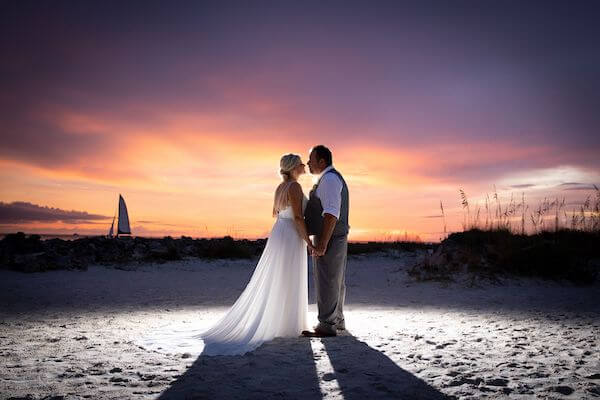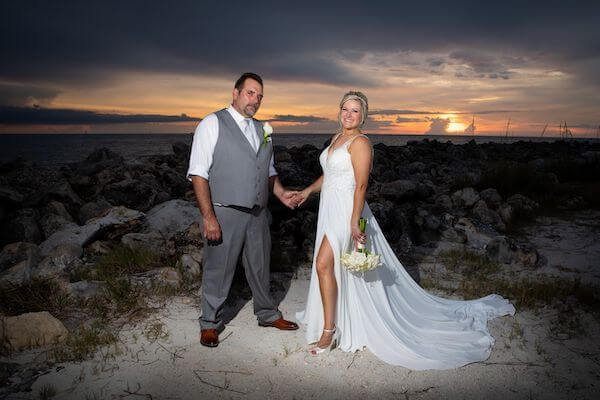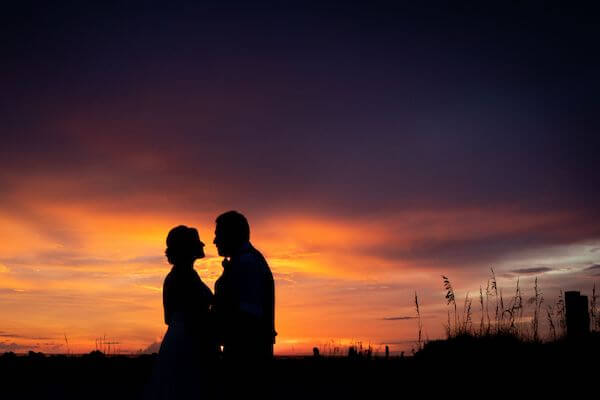 Calla Lilies and Celebration
The details were in place for a beautiful wedding reception filled with calla lilies inside the ballroom. Tables were draped with crisp white linens and surrounded by white French country chairs. Tabletops were decorated with calla lilies in tall galls cylinders, floating candles, and candles in silver votives.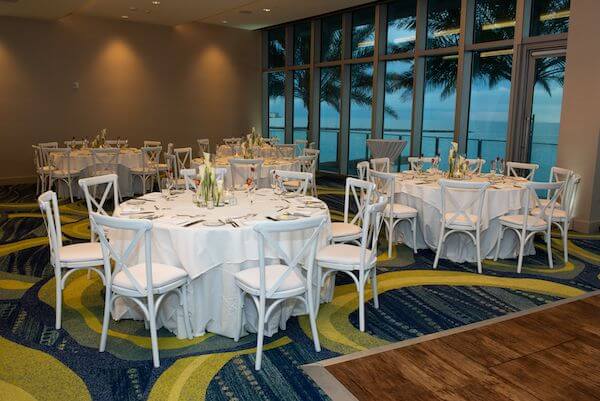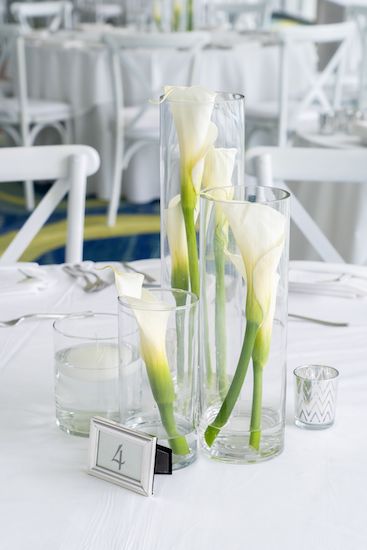 The newlyweds' sweetheart table was layered with a textured silver overlay, flowers, and greenery. It was flanked by white columns and tall vases of calla lilies repurposed from the wedding ceremony.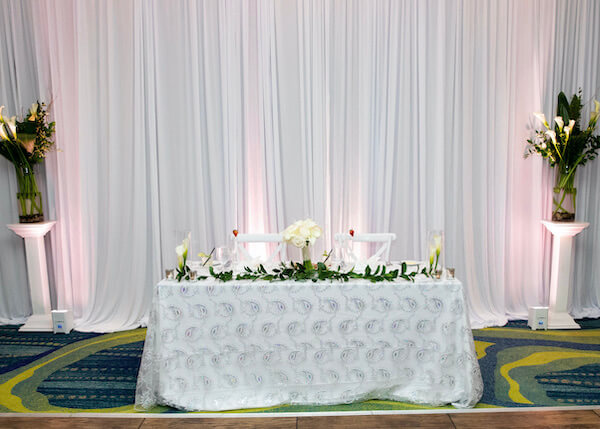 Miranda and Tom opened their wedding reception with their first dance before enjoying an evening packed with fantastic food, dancing, and lots of fun with loved ones.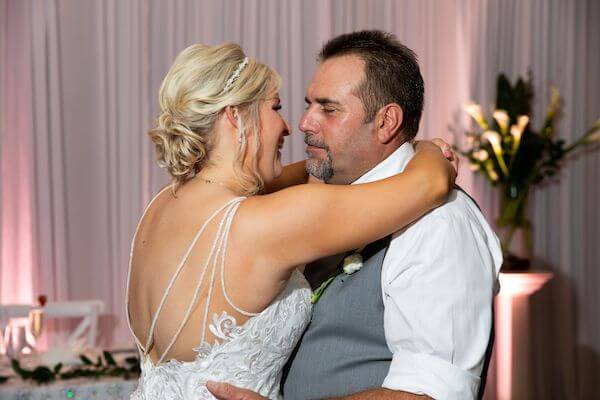 The couple closed the evening by cutting their beautiful four-tiered wedding cake adorned with tiny sugar paste calla lilies and a custom cake topper.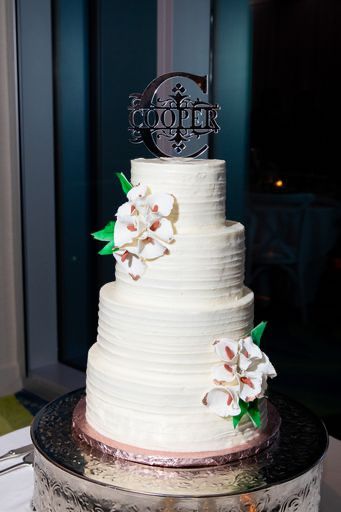 Congratulations, Miranda and Tom! We're so excited to see you enjoy so many special moments.
The Wedding Team
Clearwater Beach Wedding Planner: Special Moments Event Planning
Clearwater Beach Wedding Venue: Opal Sands Resort
Hair and Makeup: KyleLynn Weddings
Photography: Cara DeHart Lewis
Floral Décor: The Brides Bouquet
Violinist: SRQ Violinist
DJ: Boone's Professional Events
Rentals / Draping: Gabro Event Services
Wedding Cake: A Piece of Cake and Desserts
Planning a wedding?
Whether you are a Tampa Bay Area local or planning a Gulfside destination wedding, we have the creativity and connections to help you have the day of your dreams without all of the stress.
Planning an event?
We LOVE social events as much as we love weddings. From Wedding Showers to Reunions, we've done it all. It's all in the details and we've got you covered.
Planning a trip?
Need a weekend getaway during your wedding planning, time away with your family or help planning your honeymoon? We're happy to help!