Chris and Ashley, A Gender Reveal With A Twist
Last week in our Wedding Venue Wednesday, you caught a glimpse of Chris and Ashley's gender reveal in our feature of the Hyatt Regency Clearwater Beach.
But, their story was too cute not to share more of their story.
How They Found Special Moments Event Planning
Chris had found an image on social media of a previous proposal we had orchestrated at the Hyatt Regency Clearwater Beach.
We then contacted us to organize all of the logistics. Chris has a well-thought-out plan with some very specific requests.
We were very excited to make all of his requests come together.
A Special Gender Reveal
Chris told Ashley that he had planned out a gender reveal. They were to separate in their suite and get ready, and there would be a knock at her door at 6:00 when everything was ready.
He had chosen a dress, shoes, and all her accessories for the evening.
A 6:00, there was a knock at the door, but it wasn't Chris. It was our lead dream maker, Tammy Waterman, who led Ashley to her surprise.
Chris had dressed and snuck out of the suit, making his way to the Caladesi Room, where the surprise was in place.
Behind The Scenes
In advance of the gender reveal, Chris had sent us photos and a very specific playlist.
When he arrived at the Caladesi Room, there were thousands of rose petals, dozens of candles, and all of the photos he had shared with us.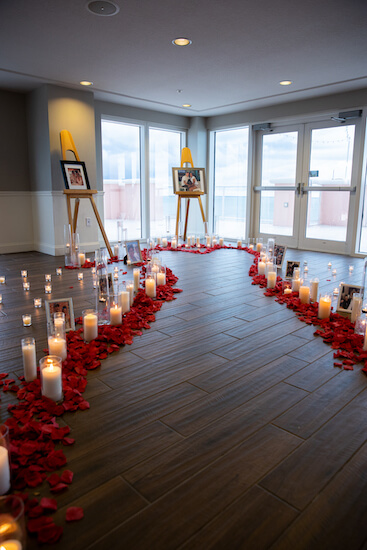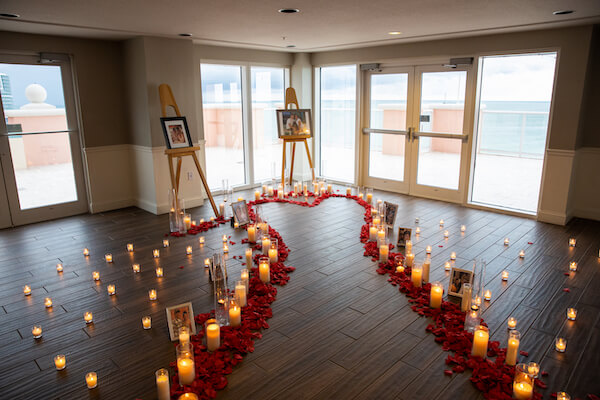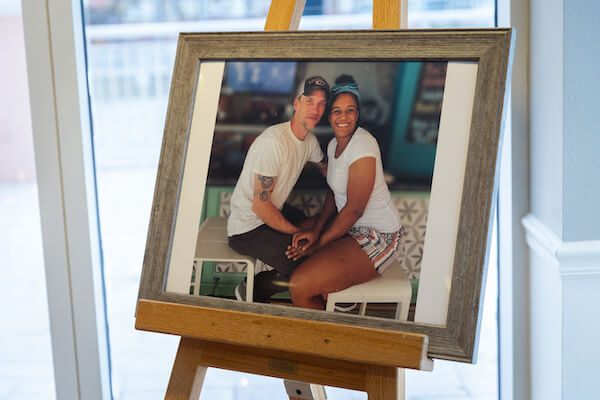 In case you hadn't figured out, the twist on Chris and Ashley's gender reveal was a surprise proposal! The room was set, Chris was in his place, and Ashley was on her way.
The Kind of Love We Make
Ashley made her way down the hallway to the Caladesi Room to the sounds of The Kind of Love We Make by Luke Combs. The hallway was scattered with rose petals and a few candles.
She entered the room to an instrumental version of "Black" by Dierks Bentley and quickly saw Chris at the end of a romantic pathway of roses, candles, and memorable photos.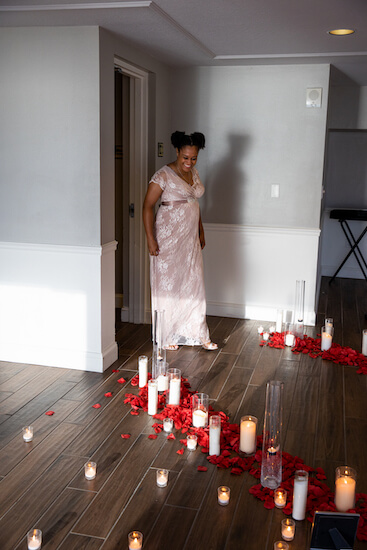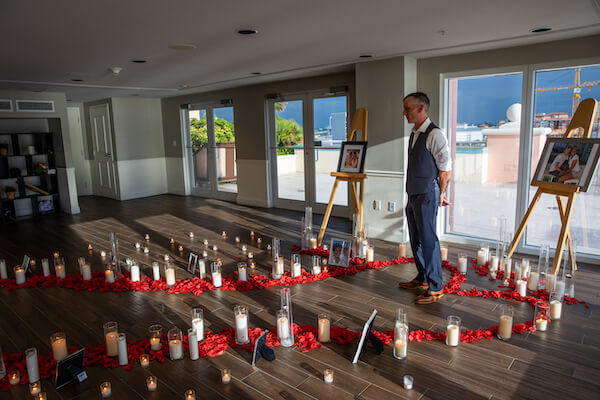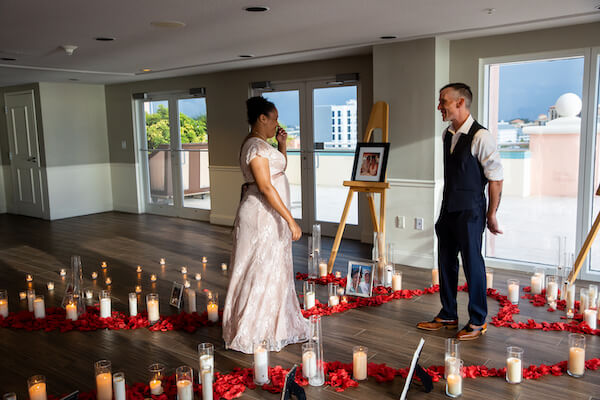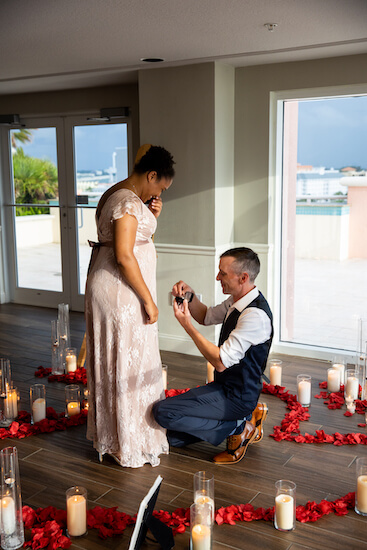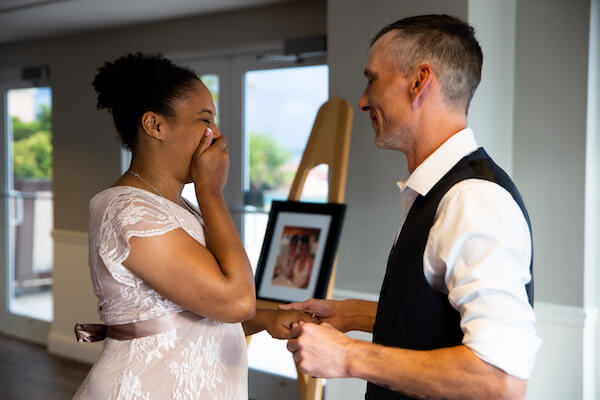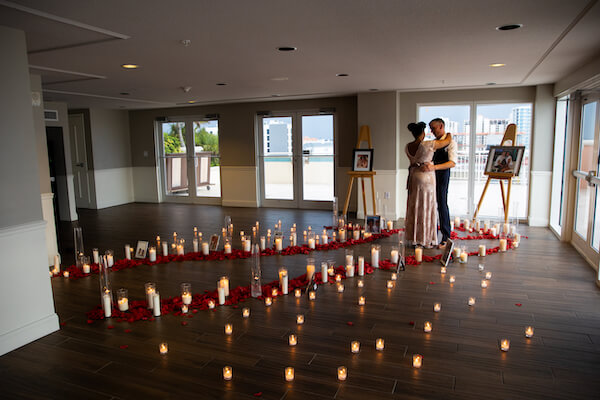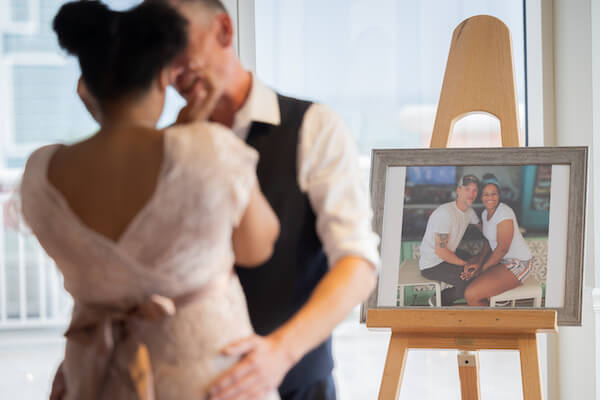 Chris had a meticulously timed list of music during his proposal and for their time together.
Time for the Gender Reveal
Following the proposal, and for the record, SHE SAID YES!
The couple made their way to the beach for their gender reveal photos and some engagement photos on Clearwater Beach at sunset.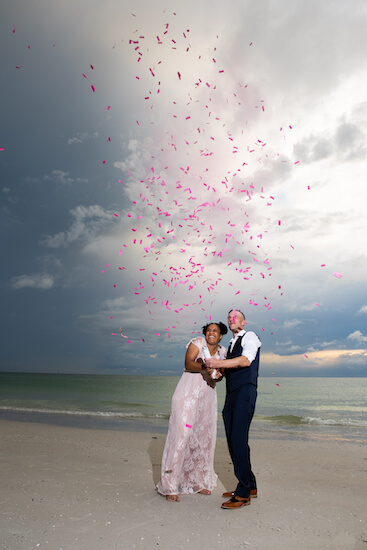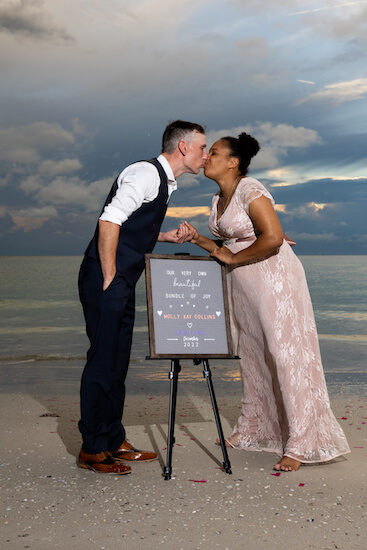 The two enjoyed their time together on the beach, captured by photographer Cara DeHart Lewis.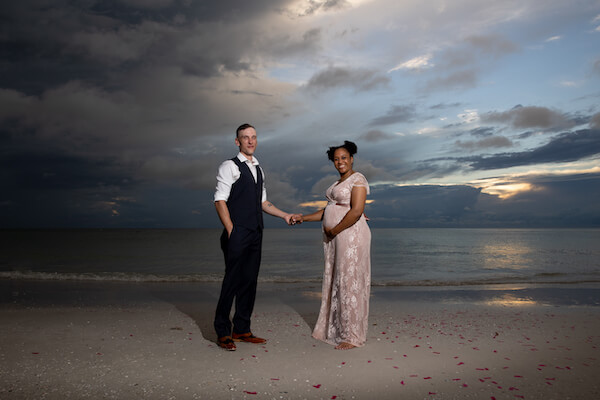 The night was capped off with a romantic candlelit dinner on the terrace of their suite. Our team also arranged for the suite to be filled with rose petals and candles.
We LOVE when a well-orchestrated plan comes together! Congratulations, Ashley and Chris. We wish you much love and happiness.
Planning a wedding?
Whether you are a Tampa Bay Area local or planning a Gulfside destination wedding, we have the creativity and connections to help you have the day of your dreams without all of the stress.
Planning an event?
We LOVE social events as much as we love weddings. From Wedding Showers to Reunions, we've done it all. It's all in the details and we've got you covered.
Planning a trip?
Need a weekend getaway during your wedding planning, time away with your family or help planning your honeymoon? We're happy to help!