Celebrating In Tampa While Socially Distant
Our Special Moments Event Planning team loved working with Sara and Noah. Keeping within Tampa's local gathering guidelines, they were able to get married and celebrate surrounded by family and friends.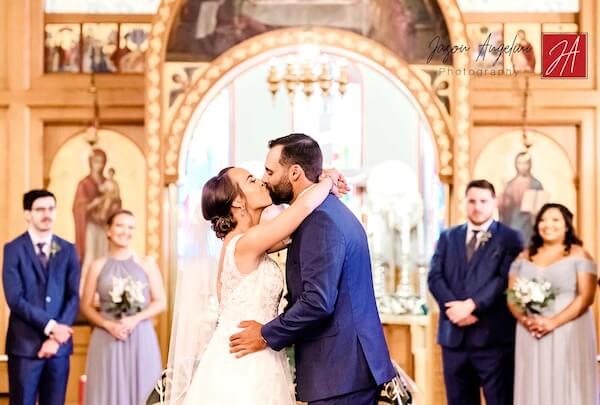 Special Moments Event Planning worked with the couple, their wedding venues, and their vendors to ensure everyone stayed safe and felt at ease gathering to celebrate this awesome couple.
A Safer Wedding Ceremony
The church did an excellent job of having specific COVID-19 guidelines in place. Their volunteers provided temperature checks for everyone arriving for the wedding ceremony. Additionally, they required masks and had set up socially distant seating keeping some pews closed.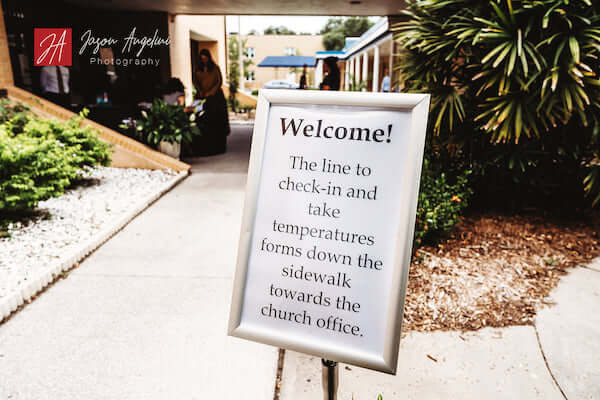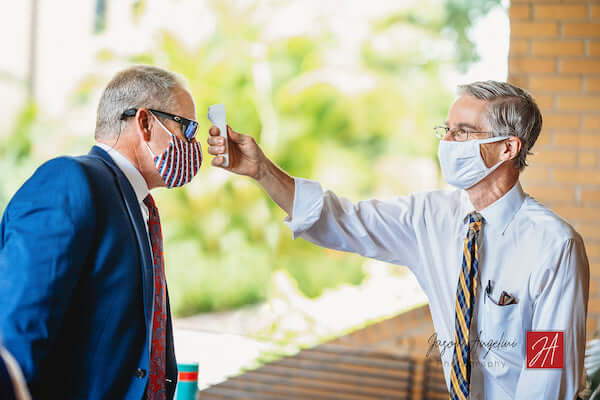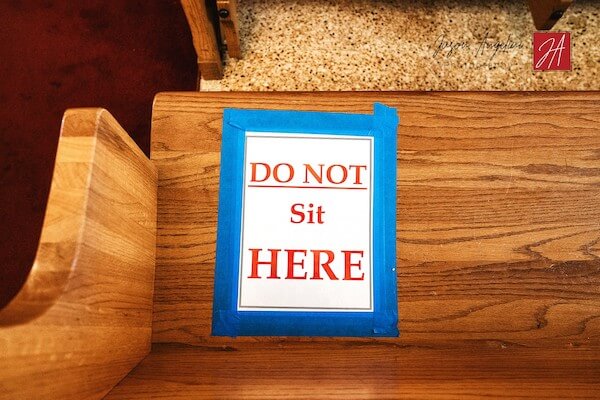 Our team provided pew numbers and assigned seating for all of the wedding guests and extra masks and hand sanitizer.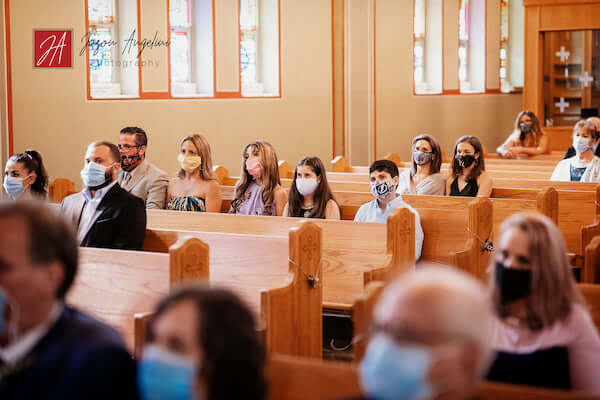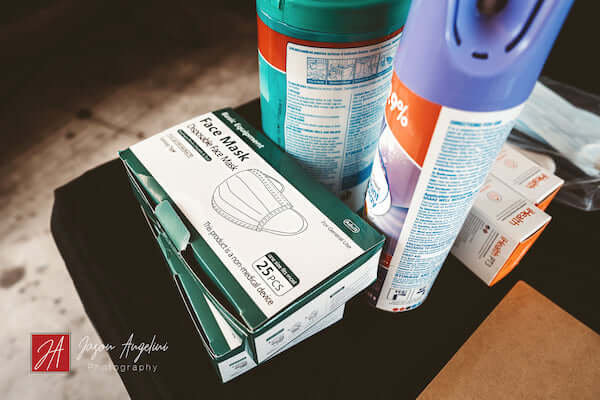 Sara and Noah proved that safety precautions don't mean you can't have a beautiful and moving wedding ceremony.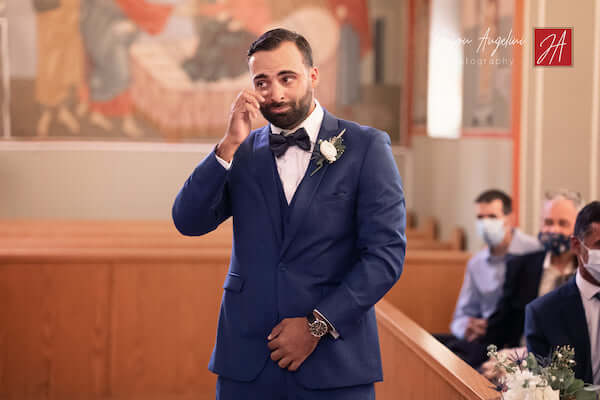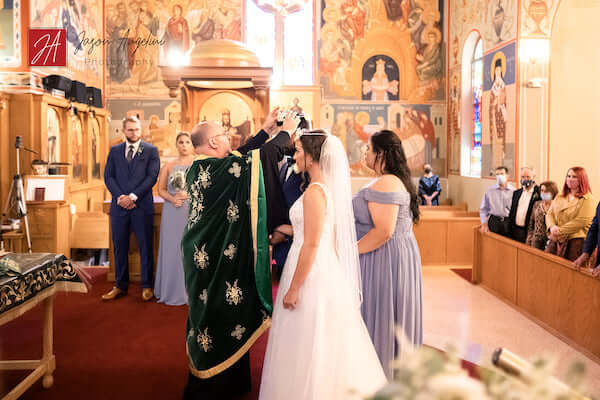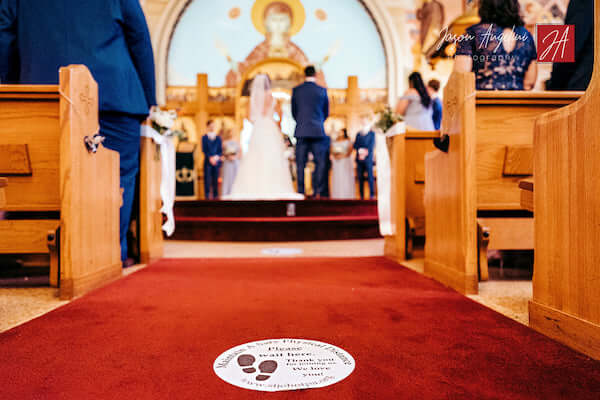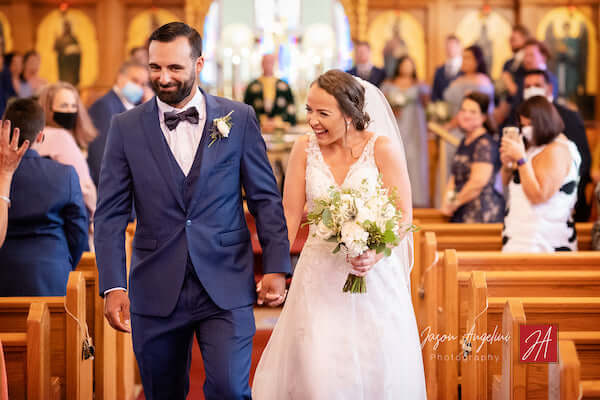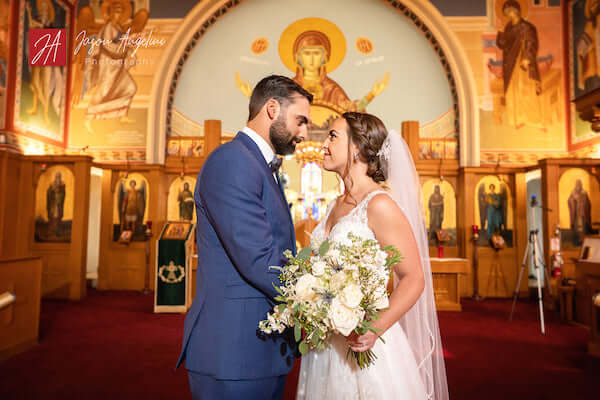 The Gardens at the Tampa Garden Club
The wedding reception at the Tampa Garden Club allowed the couple to take advantage of the beautiful outdoor spaces. Cocktail hour was held outside, leaving lots of room for guests to roam. Additionally, it let them step outside for some fresh air throughout the evening.
Sara and Noah took the opportunity to head out front for some photos along Bayshore Boulevard with views of Tampa Bay and a few unique photo ops.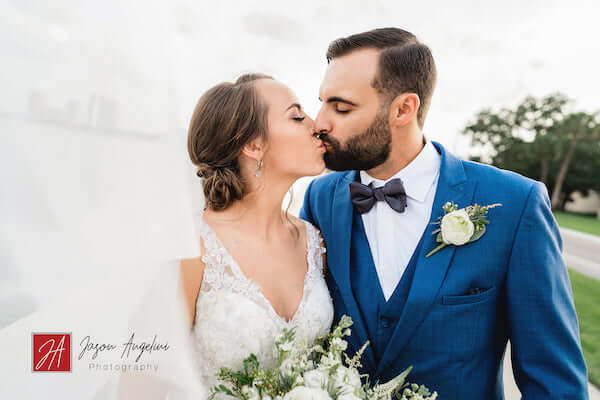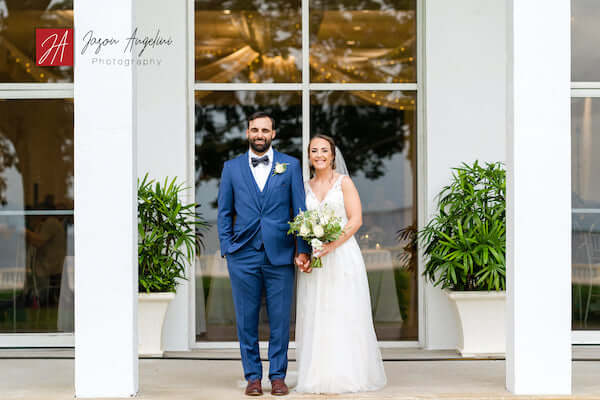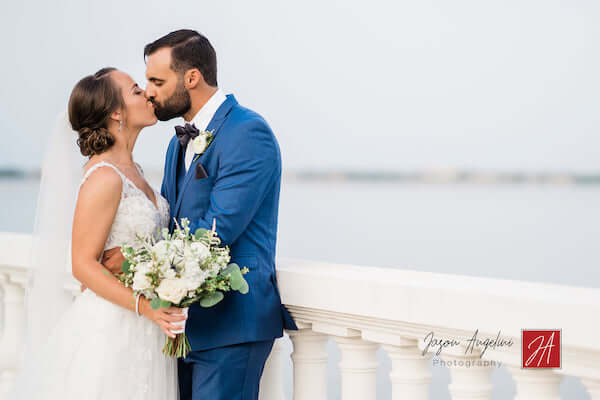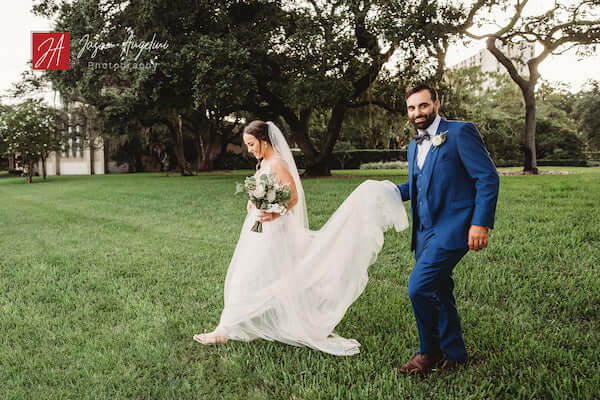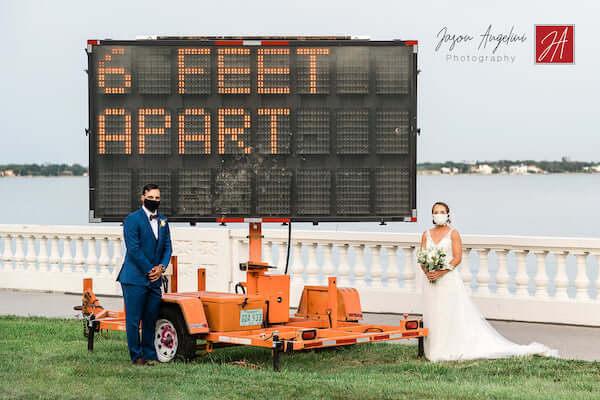 This is photographer Jason Angelini's signature selfie with his couples. We love the adorable custom masks the newlyweds wore.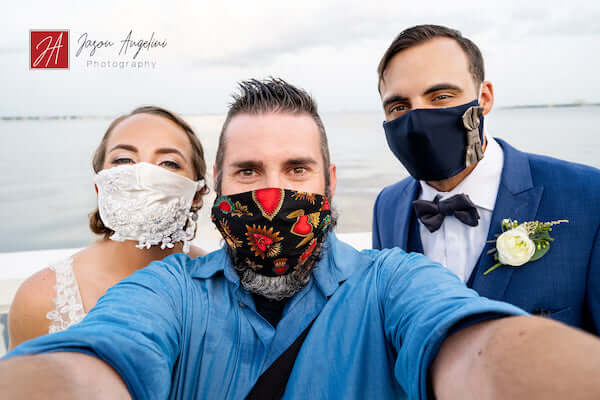 A Socially Distant Indoor Celebration
Inside the venue's spacious 40-foot by 80-foot ballroom reception tables were easy to keep at a safe six-foot distance. Guest tables were draped in white linen and accented with silver charger plates to compliment the silver chivari chairs and grey napkins. Low white floral centerpieces filled the center of each table and were accented with floating candles.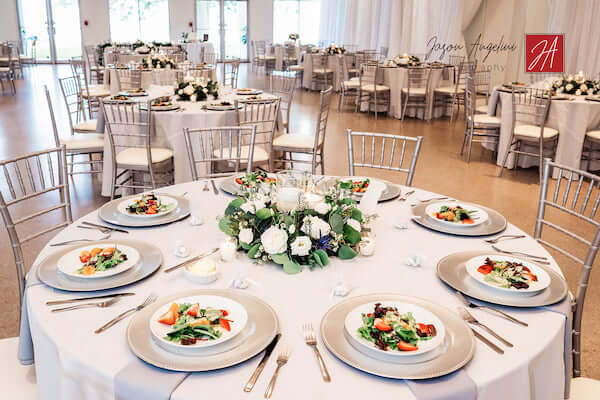 There were also decorative reminders for guests to remain socially distant throughout the wedding reception.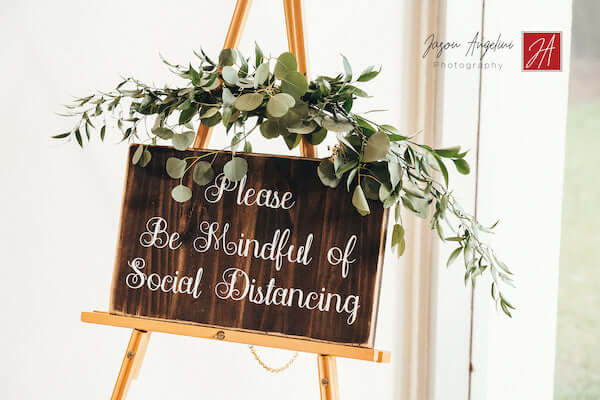 The newlyweds cut their intimate wedding cake as covered trays of desserts were placed on each table. Following the cake cutting, the DJ invited guests to move to the Conservatory for the couple's first dance to "Sara" by Hall and Oats.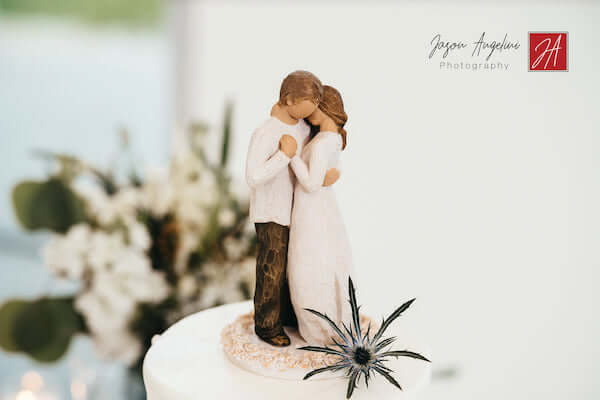 Sara and Noah had an incredible wedding day, surrounded by people they love and taking precautions to celebrate safely. Congratulations to the newlyweds!
We continue to urge couples to consider smaller, socially distant celebrations or to postpone rather than cancel.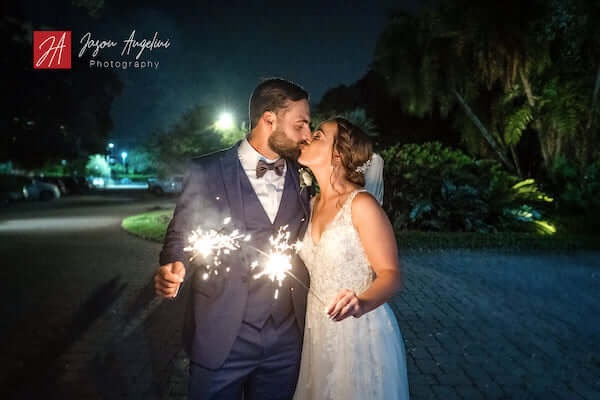 Thanks SO Much!
Here is part of a lovely email Sara sent to our Special Moments Event Planning team the following day.
I know we didn't get to do this in person on Saturday with all of the hecticness of the day… but Noah, my family, and myself wanted to say thank you x 1000 for everything you did to make this past weekend go the way that it did! It definitely would not have gone as smoothly as it did without your and Jennifer's help. Your attention to detail and open communication was extremely helpful and we were able to push through and carry on with our wedding given the current circumstances. If we're being honest here… my dad was skeptical about why we needed a wedding planner and what all it entailed… (you know how dads are…) needless to say after this weekend he full heartedly is appreciative and would have used you 10 times again if he needed to. Haha!
The Team That Made It Possible
Tampa Wedding Planner: Special Moments Event Planning
Wedding Ceremony: St John The Baptist Greek Orthodox Church
Tampa Wedding Reception: Tampa Garden Club
Hair and Makeup: The Destiny and Light – Hair and Makeup Group
Photography: Jason Angelini Photography 
Floral: Wonderland Floral Art and Gift Loft
Catering: Spotlight Catering
Bakery: Publix
DJ: Alex Roy Events
Rentals / Uplights / Draping: On The Move Productions
Planning a wedding?
Whether you are a Tampa Bay Area local or planning a Gulfside destination wedding, we have the creativity and connections to help you have the day of your dreams without all of the stress.
Planning an event?
We LOVE social events as much as we love weddings. From Wedding Showers to Reunions, we've done it all. It's all in the details and we've got you covered.
Planning a trip?
Need a weekend getaway during your wedding planning, time away with your family or help planning your honeymoon? We're happy to help!