Beach Baby: Lauren and Billy's Opal Sands Wedding
Our Special Moments Event Planning team was thrilled to be part of Lauren and Billy's Opal Sands Wedding. This couple is just too cute for words.
Let's Get Started
Lauren started her day with hair and makeup and some time with her Maid of Honor. Meanwhile, Billy chilled with his Best Man and some close friends.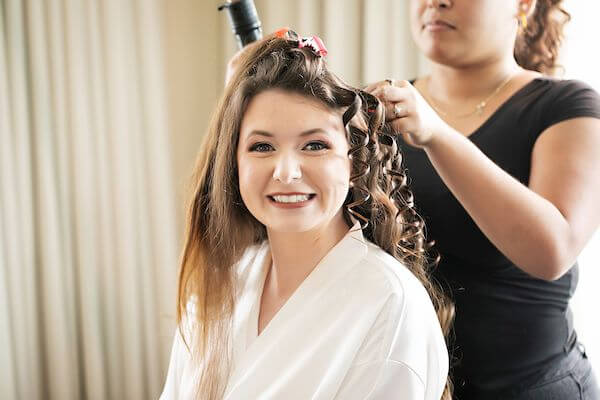 It was a very relaxed afternoon while everyone got ready, and the photographers captured the couple's wedding accessories and details of the day.
The Way You Look Tonight
The bride and groom-to-be choose not to see each other before their wedding ceremony. But Lauren took some time for a first look with her father and a little private time with her family.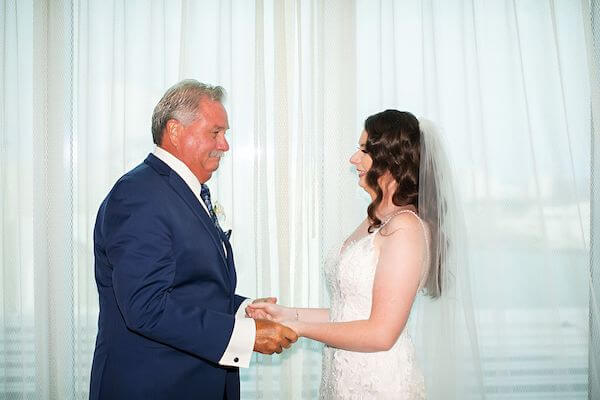 The 'Way You Look Tonight' by Frank Sinatra was chosen by Lauren and her dad for their Father-Daughter Dance.
With This Ring
Outside on the resort's event lawn, everything was in place for the couple's waterfront wedding ceremony.
White garden chairs led to a ceremony structure draped in white fabric and accented with white floral swags.
As Lauren, escorted by her father, walked across the lawn, Billy could barely hold back tears.
With their Best Man and Maid of Honor by their side, the couple exchanged wedding vows and rings with the Gulf of Mexico behind them. 
Sealing their vows with a kiss, the couple made their way up the aisle through a shower of bubbles, stopping long enough for a kiss.
Cocktails, Hors d'oeuvres and Fresh Seafood
Guests enjoyed the tropical sounds of steel drums during cocktail hour.
Light refreshments included A Chilled Seafood Raw Bat as well as passed Hors d'oeuvres that included Applewood Bacon Wrapped Scallops, Coconut Shrimp with Rum Honey Sauce, Fried Truffle Mac and Cheese Bites, Mini Greek Gyros with Tzatziki Sauce, and Chicken Potstickers.
Sunset on The Gulf of Mexico
While guests enjoyed cocktail hour, the newlyweds headed for the beach for a photo session just as the sun was beginning to set.
The Sea Salon
Inside the resort's Sea Salon Ballroom, tables were set with white linens and gold charger plates. Each place setting included a custom menu card and a napkin tied in a beautiful rose. The center of each table held floating candles in glass vessels surrounded by gold vases of flowers and votive candles.
Following introductions, the couple took to the dance floor for their first dance to Scotty McCreery's 'This Is It.'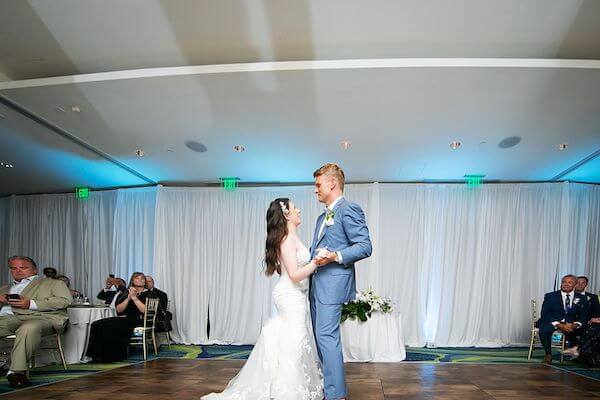 Their first dance was followed by their parent dances, a blessing, and a delicious multi-course dinner. Toasts by their Honor Attendants took place between courses, and the newlyweds cut their delightful wedding cake at the end of dinner.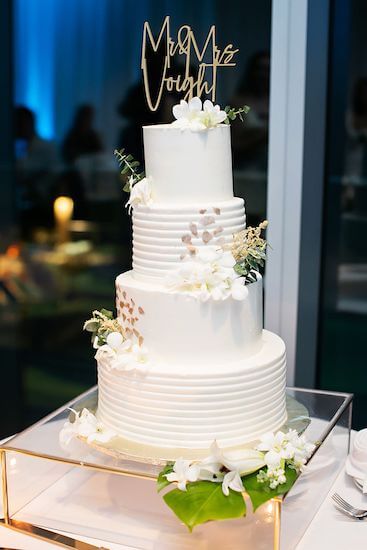 For their wedding cake flavors, Lauren and Billy chose Cinnamon Roll for the ruffled tiers and White Almond Raspberry for the smooth buttercream tiers.
Once the dance floor opened, there was no stopping this couple, who danced all night long.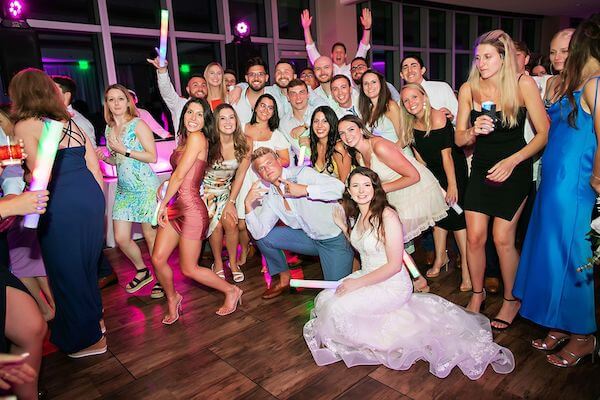 Congratulations, Lauren and Billy! We're so happy to be part of some of your special moments.
Clearwater Beach Wedding Vendors
Clearwater Beach Wedding Coordinators: Special Moments Event Planning
Wedding Venue: Opal Sands Resort
Hair and Makeup: Adore Bridal Hair and Makeup
Wedding Photography: Limelight Photography
Floral Design: Artistry Design Group
Steel Drum Duo: Caladesi Steel Band
DJ: Grant Hemond and Associates
Rentals: Outside The Box Event Rentals
Wedding Cake: A Piece of Cake and Desserts
Planning a wedding?
Whether you are a Tampa Bay Area local or planning a Gulfside destination wedding, we have the creativity and connections to help you have the day of your dreams without all of the stress.
Planning an event?
We LOVE social events as much as we love weddings. From Wedding Showers to Reunions, we've done it all. It's all in the details and we've got you covered.
Planning a trip?
Need a weekend getaway during your wedding planning, time away with your family or help planning your honeymoon? We're happy to help!