A long time ago, a local Tampa wedding colleague was giving a seminar on how to succeed in the wedding industry. It was filled with practical details counting down from ten to one. When he got to Number One, the screen simply read ¨Be Really Nice!¨
Our Special Moments Event Planning team is blessed to work with LOTS of Really Nice couples – but sometimes, like Betting and Nick, they go the extra mile… but more on that later!
Bettina and Nick
Bettina and Nick chose not to see each other before the wedding, which happens occasionally. They spent the day apart, which is why we are sharing separate photos of them!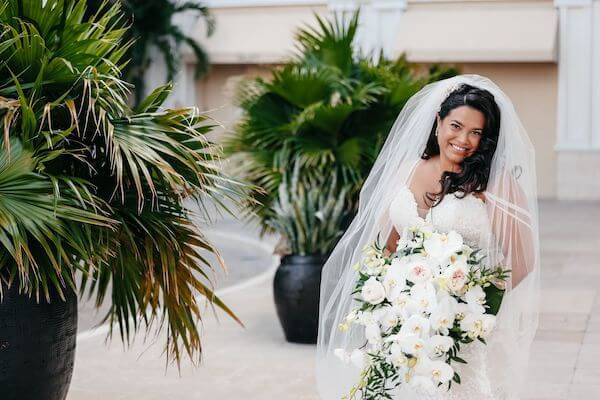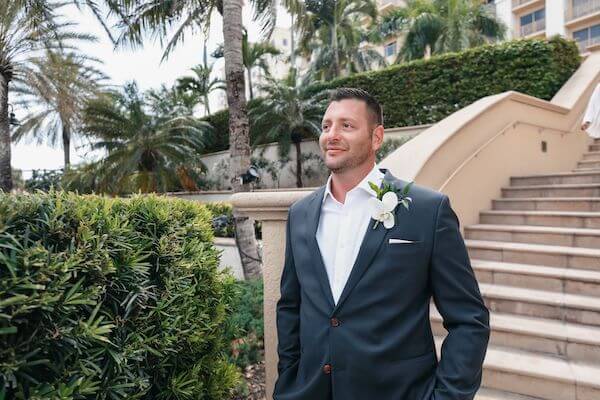 Bettina with her wedding party, having some fun, getting hair and makeup done, having all of the wedding details photographed, and getting ready.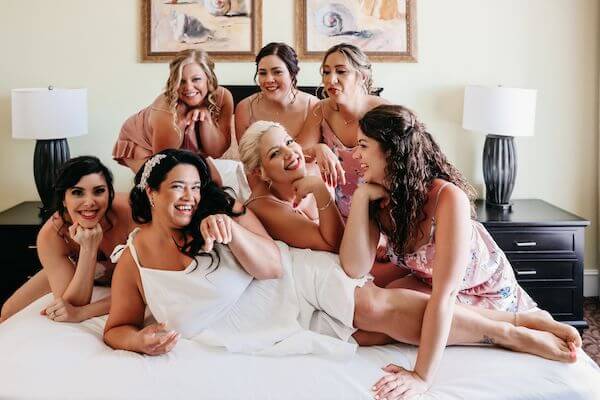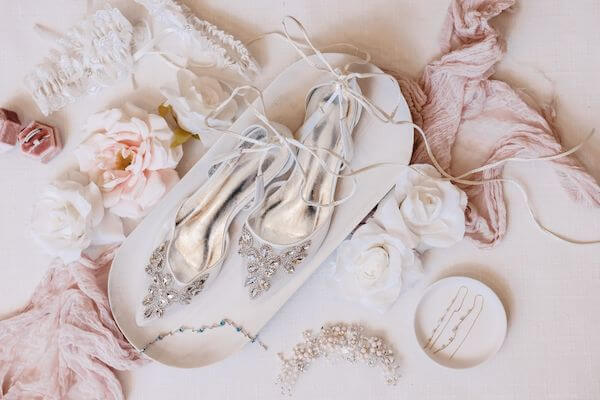 Nick was off with the guys arriving at the resort and taking some photos with the guys and then his family.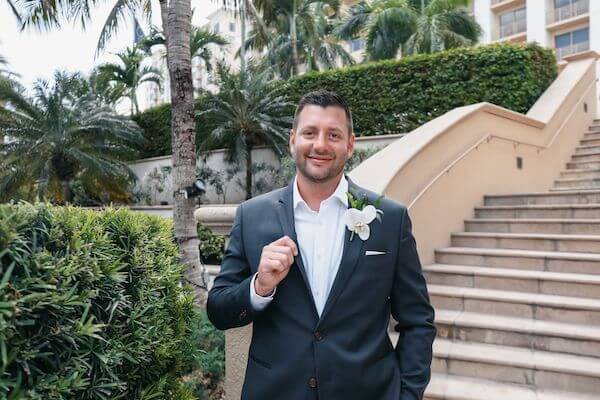 Another Kind of First Look
After getting ready, Bettina had a first look with her father. It was beautiful and touching, and there wasn't a dry eye in the room.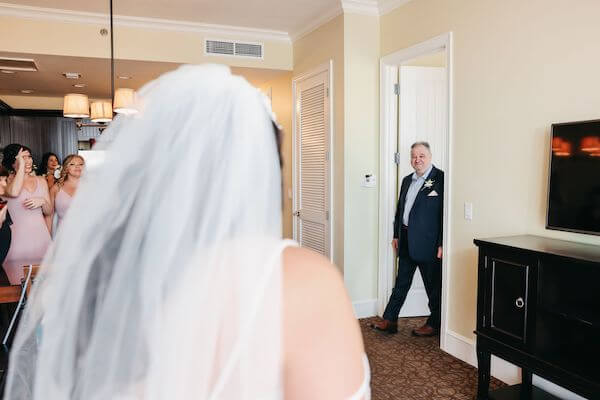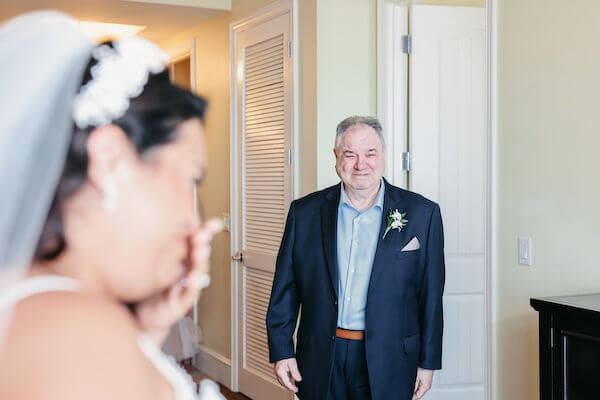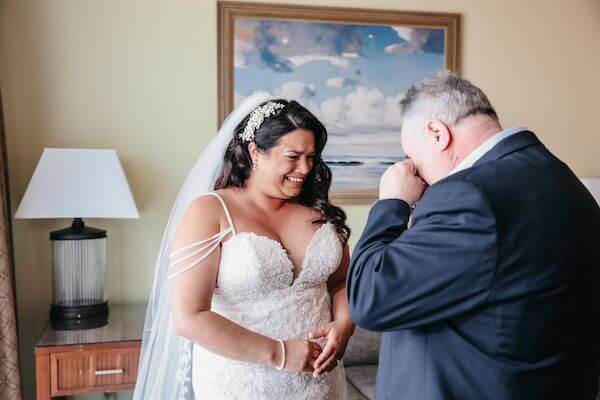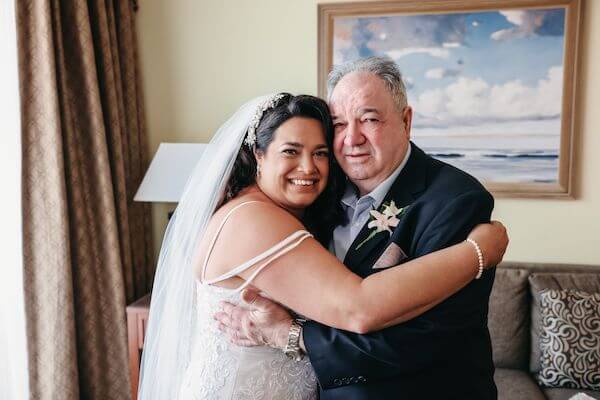 She followed this up with some photos with her wedding party before getting tucked away until the wedding ceremony.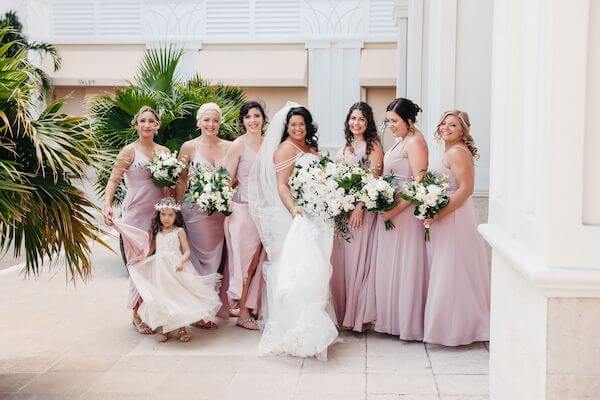 Nice Day For A Beach Wedding
Out on Clearwater Beach, everything was set for Bettina and Nick's beach wedding ceremony. White garden chairs filled with beach, decorated with bouquets of flowers which led to a striking white arbor filled with tropical flowers.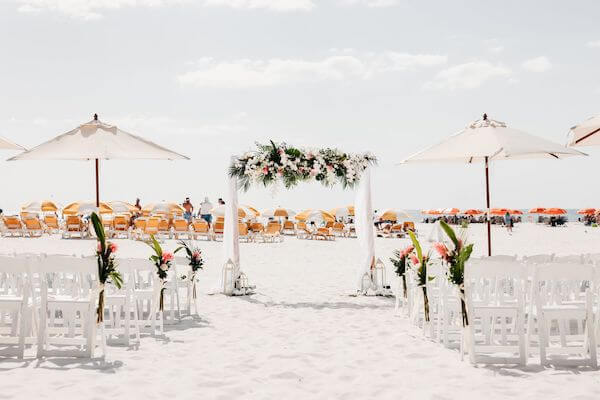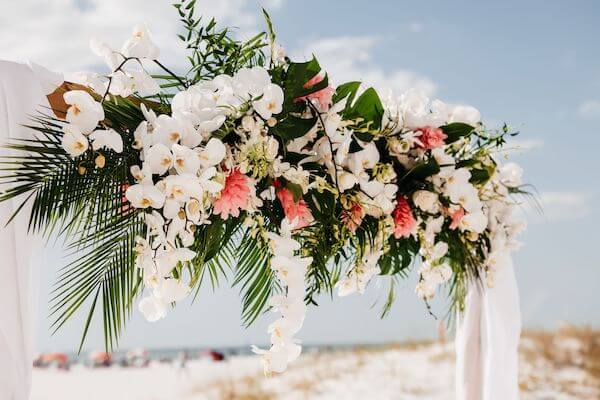 There was even an appearance by the Flower Dude as the ceremony got underway.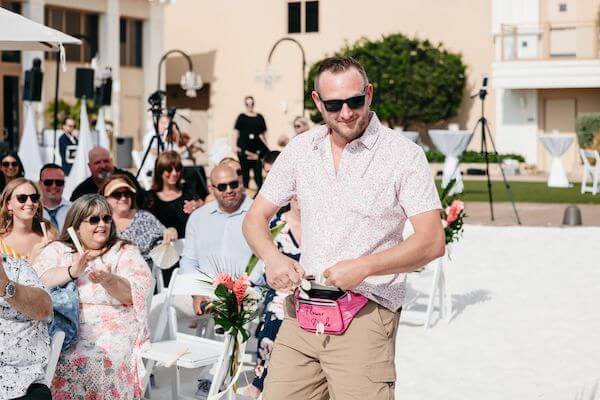 With everyone in place, Nick was all smiles until his beautiful bride-to-be made her way around the corner, escorted by her father.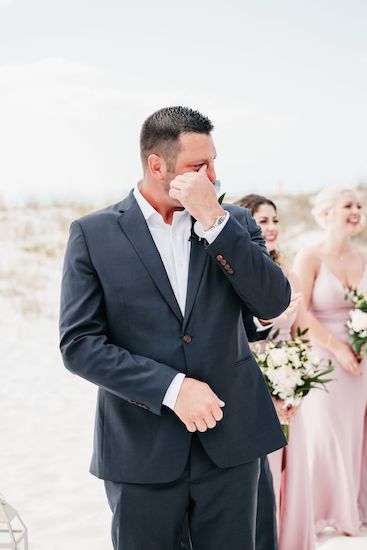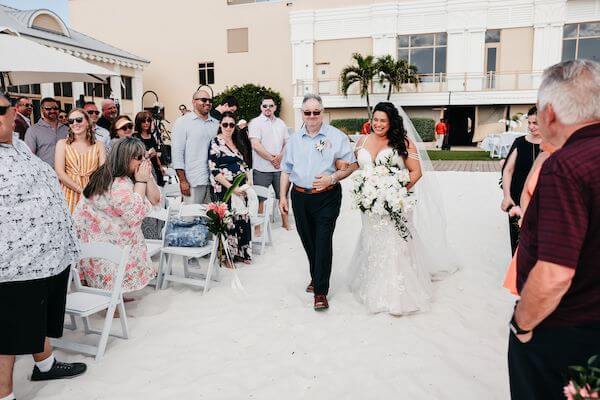 The couple exchanged wedding vows in a simple, elegant beach wedding surrounded by family and friends.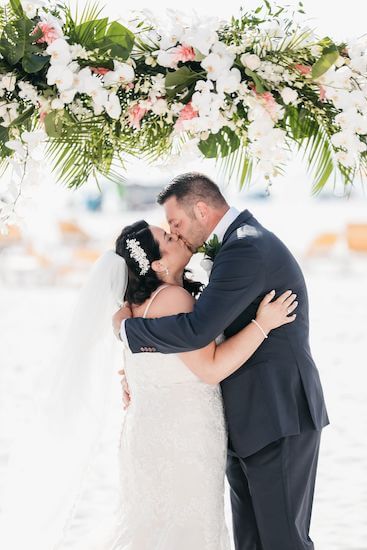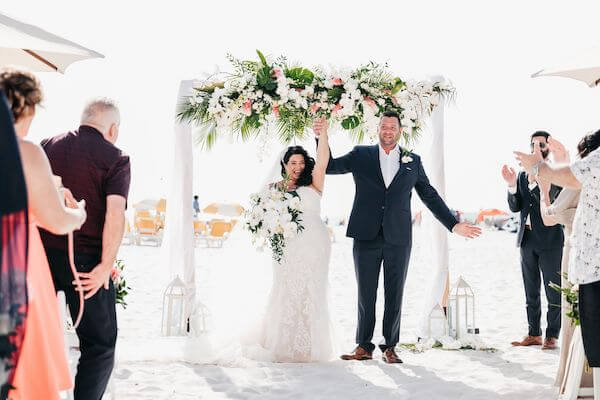 More Than Just Cocktails and Hors d'oeuvres
The couple took a little time for some fun photos before joining the cocktail reception.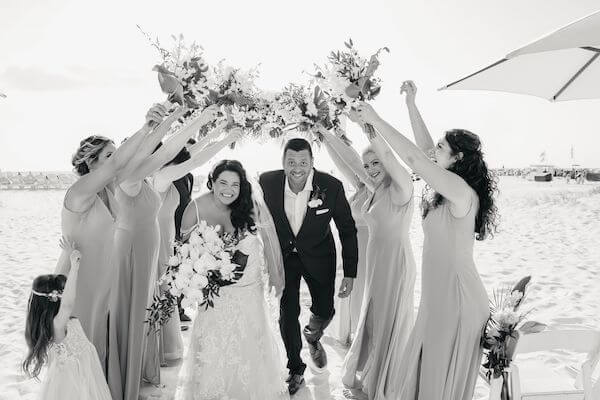 The beach lawn was filled with delicious food, including passed hors d' oeuvres and cocktail stations.
Passed Hors d' oeuvres
Sausage Stuffed Mushrooms
Diver Scallops Wrapped in Bacon
Coconut Shrimp with Sweet Chili Sauce
Short Rib Empanadas with Raspberry Chipotle BBQ 
Cocktail Stations
Artisan Cheese Display with Imported and Domestic Cheeses,
Fruit Garnish, Georgian Honey Comb Preserves, with Artisan Breads and Crackers
Bruschetta Display with Tomato Basil Bruschetta,
Chef Selected Hummus, Spinach Artichoke Dip, Grilled Pita, and Assorted Sliced Breads 
Even with all of the incredible food, the hit of cocktail hour was PUPPIES! Yes, our friends at Fairy Tail Pet Care and the Humane Society mingled with guests introducing them to puppies that were available for adoption!
Dinner On The Gulf
Following cocktails and puppies (yes, we LOVE saying that!), guests made their way across the Gulf Lawn for dinner overlooking the Gulf of Mexico. Tables were draped in white linen and filled with lush tropical flowers.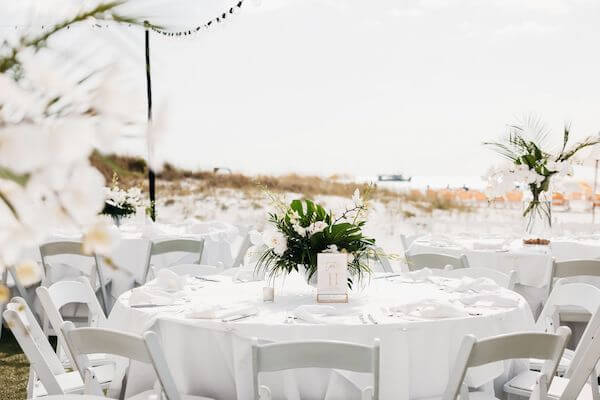 The newlyweds took to the dance floor for their first dance as husband and wife, followed by several touching toasts and a blessing.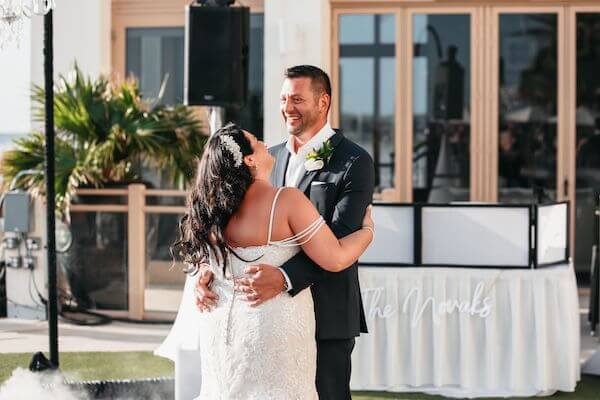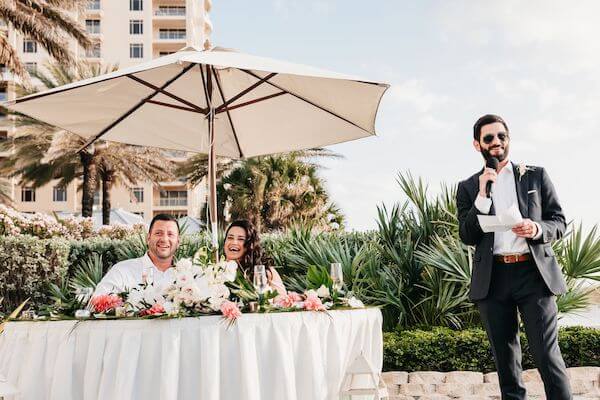 The station-style reception offered something for everyone!
Salad Station 
Classic Caesar with Croutons, Roasted Tomato, Reggiano Tuile, and Parmesan dressing
Cucumber Wrapped Baby Greens with Bacon, Goat Cheese, Tomato, and White Balsamic Vinaigrette 
Pasta Station
Four Cheese Macaroni and Cheese
Penne Chicken Carbonara 
Carved Tenderloin Station
Carved Beef Served with Béarnaise Sauce, Whipped Yukon Gold Mashed Potatoes, Roasted Asparagus, and Parker House Rolls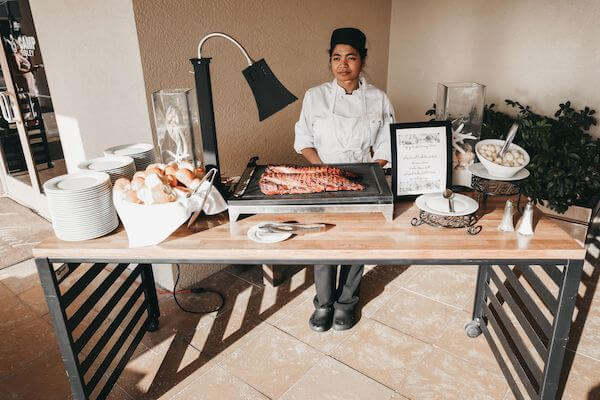 Jumbo Lump Crab Station
Crab Cakes Served with Romesco Sauce, Fennel Slaw, and Old Bay Aioli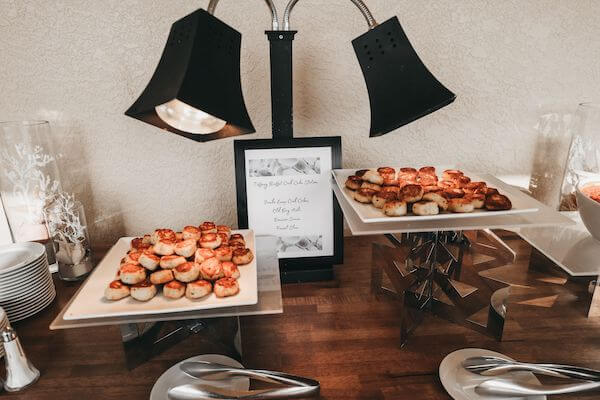 Sunset, Wedding Cake, and Dancing Under The Stars
During dinner, the newlyweds snuck off for some incredible sunset photos before cutting their wedding cake (how cute is the cake topper?)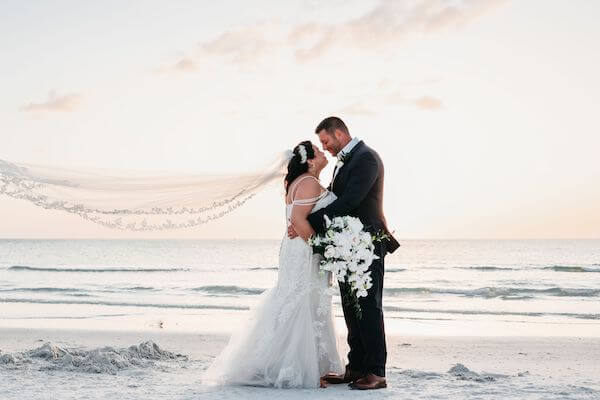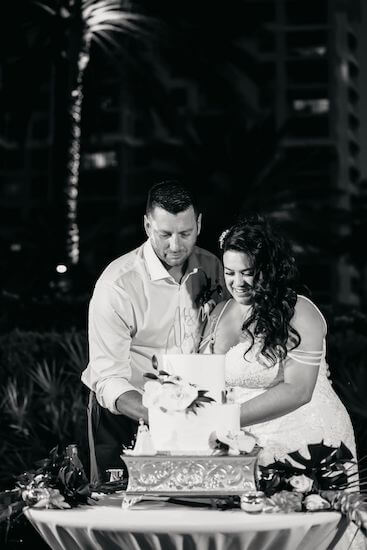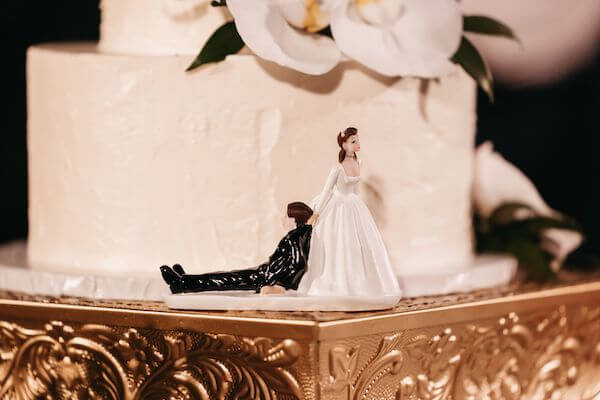 Following their parent dances, the couple and their guests filled the dance floor and danced the night away under the stars on Clearwater Beach.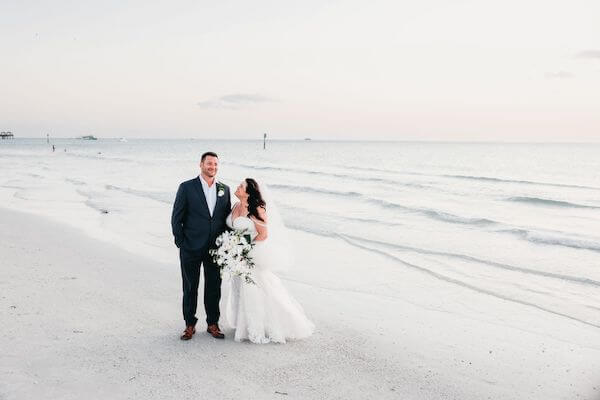 Congratulations, Bettina and Nick! 
It's Nice To Be Nice!

Not only are Bettina and Nick really nice people. But the idea of inviting their wedding guests to adopt puppies for the local Humane Society is super sweet and easy to do.

Additionally, we worked with them, so that following brunch, the morning after the wedding, all of the flowers were donated to Random Acts of Flowers. Be sure to check out their website to see what amazing work this local Tampa Bay organization does!
Clearwater Beach Wedding Vendors
Clearwater Beach Wedding Planner: Special Moments Event Planning
Wedding Venue: Sandpearl Resort
Hair and Makeup: Femme Akoi Beauty Studio
Floral: The Brides Bouquet
Photography: Lifelong Photography Studio
Videography: Hearts Video
Ceremony Musicians: Dillingham String Quartet
Planning a wedding?
Whether you are a Tampa Bay Area local or planning a Gulfside destination wedding, we have the creativity and connections to help you have the day of your dreams without all of the stress.
Planning an event?
We LOVE social events as much as we love weddings. From Wedding Showers to Reunions, we've done it all. It's all in the details and we've got you covered.
Planning a trip?
Need a weekend getaway during your wedding planning, time away with your family or help planning your honeymoon? We're happy to help!