An Out Of This World Wedding On Clearwater Beach
The age-old phrase  'I love you to the moon and back' doesn't even start to touch on the wedding of Chelsea and Charlie. Their Clearwater Beach wedding took everyone to another galaxy.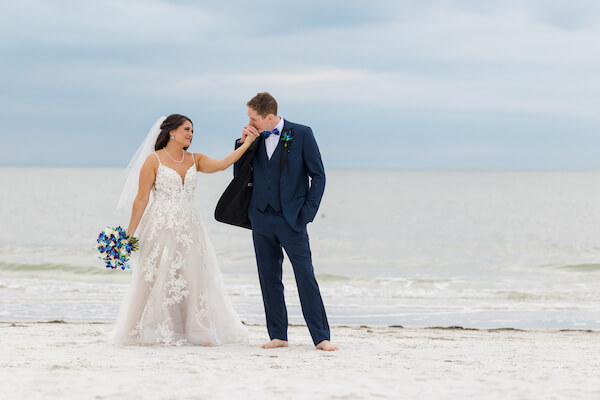 Our Special Moments Event Planning team loved working with them on this beautiful, personalized wedding. And, if you've followed our blogs for any time, you know our Lead Dream Maker, Tammy, loves the color purple!
I Will Love You Through All Of Space and Time
Their incredible wedding film is out of this world! It really sums up Chelsea and Charlie and gives you a glimpse into their fabulous Clearwater Beach wedding.
Ready To Launch
The ladies started the day with breakfast, some fun photos together, and the photographers shooting amazing detail photos. While the wedding parties went barefoot in the sand, these shoes were awesome for dancing the night away!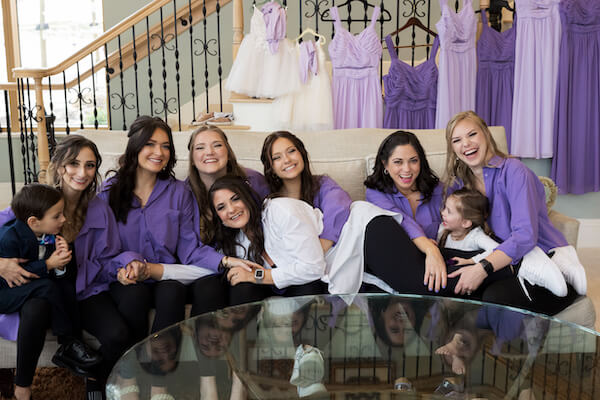 The guys were not left out! Check out the intergalactic accessories they had!
First Looks
After stepping into her beautiful wedding gown, Chelsea took time for a first look with her father. Then she met up with her wedding party, and while taking a short break to freshen up, the guys tried to get in on the act.
On The North Beach
Outside on the resort's North Beach, everything was in place for Chelsea and Charlie's beach wedding. The spectacular Moon Gate wedding structure was the perfect backdrop for the couple with stars in their eyes.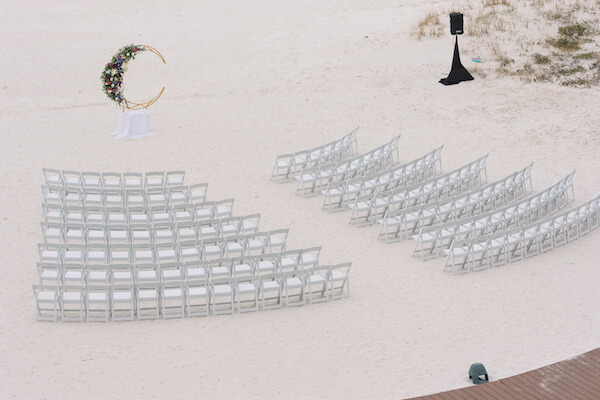 Chelsea was escorted down the aisle by her father, and Charlie was all smiles seeing his bride for the first time.
The couple exchanged wedding vows and rings in their wedding ceremony, along with a sand ceremony with beautifully colored sand. Sealing their vows with a kiss, the couple made their grand exit to An Everlasting Love by Natalie Cole.
Steel Drums, Cocktails and Hors d'Oeuvres
 Following the ceremony, all of the wedding guests gathered for a huge group photo. While the newlyweds headed off for pictures on the beach, guests enjoyed the soft tones of steel drums.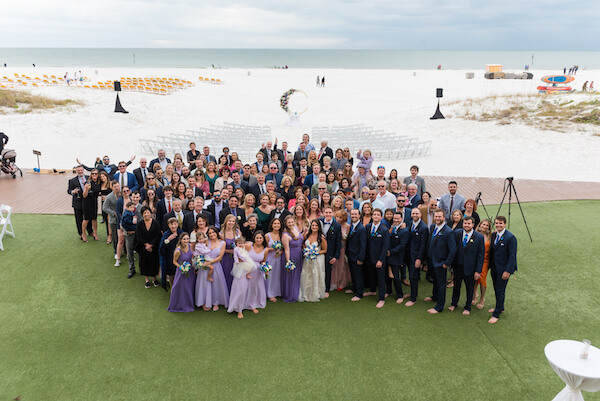 Cocktail hour included some passed Red and White Wine as well as passed hors d'oeuvres, including Filet Mignon and Boursin Cheese, Lamb Chops, Tomato and Goat Cheese Crostini, Short Rib Empanadas, Spanakopita, and Thai Chicken Spring Rolls.
As the sun set, guests made their way inside the Hunter Ballroom for a night filled with fun and delicious food.
Let The Good Times Roll
The ballroom was washed in beautifully colored lighting. Tables were draped in crisp white linens and set with floating candles and purple floral centerpieces on mirrored tiles. Additionally, each place setting contained a Brookie as a wedding favor for their guests. These sweet treats were out of this world!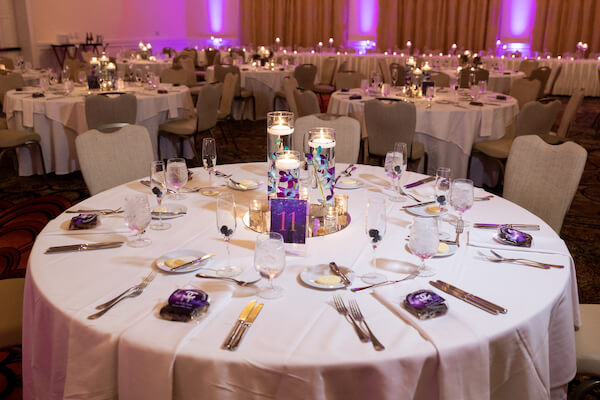 With everyone gathered, the newlyweds made their entrance and took to the floor for their first dance to a violin remix of All Of Me with John Legend and Lindsey Sterling.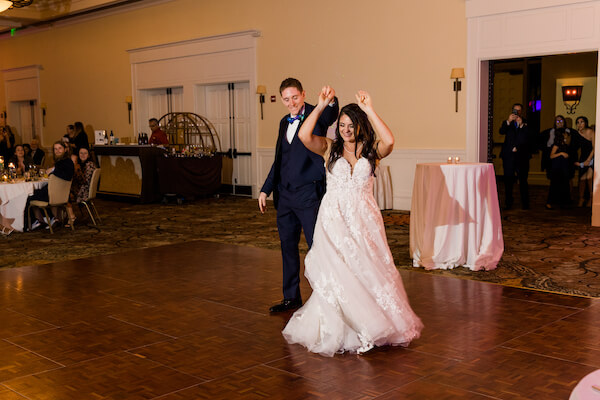 The evening continues with parent dances, toasts, and a scrumptious buffet dinner that includes local Grouper, Chicken, and Braised Short Ribs.
Following their cake-cutting, the couple and their guests filled the dance floor for the evening. Stopping long enough for some fun photos in their photo booth and late-night snacks. Because who doesn't love Chicken Sliders, Fried Mac and Cheese, and Pizza?
Congratulations, Chelsea and Charlie! We'd tell you that the sky's the limit, but you're way beyond that!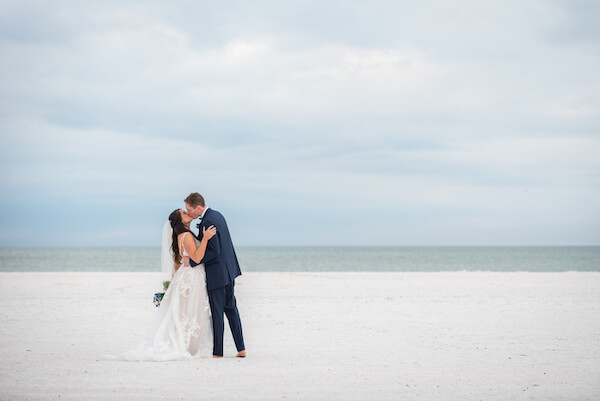 A Five-Star Review
Our Special Moments Event Planning team can't thank Chelsea and Charlie enough for their incredible Wedding Wire Review.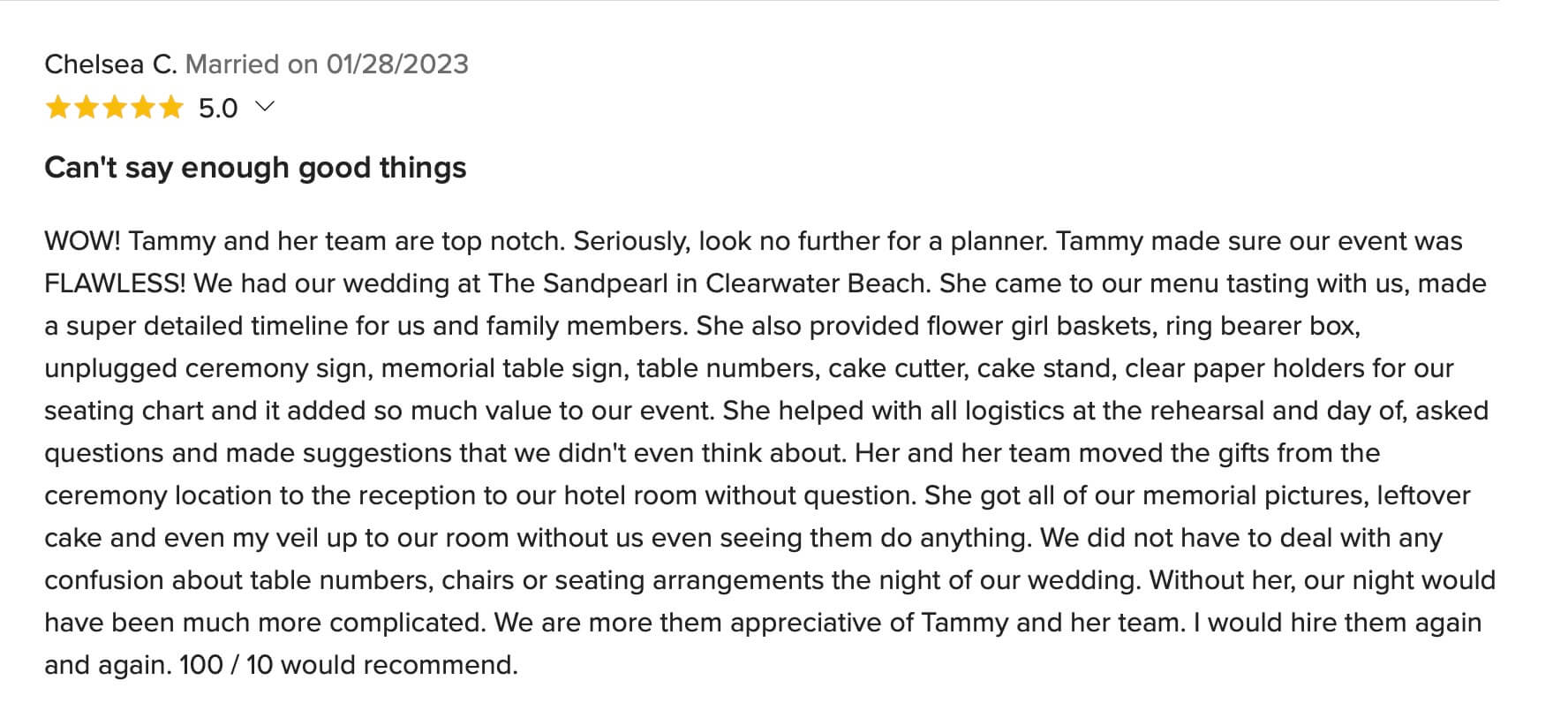 Clearwater Beach Wedding Vendors
Wedding Venue: Sandpearl Resort
Clearwater Beach Wedding Planner: Special Moments Event Planning
Hair and Makeup: Dolled Up Brides
Floral Design: Monarch Events and Design
Photography: Cara DeHart Lewis Photography
Videography: Mars and The Moon Films and Photo
Photo Booth: Pompy Portraits
DJ: BPM Weddings
Cake: Publix Clearwater Beach- Island Way
Planning a wedding?
Whether you are a Tampa Bay Area local or planning a Gulfside destination wedding, we have the creativity and connections to help you have the day of your dreams without all of the stress.
Planning an event?
We LOVE social events as much as we love weddings. From Wedding Showers to Reunions, we've done it all. It's all in the details and we've got you covered.
Planning a trip?
Need a weekend getaway during your wedding planning, time away with your family or help planning your honeymoon? We're happy to help!