An Opal Sands Wedding In Blush and White
Megan and Jake's blush and white wedding at the Opal Sands on Clearwater Beach was beautiful! The pops of gold and touches of greenery, along with all of the personal touches, really reflected the couple.
It's Time To Get Ready!
Megan and her bridal party spent the morning having a little fun. From bouncing on the beds to confetti streamers on the balcony overlooking Clearwater Beach, it was the perfect bonding moment.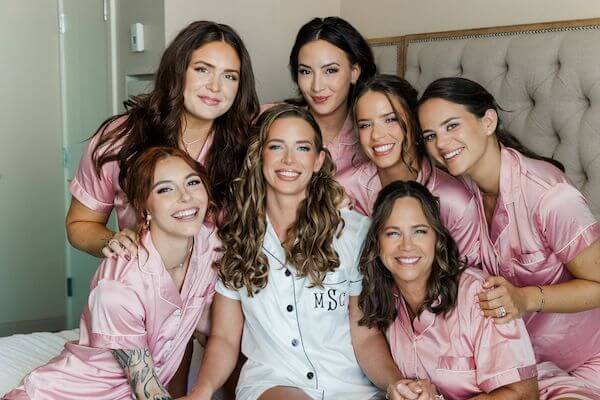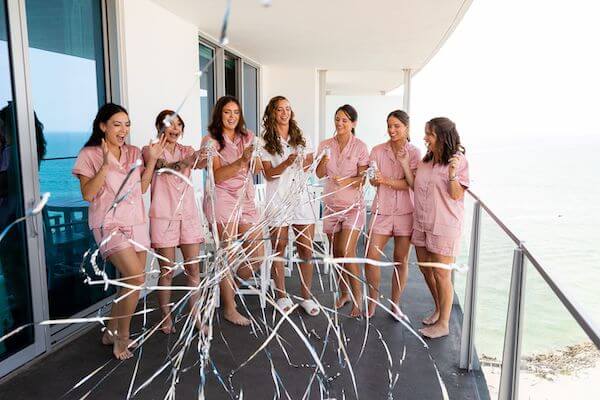 They had hair and makeup services in the suite, and soon, it was time to get dressed and ready.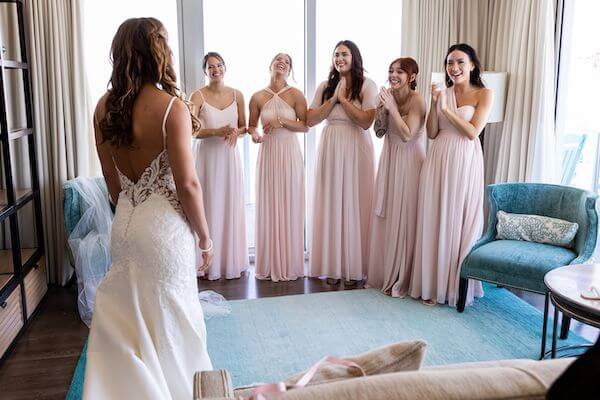 Meanwhile, Jake and his wedding party (his sister was his woman of honor!) spent some time together. After a few nibbles and a toast, they headed to the resort's event lawn for the wedding ceremony.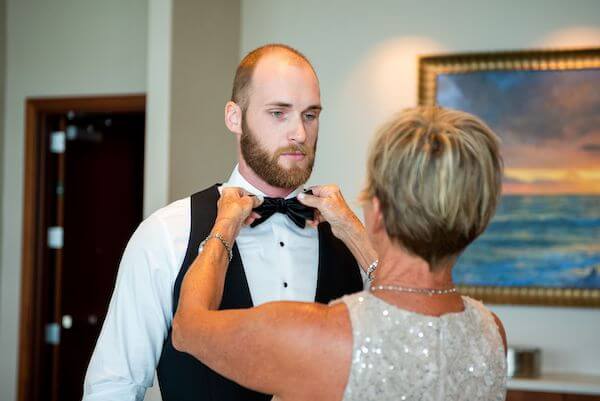 I Loved Her First
While Megan and Jake chose not to see each other before the wedding ceremony, Megan made sure to take time for a First Look with her dad!
After a bit of time with her dad, Mega had some bridal portraits taken, and then it was off for her walk down the aisle.
Wedding Rings and Rose Petals
Outside on the resort's event lawn, everything was in place for the beautiful gulf view wedding ceremony. Floral arrangements lined the aisle and led to the ceremony space overlooking Clearwater Beach.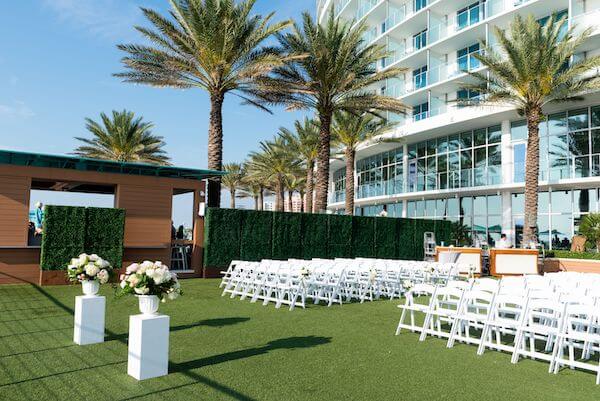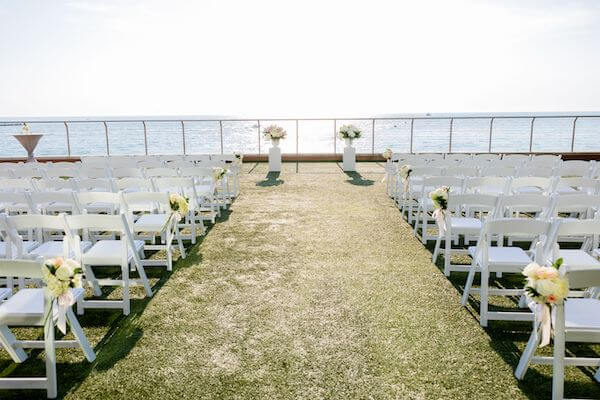 With everyone in place, the bride-to-be, escorted by her father, made her entrance to Songbird by Fleetwood Mac! Jake held back tears when he saw her for the very first time.
The couple, surrounded by family and friends, exchanged rings and wedding vows, sealing their bond with a kiss before heading out in a shower of rose petals.
Group Photo!
The Opal Sands' second-floor balconies are one of those rare finds that overlook the ceremony space. This allowed the newlyweds the opportunity to take a photo with all of their wedding guests!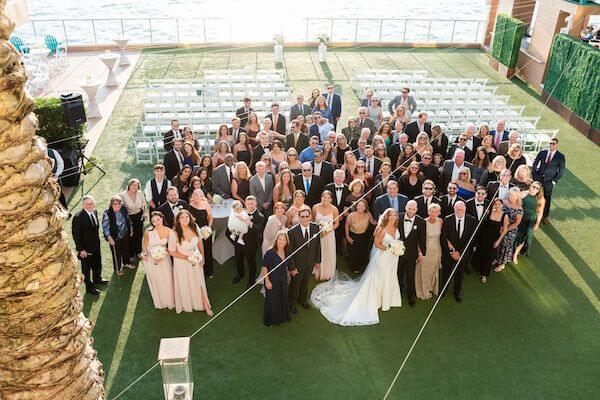 Following the photo, guests enjoyed the cocktail hour with hand-passed hors d'oeuvres, a cheese display, and a sushi station.
But, it was off to the beach for a photo session for the newlyweds!
Sunset, Sand, And A Rocky Shoreline
Megan and Jake headed off to the beach for a portrait session just before the sun began to set.  This portion of Clearwater Beach is relatively rocky, but it gives a lot of texture to photos shot here.
The sunset photos are just stunning!
Blush, White, and Gold
Inside the ballroom, everything was in place for the arrival of the guests. Round tables surrounded the oversized dance floor. They were draped with unique linens that had the look of painted gold brushstrokes across them.
Charger plates, gold flatware, and shimmering candles accented the table tops, which were dressed with an assortment of pink and white floral arrangements.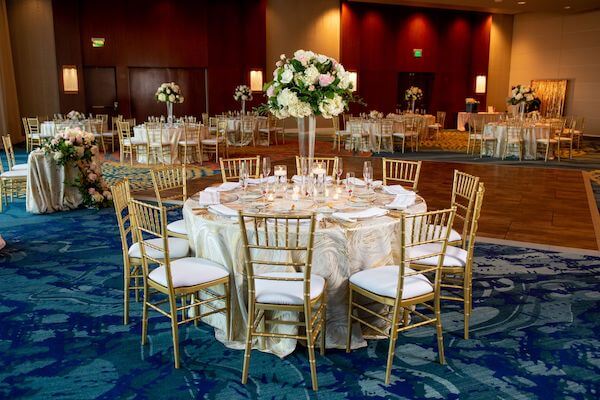 The couple's sweetheart table was dressed similarly but had a huge cascade of flowers draping across it with glittery gold Mr. & Mrs. letters.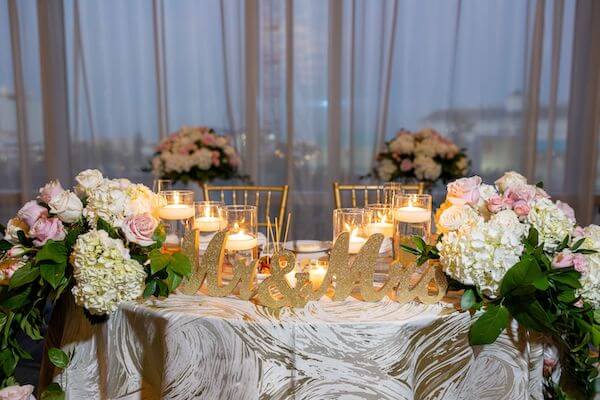 The bar was set with signature cocktails and these adorable personalized napkins.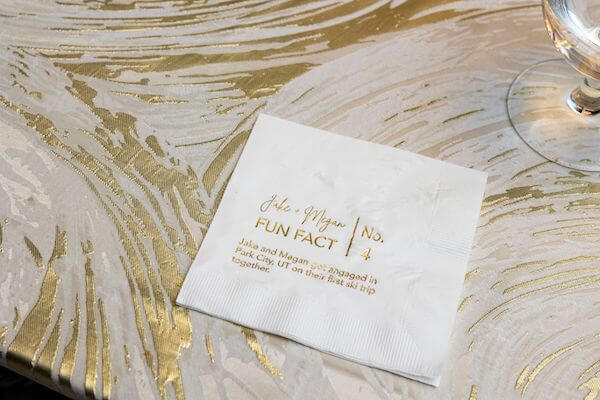 THEN …
The newlyweds made their grand entrance in a shower of sparks, taking to the dance floor for their first dance to Then by Brad Paisley.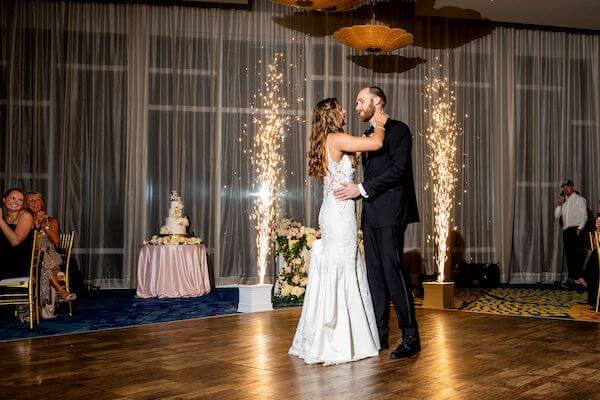 The evening continued with parent dances, several sweet toasts, and a delicious buffet dinner. Guests danced the night away, enjoying fun in the photo booth, late-night snacks of soft pretzels, pulled pork sliders, and a scrumptious Viennese table.
The bride and groom had the time of their lives, stopping long enough to cut their incredible four-tiered white wedding cake accented with fresh flowers and a custom gold cake topper.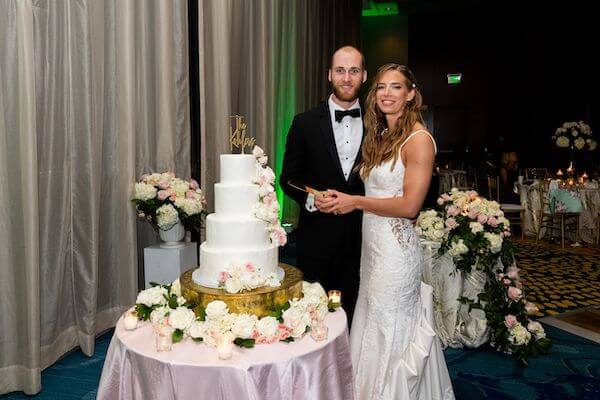 Congratulations, Megan and Jake! We loved being part of some of your special moments.
Clearwater Beach Wedding Vendors
Wedding Venue: Opal Sands Resort
Clearwater Beach Wedding Planner: Special Moments Event Planning
Hair and Makeup: Femme Akoi Beauty Studio
Floral Design: By The Bay Floral Design Studio
Photography: Cara DeHart Lewis Photography
Videography: Elmwood Forest Productions
Wedding Officiant: Tim Whipple – Bridgepoint Church
DJ: Grant Hemond and Associates
Photo Booth: Boone's Professional Events
Rentals: Gabro Event Services
Linens: Connie Duglin Linens
Wedding Cake: Chantilly Cakes
Planning a wedding?
Whether you are a Tampa Bay Area local or planning a Gulfside destination wedding, we have the creativity and connections to help you have the day of your dreams without all of the stress.
Planning an event?
We LOVE social events as much as we love weddings. From Wedding Showers to Reunions, we've done it all. It's all in the details and we've got you covered.
Planning a trip?
Need a weekend getaway during your wedding planning, time away with your family or help planning your honeymoon? We're happy to help!