An Elegant and Understated Clearwater Beach Wedding
Elegant and understated might be the best way to describe Lien and Rhett's Clearwater Beach Wedding. They are a sweet, kind couple who picked the perfect venue for their special day and surrounded themselves with people close to them.
The couple found our Special Moments Event Planning team through their bridesmaid, Julia, whose wedding our team planned several years ago.
Picking the Perfect Wedding Venue
The couple chose the Hyatt Regency Clearwater Beach for their wedding day. It offered them waterfront accommodations for their guests from out of town. But it also provided them with three uniquely different venues for their ceremony, cocktail hour, and reception.
The hotel's spaces were beautifully appointed, allowing the couple to work with the in-house linens and floral centerpieces, focusing on the fantastic views and delicious food.
Starting Their Special Day
As with most weddings, the couple started their wedding day by getting ready and spending time with their wedding party and family. They could relax and enjoy the day while final preparations were underway for their wedding ceremony and reception.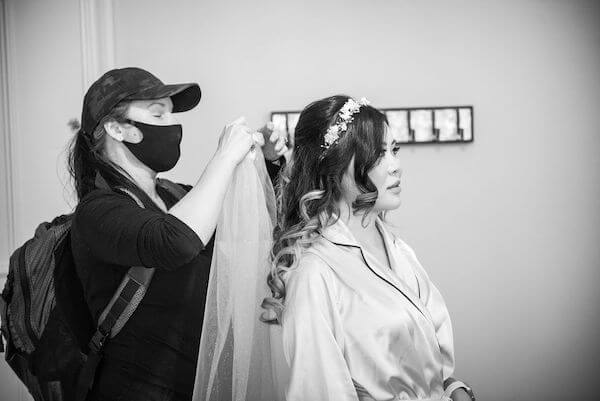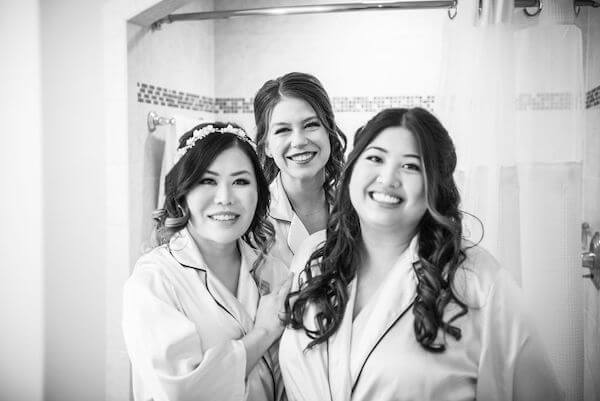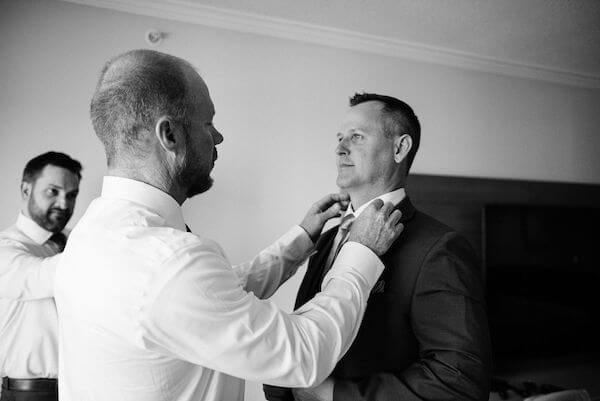 The Sky Terrace
The Sky Terrace overlooks the Gulf of Mexico and offers a spectacular backdrop for Lien and Rhett's wedding ceremony. The couple added a few floral arrangements, some fun "don't be blinded by our love" sunglasses, and some ribbon wands to close the ceremony.
With everyone in their place, Rhett got a bit emotional as his bride-to-be was escorted down the aisle by her parents.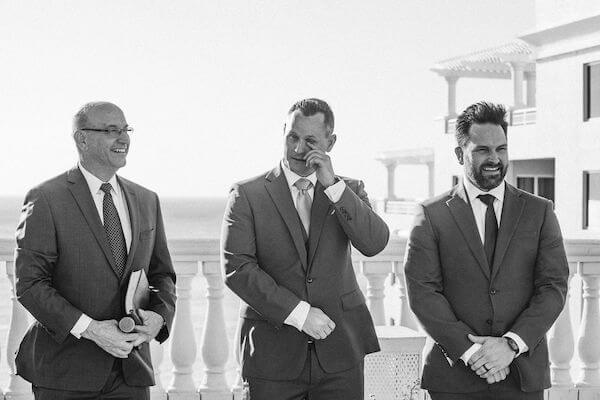 The couple had a sweet, intimate wedding ceremony, sealing their wedding vows with a kiss.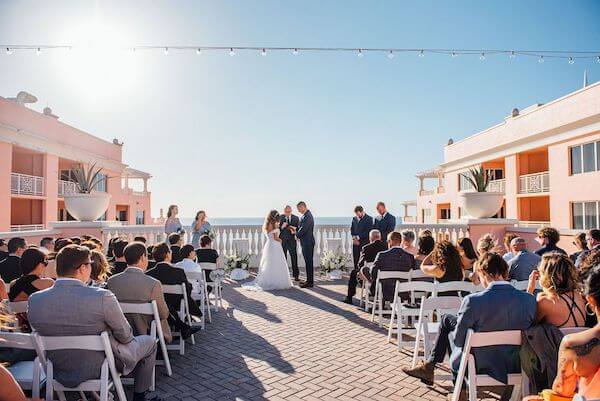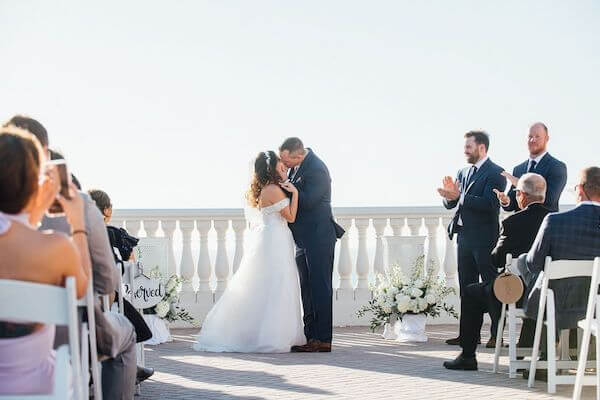 Cocktails on the Bellaire Terrace
The newlyweds took some time for family and wedding party photos as everyone enjoyed cocktails and delicious bites on the hotel's Bellaire Terrace.
The menu included:
Florida Heirloom Tomato Bruschetta
Chipotle Rubbed Medallion of Beef on Jalapeno Corn Bread
Petite Crab Cake with Passion Fruit Sauce
Coconut Crusted Shrimp Skewer with Mango Mayonaisse
Can't Get Enough Of Your Love
The Ballroom overlooking the Gulf of Mexico was set with tables draped in floor-length ivory linens, navy blue napkins, and simple centerpieces surrounded by candles.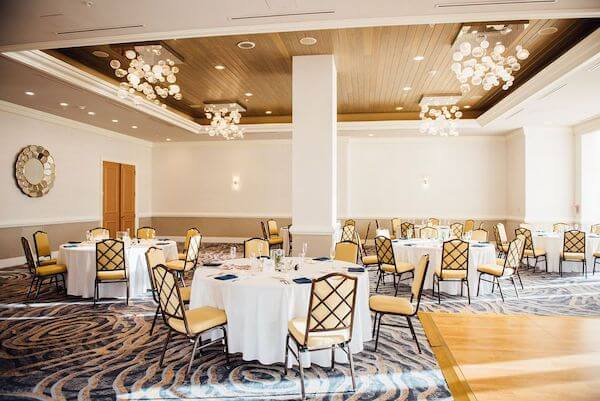 With family and friends gathered, the newlyweds made their grand entrance and took to the dancefloor for their first dance to Barry White's "Can't Get Enough of Your Love."
Right Here With You
And this is where things got wild!
You see, Rhett had worked with DJ Jeff Boone on a bit of surprise for his bride. Rhett had been working on a little TOP SECRET project.
Rhett had connected with a company to write and record a special song for Lien called Right Here With You. After about thirty seconds of their rehearsed first dance, the DJ mixed into this incredible special surprise.
Lien and their wedding guests were stunned! What a sweet and touching special moment for their wedding.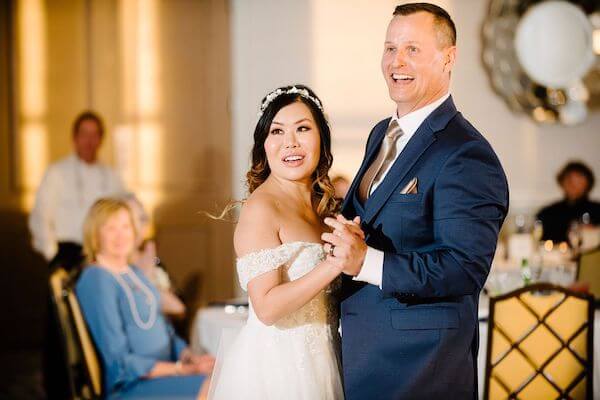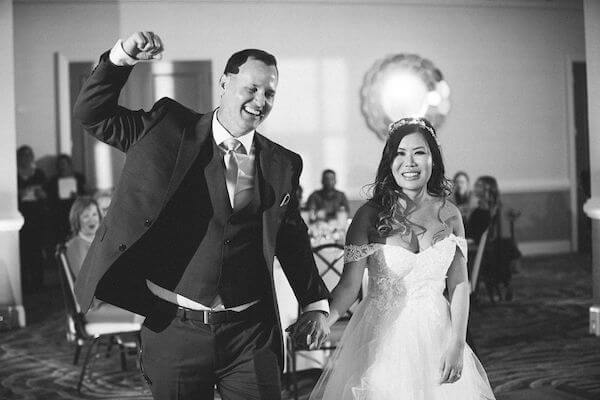 Enjoying the Florida Sunset
While wedding guests enjoyed their salad course, Lien and Rhett took some time on the beach for some magical sunset photos before returning for a night filled with incredible food and dancing.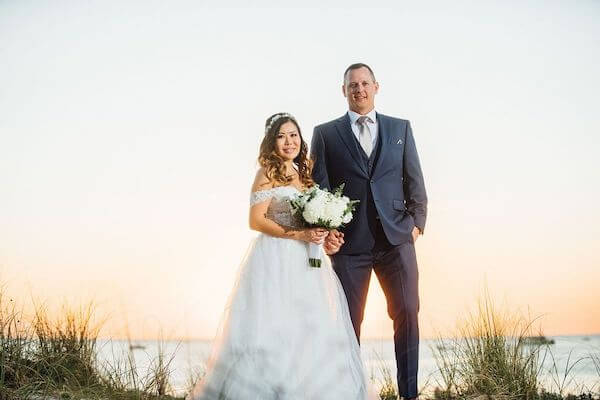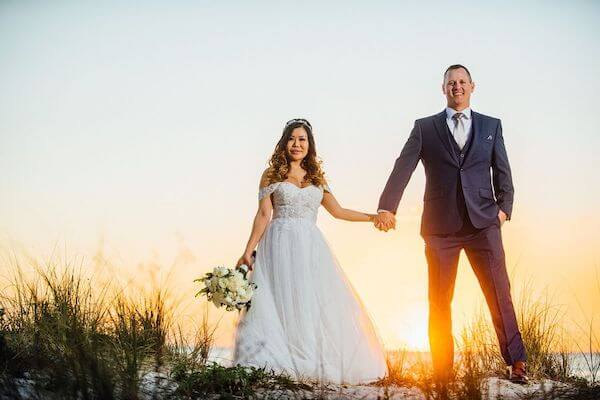 Congratulations, Lien and Rhett! We're so glad you chose to include our Special Moments Event Planning team on your wedding day.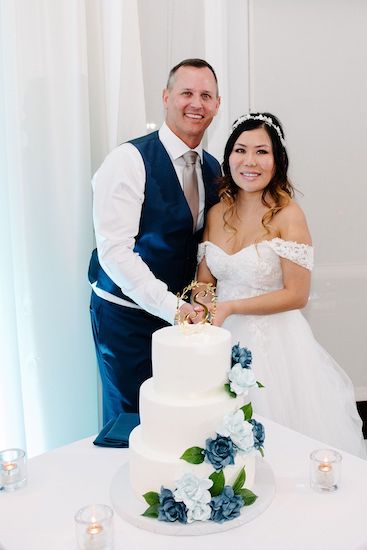 Clearwater Beach Wedding Team
Wedding Planner: Special Moments Event Planning
Clearwater Beach Wedding Venue: Hyatt Regency Clearwater Beach
Hair and Makeup: Michele Renee The Studio
Photographer: Jonathan Fanning Studio and Gallery
Flowers: By The Bay Floral
DJ / Photobooth: Boone's Professional Events
Wedding Cake: Chantilly Cakes
Planning a wedding?
Whether you are a Tampa Bay Area local or planning a Gulfside destination wedding, we have the creativity and connections to help you have the day of your dreams without all of the stress.
Planning an event?
We LOVE social events as much as we love weddings. From Wedding Showers to Reunions, we've done it all. It's all in the details and we've got you covered.
Planning a trip?
Need a weekend getaway during your wedding planning, time away with your family or help planning your honeymoon? We're happy to help!