Skye and Ryan's Hyatt Regency Clearwater Beach Wedding
Our Special Moments Event Planning team loved working with Skye and Ryan on their Hyatt Regency Clearwater Beach wedding. 
They are adorable, and their wedding portraits are incredible.
Time To Get Ready
For Sky and the ladies, the day started with matching wedding robes and on-site hair and makeup, with the photographers capturing all of the wedding details.
On the other side of the resort, Ryan and the guys were getting dressed and enjoying a toast.
Hello Ladies!
Back in the bridal suite, Skye was getting ready for a super cute first look. Sky was having a first look with their Moms, grandmom, and aunt on her suite's terrace. 
It was adorable and an extraordinary moment for all of them.
Skye and Ryan's First Look
Ryan waited anxiously for his bride's arrival on the resort's terrace. With him facing the Gulf of Mexico and Clearwater Beach, Skye made her way up behind him.
Their first look and portrait session were too sweet. They even made time for some photos with Lola!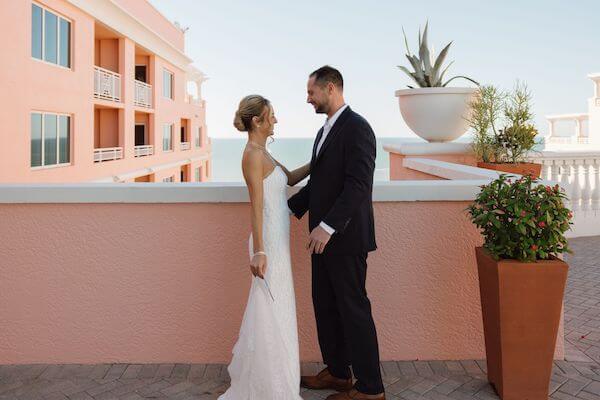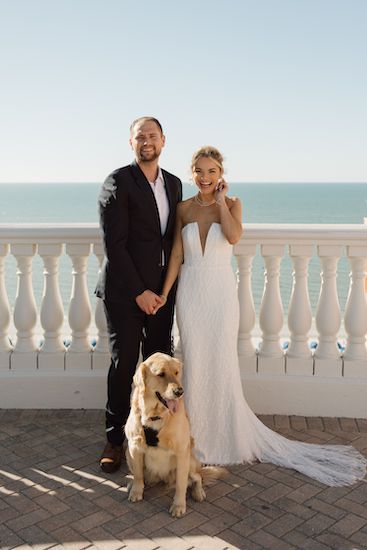 Sky Terrace Wedding Ceremony
The Sky Terrace was set with their beautiful outdoor wedding ceremony. White garden chairs led to two pedestals topped with colorful floral arrangements. They perfectly framed the spot where the couple would exchange their vows.
With everyone in place, Ryan looked on as Skye made her entrance to the Kacy Musgrave version of 'Can't Help Falling In Love.'
Surrounded by family, friends, and Lola, Skye and Ryan exchanged wedding vowels and rings, sealing their vows with a kiss.
Sunset on Clearwater Beach
While guests enjoyed cocktails and hors d' oeuvres on the Bellair Terrace, the newlyweds made their way to Clearwater Beach for some spectacular sunset wedding photos.
A Sneak Peek at the Reception
Before guests made their way to the ballroom, the newlyweds took a sneak peek.
Skye took a minute to relax in the lounge area they had created off to one side of the ballroom.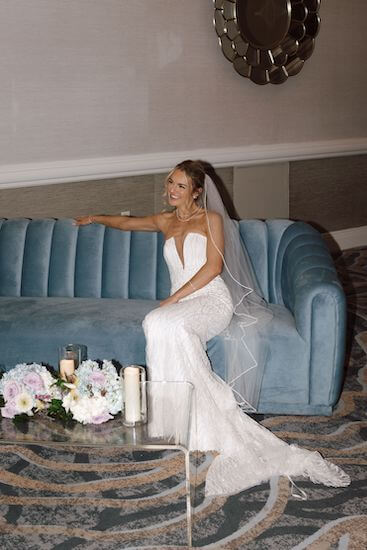 One of our favorite features of the night was the couple's guest book. A table held stacks of travel postcards where guests could leave the couple a message and place it in a vintage suitcase.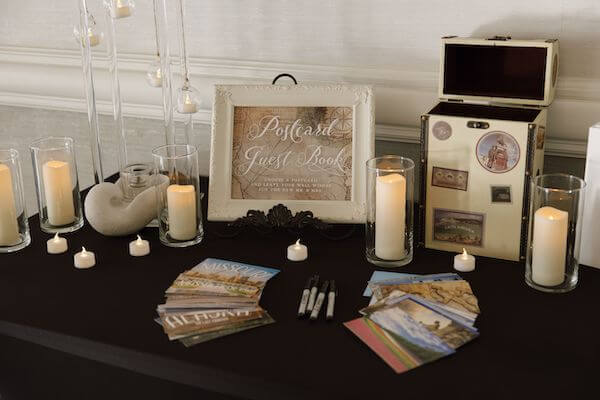 The couple's sweetheart table was draped in a shimmering cloth. It was lined with several dozen pillar candles and framed with the beautiful arrangements from the wedding ceremony.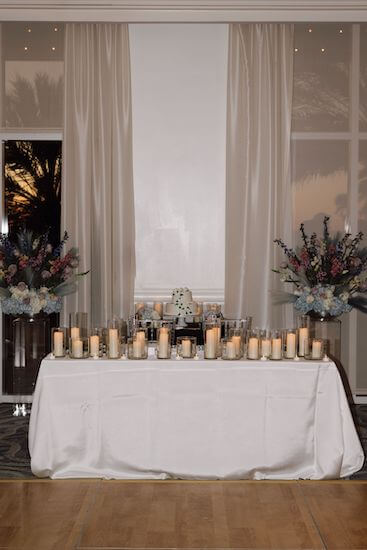 Guests' dining tables were draped with the same soft, shimmering linen and decorated with floral arrangements on clear risers with glass bubbles and a collection of chunky candles. Steel table numbers, charger plates, and clear acrylic chiavari chairs completed the look.
Their wedding cake was displayed alongside more chunky candies and several flower arrangements.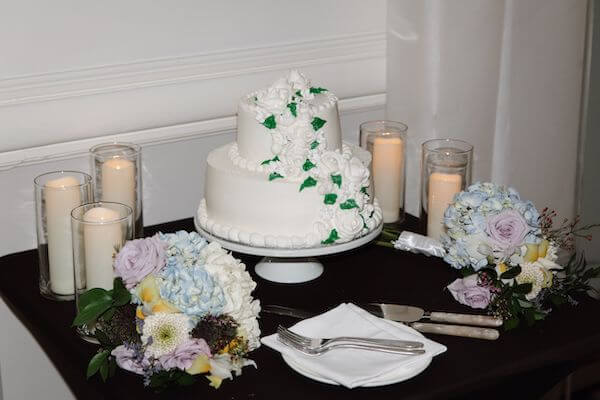 Eat, Drink and Be Married
With family and friends gathered Skye and Ryan made their grand entrance and took to the dance floor for their first dance.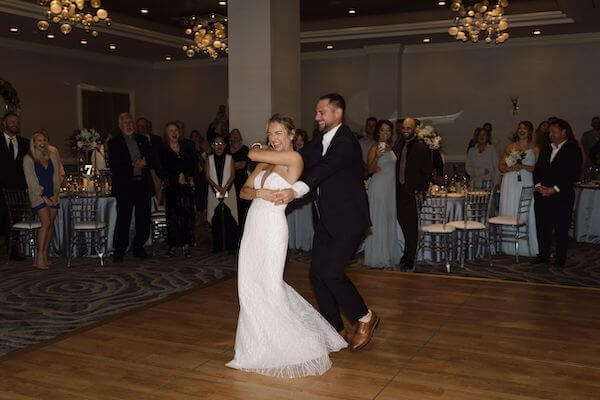 The guests enjoyed a delicious multi-course dinner after a welcome and touching toasts.
Sky and Ryan chose Polenta with Braised Short Ribs for their first course. A Clearwater House Salad with Papaya Citrus Dressing followed this. 
Entree selections included Grilled New York Strip with Cracked Mustard Demi-glaze or Herb Rubbed French-cut Chicken Breast with Citrus Cream Sauce. The side dishes offered were Grilled Corn, Fresh Herb Risotto, and Honey Dill Baby Carrots.
Following the cake cutting, the couple took to the dance floor and danced the night away, ending the night with Lady Gaga's 'Always Remember Us This Way.'
Congratulations, Skye and Ryan!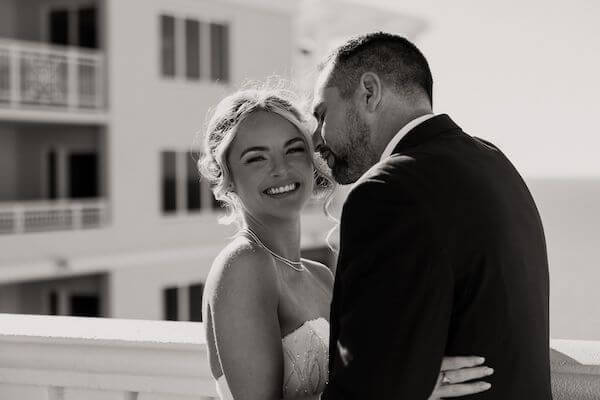 Clearwater Beach Wedding Vendors
Thank you to the wedding vendors who helped make this day so amazing.
Clearwater Beach Wedding Venue: Hyatt Regency Clearwater Beach Resort and Spa
Clearwater Beach Wedding Planning and Coordination: Special Moments Event Planning
Hair and Makeup: Femme Akoi Beauty Studio
Photography / Videography: Faith and Cody Photo and Film
Floral Design: Hawthorne's Company
DJ: Graingertainment
Rentals: Kate Ryan Event Rentals
Photo Booth: The Gala Photo Booth
Pet Services: Fairy Tail Pet Care
Planning a wedding?
Whether you are a Tampa Bay Area local or planning a Gulfside destination wedding, we have the creativity and connections to help you have the day of your dreams without all of the stress.
Planning an event?
We LOVE social events as much as we love weddings. From Wedding Showers to Reunions, we've done it all. It's all in the details and we've got you covered.
Planning a trip?
Need a weekend getaway during your wedding planning, time away with your family or help planning your honeymoon? We're happy to help!