Kim and Tim's Intimate Sandpearl Wedding
Our Special Moments Event Planning team LOVED Kim and Tim's intimate Sandpearl wedding!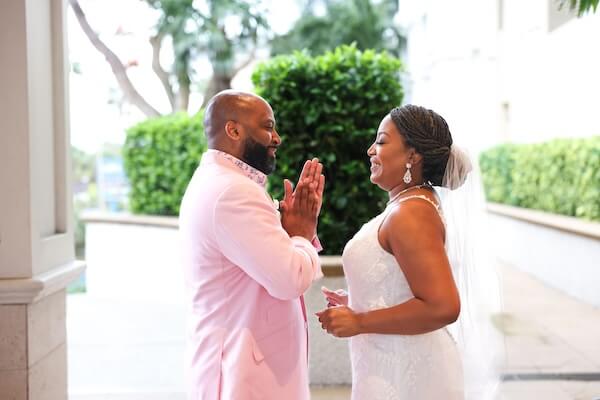 This intimate wedding for just under 60 guests was full of personality and love, not to mention all of the details that really reflect the couple.
This beautiful wedding in pink and blue started the night before with a Welcome Reception, all white attire requested!
The Bride
Kim started her day with the team photographing her wedding accessories and the bridal party having a bit of fun while they had hair and makeup services on site.
Oh, and we can't forget about Chico, their Dog of Honor!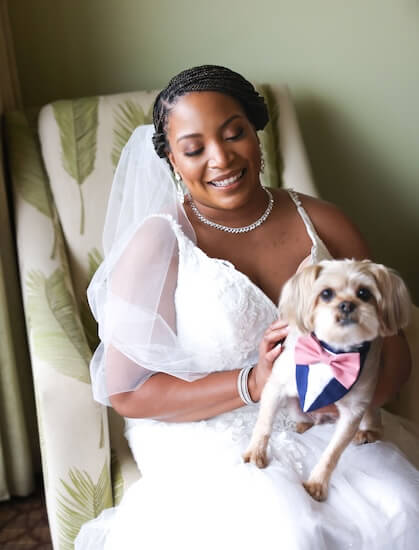 The Groom Wore Pink!
Let's not avoid the 'elephant in the room.' Tim wore a stunning pale pink suit. His pink shirt with a navy blue pattern made it pop. While he may have gone with a really nontraditional color, he ROCKED it!
Time To See Dad
With Kim and Tim dressed and ready, it was time for Kim to see her father before heading off for her first look with her groom-to-be.
Couple's First Look
It was finally time for this awesome bride and groom to see each other on their wedding day. And they could not have been more excited. You can tell by their smiles that this would be a fantastic day.
Following their first look, the couple took photos together and with their wedding party before tucking away for some private time and freshening up.
With This Ring
The ceremony space was set with a beautifully draped wedding structure draped in soft fabric and accented with spectacular floral arrangements. It surrounded a table holding the elements for the couple's sand ceremony, with pink and blue sand, of course.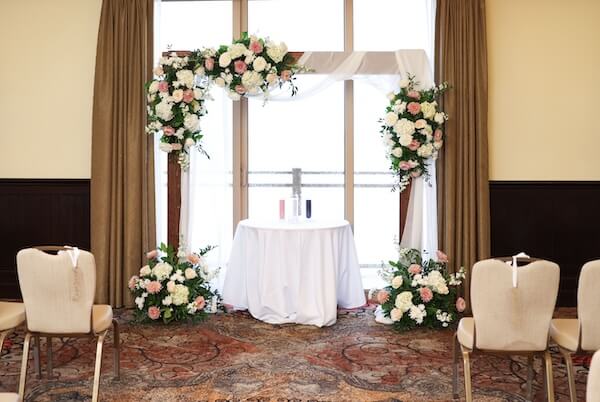 The stage was set with incredible violin music as family and friends took their places.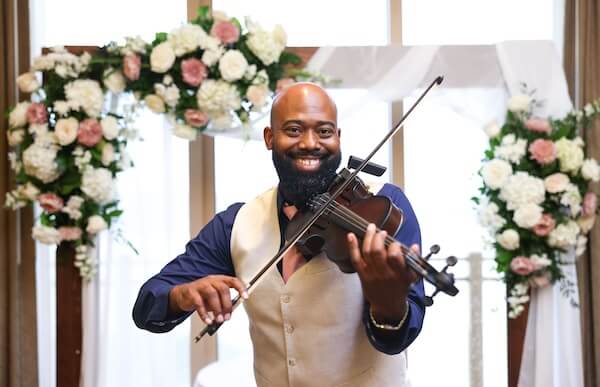 Kim was escorted down the aisle by her father. Once in place, Kim and Tim exchanged rings and wedding vows. The couple sealed their vows with a kiss, and they could not be more excited!
Cocktails and Sunsets
The newlyweds and Chico took a few photos inside before heading off to catch the sun setting behind the Sandpearl.
Meanwhile, inside, their guests enjoyed Cocktail Hour. They chose two unique Signature cocktails.
Love Potion No. 29 is made with Hennessy, Strawberry Syrup, Champagne, and Fresh Strawberries with the Sugar Rim.
Chico's Punch combines Tequila and Lemonade with a Sugar Rim.
The accompanying Hors d 'Oeuvres included Short Ribs Empanadas with Chipotle Barbecue, Petite Crab Cake with Citrus Aioli, Thai Chicken Spring Roll with Sweet Chili Sauce, and Lollipop Lamb Chops with Passionfruit Jelly. 
Pink and Blue Wedding Decor
The newlyweds continued the pink and blue decor for their Sandpearl wedding reception, which blended beautifully!
The ballroom walls were washed in shades of pink, with the couple's monogram projected on the wall. The tables were dressed in blue and white linens, gold-rimmed charger plates, and flatware. Modern table numbers in gold, custom menu cars, floral arrangements with floating candles, and custom chocolate wedding favors completed the tablescape.
The couple's sweetheart table, accented with lush floral pieces, sat next to a cake table draped in blue sequin linen holding a simple, elegant three-tiered white wedding cake resting on a gold riser.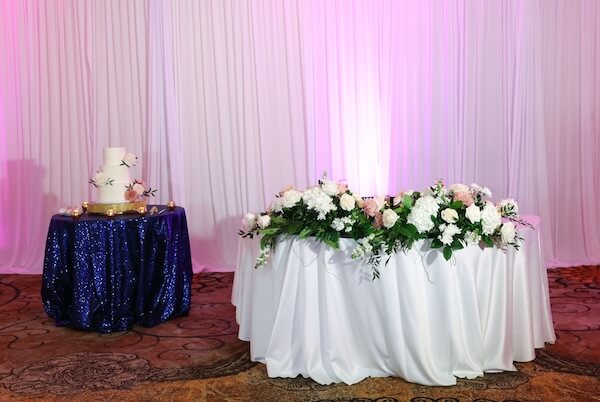 Eat, Drink, and Be married!
With guests seated, the bride and groom made their grand entrance and took to the dance floor for their first dance. A blessing by the Father of the Groom and a delicious multi-course dinner followed this.
For the Salad Course, the couple chose a salad of Petite Wedges of Gem Lettuce, Roasted Pearl Onions, Prosciutto, Heirloom Tomato, Danish Bleu Cheese, and Buttermilk Dressing. 
They chose a Duo Plated entree of Filet Mignon with Red Wine Jus paired with Herb Crusted Chilean Sea Bass with Citrus Beurre Blanc for dinner. Side dishes included Potato Havarti Souffle and Vegetable Bundles of Carrots and Asparagus.
Toasts and the couple's cake cutting followed dinner, and when the dance floor opened, it only stopped long enough to grab a few group photos with their family and friends.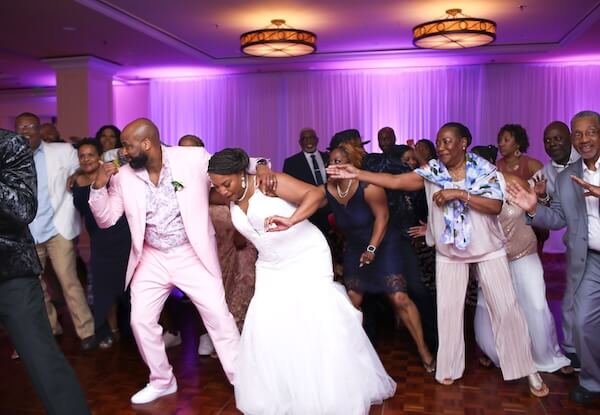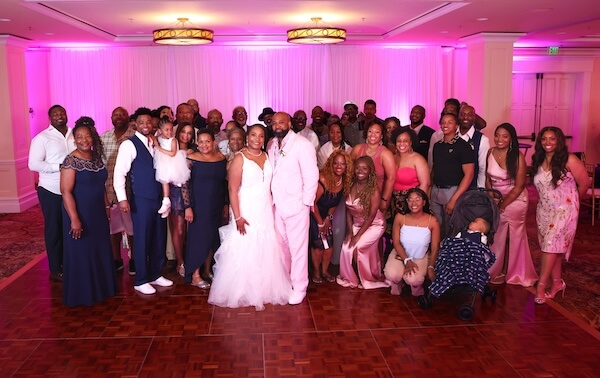 We're so excited to see that Kim and Tim had the time of their lives! Congratulations!
Clearwater Beach Wedding Vendors
Thank you to the incredible team of wedding vendors who made this day so fantastic.
Clearwater Beach Wedding Venue: Sandpearl Resort
Clearwater Beach Wedding Planner: Special Moments Event Planning
Hair and Makeup: Nicki Mac Brides
Photography / Photo Booth: Lifelong Photography Studios
Videography: Fairytale Productions
Floral Design: Jennie's Flowers
Music: Stringz Attached
Rentals / Draping: Gabro Event Services
Transportation: Clearwater Jolley Trolley
Wedding Cake: Sweetwood Bakery
Pet Car: Fairy Tail Pet Care
Planning a wedding?
Whether you are a Tampa Bay Area local or planning a Gulfside destination wedding, we have the creativity and connections to help you have the day of your dreams without all of the stress.
Planning an event?
We LOVE social events as much as we love weddings. From Wedding Showers to Reunions, we've done it all. It's all in the details and we've got you covered.
Planning a trip?
Need a weekend getaway during your wedding planning, time away with your family or help planning your honeymoon? We're happy to help!