How To Stop Traffic With Your Wedding!
One of the biggest challenges our Special Moments Event Planning team hears from many couples is how to infuse their wedding day with unique, personal, memorable details; something that stops traffic.
Recently one of our couples, Lari and David had the perfect idea. And this one literally stopped traffic in the middle of downtown St Petersburg.
A Unique Solution
The couple's beautiful garden wedding ceremony presented one tiny challenge. The same space where the couple was to be married needed to be reset for dinner and dancing to follow. Our Special Moments Event planning team of vendors needed just over twenty minutes to make this happen.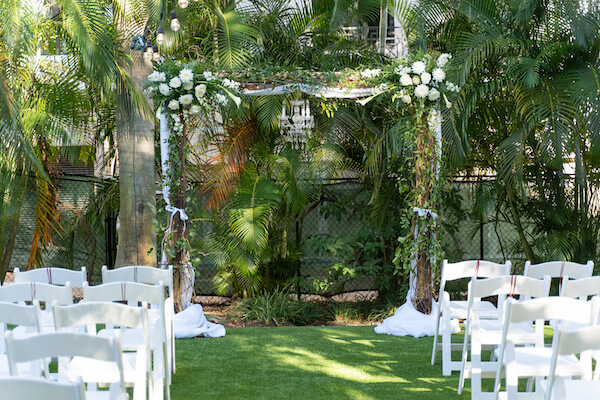 Upon arrival, wedding guests were greeted with some champagne, fruit, and cheese prior to the ceremony instead of a cocktail reception afterward.
A Second Line
However, Lari and David really wanted to incorporate a traditional New Orleans Second Line as a fun, unique element to their nontraditional wedding, and this was also the perfect way to clear the event space.
A Second Line is the "quintessential New Orleans art form." While originally started for funerals as a way for local civic groups to honor their members, today there are several thousand a year in New Orleans mostly for weddings and special events.
A What?
A Second Line for a wedding signifies the starting of a new life together. It is a procession that brings wedding guests from the ceremony to the wedding reception.
The First Line for a wedding is the bride and groom, wedding party and the band, followed by The Second Line consisting of wedding guests strutting their stuff.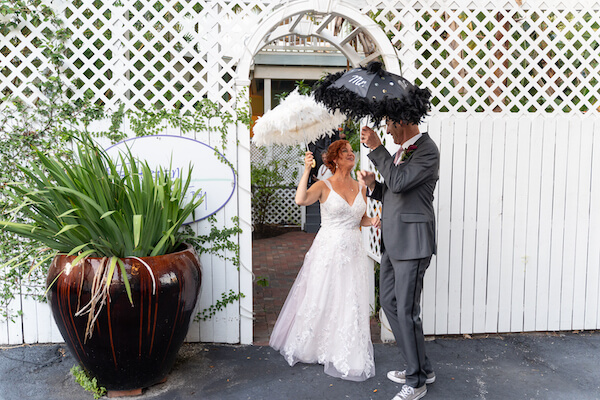 Making Magic
As guests arrived at the garden wedding, each was given a hand-embroidered handkerchief with Lari and David's names and wedding date.
As the ceremony unfolded, the couple's friend Diane "The Cajun Queen," explained a Second Line and later after the ceremony, helped gather wedding guests as Lara's gown was bustled and David changed shoes.
Their wedding DJ, Tampa Bay DJ Chuck Weirich, brought it all together. He led the First Line blasting a traditional New Orleans buck-jumping soundtrack while bringing the party to life with his trumpet.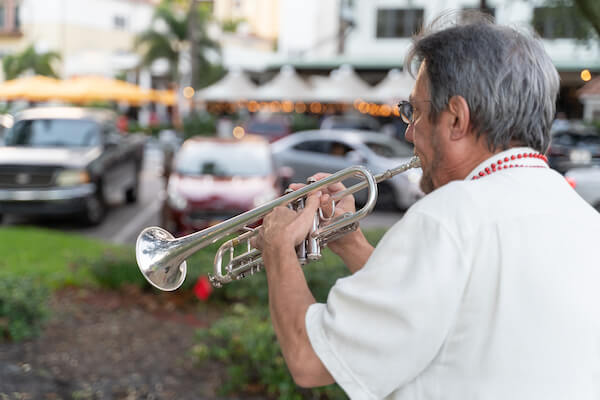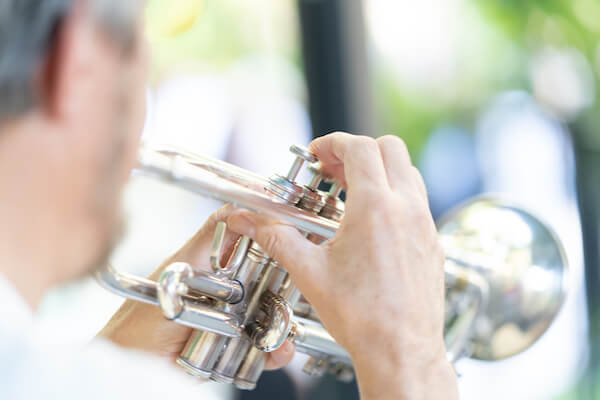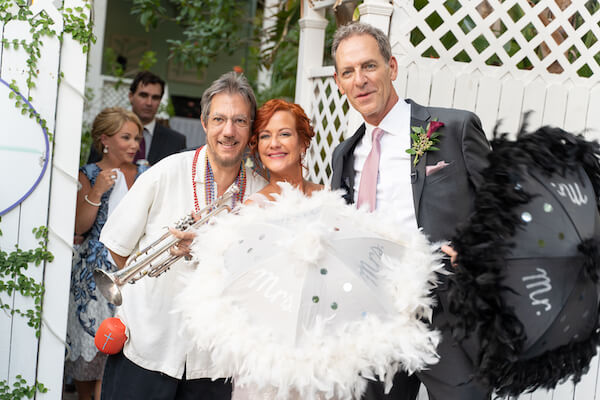 Stopping Traffic
With that, the couple, complete with custom created parasols, led their wedding guests through the streets of downtown St Petersburg, along the waterfront, and through Straub Park, stopping traffic along the way.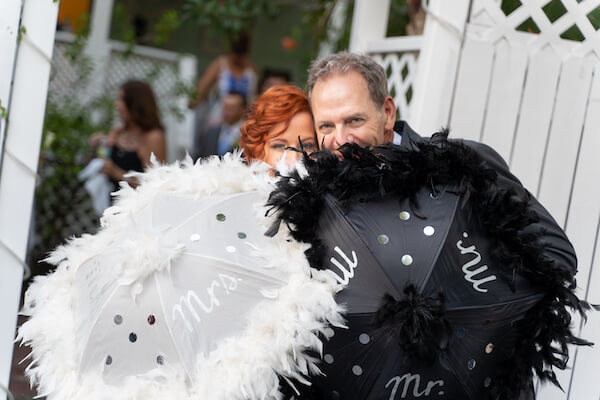 Guests danced, waived their embroidered handkerchiefs and carried signs reading Just Married!
This was absolutely a wedding that stopped traffic and something Lari and David's guests will never forget. We can't wait to share more of this incredible couple's wedding day.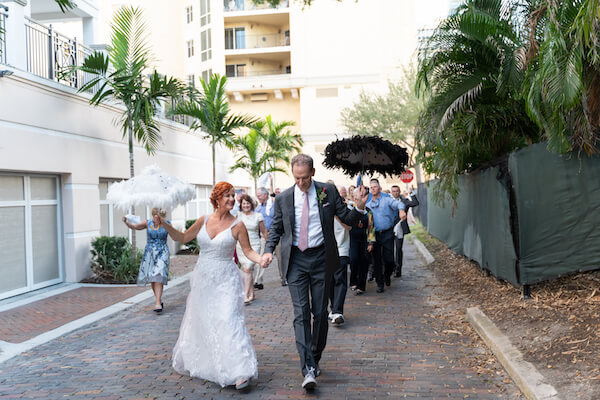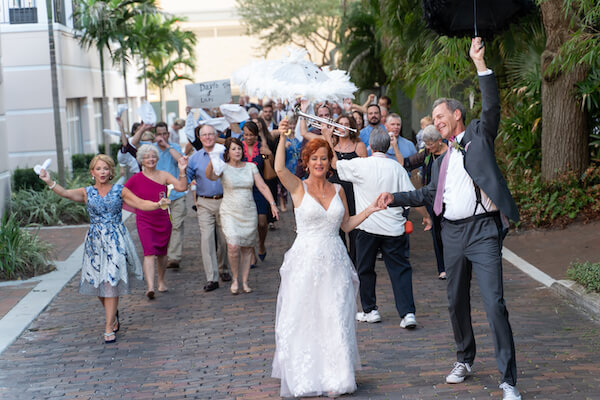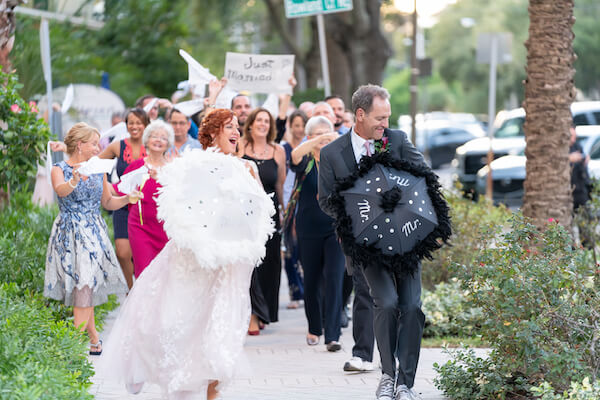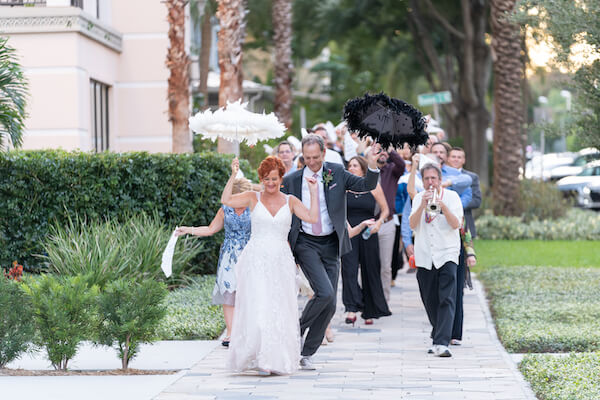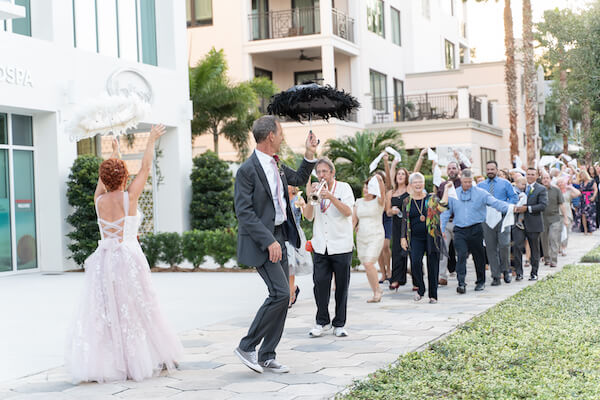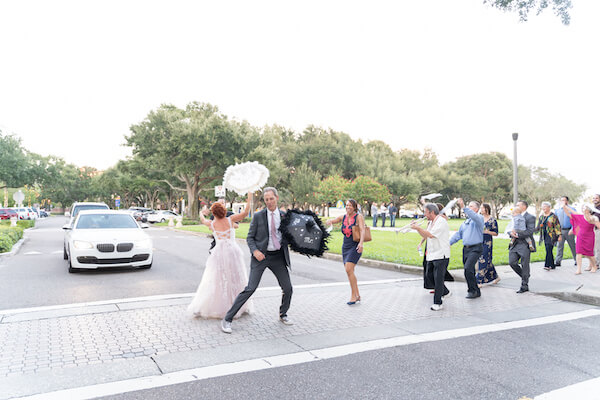 So, what are you including in your wedding day to make it memorable?
More Come!
We can not wait to share more of Lari and David's incredible downtown St Petersburg garden wedding.
Special thanks to:
Planning a wedding?
Whether you are a Tampa Bay Area local or planning a Gulfside destination wedding, we have the creativity and connections to help you have the day of your dreams without all of the stress.
Planning an event?
We LOVE social events as much as we love weddings. From Wedding Showers to Reunions, we've done it all. It's all in the details and we've got you covered.
Planning a trip?
Need a weekend getaway during your wedding planning, time away with your family or help planning your honeymoon? We're happy to help!