A Bold And Brilliant Wedding
Audrey & Jeff | Avila Golf and Country Club
The Special Moments Event Planning team loved infusing bold, brilliant colors and stunning details into this Tampa Bay area Moroccan wedding with a traditional Jewish wedding ceremony.
Bright shades of purple, fuchsia, pink, and gold tones filled the entire Avila Gold and Country Club space.
Prior to the traditional Jewish wedding ceremony, Jeff saw his beautiful bride for the first time. Jeff was standing in the huge wrap around balcony overlooking their ceremony space and Audrey made her way up behind him, and to say he was blown away might be an understatement.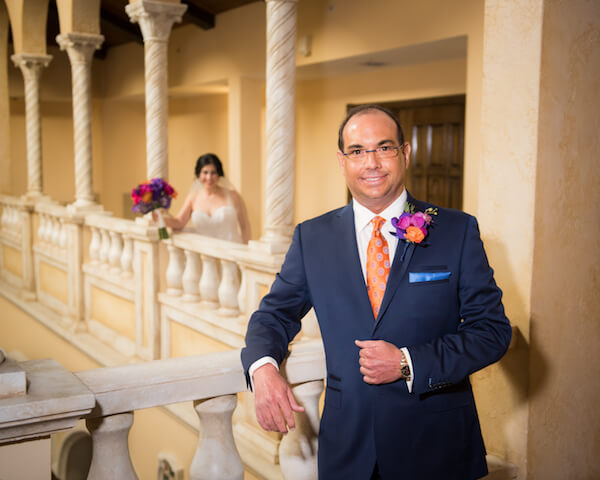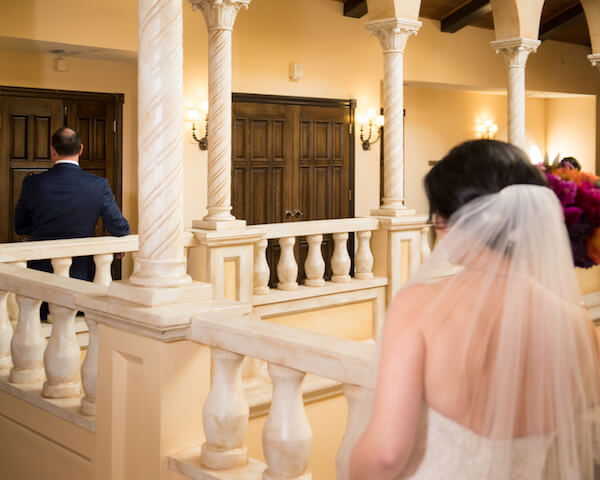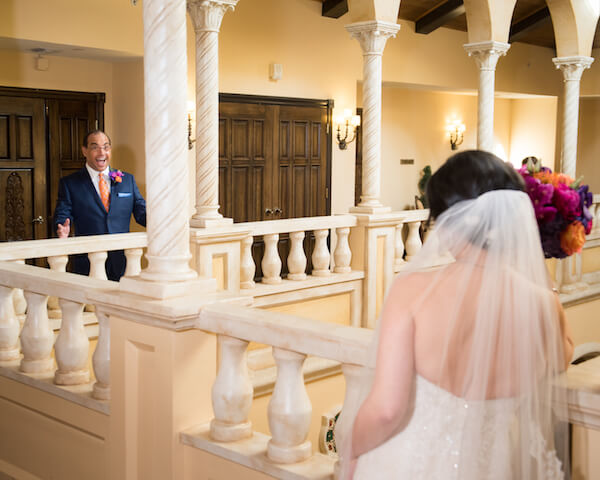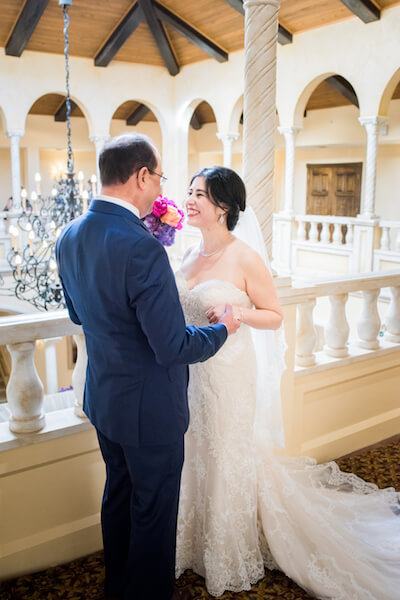 The couple began the wedding ceremony signing their ketubah, which was an amazing piece of art.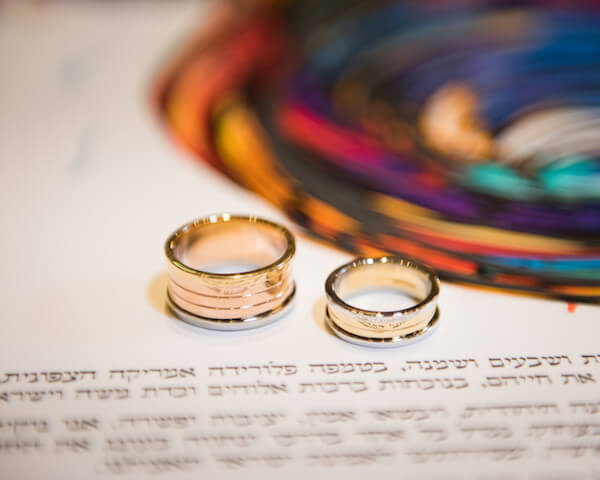 The centerpiece of this amazing wedding was the couple's Ceremony in the Round. Gold chivari chairs surrounded a chuppah composed of four clear columns overflowing with crystals, brightly colored flowers and topped with a soft flowing white cloth.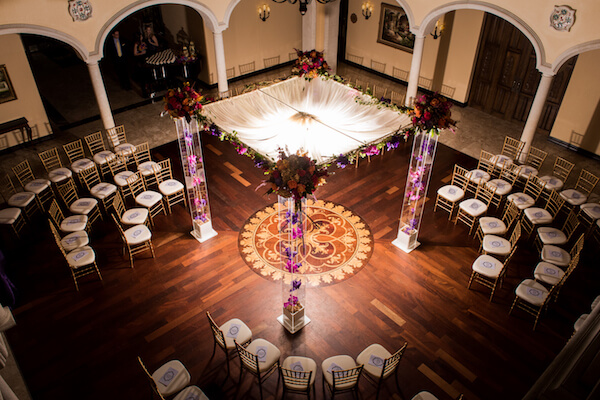 The underside offered an equally spectacular view with a brightly colored Moroccan style jeweled lantern reflecting colored light across the pleated white chuppah covering.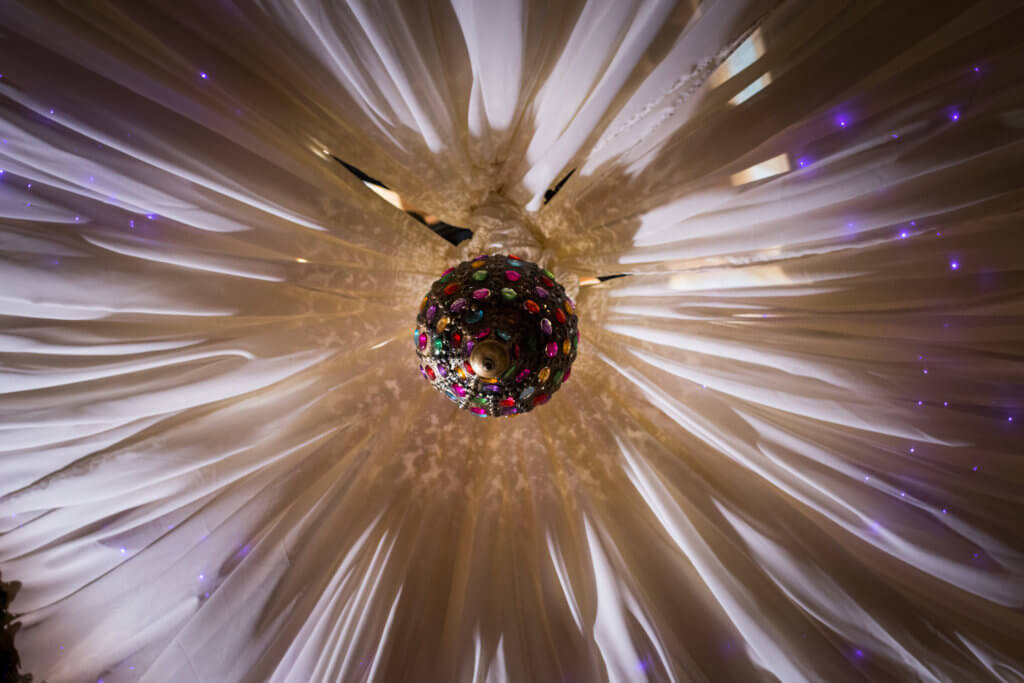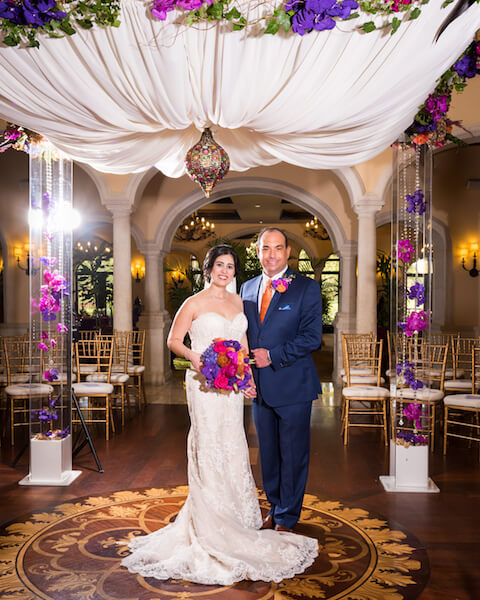 The reception continued this awesome bold color palette with bright purple iridescent crush linen on the reception tables. Mixing the metals in the black iron lanterns filled with jewel tone flowers and the shimmering bronze charger plates added textured elements.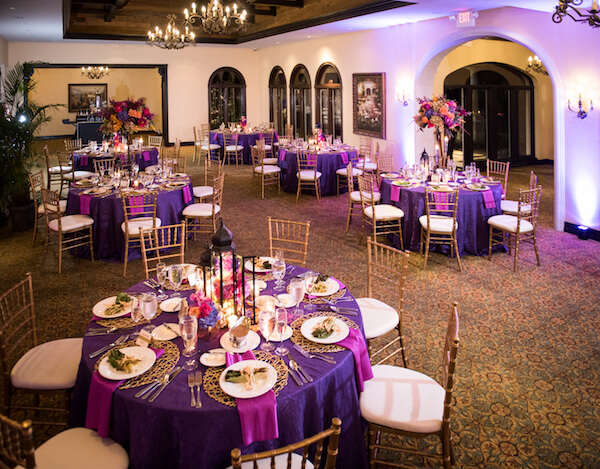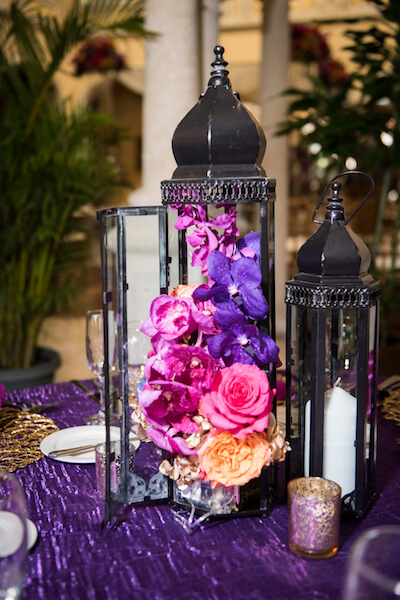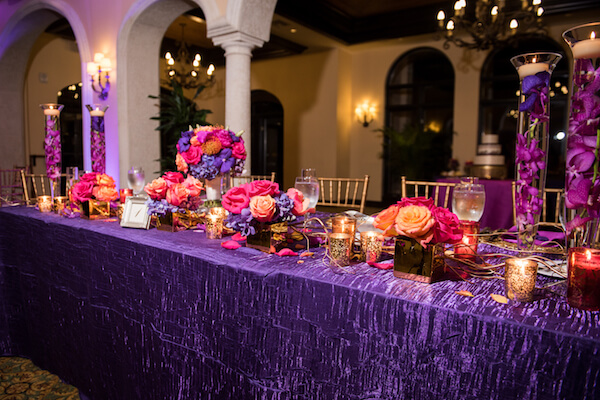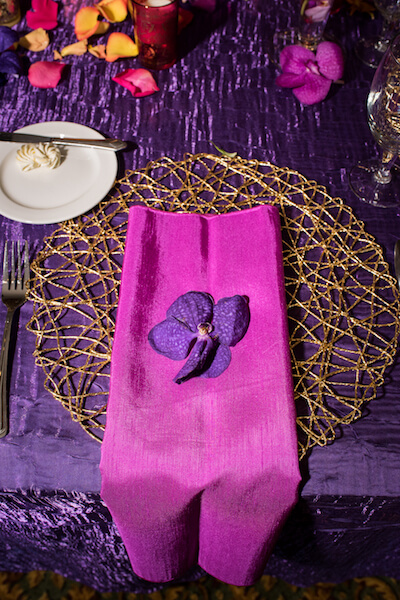 The breathtaking three-tiered wedding cake was ornately detailed in purple, black and gold incorporating traditional Moroccan tile and fabric patterns with just a touch of crystal for some shimmer.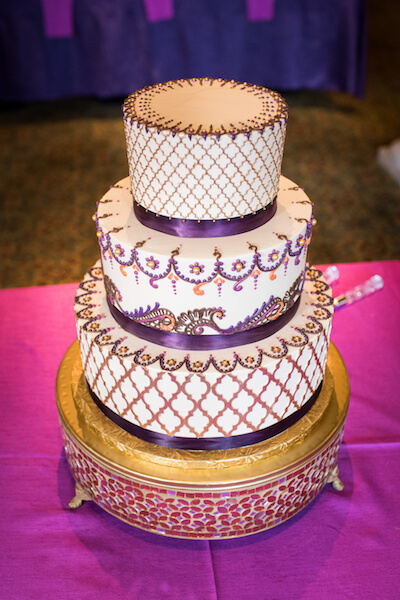 The evening ended with guests enjoying a table full of delicious homemade Moroccan sweet treats.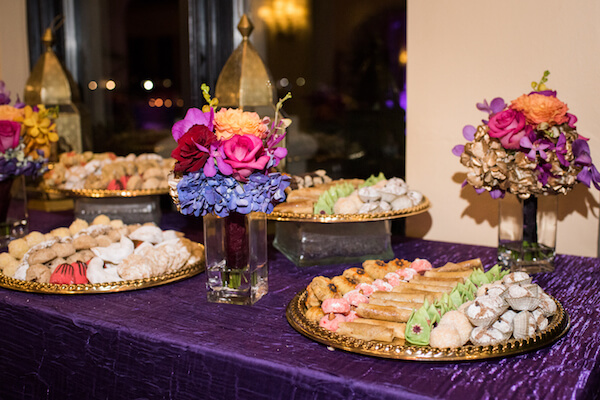 We love the kind words Audrey shared in a recent online review:
We used Special Moments for Day of Planning. We had started planning ourselves, but learned about Tammy and are very happy that she was able to work with us.

She helped along the way, promptly answering all of our questions and emails.

Week of, she kept me calm and worked with all of our vendors for a day of timeline.

Day of was amazing! I didn't have to do anything other than get to the venue, have my hair/makeup done and get dressed! Even after our guests left, I was preparing to start packing our stuff, but she and her assistant, Petra, had everything done!

Save yourself a lot of headaches and hire Special Moments. Had we known about her sooner, we probably would have had her take a bigger role in the planning!
Thank you to all of the amazing Tampa Bay wedding vendors who brought this brilliantly colored wedding to life.
Tampa Bay Wedding Planner: Special Moments Event Planning
Wedding Venue: Avila Golf and Country Club
Wedding Officiant: Rabbi Jason Rosenburg
Wedding Hair and Makeup: KyleLynn Weddings
Violinist: Hailey Chandola
Wedding Photographer: Calvin Roe Photography
Floral Design: Dana Dineen Floral Design
Linen: Connie Duglin Linens
DJ: Grant Hemond
Event Rentals: Signature Event Rentals
Plant Rentals: A1 Foliage Rentals
Coffee Cart: Café A La Carte
Wedding Cake: The Artistic Whisk
Invitations / Calligraphy:  Tampa Calligraphy
Planning a wedding?
Whether you are a Tampa Bay Area local or planning a Gulfside destination wedding, we have the creativity and connections to help you have the day of your dreams without all of the stress.
Planning an event?
We LOVE social events as much as we love weddings. From Wedding Showers to Reunions, we've done it all. It's all in the details and we've got you covered.
Planning a trip?
Need a weekend getaway during your wedding planning, time away with your family or help planning your honeymoon? We're happy to help!