3 Tips For Wedding Bouquet Preservation
Wedding bouquet preservation is something that has been done for ages.
For years people have hung flowers upside down to dry or pressed them in between the pages of a book.  Years ago brides did this quite a bit – DIY was very popular.
But, recently, we've seen lots of brides interested in having their bouquets professionally preserved. Here are some things to know about preserving your wedding bouquet.
1 – Preserving Your Wedding Bouquet Take A Little Planning
Often the company you work with will send you a container, shipping label, and instructions on how to ship to them. Or, you may have to gather your own supplies, based on their instructions.
Bouquets need to be hydrated, refrigerated, and shipped according to the company's instructions. This has to be done  ASAP after your wedding. Most professionals agree that the fresher the flowers, the better the result.
Planning ahead also ensures you select flowers for your bouquet that preserve well. Typically mums and small daisies don't preserve very well.
So, remember that leaving your bouquet lying in the sun all day and deciding after the wedding that you want to have them preserved might not be the best way to go.
2- How Do You Want To Display Your Wedding Bouquet?
There are dozens of options on what the final product will look like.
We've seen samples where the bouquet was preserved in a huge glass box where flowers are dried and reassembled in 3D.
Other companies dry small clusters of the flowers from the bouquet and make a resin cube or bubble, sort of like a paperweight.
The most popular seems to be framing flowers into a representation of the original bouquet paired with a copy of your wedding invitation.
It's important to decide what end product works best for your design style and home. Some companies offer a design consultation after the flowers are preserved. This allows them to really see what they have to work with and make suggestions based on the flowers they have to work with.
3 – Be Sure To Budget For Wedding Bouquet Preservation
Let's be honest; floral preservation is not inexpensive! Even the smallest pieces we've seen can cost several hundred dollars.
The process that companies use is very time-consuming and labor-intensive. Once received, the bouquets are typically photographed at multiple angles. They are carefully taken apart, removing and inventorying the ribbon and any bouquet jewels. Each flower is separated and trimmed, removing any dying or bruised flowers. And that's before they start the drying process.
After drying the artistry to recreate your bouquet or something beautiful, using the flowers is just as time-consuming.
Some Bouquet Preservation Options
Here are a few companies we've found with great reviews. While we don't have any personal experience with them, they are a great starting point. They can give you an idea of the styling and pricing for bouquet preservation.
Pressedinbooks
We found this company Pressedinbooks on Etsy. Their presentation and craftsmanship caught our eye.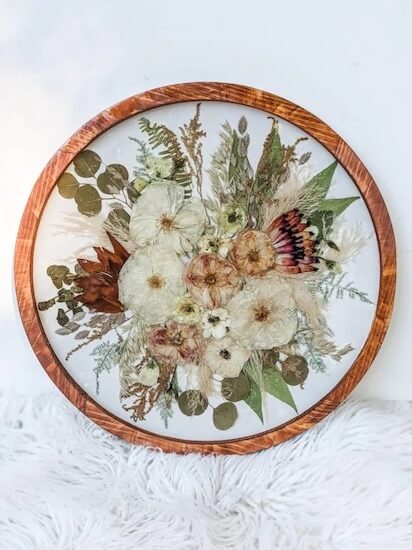 Keepsake Floral
Keepsake Floral is based right outside Orlando and has been in business since 1994. Their designs are beautiful. They offer lots of options and are considered by many to be the nation's top bouquet preservation company.
Timeless Flowers
Timeless Flowers is located in South Florida. They offer multiple style options and even options for 'last-minute brides' with drop-off at several South Florida locations or information on packing and shipping overnight.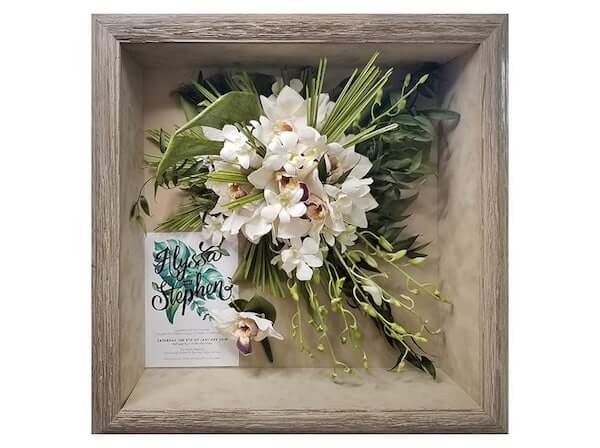 Mindful Tree Art
Mindful Tree Art is based in Winter Garden, just outside of Orlando. They specialize in beautiful designs of flowers in resin. Options include packages where pieces of a bouquet are made into small keepsakes. Perfect to share with family or your wedding party.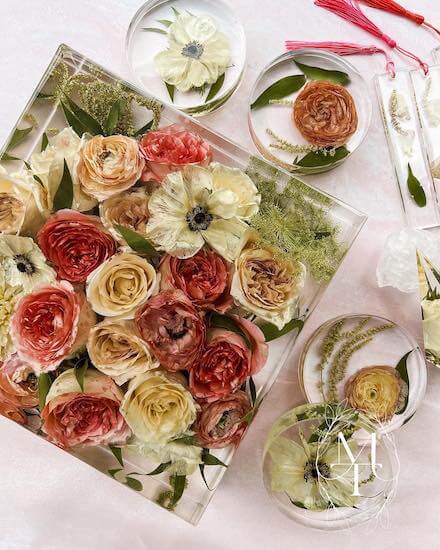 Like everything else regarding your wedding,  floral preservation takes a little planning and research. We hope this information and resources help make your wedding planning a little easier!
Cover Image: Bouquets by 2 Birds Events, Photo by Andy Martin Photography
Planning a wedding?
Whether you are a Tampa Bay Area local or planning a Gulfside destination wedding, we have the creativity and connections to help you have the day of your dreams without all of the stress.
Planning an event?
We LOVE social events as much as we love weddings. From Wedding Showers to Reunions, we've done it all. It's all in the details and we've got you covered.
Planning a trip?
Need a weekend getaway during your wedding planning, time away with your family or help planning your honeymoon? We're happy to help!