7 Wedding Traditions and Customs Unraveled
Our Special Moments Event Planning team knows all too well that weddings are full of traditions. Some things we do are driven 'just because,' while others are based on our family's ethnic and cultural customs.
We know that unless you are a total wedding geek – lots of hands raised on our office – you have no idea the history behind some of the things we do.
It's As Easy As ABC!
Our Lead Dream Maker Tammy Waterman, Wedding Day Manager Mark Kingsdorf and DJ Jeff Boone of Boone's Professional Events put together an education program for local Tampa Bay Wedding Professionals.
The three are the Co-Directors for the Association of Bridal Consultants Central Florida local networking group. Tammy and Mark account for two of only Forty-Eight Master Wedding Planners in the world!
This month's education meeting was Wedding Trivia – a fun afternoon game show type event filled with random wedding trivia.
Sharing is Caring
We thought that sharing some of the wedding trivia with our recently engaged couples, families, and other wedding pros checking blog would be fun.
Here are a few of the wedding traditions we all found really interesting.
#1 Throwing Rice at the Newlyweds
This tradition actually has ancient roots. It was thought that feeding the evil spirits would keep the couple safe. Another part of the tradition talks about marriage as an expansion of the family, and rice symbolizes prosperity and fertility.
We see that a lot of Tampa Bay wedding venues no longer allow the throwing of rice. Some people say it's because wild birds eat it and then blow up as the rice expands.
FALSE – While it doesn't really harm the birds, it is a mess and a possible slipping danger.
We love seeing couples choose bubbles or ribbon wants as they photograph so well.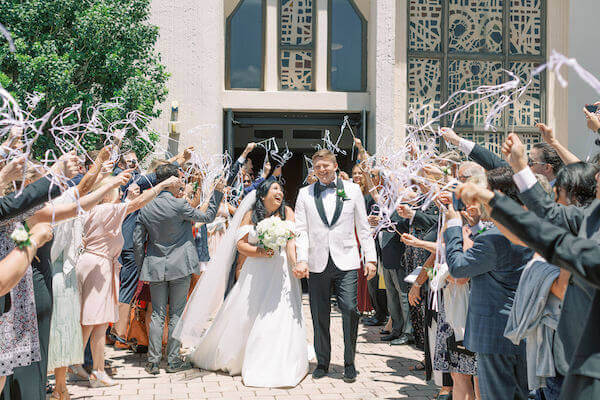 #2 A Boutonniere Is Always Worn On the Left Side
Called a 'buttonhole' in the UK, it's translated to boutonniere in French. On a suit jacket, the left lapel has a buttonhole stitched in it. In some places, the stems were placed through the hole. But most times, it is pinned over the opening.
Even if you are not wearing a jacket, or one without a buttonhole – like a shawl collar on a tuxedo – the boutonniere is worn in the same place.
It also places it over the heart!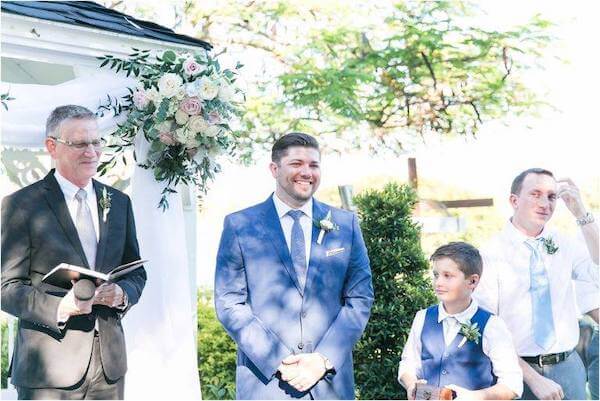 #3 – It's Good Luck If It Rains On Your Wedding Day.
Seriously, it is! Many cultures believe that rain on your wedding day is a sign of good luck. It's considered to be an act of cleansing and a sign of fertility.
Our Special Moments Event Planning team also likes to hedge our bets and have a backup plan while it's good luck.
Wedding photos in the rain, walking with an umbrella, and taking advantage of the reflections off of a puddle are pretty. But for the ceremony and reception, we always have a plan!
#4 – Why Does a Couple Have A Wedding Party?
The origins of both are fascinating. Bridesmaids and brides originally all dressed the same and wore veils over their faces. It was intended to confuse jealous exes and evil spirits who may want to do the bride harm.
The Groomsmen had it a little harder. Originally called Bride's Knights, they carried the bride to the wedding and were charged with protecting her dowry and virginity.
Wedding parties have it so much easier now. Helping with some wedding plans, planning a shower, and bachelor or bachelorette parties sounds like a walk in the park.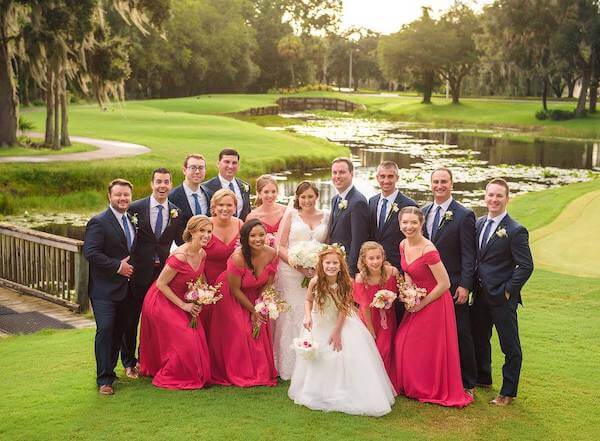 #5 – Save The Top of Your Wedding Cake
Initially, couples would save the top of their wedding cake to be eaten at their first child's Christening party. When the tradition began, many couples started their families immediately after getting married.
As time went on, the tradition began to save it to be eaten on the couple's first anniversary. We actually see many cake artists who now offer to reproduce the top tier for a couple's first anniversary.
We actually like the idea to cut the cake into 12ths, wrap each slice individually and then place them into a freezer bag. You can pull out a piece on each month's anniversary for the first year. It tends to freeze better, stay fresher and defrost more easily. But it also gives you a sweet treat for an entire year!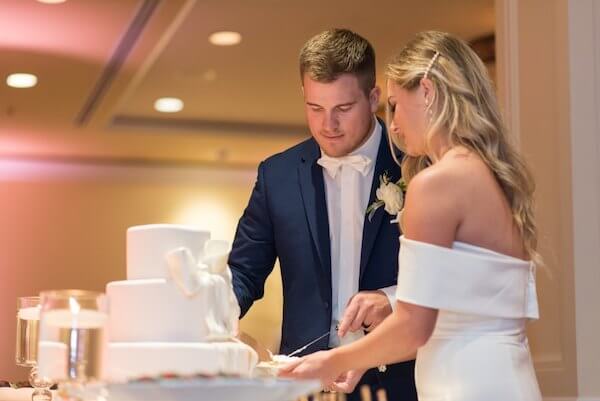 #6 – Raise A Glass to the Newlyweds
According to wedding tradition, wedding guests are toasting the couple. So, raising a glass to toast your own health is not considered appropriate.
We LOVE the analogy that you never see Queen Elizabeth singing "God Save The Queen." So, the answer is to sit quietly and smile for some great photos.
#7 – Inappropriate Wedding Gifts
We were surprised to see that it is considered bad luck to give a knife as a wedding gift. It's said to signify a broken relationship. I can cut the cords of a happy marriage.
Tradition also says that if someone gives you knives as a wedding gift, you should give them back a penny in return. That way, it is a purchase and not a gift.
They were all too fun to research – while we knew a lot of them, some were new to us as well. What wedding traditions do you want to know more about?
Planning a wedding?
Whether you are a Tampa Bay Area local or planning a Gulfside destination wedding, we have the creativity and connections to help you have the day of your dreams without all of the stress.
Planning an event?
We LOVE social events as much as we love weddings. From Wedding Showers to Reunions, we've done it all. It's all in the details and we've got you covered.
Planning a trip?
Need a weekend getaway during your wedding planning, time away with your family or help planning your honeymoon? We're happy to help!